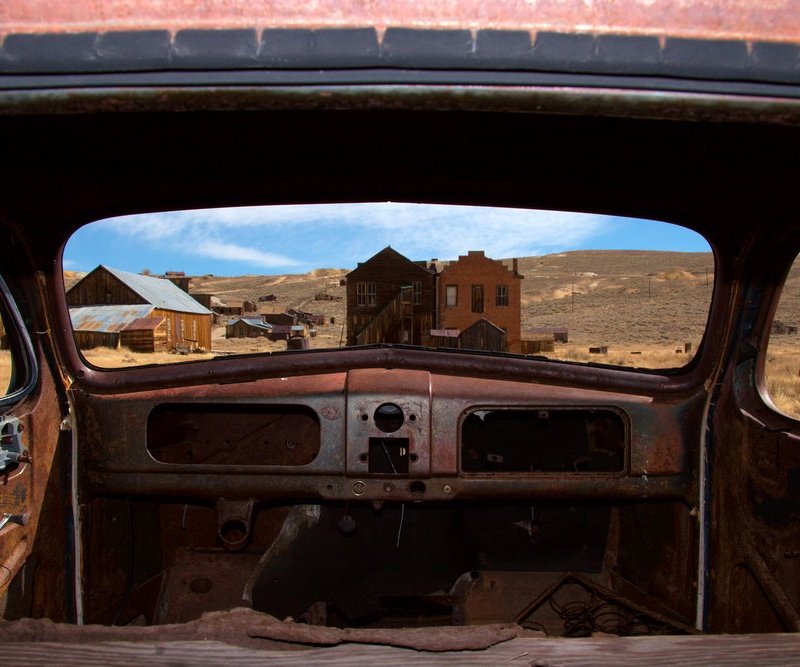 You can just drive up to it. You weave up and up into the California hills; things get dustier and dustier until the road below you is dust, and just when it seems like your future is dust, you're in Bodie.
It was a mining camp in 1859. People had seen gold in its hills. It eventually became a town. The clock ticked away as it saw its boom, its peak, its fires, its decline. In 1962, its clock stopped.
Today, Bodie's 110 silent buildings sit spaced out for traffic that isn't there. A barbershop, a church, a mill, a morgue. A leaning hotel is held up by a beam; forever falling, never to fall.
Where Is Bodie, California?
Bodie sits nearly 8,400 feet up in the Bodie Hills in Mono County, California. It's an hour northeast of Yosemite National Park. Once home to around 10,000 people — then fewer and fewer until it was home to none — it's now called Bodie State Historic Park.
The state of California keeps the town in "arrested decay." Park workers don't restore it, but merely maintain it in its ghostly state. You'll see buildings crumbling but never crumble, falling but never fall. The ones that couldn't hang on long enough lay in frozen heaps. Others, though, stand strong, full of their original items but long devoid of their owners.
What Happened In Bodie?
In 1859, four miners, including a man named Waterman (or William, or Wakeman — nobody knows) S. Bodey, found a good place to look for gold in the hills near the California-Nevada border. Bodey died in a blizzard not long after, but a small mining town sprung up at their camp. The new townsfolk named it after the lost prospector — they didn't spell his last name right and couldn't remember his first, but they were thankful for the gold.
The town slowly grew. In 1875, when a large vein of gold and silver was discovered, it really grew. At its peak, in 1879 to 1880, Bodie's population jumped by 40 to 50 every day. It had 2,000 buildings and a mile-long Main Street. In the north, it had a Chinatown. There were 200 restaurants to feed between 6,000 and 10,000 starving miners and their families. There were also 60 saloons — and thus, a fair amount of danger. People were robbed and shot quite often.
"Have we a man for breakfast?" the townsfolk used to say. That was their way of asking if anyone had been killed the night before.
Yet it took the gold running out to run the people out. By 1881, the mines were depleted, and Bodie's population evaporated. Ten years after its peak, the town had fewer than 1,000 residents. Two major fires — one in 1892 and another in 1932 — brought the physical town down to the size it is today. By the mid-twentieth century, it was mostly empty, and in 1962, the state stopped its clock. Its population is zero.
Note: Here's California State Parks' fantastic pamphlet on Bodie (PDF), if you're interested.
What Is The Curse Of Bodie?
The Curse of Bodie has nothing to do with the fires or the shootings. It's a cautionary tale gone wrong.
It started because people wouldn't stop taking artifacts from the historic park. They'd take weatherworn shoes or pieces of glass from shattered windows — somebody once ran off with a piano. Those may seem unequal, but all objects carry equal significance in telling the story of Bodie. Park workers are specifically there to interpret and preserve that story, both of the mining town and of the Native American migration patterns that ran through it for centuries before.
So a park ranger, pure and simple, made up a curse: If you take something from Bodie, bad luck will come around to get you.
People believed it. Particularly those who'd taken something. They'd send shoes back, glass shards back, even items from the gift shop back. (No news on the piano.) They'd often include letters with heartfelt apologies — they didn't expect their fish to pass, or their romantic life to tank, or any of this turmoil. The park received so many returned items that they put them on display.
Then, of course, people started taking things just to send them back. They wanted to see their stolen, now-contextless items displayed on their next visit. Between that and their obligation to file a police report for every stolen item that comes back in the mail, park rangers don't talk about the curse much anymore.
Know Before You Go
Bodie State Historic Park is open 9 a.m. to 6 p.m. during its summer season (April 15 to October 31) and 9 a.m. to 4 p.m. during its winter season (November 1 to April 14). Guided tours, though currently canceled due to COVID-19, are normally offered daily. You can also book private tours through the Bodie Foundation. General admission is around $10 for adults, and younger visitors receive a discounted rate (see California State Parks' page on Bodie for exact prices). Bring exact cash or a check — cards are not currently accepted.
Faraway visitors should plan their trips to Bodie during warmer months, as the mountainous area is often blanketed in feet of snow during winter, and the only highway to the park sometimes closes due to inclement weather. If you do visit during winter, bring snowshoes, skis, or a snowmobile (which can only be used on designated roads). Even during warmer seasons, you should bring a jacket, as the mountain air can swing to extremes year-round.
It's a ghost town — ghosts don't need food and water, but you, the visitor, do. Bring snacks and enjoy them at the picnic area. Luckily, there are bathrooms near the parking and picnic areas. While, again, it's a ghost town, you should still knock.
The park is wheelchair and stroller accessible, though some of the better views (like inside windows) require moving on uneven surfaces. Those with difficulty breathing may struggle with the high-altitude air. The California Department of Parks and Recreation has more on the park's accessibility.
And remember, unless you bought something from the gift shop, don't take anything. Every item removed is history ripped away from this dusty, historic town.