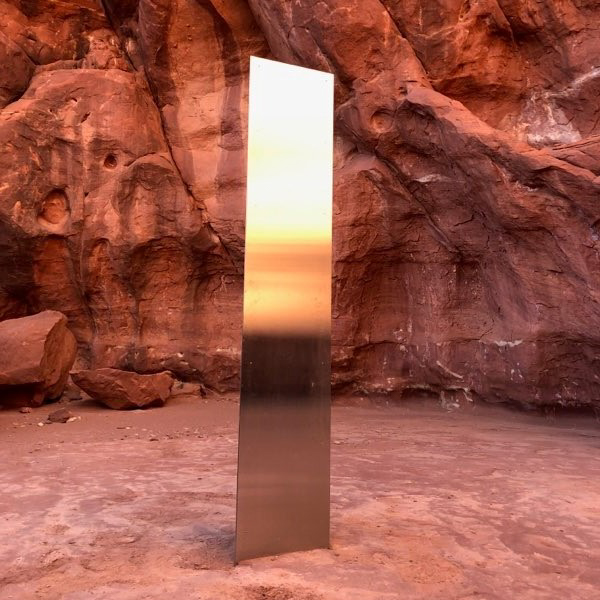 You just know this will end up being an advertisement for a new soft drink, video game, or a men's cologne called Monolith.
A third silvery monolith appeared in California after monolith #1 was discovered in a remote part of Utah, only to vanish. That was followed by monolith #2 appearing and vanishing in Romania. Meanwhile, worldwide attention paid to each is growing and growing. Someone is going to laugh all the way to the bank.
Insider reports that the latest discovery of monolith #3 happened atop Pine Mountain, near Atascadero, California, in San Luis Obispo County. Hikers found the 10-foot-tall, stainless-steel monolith on Wednesday.
Local news source, The Atascadero News, reports that the latest monolith has the same design and is made from stainless steel with each corner welded together. The only difference appears to be that monolith #3 was not anchored to the ground, as it was in Utah, and could easily "be knocked to the ground with a firm push."
The paper says many are questioning if monolith #3 is actually monolith #1.
"According to reports, the obelisk in Utah is similar in height to the one found in Atascadero," said Atascadero News. "However, the construction appears to be slightly slimmer in width than the monolith found in Utah."
What We Know
Monolith #1 was first discovered on November 18. According to the Utah Department of Public Safety, a helicopter working with the Utah Division of Wildlife Resources was conducting a count of bighorn sheep when they spotted the metal structure in a remote area. Nine days later, it vanished, but now we're learning there may have been eyes on the scene!
Deseret News first reported on Tuesday that a professional photographer named Ross Bernards was hiking with friends when they witnessed four men "knocking over the mysterious monolith in San Juan County's red rock country before breaking into chunks with their hands and hauling it away."
Bernards posted his photos on social media, along with a detailed description of his experience.
According to Insider, Google Earth data shows that the Utah monolith first appeared sometime between August 2015 and October 2016.
Monolith #2 appeared on the same day #1 vanished. Romanian news source, Zair Piatra Neamt, reported monolith #2 appeared atop Batca Doamnei Hill near the city of Piatra Neamt.
For now, monolith #3 remains in place. The city of Atascadero is warning hikers not to go near it as they fear it could fall because it is not attached to the ground.