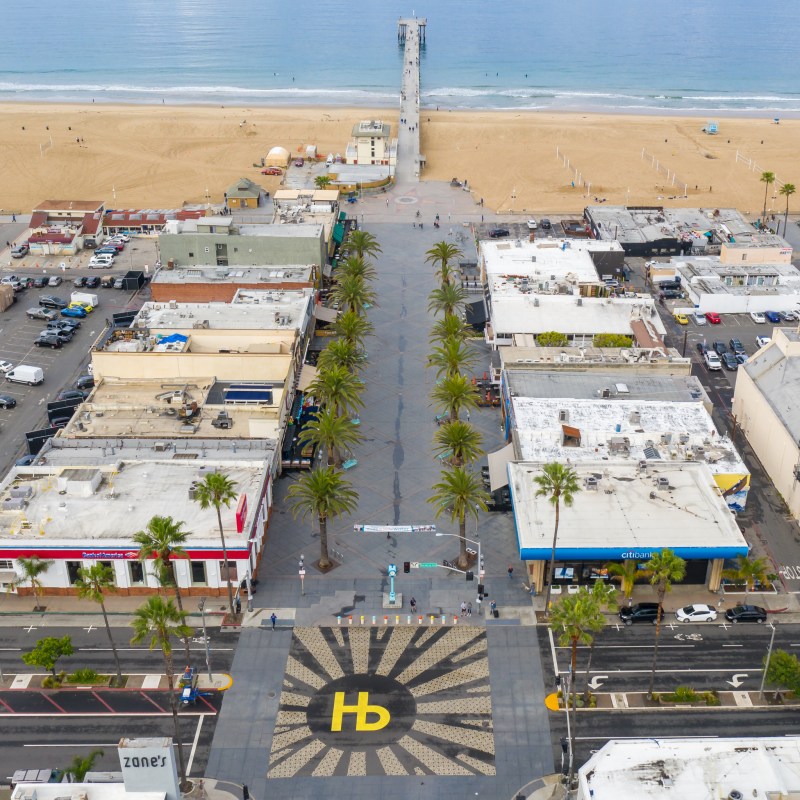 My first visit to Hermosa Beach was 29 years ago, just a few days before my husband, Jason, and I were married. We had found our first apartment in this small beach town full of surfers and dive bars. Hermosa was never a destination of the rich and famous like surrounding seaside cities, but instead, it was a haven for beach lovers living on a budget and looking for a good time.
At the invitation of H2O Hermosa Hotel, I was delighted to return to Hermosa Beach after almost three decades away. And while it has attracted many more upscale businesses, it also retained some of its gritty charms. Old school diners, upscale restaurants, surf shops, boutique hotels, and dive bars all share space near the Strand, a popular beachside path.
Hermosa Beach lies 45 minutes southwest of downtown Los Angeles. It occupies just 1.43 square miles of land and is home to less than 20,000 residents. But what it lacks in size, it more than makes up for in character. It doesn't take long to get a lay of the land, and it's the perfect destination for a weekend getaway.
Part of this trip was paid for by H2O Hermosa Hotel, but all opinions expressed are my own.
Things To Do In Hermosa Beach
Like most beach towns, the best things to do in Hermosa are outside. With moderate temperatures year-round and 2 miles of sandy beach, outdoor lovers are in for a treat.
Stroll The Pier
At the center of Hermosa Beach is its 1,140-foot-long pier. Built in 1965 and renovated in the early 2000s, the pier is a popular destination for local fishermen. Unlike most Southern California piers, there is no building on the end. The result is unobstructed views of the Pacific Ocean and the coast.
I took an early morning stroll along the pier and was rewarded with terrific photos. I watched as fishermen cast their lines into the ocean and surfers bobbed up and down waiting for a wave. Off in the distance was a solo sailboat, gliding slowly in the water.
A stroll along the pier is a great way to begin any visit to Hermosa. Along the way, be sure to look for the Surfers Walk Of Fame. These bronze plaques, dating back to 2003, commemorate surfing pioneers and legends, many of them from Hermosa Beach.
Walk, Run, Or Bike The Strand
Hermosa residents don't need a gym when they can head to the Strand for a walk, run, or ride. And visitors should follow suit. I recommend starting at the foot of the pier and heading north toward Manhattan Beach. Along the way, you'll see a variety of weathered beach cottages mixed in with multi-storied seaside mansions. Speeding past are runners, cyclists, roller skaters, and skateboarders. Moving at a much slower pace are the dog-walkers and stroller pushers out for a leisurely jaunt. Put it all together and you have endless entertainment. Occasionally you'll be treated to a view of dolphins swimming in the distance.
Hermosa Cyclery rents a variety of bikes by the hour and day and is conveniently located near the pier. This is also a great spot to rent skates, boogie boards, beach chairs, and umbrellas. If you're feeling particularly adventurous, try cycling the entire length of the 22-mile South Bay Bicycle Trail that begins in Redondo, passes through Hermosa, and concludes in Santa Monica.
Explore Pier Avenue
Stretching from Pacific Coast Highway to the Strand, Pier Avenue is the central artery of Hermosa Beach. Along this winding road you'll find restaurants, cafes, bars, and boutique shops. Grab a parking space somewhere in the middle, and explore this eclectic street on foot.
Stars Antique Market, located in a historic building from 1917, is an iconic site along Pier Ave. Pop in to enjoy a range of vintage and antique goods from over 65 vendors. Our visit coincided with the holidays, and I enjoyed a large display of vintage ornaments and decorations at the front of the shop.
Java Man Coffee House opened shortly after Jason and I moved to Hermosa Beach, and it soon became my go-to spot for coffee and a muffin after my morning walk along the Strand. I was delighted to see that it's still open and doing well. In addition to indoor seating, they also offer a large outdoor patio — a great spot to watch life unfold along this bustling street.
You can't miss curious… with its aqua blue exterior and festively decorated windows. But the inside is even better. I spent almost 30 minutes browsing their fun collection of gifts, books, puzzles, and cards. Clearly, the owners Andrew and Bryce have a great sense of humor.
At the base of Pier Ave. is Pier Plaza, a pedestrian-only street full of restaurants and bars. In the evenings and weekends, this part of town has a party vibe. But tucked in between all the restaurants is Spyder Surf II, a fun store selling casual clothes for men, women, and children. Their main store on Pacific Coast Highway has been selling surfboards, snowboards, and related gear since 1978.
Search For Murals
Scattered throughout Hermosa Beach are nine murals celebrating the city's history and culture. Themes include music, surfing, volleyball, and the beach. All are part of the Hermosa Beach Murals Project started in 2009 by a member of the city council. The 10th and final mural has been commissioned and will begin after the funds have been raised. Some of the artists are South Bay residents with a long connection to the beach cities, while others are world-famous for their murals.
Hermosa offers even more public art including a half-dozen painted utility boxes. But probably the best-known piece of art is the sculpture of the surfer, Tim Kelly, located at the foot of the pier. This iconic bronze statue honors a local lifeguard and surfer who died in a car accident at just 24 years old.
This map provides directions to all of the city's public art.
Hit The Beach
It really isn't a visit to Hermosa without spending time on the beach. Fortunately, there are many ways to appreciate Hermosa's 2 miles of sandy beach. If you surf, grab your board and wade into the ocean. If you need to rent a board and gear, head to Jeffers Beach Rentals. Or practice your volleyball spikes and digs at one of the many courts. If you prefer something more relaxing, just spread out a towel on the sand and soak in the sun.
Best Restaurants In Hermosa Beach
There are a surprising number of great restaurants tucked into the small town of Hermosa. And while there are many new additions, Jason and I wanted to return to some of our old favorites.
For an excellent breakfast along the Strand, head to Scotty's. This was our go-to place for breakfast every weekend. The decor is clearly not the attraction — I don't think anything has been updated in 29 years. But the food and service are consistently good. I ordered the huevos rancheros and Jason had the eggs Florentine. Be prepared for generous portions. If you're here on a Monday night, try the all-you-can-eat spaghetti for just $7.95.
At some point during a stay in Hermosa, I recommend having a meal at one of the restaurants along Pier Plaza. Dining outdoors with a view of the pier while watching people speed and stroll by on the Strand is a fun experience. For the best view, head to the second story of Hennessy's Tavern. For a menu full of delicious seafood items, try Playa Hermosa Fish and Oyster Co.
If you're looking for a romantic evening, make reservations at The Bottle Inn. Located on a small side street just steps from the beach, this Italian restaurant has been serving up delicious food for 45 years. To complement your food, there's a nice wine list featuring both Italian and California wines. Parking is limited in this area, so if you're able to walk from your hotel or accommodations, I definitely recommend it.
Best Hotels In Hermosa Beach
Hermosa Beach has seen an explosion of hotels in the last several years, making this town an optimal weekend getaway.
Jason and I were fortunate to stay at the recently opened H2O Hermosa just one block from the Strand and two blocks from Pier Ave. From our balcony, we could see the ocean and hear the sounds of seagulls. The modern decor is tasteful and comfortable, hinting at its seaside setting in subtle ways. It's easy to park once and walk everywhere you want to go. Or take advantage of their complimentary bikes and explore a bit further. Continental breakfast is provided in the morning, and all rooms come equipped with a Nespresso machine and tea kettle. The well-stocked minibar featured local craft beer from Hermosa Brewing Company.
Pro Tip
While living here, Jason and I gained quite a collection of parking tickets. So when visiting Hermosa, either leave your car parked at the hotel like we did or closely monitor your meter. And once you have a space, don't give it up easily. Do like the locals do and walk or bike everywhere. Move your car only when you're ready to head home.