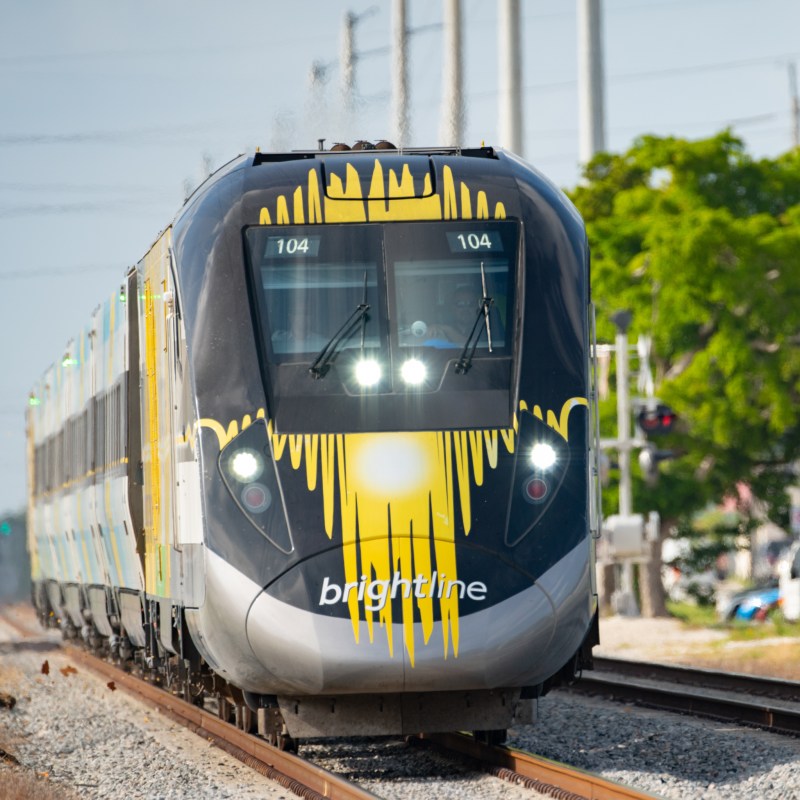 Anyone who has been to Walt Disney World Resort from out of state knows that getting from Orlando International Airport to the resort requires renting a car. That situation, however, is about to change.
Indeed, Walt Disney World Resort and high-speed passenger rail provider Brightline just announced an agreement to build a train station at Disney Springs — Disney Orlando's shopping, dining, and entertainment complex.
Among other attractions, Walt Disney World Resort features four theme parks: Magic Kingdom Park, EPCOT, Disney's Hollywood Studios, and Disney's Animal Kingdom Theme Park. Although Disney Springs isn't located inside any of those four theme parks, it is easy to access using the resort's transportation network.
"We're excited to work with Brightline as they pursue the potential development of a train station at Walt Disney World Resort — a project that would support our local economy and offer a bold, forward-looking transportation solution for our community and guests," said Jeff Vahle, president of Walt Disney World Resort.
The Brightline station at Disney Springs is intended to be a convenient travel option for people traveling between Walt Disney World Resort and Brightline stations at Orlando International Airport (OIA), as well as Miami, Fort Lauderdale, and West Palm Beach. Additional stations are planned in Aventura, Boca Raton, and Port Miami.
Brightline's rail line for travel from Miami, Fort Lauderdale, and West Palm Beach to Orlando is already underway. The expansion spanning from West Palm Beach to OIA is expected to be completed in 2022. When the rail line is finished, the trip from Orlando to West Palm Beach is expected to take 2 hours, with the train's top speed reaching 125 miles per hour.
Because travelers using the Disney Springs station will be able to catch a ride directly from or to Orlando International Airport and on to South Florida, they won't need to rent a car to get around. The rail line and its Disney Springs station will also make it easy for out-of-state and international visitors to move beyond the Disney World Resort so they may also visit both Central and South Florida.
"Brightline will offer a car-free connection to the millions of visitors from around the state and the world who plan to make Walt Disney World Resort part of their vacation plans," said Patrick Goddard, president of Brightline. "Our mission has always been to connect our guests to the people and places that matter, and Walt Disney World Resort is a tremendous example."
There is another benefit to the plan: It's good for the environment. For one thing, Brightline's trains make it easy to take cars off the road because people can conveniently travel by train from city to city rather than driving long distances. It's estimated that Brightline can help remove up to three million vehicles from the road each year.
What's more, the locomotives have diesel-electric engines. Since they are powered by clean biodiesel fuel, they generate lower emissions and noise than other trains, thereby reducing greenhouse emissions. For more inspiration on a variety of related topics, see our Orlando coverage here, our Disney coverage here, and all our ideas for amazing rail travel here.