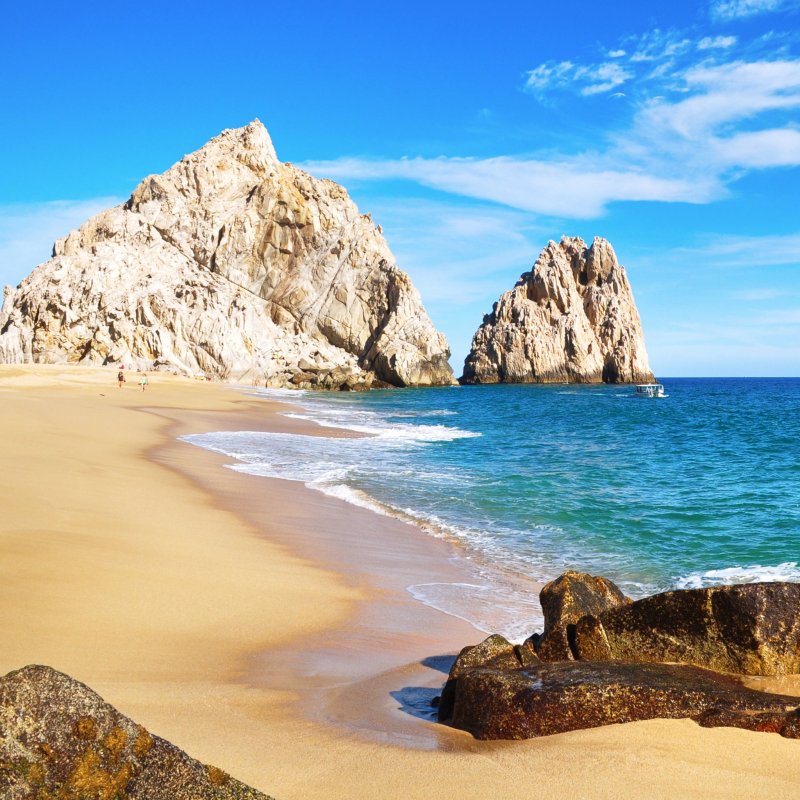 This adventure through Southern Baja California takes you from the beaches of Los Cabos, through the Sierra de la Laguna mountains with stops at quaint villages, and ends with more beaches and water activities in the delightful city of La Paz. Although each stop is located in the same state, you'll find each has its own vibe — from the excitement of Cabo, through sleepy villages, to end in the quiet beauty of La Paz, leaving you wondering if you didn't miss a turn and wind up in the Caribbean.
While the most direct route, along Highway 19, is the coastal road-more-traveled, this off-the-beaten-path adventure will immerse you in the sights and culture of the Baja Peninsula, seeing an intimacy many visitors miss by taking the highway.
Route 1, which this road trip follows, takes you on mountain roads through the Sierra de la Laguna with a glimpse of the ocean near Los Barriles. This mountain drive has many curves, so caution is recommended.
If you'd like to try both routes, I suggest at the end to return via Highway 19 if you plan to go back to Cabo. That way, you can experience both routes through Southern Baja.
You can make the trip from Cabo to La Paz in about 3 hours, but instead of driving straight through, make it a road trip and stop in these six beautiful cities.
Cabo San Lucas
Cabo is notorious as a tourist destination for anyone wanting to experience an all-inclusive resort. There's the food, the drinks, the poolside bar, and all the excitement that comes with staying in a themed resort (some are adults-only; others cater to families — so check before you make a reservation).
You'll want to spend time on the beach while in Cabo. It's the main reason tourists flock to the area each winter. The idyllic scenery features majestic rock formations, palm trees, lush flora, and plenty of waves to soothe the mind — because what better way to relax than with a walk along the beach.
The nightlife is stimulating as well. Stop for a nightcap and live music at Cabo Wabo Cantina, a tourist favorite. Or put on dancing shoes and head to El Squid Roe, a 3-story music venue and restaurant.
For delicious sushi, be sure and try Nicksan, where the chef locally sources fresh fish and seafood. Order a roll of Chef Carbajal's favorite creations such as Tuna Tostadas with minced tuna served on crispy rice tostadas and topped with sliced avocado and pickled red onion. Or for something unique, order the "Omakase" experience, and the chef will use creative freedom to create a meal uniquely for you.
Plan a meal at El Farallon, located at the Waldorf Astoria, to enjoy what is known as the best restaurant in Cabo San Lucas. The view alone — set into the cliffs and overlooking the ocean — is worth a visit. Select from the local catch and order side dishes to accompany the meal. To sample a variety of fish (options change depending on availability) and a smorgasbord of food, order the Baja Bounty. You'll start with the soup of the day and a trio of appetizers such as ceviche, salad, and a hot appetizer; move on to the grill selection of sea bass, red snapper, amberjack, yellowfin tuna, jumbo shrimp, certified angus rib eye steak, and clams; alongside four side dishes and finally, dessert for $125 per person.
You'll want to spend at least a few days in Cabo San Lucas so you can explore the beaches and hot spots. For an adults-only experience, consider Breathless Cab San Lucas. There's plenty of entertainment going on, whether you enjoy live music or a rooftop soiree. Relax at the spa, soak in one of the two infinity pools, or enjoy the view from the terrace or balcony of one of the 199 suites.
The Grand Solmar Land's End Resort is a five-star luxury resort. The ocean-view suites are furnished with marble floors and counters and have a private terrace or balcony, a kitchen, and a jacuzzi tub. In addition to the private beach and infinity pools, there's a tree-fort kid's club and a daycare.
San Jose Del Cabo
San Jose del Cabo is connected to Cabo San Lucas by a short motorway, so take the opportunity to stop and experience a more local experience than what's available in Cabo San Lucas on your way to the first stop.
Los Barriles
You'll want to, at the minimum, stop in Los Barriles for a photo break at the beach.
This quaint small town is known as Baja California Sur's kiteboarding capital. Take a kiteboarding class with ExotiKite to learn this fun sport. You can take a 2-hour beginner's lesson and experience a tandem body drag at the end, or plan to spend several days and take their 4-day Independent Kiteboarder class. Each day you'll progressively learn kiteboarding, so it's a way to fully immerse in the sport.
If you decide to commit to the 4-day class, stay at Hotel Los Pescadores. There's a pool, cantina, and restaurant at this hacienda, and when you're not kiteboarding, you can book a sport fishing expedition through the hotel on one of their two Super Pangas.
San Bartolo
Depart Los Barriles early in the morning for breakfast in San Bartolo. You'll find this small village just as you begin the ascent into Sierra de la Laguna. There you can enjoy a regional breakfast of burrito machaca or a meat pie with beef, beans, and cheese.
The city has a stream that runs through it, which helps to sustain local produce. Because of this, there are many orchards in the area, so grab some mango, lemon, guava, or other fruits and preserves (there are many sweets and fruit preserves made by local artisans farmers) to take on the road with you.
El Triunfo
About 30 minutes past San Bartolo, spend at least a few hours in El Triunfo, an old mining town. There's a piano museum, a mission-style church, and an interesting downtown area where you can stop for a glass of fresh-squeezed lemonade with mineral water at Cafe El Triunfo.
La Paz
End your road trip in La Paz, the capital city of Baja California Sur. This sleepy city exudes quiet beauty with the Malecon (boardwalk) and the sculptures along the shore, perfectly fitting for a city named "The Peace." Plan to find a bench to enjoy sunset on the Malecon. It's one of the best in the world.
Compared to Cabo, the atmosphere is laid-back and a more authentic Mexico experience. Visit the historic city center for shopping, dining, and walks along the streets. Although most of the shop owners speak English, you'll want to brush up on your Spanish if trying to bargain with the street vendors.
Visit Balandra, a gorgeous rock formation, spend time exploring the beaches, take a day trip to Isla del Espiritu Santo for kayaking and snorkeling where they have a large sea lion colony, swim with the sea lions, or book a sport fishing expedition, watersports, or wildlife experience.
Because of its location, you'll find some of the best seafood in Mexico. It's hard to make a wrong choice when it comes to seafood, but a stop at Claro Fish Jr. is always tasty. Try one of the grilled fish tacos, a smoked Marlin quesadilla, or the shrimp empanadas. Or stop at one of the street vendors for clams and fish tacos and take it with you to the bench on the Malecon for sunset.
For views of the ocean, stay on the Malecon at Posada de las Flores. The rooms are luxurious yet comfortable and decorated with Mexican art and pottery. Or Casa al Mar is a boutique hotel with rooms and suites that are modern and crisp.
Read more in this article about how to spend three days in La Paz, plus the best food in La Paz: eight things to try.
Pro Tip: On the return trip to Cabo, take Highway 19 instead of Highway 1 that brought you to La Paz. You'll follow the coast and can stop along the way in Todos Santos. This artist's community is home to the famed Hotel California, which is worth a stop even if you don't plan to spend the night, plus art galleries and upscale eateries.