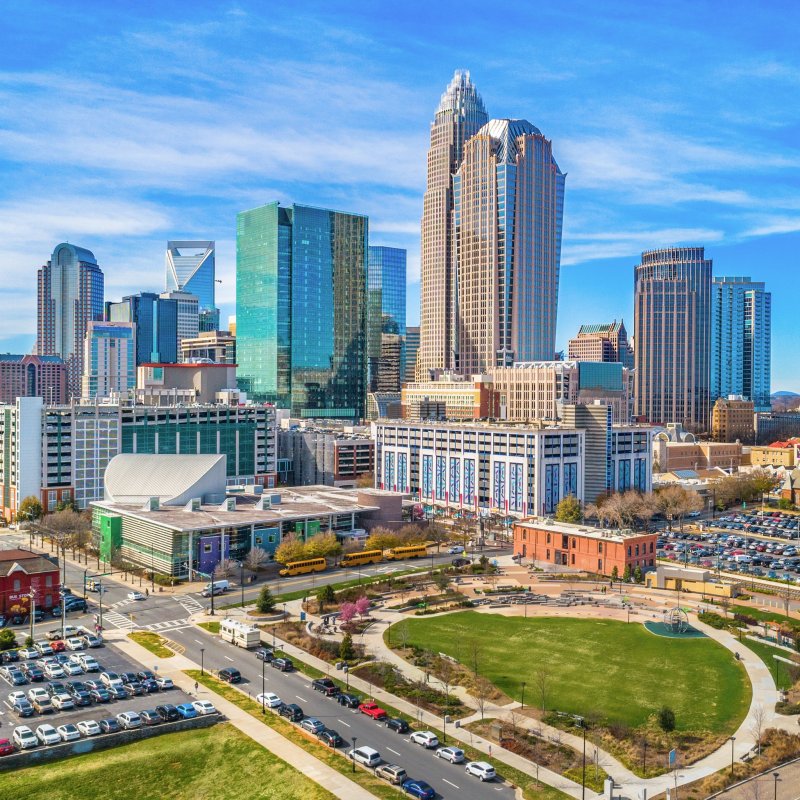 Charlotte is a wonderful city, but sometimes you just need to get away. Forget the hustle and bustle of city life for a while. Relax and spend a fun-filled day on one of these four fantastic day trips, all within a 2-hour drive from downtown Charlotte.
1. Yadkin Valley Wine Tasting
Travel around the world, tasting fantastic wines from different regions without leaving your backyard. France, Italy, Portugal, Germany — they are all waiting for you in Yadkin Valley, one of the best wine regions in the U.S.
People who enjoy wine tasting feel that the experience is enhanced when in a beautiful and unique setting. There are more than 40 wineries in the Yadkin Valley area — that's a lot of wine tasting. Of course, I don't suggest visiting all 40 in one day. Three to four wineries with lunch in between or after is very doable in a day, depending on how much time is spent at each location. Many wineries offer tours of the vineyards as well as the winery itself. And the owners are eager to share their love of wine and winemaking with visitors.
Here are some of my favorite stops for a wine-tasting tour around the world. First stop: France and the Laurel Gray Vineyards. From downtown Charlotte, take I-77 north approximately 67 miles to U.S. Route 421. Once a tobacco farm, Laurel Gray Vineyards now boasts a beautiful outdoor veranda, porches, and patios along with an indoor lounge. The tasting room was a milking parlor, and the old red barn now serves as a backdrop for photos. Their first French vinifera grapes were planted in 2001. The winery produces award-winning dry reds and whites, plus several dessert wines. Scarlet Mountain is a customer favorite red blend. Deli-style items and local goods are available to purchase in the tasting room.
Five miles to the north, you'll find yourself at a beautiful stone Italian villa, part of a 102-acre estate dotted with fragrant roses and Italian herbs. Raffaldini Vineyards, in the foothills of the Blue Ridge Mountains, will soon have you believing that you are in the rolling green hills of Tuscany. Raffaldini Vineyards produces classically dry Italian-style wines ranging from reds like Montepulciano Riserva and whites like Vermentino Superiore to a sparkling prosecco. Enjoy your wine on the beautiful piazza. Pair your wine with an assortment of local and imported gourmet Italian foods from their deli.
Spain and Portugal are next on your world wine tour. Just north of the town of Ronda, MenaRick Vineyard and Winery is unique in Yadkin Valley. With their first grapevines lovingly brought over from Portugal, MenaRick Vineyard and Winery specializes in Spanish and Portuguese wines that include Albarino, Grenache, Tempranillo, and Touriga Nacional. You can enjoy your wine in the comfortable tasting room or on the spacious covered patio outside overlooking the vineyards and pond. Picnic tables and chairs are scattered throughout the grounds. Pack a picnic and enjoy a tasting, flight, or bottle of wine.
A short drive northeast brings you to Shelton Vineyards. The moment you drive through the gates, you will be transported to another world — think Germany. On the Shelton Vineyards estate, several varieties of Vitis vinifera grapes are grown. For a true taste of Germany, be sure to try the award-winning Cabernet Franc or 2 5 9 Dry Riesling. Ask to visit the barrel rooms, which are underground. The barrel cave evokes old-world charm and a waterfall at the back of the room adds to its allure.
Stop in at the Harvest Grill for a scrumptious meal before heading back to the city. Open Thursday through Sunday. Reservations are recommended.
Pro Tip: Most Yadkin Valley wineries offer wine tastings for around $12. Some include a souvenir wine glass. Wineries, including those listed here, are only open on certain days. Check the websites for dates and times. Plan to spend about an hour at each location for tasting. Add more time for relaxing with a bottle, glass, or food.
Don't want to drive yourself? Several companies offer bus tours. Yadkin Valley Wine Tours and Yadkin Wine Shuttle Service are just two.
2. Emerald Hollow Mine
Are you looking for some "get down and dirty" experience for the whole family? You can literally get down in the only emerald mine open to the public for mining and get dirty prospecting, digging, and sluicing for emeralds and 60 other types of gemstones naturally found in the area, including hiddenite. Just 60 miles north of Charlotte tucked away in the foothills of the Brushy Mountains lies the town of Hiddenite and the Emerald Hollow Mine.
Mining for emeralds involves digging with shovels in the red clay dirt. Other gemstones can be found in the cool waters of the creek. Still more gems like sapphire, garnet, topaz, and amethyst can be found in buckets of dirt at the sluicing station. We tried all three with our children and grandchildren last summer. We had a ton of fun. It was hot, so the digging didn't last long. Sitting in the cool running waters of the creek was very pleasant and profitable. After that, we bought a bucket and had a great time sluicing away. It was like Christmas when shouts of joy went up from around the long table as "prospectors" discovered hidden treasures.
Pro Tips: Pricing varies. Visitors can check detailed information about rates here. You can spend a couple of hours or pack a lunch and stay all day. Wear old or "play" clothes. You will get dirty and wet. Bring a change of clothes, small towels to dry off, and baggies to take your treasures home. It's a long walk to the actual emerald dig site. The rocky creek is a shorter distance in a wooded area. The sluiceway is in the main area where you sign in, but the ground is unpaved and may be uneven.
3. Mount Airy, AKA Mayberry
Step back in time to when life was simpler and the hardest decision of the day was a strawberry shake or a chocolate malt. Mount Airy, more affectionately known as "Mayberry," is the hometown of actor Andy Griffith. Much of the 1960s sitcom fictional town of Mayberry was modeled after Mount Airy.
For those wanting to escape the city for a bit, a trip to Mount Airy is perfect. It's just 99 miles north on I-77. Spend the day walking around Main Street. You will be amused by places like Snappy Lunch, Barney's Cafe, and Opie's Candy Store. Stop in at Floyd's City Barber Shop, whether you need a trim or not, and have your photo taken in the same chair that Andy Griffith sat in for his haircut as a boy.
Spend time in the Andy Griffith Museum and Playhouse. See a show at the historic Earle Theatre. Learn local history at Mount Airy Museum of Regional History. Make sure to go down South Main to Wally's Service Station, where young Andy used to go for orange soda pop. While you are there, be sure to take a ride in a Mayberry Squad Car. An animated, fact-filled guided tour around town is a fun way to spend an hour.
4. N.C. Transportation Museum
All aboard! There is something both romantic and mysterious about trains. All I really know about riding on a train comes from watching movies. Every good Western has at least one train whistling through the desert. Many a love story began on a train winding its way through the countryside. And mysteries always happen on trains — Murder On The Orient Express, anyone?
The ultimate train adventure awaits you at the North Carolina Transportation Museum in Spencer, just 45 miles from downtown Charlotte on I-85. If you like history, you are in for a double treat. The N.C. Transportation Museum is a historic site and home to dozens of locomotives, rail cars, fire trucks, automobiles, a couple of historic airplanes, and much more.
North Carolina's transportation history is fascinating. The museum's antique trains are incredibly restored, as is the 1898 train depot, the steam locomotive repair shop, and the largest remaining roundhouse in North America. There are train rides and activities, too.
To make the day even more extraordinary, take the 40-minute Piedmont train ride from the depot in Charlotte to Salisbury. Salisbury is just a few miles from Spencer. Spend a few hours at the museum. Pack a picnic lunch and eat on the grounds or have a late lunch or a drink in Salisbury before hopping back on the train to the city.
Pro Tip: Spending four hours at the museum is reasonable to see almost everything. Much walking is required. Wear sturdy shoes. It is completely accessible except for a few of the train cars. There are wheelchairs available and rides if needed. The entry fee is currently $6 for adults. Train rides are extra. Reservations are suggested.