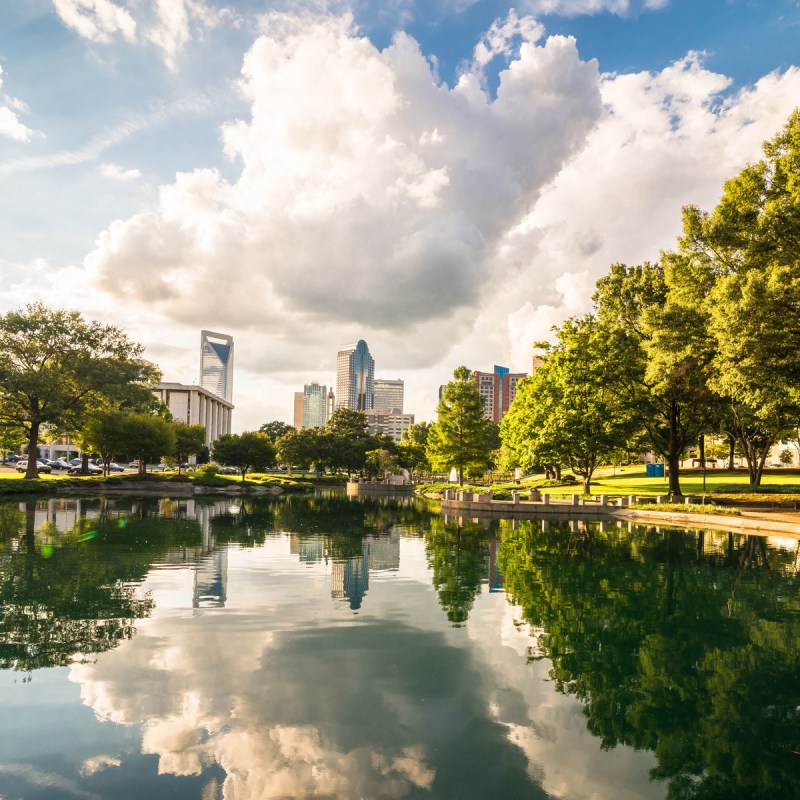 Have you ever heard the saying "Rome wasn't built in a day?" Normally when you hear that, someone is urging you to slow down your endeavors and remember that it takes time to make change.
I propose to you that, in Charlotte, NC, you can build Rome in a day, because this is the perfect city to take a fabulous daycation. Here are 5 amazing ways to spend an unforgettable day in Charlotte.
Charlotte is recognized for its closeness to Myrtle Beach, SC, Hilton Head beach resorts in Hilton Head, SC, and Wrightsville Beach in Wilmington, NC to cite a few. These wonderful beaches are just about a 3.5 hour trip to enjoy. But why make that trek when Charlotte has a beach all its own? If you need a restful, recuperative day at the shore, then The Beach at Ramsey Creek Park on Lake Norman is where you need to be.
About 20 minutes from the city center, Ramsey Creek Park is a 46-acre stretch that offers sand, swimming, a boat launch, a dock, a playground, picnic shelters, nature trails, a fishing pier, and a dog park. In fact if you bring in your furry kid along with you, your park entrance is FREE. It's the perfect opportunity to give your dog a special daycation — particularly if she needs to work on her doggy paddle.
The beach is accessible from May until Labor Day.
If water sports are more your idea of a perfect getaway, then Lake Norman is the perfect place to soak yourself to the skin — even if you don't have a sailboat of your own. Lake Norman is about 20 miles north of Charlotte. It is the largest man-made lake in North Carolina, with 520 miles of a shoreline.
There are several things to do at "the Lake", as it is affectionally known by those who make their homes municipality of Charlotte. You can fish, charter a cruise, or rent Pontoon boats and jet skis. (Rentals range from hourly to several days.) There is even a pedal-powered BYOB, tour boat that can carry up to 15 individuals. You can be the skipper of your daycation while simultaneously allowing someone else to be the Captain of your ship. One day is all you need to make lasting memories on "The Lake."
If peace and tranquillity is more your bag, consider spending your afternoon in Charlotte at the Ballantyne Hotel Resort and Spa. Located in South Charlotte, this spa offers luxury accommodations, 18 spa treatment areas, a steam room, an indoor and outdoor pool, poolside dining service, male and female relaxation lounges, and a sauna. Really, all they're missing is an elephant graveyard and a squash court filled with jellybeans.
This is not your average day spa. The resort itself looks regal from the interstate. Looks can be deceiving, but not in this case; the facade of this building is as heavenly as what transpires within. You could devote a full day to being pampered here, visiting a land far far away from the stress of everyday life.
4. Museums
If you are into race cars, you must take a day to explore the NASCAR Hall of Fame museum. There is a multitude of NASCAR memorabilia for fans of the sport. If you aren't a racing fan, you might be surprised to find yourself becoming one during your visit.
Still, maybe museums that portray cultural narratives are more up your alley. If so, the Harvey B. Gantt Center for African-American Arts and Culture museum is sure to impress. You will find historical exhibits that showcase the influence of African-American culture in the U.S.
If you are a colossal fan of flight and can get lost just watching planes land and depart, then you will wish to devote part of your day to the Carolinas Aviation Museum. This museum is housed on the grounds of the Charlotte Douglas International Airport. You'll have the freedom to move inside the cockpits of planes and pretend to be the pilot you always dreamt of being.
Don't fret: budding Science, technology, and nature nerds also have a place to forget themselves. Discovery Place has museums throughout Charlotte that introduces STEM to young people, and provides hands on experiences. Parents are not left out and can get in on the fun as well!
How many times have you sat, distraught at your desk, dreaming of spending the whole day playing golf? Well, if you're in Charlotte and seeking the perfect Golf daycation then you won't be disappointed. The 5 public golf courses in Charlotte can change a dull day into a scenic adventure on the greens. There is a course for every handicap and every experience level. No matter which side of town you're in, you can turn up a tee-time. Your golf clubs have a place to call home on the links in Charlotte.
Rome may not have been built in a day, but one day in Charlotte is enough time to build an extremely memorable getaway. Happy trails!