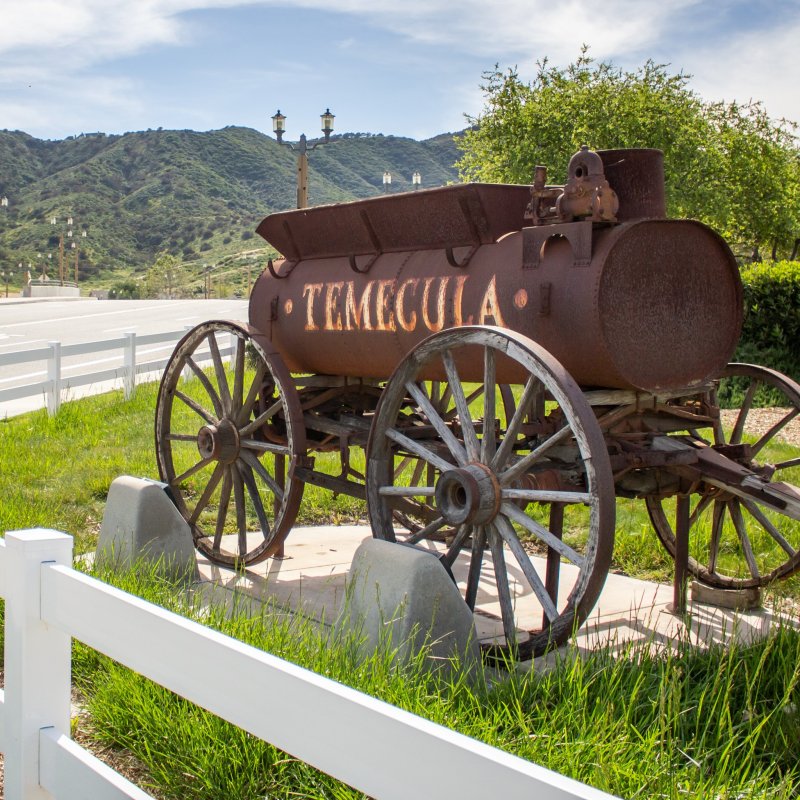 Temecula is located about an hour north of San Diego and an hour southeast of Los Angeles. It's an easy day trip for many in Southern California, but with so much to do, it's an even better weekend getaway.
There's no doubt that wine is the focus of most visits to Temecula, and for good reason. With nearly 50 wineries dotted throughout the region's rolling hills, this is the destination for wine lovers in Southern California. But it would be a shame to leave the area without experiencing a few of its other attractions. Whether you enjoy shopping, hiking, golfing, or gambling, Temecula has plenty to keep visitors busy for days.
1. Explore The Old Town
When you're ready to shop or grab a bite to eat, head to Old Town Temecula. You'll feel like you're on the set of a Western movie as you stroll the boardwalk past rustic buildings.
Antique lovers won't want to miss the Old Town Antique Faire, where 70 different dealers are housed. Here you'll find everything from furniture to glassware and jewelry to comics. Foodies will want to check out Old Town Spice & Tea Merchants, a popular stop for local chefs. Temecula Lavender Co. was started by a husband and wife who grow the lavender locally and produce their own home and bath products.
When you're ready to eat, head to Baily's for delicious food and an extensive wine list. If you're here on a Friday or Saturday night, there'll be live music, too. If you're in the mood for an excellent burger, you'll want to try 1909 Fluid & Fare. This used to be the location of the Long Branch Saloon, one of the roughest places in town to get a drink, but today it's a lively and fun restaurant.
For a great cocktail in a unique location, find your way to the Apparition Room, a speakeasy located inside the Devilicious Eatery. Ask the bartender to make you a custom cocktail. Or try Thompson & Twain, another speakeasy with Prohibition-era decor located inside Crush & Brew.
If you're in the Old Town on Saturday, don't miss the farmers market that offers a wide variety of local fruits and vegetables. There are also a variety of stalls selling hot food and gift items. Additional farmers markets are available in Temecula on Tuesday and Wednesday.
2. View The Valley From Above
Wake up early in the morning in Temecula, and you'll see brightly colored hot air balloons floating through the sky. You'll likely want to book your own ride and enjoy the views of vineyards below.
Choose from a private, semiprivate, or shared ride with Magical Adventure Balloon Rides. You'll spend an hour in the sky and afterward enjoy a champagne toast and light breakfast. The price also includes digital photos and celebratory banners. California Dreamin' also offers hour-long balloon rides followed by breakfast in the rose garden of the Vindemia Winery. And since you're already at the winery, why not start the day with a wine tasting?
3. Go Horseback Riding
Whether you're looking for unique ways to visit wineries or just want to go horseback riding, there are great options for both in Temecula. Horseback riding is a lovely way to experience the rolling hills and vineyards of the area. Wine Country Trails by Horseback offers 90-minute rides near the Maurice Car'rie Vineyard, and no riding experience is necessary. For something especially romantic, try a sunset ride.
Just like you shouldn't drink and drive, you shouldn't drink and ride, either. However, the Temecula Carriage Company found a creative solution — a private horse-drawn vehicle to take you to four wineries over the course of 3 hours. Couples may prefer to book a private, 1-hour carriage ride that includes a bottle of wine.
4. Relax And Unwind
If you're coming to Temecula to unwind, then a spa should be on your to-do list.
The Grapeseed Spa at the South Coast Winery Resort & Spa offers a variety of treatments, including a 50-minute CBD massage that provides relief from aches and pains. After your treatment, relax by the pool and order a glass of champagne. When you're ready, head to their wine-tasting room or fine-dining restaurant, Vineyard Rose.
If you'd prefer to spend the entire day at a spa, head to the nearby Murrieta Day Spa. Relax in the outdoor mineral pool, enjoy a healthy lunch, and then spoil yourself with a massage or facial. End your day with a glass of wine or handcrafted cocktail.
5. Play Some Poker
With 200,000 square feet of gaming space, the Pechanga Resort Casino offers poker and so much more. From slots to horse racing and pai gow to blackjack, there are plenty of chances to gamble. In fact, this is the largest gaming floor on the West Coast! Since it opened in 2002, it's been a popular place for Southern Californians to enjoy their favorite game without driving to Las Vegas.
After you've won, head to one of the many restaurants at Pechanga, like the award-winning Great Oak Steakhouse, Paisano's, or Umi Sushi & Oyster Bar.
6. Hit The Links
Temecula has long been a golfer's paradise, with seven highly rated courses in the city and another 20 nearby. There's a nice selection of options depending on your golf experience and budget.
To play golf completely surrounded by nature, reserve a tee time at the CrossCreek Golf Club. This Arthur Hills-designed course is frequently described by golfers as challenging. The Temecula Creek Golf Club offers three different courses set on 300 acres. Beginners may want to play the Creek Course, while more experienced golfers should consider the Stone House Course. If you want to try a course ranked among the nation's best by Golfweek, head to Journey at Pechanga, nestled on a hillside. You'll enjoy both a great game of golf and excellent views.
7. Get Rolling
With 90 miles of trails, the rolling hills of Temecula are perfect for cycling. If you're looking for something relatively flat, head to Old Town Temecula and its surrounding streets. But there are plenty of options for more challenging rides, too.
If you need to rent a bike, get in touch with Temecula Wine Country E-Bikes. Their state-of-the-art electric bikes make exploring the area easy and relaxing — no need to struggle uphill. If you'd prefer a 2-hour guided tour that ends with a wine tasting, then check out Uncorked Tours. If you're an early riser, consider their sunrise tour.
8. Explore On Foot
If you prefer hiking to biking, that's not a problem, because there are plenty of trails to trek.
Outside the city is the 9,000-acre Santa Rosa Plateau Ecological Reserve. Here you'll wander through oak woodland, chaparral, and native grassland habitats. You'll also find 200 species of birds in this reserve, making it a great destination for birders as well. Or head to the River Trail in the Santa Margarita County Preserve. This 5-mile out-and-back trail follows a peaceful river past boulders and through woodlands.
If you're looking for a more challenging trail, try hiking the Dripping Springs Trail located in the Cleveland National Forest. The entire trail is 13 miles and more than 2,900 feet of elevation, but it offers gorgeous mountain views in return for your effort.
9. Drink Beer Instead Of Wine
Not everyone is a wine lover, and in the Temecula Valley, that's okay. There are several breweries offering creative craft beers, and even one specializing in mead. While your wine-loving friends taste the vino, you can sample unique brews.
Start in Old Town Temecula at Stone Church Brewing. Founder Bill Steinkirchner has visited more than 1,000 microbreweries around the world and has won a gold medal for his IPA. If you're here on a Friday or Saturday night, be sure to enjoy the live music. Next, head to Temecula's largest brewery, Refuge, specializing in Belgian-style ales. No matter what your beer preference, with 20 on tap, you'll find something to love at Refuge. Aftershock Brewing prides itself on testing new ingredients and producing creative brews like the Oatmeal Raisin Cookie Ale and the Guavaaah! Hazy/Juicy Pale Ale.
What To Know Before You Go
Thanks to its temperate climate, Temecula is fun to visit at any time of the year. Weekends can get very busy, so be sure to make any necessary reservations a few weeks in advance. If you're hoping for a quieter experience, try visiting on a weekday.
Temecula is full of charming hotels and luxury resorts, many adjoining wineries and featuring award-winning restaurants. So if time and budget permit, spend a night or two so you can fully appreciate all that is offered here.
This is a destination that Southern Californians visit again and again. Often they return to their favorite wineries and restaurants, but over time, Temecula has grown to offer a vast array of attractions in addition to sipping and dining. So after you drink some truly great wine, be sure to explore the valley in other ways.