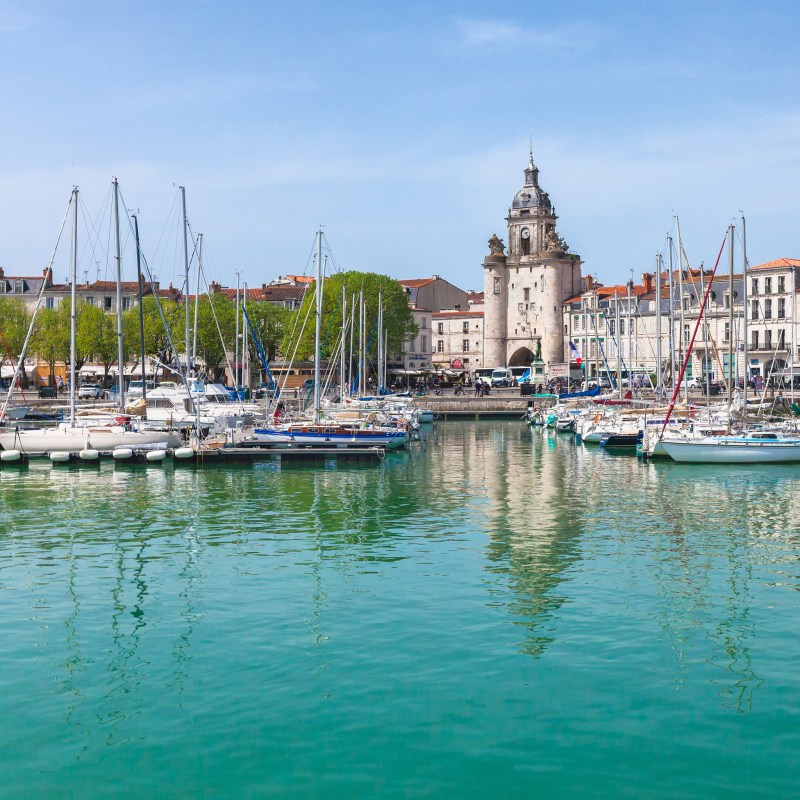 La Rochelle, in the Charente-Maritime region in southwestern France, was one of the most significant maritime and port cities between the 1200s and 1400s. The Knights of Templar found a stronghold with their boat fleet in La Rochelle in the 12th century, and during her reign, Eleanor of Aquitaine gave them control of the mills around the city. During WWII, the Germans set up a submarine base at the main port, La Pallice, and La Rochelle was the last German-occupied city in France to be liberated.
Today La Rochelle is a vibrant tourist destination, with much of its historic architecture and many old ports still intact. It still retains a port lined with private leisure boats and yachts.
Things To Do In La Rochelle
La Vieux Port, The Old Port
The central attraction of La Rochelle is La Vieux Port, or the Old Port, which is lined with sailboats, yachts, and fishing boats, and is surrounded by seafood restaurants and cafes. It's a great first stop to have a drink or meal when you arrive and to also situate yourself in the city.
The Lantern Tower
First built as a lighthouse in the 1500s, the 235-foot-high Lantern Tower was later converted into a prison. Two significant events add to the lore of the tower, which was nicknamed the tower of the priests after 12 Catholic priests were thrown from the tower to their deaths in 1568. During the Restoration period from 1814 to 1830, four sergeants were imprisoned and later executed here for plotting to assassinate King Louis XVIII. If you climb the stairs up the tower, you will discover the old graffiti and also great views of the city from the top.
Marche Central, The Central Market
The main city food market is open every day with approximately 60 stalls selling mostly local foods and delicacies. Although you will be tempted to sample all the foods, the fresh oysters are what you want to try first. There are numerous sizes and types which you can select individually, and the vendors will shuck them for you so you can enjoy them on the spot. Other local foods to try are Chabichou du Poitou, a soft goat cheese, and a cheesecake with burnt edges known as tourteau fromage.
Water Sports
A wide range of water activities are available in La Rochelle including jet ski rentals and tours, sailing cruises and classes, and kitesurfing lessons. If you are daring enough, you can even take a flyboarding lesson.
One of the largest aquariums in Europe, the La Rochelle Aquarium, has over 12,000 species of underwater life. The aquarium is divided into sections such that highlight various bodies of water, including the Atlantic Ocean, the Mediterranean Sea, the Caribbean, and tropical rainforests. Unmissable highlights include the jellyfish ballet and the shark aquarium.
Best Restaurants In La Rochelle
Omelette Delice is a tiny restaurant specializing in omelets and egg dishes made with certified organic eggs. Basic omelet fillings include ham and cheese and smoked salmon, more elaborate fillings including duck, blue cheese, and pear and beef with tomato, cheddar cheese, and barbeque sauce, and for dessert, a unique omelet with salted butter caramel. All main course omelets are served with salad, fried potatoes, and toast.
The menu at Le P'tit Nicolas changes every week according to what's available at the market. Prix fixe menus start at a reasonable 14.50 euros per person for two courses and an a la carte menu is also offered.
Best Places To Stay In La Rochelle
Eden Ouest is a luxury bed and breakfast in a converted townhouse from the 1800s, conveniently located in the center of the city near the Central Market. There are four generously sized suites, each with a special name and theme. The bathroom in the Rust Ochre suite is almost the same size as the room, with a free-standing oval-shaped wooden Jacuzzi bathtub and a setting that allows you to turn the entire bathroom into a steam room. The owner's wife is an artist whose works hang on the walls of the rooms and public areas.
Ibis La Rochelle Vieux-Port is a highly rated, moderately priced hotel in the heart of the old city and the port. Standard rooms come with a double bed or a double bed with a sofa and include air conditioning, free Wi-Fi, and a work desk.
Things To Do On Ile De Re
Just across from La Rochelle is Ile de Re, an island resort frequented by upscale French families usually from Paris. Similar in feel and geography to Martha's Vineyard, Ile de Re has a natural charm and beauty with beaches, dunes, and salt marshes. The island was only reachable by ferry up until 1987, when a 1.8-mile bridge was built which connected La Rochelle to Ile de Re.
Divided into 10 small communes, Saint Martin de Re is the main village. Life and commerce revolve around the small harbor lined with fishing boats and charming low-rise 18th-century buildings with cafes, restaurants, food shops, and boutiques on the ground floor.
Bicycling
The most used mode of transportation is bicycling and there are extensive, well-marked bicycle lanes throughout the island. There are many bicycle shops that rent bicycles hourly, daily, and weekly.
Boat Trips
Take a three-hour boat cruise from the harbor to see Fort Boyard, a 1661 fortress built under the reign of Louis XIV in the middle of the sea. The fortress has been resurrected and abandoned many times, and in recent years it's been used as the set of French TV game show Fort Boyard.
Ernest Cognacq Museum
A statuesque limestone mansion built in 1480 has a long history of owners who were statesmen and in the military. Today the handsome building, the Ernest Cognacq Museum, houses the extensive collection of the Cognacq-Jay family, who were the wealthy owners of La Samaritaine department store chain and lived in Paris in the early 20th century. The collection is a mix of decorative and historic objects divided into collections on anthropology, archeology, graphic and fine arts, ceramics, European and regional ethnography, naval history, military objects, and furniture. The museum recently added a new wing dedicated to the history of Ile de Re and contemporary exhibits. The garden has a sculpture of George Washington plus contemporary sculptures.
Beaches
Saint-Clement des Baleines is a wide, sandy beach that's about two miles long and ends at a lighthouse. One section of the beach is for surfing, and another section is for naturists.
Best Restaurants On Ile De Re
Almost all the cafes and restaurants on the harbor offer fresh seafood, especially clams, oysters, and mussels.
La Table d'Olivia at Hotel de Toiras has one of the best restaurants on the island, where the head chef artfully blends seafood with fresh produce and eclectic spices.
The intimate dining room, decorated in French country style, seats only 20 people with the tables set far apart.
L'Insolite is a wine bar and bistro with a worthwhile selection of French wines and a contemporary food menu.
Residents and tourists patiently lineup at La Martiniere for their 66 flavors of handmade ice cream and sorbets. The sugar cones are made with Ile de Re sea salt, and La Martiniere offers an alternative style ice cream sandwich made with outside layers of French macarons stuffed with ice cream.
Best Places To Stay On Ile De Re
The five-star Hotel De Toiras is a Relais and Chateau property with 20 rooms, some that face the harbor, and others that have views of the tranquil interior garden. Originally built as a mansion in the 1700s for a shipbuilder, it was transformed in 2005 to a luxury hotel by Olivia Le Calvez. Each room is beautifully decorated with French antiques and fabrics by top Parisian interior designer Yves Rochon, who used local artisans for much of the furniture. The suites have canopied beds with delicate French country fabric.
Villa Clarisse is a sister hotel to the Hotel de Toiras, and also owned by Olivia Le Calvez. Located on a quiet, residential street just a five-minute walk from the harbor, Villa Clarisse is a converted 18th-century mansion transformed into a tranquil oasis with contemporary rooms, a private garden, and a heated pool (a rarity in France). The restaurant serves a full breakfast (included in the price of the room) with home-baked bread, local preserves, omelets, eggs, fruit salad, and yogurt. At lunch time, the hotel can make you a custom picnic basket so you can enjoy lunch on the grass in their garden. Villa Clarisse can also provide a private butler to fulfill all your needs. In 2021, Villa Clarisse will add a full-service spa.
Pro Tips
La Rochelle is three hours by high-speed train from the Montparnasse station in Paris.
Ile de Re is reachable by a local bus from the La Rochelle train station for two euros each way. This takes approximately an hour. A taxi costs around 40 euros and takes 25 minutes.
Ile de Re is a seasonal resort, and the best months to visit are May through October. August is the busiest month, so if you want to go then, make sure you make your accommodation reservations way in advance.
Except for the hotels listed above, most accommodations on Ile de Re do not have air conditioning. Daytime temperatures in July and August range from 68 to 72 degrees Fahrenheit and at night go down to the low 60s.