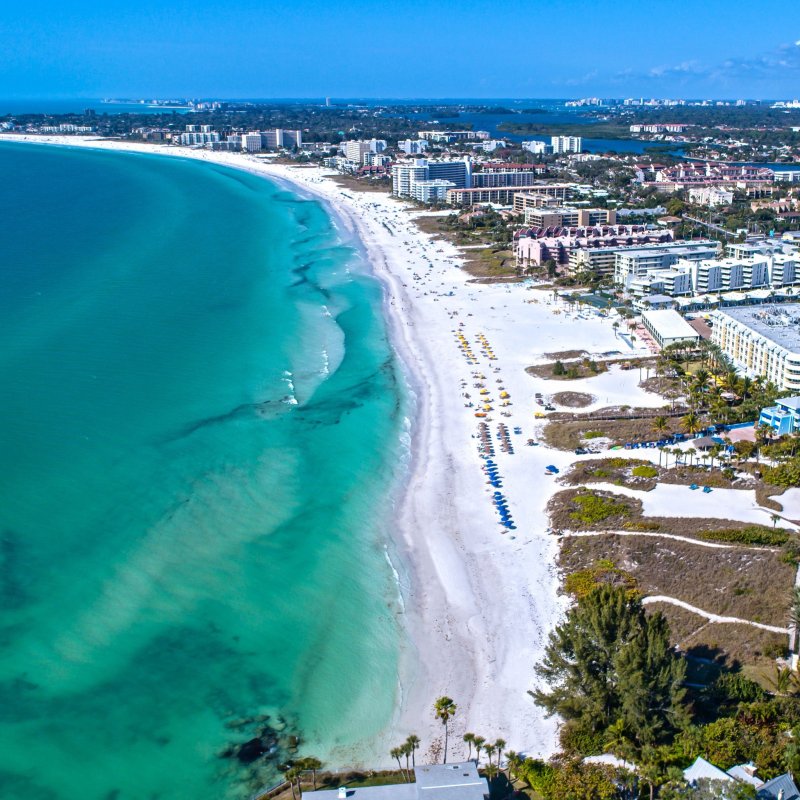 Siesta Key, named one of the best beaches in Florida year after year, sits on the West Coast of Florida along the Gulf of Mexico. Twice it has been named the best beach in America. Siesta Key is minutes from Sarasota and Bradenton, where you can go for even more vacation offerings. I think you'll have everything you need at your fingertips right here, though, on this gorgeous 8-mile-long island getaway with pristine beaches, plentiful outdoor attractions, great dining options, and fun for the entire family. Here are some things to consider for your family's special visit.
Things To Do In Siesta Key
From shelling to sunbathing, kayaking to day drinking, fine dining to boating, you'll have no shortage of fun offerings in Siesta Key. Savor succulent crab or the fresh catch-of-the-day as you watch stellar sunsets. Collect shells along the waterfront as you watch seagulls and pelicans pick out their lunch. Read a book nestled on a comfy blanket on the sandy beach or enjoy a leisurely bike ride. The list of enjoyable things to do in Siesta Key is as long as you'd want it to be.
Relax
Enjoy relaxing. I know this one is hard for some people, but merely lying on the beach or by the pool, reading a book, flipping through a magazine, listening to your favorite tunes, or taking a nap are all things you may want to consider on your Siesta Key vacation. Often, we need a reset and way to wind down, and lately, it seems a vacation is one way to make that happen.
Eat
Fresh seafood, tasty appetizers, craft beer, gourmet coffee and tea, and American cuisine are some of the delicious finds here at Siesta Key. Those who plan their vacations around the restaurants they want to try will have no shortage of tasty dining options at Siesta Key — and even accommodations for preparing a meal "at home."
Spot Wildlife
Siesta Key features a gorgeous and still somewhat undiscovered natural setting, with shorebirds, egrets, herons, and dozens more. Keep your eyes peeled for dolphins and manatees, too.
Hit The Beach
Siesta Key is packed with beach activities, including snorkeling, Jet Skiing, and parasailing. Consider renting a canoe, kayak, or stand-up paddleboard. Point of Rocks Beach, a beautiful collection of smooth, flat limestone rocks, is perfect for fishing, bird-watching, and some of the best snorkeling on Florida's Gulf Coast. I think it is best for pictures, too.
No matter which activities you choose, the stunning quartz (silica) sand will provide the backdrop and setting for your relaxing beach days. Crescent Beach is another beautiful part of Siesta Key and a totally different landscape. Keep in mind that the water of the Gulf is much warmer than that of the Atlantic Coast, making this a place where you can enjoy water activities year-round.
Take A Boat Ride
It is pretty simple to rent a boat for your family's use while in Siesta Key. You can do so from Stickney Point Road. Whether you want to fish, see bottlenose dolphins, swim, ride around on a luxury catamaran, or enjoy the outdoors, the option is there. The cost at Siesta Key Watersports is $45 for the sunset sail, including free beer, wine, soda, and water. Marlin, snook, snapper, and grouper are a few things to dream about catching on your fishing adventures.
Enjoy Unique Freebies
There is no need to move your vehicle during your Siesta Key stay. Hop on the Siesta Key Breeze Trolley, which runs every 10 to 30 minutes. The route runs from Turtle Beach to Siesta Key Village, and it is entirely free. You can find the stops and more information here.
The second unique freebie is the amazing Siesta Key Drum Circle, a weekly Sunday event that has been in operation since 1996. The drummers begin around an hour before sunset and play enchanting drum beats that are great for relaxing, dancing, or just being in the moment. You can learn more about them on their Facebook page.
Best Restaurants In Siesta Key
The food in Siesta Key is quite memorable, and with each of my visits, I've had a few meals that are noteworthy and recommended.
Breakfast
Breakfast at Another Broken Egg Cafe is a Florida Southern favorite, with dishes ranging from cinnamon roll French toast and pumpkin waffles to mouthwatering crab cakes Benedict. My top pick is Toasted Mango Cafe, however. Both the Farmhouse Omelet and homemade corned beef hash and eggs are over-the-top-delicious.
Lunch
Siesta Key has several tasty options for lunch. My recommendations are Siesta Key Oyster Bar (SKOB) and the Lobster Pot. Both are located in the heart of downtown and have been staples in town for quite a few years. Go for a rich and flavorful lobster roll from the Lobster Pot. The watermelon salad with almonds, goat cheese, and berries is another attractive option. The grouper sandwich and gourmet burger are the local favorites from SKOB, which has a fabulous outdoor patio great for people-watching.
Dinner
Two memorable dinner choices are Hub Baja Grill and Miguel's.
Hub Baja Grill is a laid-back, festive beach-type bar with upscale food, a stellar downtown corner location, and fantastic live music. Try the Baja fish tacos or bronzed salmon (with truffle black bean puree and passion fruit beurre blanc sauce); both are excellent palate-pleasers.
Miguel's is a fine-dining French restaurant at the opposite end of the island. The food is phenomenal, and the service impeccable. It is rare to find a French eatery in such a casual setting in Florida, so if you have a celebration or just want an outstanding meal, this restaurant is the place. Try the veal scaloppini or the incredible Chateaubriand. Save room for the cherries jubilee or Bananas Foster cooked tableside.
Coffee, Drinks, And Sweets
Lelu Coffee has a funky surf-themed patio, a great coffee and tea selection, and an arsenal of martinis and cocktails. Pair your cold brew with a fluffy vegan cinnamon roll.
Big Olaf Creamery (opened in 1982) is the place for ice cream lovers, with nearly 40 flavors to choose from, plus soft-serve and Italian ice.
Another tasty option for handmade ice cream is Orange Octopus Ice Co., with Ooey-Gooey Brownie, Kentucky Honey Bourbon, and Key Lime ice creams, to name a few.
Best Places To Stay In Siesta Key
Siesta Key has a wide array of accommodations, from multifamily rental homes to unique bed and breakfasts, classic inns, and even campgrounds.
The Turtle Beach Resort and Inn features cottages with amazing waterfront views and an air of romance. Banyan Tree Resort is a second option for luxury lodging with condos and studio apartments with screened porches and patios. Pitch a tent and enjoy Siesta Key more ruggedly at the Turtle Beach Campground, offering tent and RV sites. I don't know about you, but that sounds like another romantic option to me.
My top pick is Siesta Key Bungalows, a little piece of heaven at the opposite end of the island. There are 10 unique bungalows to choose from, but Ringling (a one-bedroom with a water view) is the one I loved best, with a full kitchen, queen-size double pillow-top bed, and chaise lounges overlooking the Heron Lagoon. Bikes, kayaks, and a heated pool are complimentary; you can fish off the dock.
What To Know Before You Go
You can reach Siesta Key from Sarasota, its neighboring city, or by driving a little more than an hour from Tampa, where an affordable flight is probably an option for those not driving.
About 6,500 people reside in Siesta Key, and nearly three million visit Sarasota County each year. During the off-season (June through November), you'll experience far fewer crowds and still have favorable weather. The all-season activities, pleasant weather, and laid-back vibe make this one of the most sought-after Florida vacation spots. It is also tucked away, however, so you'll avoid many who aren't coming here specifically to visit. Siesta Key may not be the place to choose when looking for a budget vacation, since the rooms are pricey. Reservations are necessary, and you should make them early if possible.
Summers in Siesta Key are hot, with typical Florida temperatures reaching nearly 100 degrees. Sunscreen is of the utmost importance, and you might consider bringing a hat. There are also rain showers, or sun showers, that don't typically last long but can be a nuisance. The best times to visit are late February through May and in the late fall.