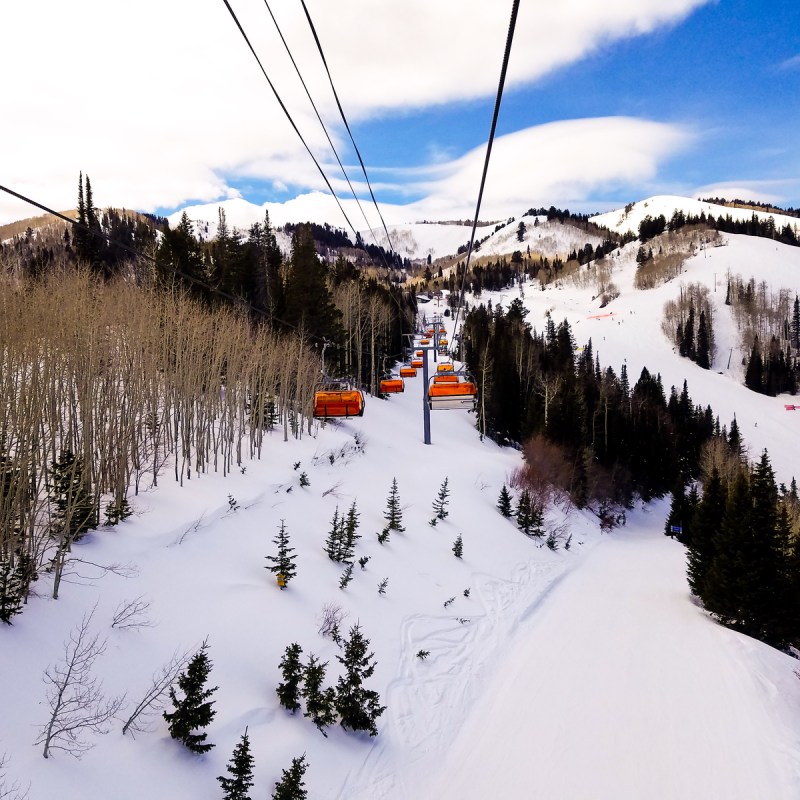 The rugged Wasatch Mountains near Salt Lake City are known for their fresh powder, challenging terrain, and rich history. Each ski resort in the area is unique, attracting skiers and riders from all over the world.
Here are seven of the best.
1. A Family Affair: Park City Mountain Resort, Park City
Best For: Families And Multigenerational Groups
The largest ski resort in the United States, Park City Mountain Resort will appeal to every member of the family. It has an astounding 7,300 skiable acres with more than 330 runs that are pretty evenly split between beginner/intermediate and advanced/expert. The skiers and riders in your group will have no trouble occupying themselves for days on end, discovering all this mountain has to offer.
For the non-skiers, the mountain town of Park City has plenty to offer. The main street is lined with boutique shops featuring local artists, as well as restaurants ranging from quick and easy to upscale. You can even head over to the Town Lift to meet the skiers for a quick lunch (try the all-day breakfast at The Bridge Cafe and Grill). The Canyons Village base area is quieter, with only a handful of restaurants and lodging options. But it does have a lively apres-ski scene and offers easy access to the Park City Ski and Snowboard School.
Pro Tip: The liquor laws in Utah are somewhat strict. Some bars won't allow anyone under 21 inside; others may limit where underage people may sit or stand. It's best to call ahead for clarification.
2. A Little Bit Of Solitude: Solitude Mountain Resort, Solitude
Best For: Upping Your Game Without The Lines
Solitude Mountain is smaller than most in Utah, but its quaintness makes it a hidden gem. With 82 runs covering 1,200 skiable acres, Solitude Mountain Resort is the perfect place to find… well, solitude. You'll be hard-pressed to find lift lines here. Half of the runs are expert, making it the perfect place to up your game. The majority of the remainder of the runs are classified as intermediate, so beginners may want to skip this one.
Since it's only 30 miles from Salt Lake City, you can easily make a day trip of it. The price is also right; a senior lift ticket costs under $100 even during peak season, which is unheard of these days!
If you choose to stay for a few nights, you'll find the village charming. It is conveniently small, so you won't have to walk far to get anywhere. The Inn At Solitude is a Bavarian-style lodge that has all the amenities you'd want — a full-service spa, heated outdoor pool, and hot tub where you can soak after those long runs. Then head to the Library Bar to swap ski stories over an award-winning wine list or handcrafted cocktails.
Pro Tip: Since 2018, Solitude Mountain Resort has accepted the Ikon Pass, which grants access to 43 other resorts across the U.S., Switzerland, Australia, and Chile.
3. Lap Of Luxury (But Only For Skiers!): Deer Valley Resort, Park City
Best For: High-End Luxury
If it's luxury you're looking for, then head to Deer Valley Resort, but only if you ski. Deer Valley is one of only three resorts in the U.S. that don't allow snowboarders (two of them are in Utah, and one is in Vermont). With 103 runs spanning more than 2,000 skiable acres, Deer Valley has a good mix of beginner, intermediate, and expert runs. And you can experience a little bit of history on this mountain. Grab a map and find your way to one of the runs used in the 2002 Winter Olympics.
There are three main areas of Deer Valley: Snow Park Village at the base of the mountain, Silver Lake Village midway up the mountain, and Empire Canyon at the top of the mountain. Each area has different dining options and lodging options, ranging from hotel-like accommodations to multiroom condos. You can learn about Olympic history at the elegant Stein Eriksen Lodge, named for an Olympic skier from Norway. Ever ridden in a funicular? You will if you stay at the St. Regis Deer Valley. The funicular will take you up from the lower lobby to the main hotel past some pretty epic scenery.
Pro Tip: Deer Valley is just minutes away from downtown Park City. Check with the front desk to see if your accommodation offers free shuttles or cars to take you there and back.
4. Deep And Steep: Alta Ski Area, Alta/Snowbird Ski Resort, Snowbird
Best For: Serious Skiers
Both of these resorts are in Little Cottonwood Canyon, about 30 miles southeast of Salt Lake City. They are connected to each other, but each requires its own pass. Please note that the Alta Ski Area is the second resort in Utah that does not allow snowboarders.
The Alta Ski Area is known for its steep terrain and massive amount of powder — an average of 545 inches of snow a year, with a season record of 748 inches. More than half of its 116 runs are rated expert. There is no differentiation between single black and double black diamond runs; it's all difficult. Skiers should plan their lines from the chairlift because it can be difficult to navigate all that snow. If you ski here, don't make the mistake of calling it a resort; Alta prides itself on being an independently owned ski area. There's a difference! All of the lodges at Alta are family owned and will give you ski-in, ski-out access to the 2,600 skiable acres.
Snowbird Ski Resort is located right next to Alta and has a few more frills, including more lodging and dining options. The resort has 2,500 skiable acres with runs that are mostly rated expert or advanced. Only about 25 percent of the 140 runs are blue runs, and there are even fewer designated for beginners. A big draw is the resort's iconic Snowbird Aerial Tram. The 10-minute cable-car ride will take you up nearly 3,000 feet in about a mile and a half. Snowbird also offers night skiing and free avalanche training.
Pro Tip: Alta has a pay-as-you-go card. It will automatically charge your credit card 50 percent of the window price every day you ski. If you have the card, you can just go straight to the lift.
5. Hidden Gem: Snowbasin Resort, Huntsville
Best For: Avoiding The Crowds
Located just 45 minutes north of Salt Lake City, Snowbasin Resort might just be the best-kept secret in Utah. With an average of 300 inches of snowfall a year, this resort is a dream for powderhounds. It has more than 3,000 skiable acres with more than 100 runs, half of which are advanced or expert. The rest are mainly intermediate blue runs.
Some vacationers may overlook Snowbasin because it doesn't have much of a village area, lodging, or nightlife, but locals are just fine with that. If you are okay with a bare-bones ski area with good powder, challenging runs, and no crowds or lift lines, then head to Snowbasin.
If you do want to make a night of it, the town of Ogden is just 20 miles from the ski area and has lodging. There are a few lodging options closer to Snowbasin, and some even offer shuttle service to the mountain.
6. Go For The Day: Brighton Resort, Brighton
Best For: No Frills — Just Skiing
For even fewer frills and even more snow, head to Brighton Resort. With a whopping 500 inches of snowfall a year, this 1,000-acre mountain is a great spot for beginner or intermediate skiers and boarders; more than half of its 66 runs are either green or blue. Brighton also offers night skiing coupled with promotions for free food or discounted night lessons. Brighton prides itself on being hard to find. The resort admits to not running many ads; it wants you to hear about the them by word of mouth. It's a unique approach that makes the ski area a true locals' mountain.
If you'd like to stay in Brighton, The Brighton Lodge offers 20 rustic rooms. A perk of staying here is that the lodge offers packages that include lodging and lift tickets. Plus, kids under 10 ski free when they stay at the lodge.
Pro Tip: Brighton gets so much snow because it sits at the top of Cottonwood Canyon, and the roads up there can get a bit rough. If you are renting a car, you might want to get a vehicle with four-wheel drive to make the trip safely.
7. Arts And Culture: Sundance Mountain Resort, Sundance
Best For: Culture Lovers
Founded by actor Robert Redford, Sundance Mountain Resort is set at the base of beautiful Mount Timpanogos, just an hour southeast of Salt Lake City. Redford's vision of Sundance was one of preservation and sustainability, a priority that is still top of mind today. For that reason, Sundance is more of an experience than a huge ski resort. It only has 44 runs across 450 acres, and a vast majority of the runs are labeled green or blue.
What you'll love most about Sundance, though, may be off the mountain. There are art, music, and literary festivals on the weekends. You can visit the art studio to browse traveling exhibits or take a soap-, journal-, or jewelry-making class. The Native American-inspired spa offers an organic and holistic approach to healing and relaxation. The lodging at Sundance is rustic, and the dining is fresh, organic, and paired with the peace that comes with being surrounded by 5,000 acres of undeveloped wilderness.
Pro Tip: For some true history, head to the Owl Bar. It has its original rosewood bar that was once frequented by Butch Cassidy and his gang. But you'll have to commit it to memory, since no photos or videos are allowed inside.