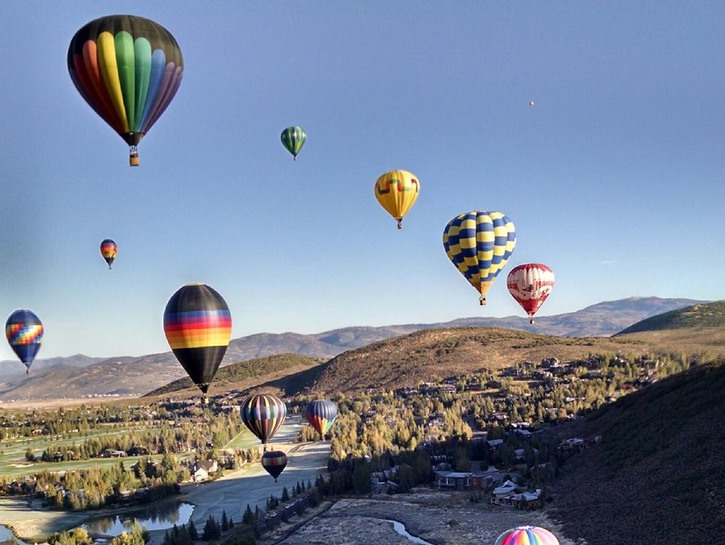 I love Deer Valley, Utah and have been going for years. And when I say Deer Valley, I'm including Park City. It's easy for us get to, just a direct flight to Salt Lake City and then under an hour drive from there. We can leave early in the morning and be on the slopes in the afternoon or playing a round of golf. But besides being gorgeous, the best part is that the area offers everything we love to do. While it's known as a winter vacation destination, everyone who lives there will always say "If you love Deer Valley in the winter, you have to come back in the summer." And, oh, how right they are…
One caveat about going to Deer Valley, though, is you really have to love the outdoors, because that's the backbone of Utah. No matter which season you choose to visit, it's all about outdoor adventures. I can't imagine vacationing here and choosing to sit at a resort and relax. Now, the Montage has a great spa, but that is definitely not what I'm going for. It's just a nice amenity for when I've tired myself out from all the activites…
Accommodations
There is no shortage of amazing accommodations in the area. Whether you prefer to stay in a hotel, resort, condo, or luxury home, you will find just what you're looking for and at all price points. And families will be very pleased as the area is very kid-friendly. You can choose to stay mountainside at one of the resorts, like The Montage Deer Valley or Stein Eriksen Lodge or choose to stay in town and have Main Street within walking distance. If skiing, I would highly recommend the mountainside option. I'd much rather be close to the lifts during the day and then go into town at night for dinner.
National Parks
Utah is home to 5 national parks and in fact, is known as American's national park capital. There's Arches, Bryce, Canyonlands, Capital Reef, and Zion National Park. Each unique from towering sandstone monoliths, red rock spires, deep canyons and sheer cliffs, natural arches, and bridges. While the closest park is about a 4 drive from Park City, if you have the time and have never seen these sites, it may well be tagging on several extra days.
And you'll have several options for your visit. You can plan and drive yourself or many resorts will arrange day excursion to one or more of the parks. For instance, the Montage to Moab day excursion lets guests explore Canyonlands and Arches National Park via private jet charter and return to Park City the same evening.
Skiing
Of course, skiing is what Deer Valley is known for and it is great for every level of skier. I used to be daring, but as I'm getting a bit older I'm much more cautious. I prefer no snowboarders in my path and so does Deer Valley. But if that's your thing, you can just move on over to Park City. Many of the resorts offer ski-in ski-out as do many of the condos. It just makes the experience so much easier and you don't have to worry about driving and parking. We always stay at the Montage Deer Valley. It meets all of our skiing needs and we consistently have good experiences, so why go elsewhere.
But if you must, it's easy to park at the Deer Valley Resort, get your lift ticket, and enjoy a day on the slopes. The trails are both well-marked and well-groomed. Since we don't ski all that often, we rent our skies and booIs, but have invested in all the other gear, especially helmets and goggles. I tend to take one or two lessons and then meet up with my expert skier husband later in the day when my confidence has built up. Then, we can have a relaxed couple of runs before enjoying a spa treatment or a cocktail before heading into Park City for dinner.
Hiking
I walk and run for exercise, but honestly had done little to no hiking until several of our vacations forced me to. I suffered through hiking adventures in Antartica and Alaska and lo and behold, it's become one of my favorite activities on vacation. I've even bought all the basic gear and used it!
With this being ski country, many of the hiking trails are right by the lifts. You can take them up or down and then hike from there. Of note, some do charge a fee to ride up, generally around $20. One of my favorite hikes was found during a trip to Sundance Resort. The hike took us to the spectacular Stewart Falls. While not too steep, it was a bit treacherous as the trail was narrow and rocky in spots. But seeing the falls made the trek worth my effort. I always love when you can hear the water as you are approaching. The sound never disappoints. You can even stand under the freezing water if you so choose!
Besides the ski lifts, you have so many other options for hiking in the Deer Valley area and for all levels. Whether you want a more leisurely and flat walk or prefer a strenuous uphill pace, you will find it. You can stay locally with over 325 miles of trails in the Park City area alone or venture out within an hours drive and find hundreds more! Your hotel will be happy to provide this information or you can find trail maps available online.
Mountain Biking
I'm going to say right up front that this sport is not for me. It will be one of those "one and done". I never really had a desire to try mountain biking as I'm not a cyclist by any means. My idea of a bike ride is to happily pedal into town to the Farmer's Market on my Schwinn with a basket. My husband, on the other hand, does triathlons, so biking is second nature. But road bikes and tribikes are a whole different ballgame from a mountain bike.
Since we were both novices, I asked the Montage to arrange a beginners' 2-hour guided tour for us. They chose All Seasons Adventures and we couldn't have been more pleased. Our guide took pity on me and my fear and was most accommodating to our skill level. While I did have fun on more open terrain, when it came to narrow, rocky trails, I had a great deal of discomfort and anxiety. I could just never relax and enjoy. My husband, however, flew across the trails with pure bliss and no fear.
But if mountain biking is your thing, Deer Valley will be sure to please. With over 400 miles of single track trails and plenty of places to rent bikes and equipment, you should be all set. And if you're experienced, it's easy just to go on your own and to all extremes. We saw a lot of people putting their bikes on the chair lifts and riding them down. Some even had padding covering all vital body parts. I will say, though, most of these people looked to be under 25 year old males! I did not see one 50+ person signing up for this adventure.
Golfing
Now we're talking my idea of an outdoor activity! No fear or anxiety to worry about. No rocky cliffs to slip off or steep hills to climb. Just how far will I drive and will my short game be on.
I had the hotel give me a few of their favorite golf courses and then I had them book my choice after doing some research, I opted for the Promontory Club and the Pete Dye course; a private club that also allows non-members to play. The club has two courses to choose from, but the Jack Nicklaus course didn't look as interesting to me.
The club was gorgeous and so was the course. We had to play with a caddy and I'm so glad we did. Not being familiar with the course and the degree of difficulty present made having someone telling us how it played much more fun. Plus, you just feel differently when you play with a caddy. Handing off your putter when you finish a hole truly makes me feel special.
Besides this club, there are multiple choices for golf in the area, including public courses which will be much less expensive. So, just do your research.
One of the nice things about golf is that unless you're going on a true golf vacation, you don't need to bring much equipment. Since we were only playing one day, we certainly weren't going to bring our clubs. We rented a very high quality set for $35 a bag. So, all we brought were our shoes and gloves. I mean golf attire can be worn as regular clothes these days.
Water Sports
From kayaking to white water rafting to fresh water fishing, the skies the limit. When you think about the crystal clear waters in lakes, rivers, and streams that cover this area, it's no wonder water sports are so popular.
East of the Wasatch Mountains you'll find The Jordanelle Reservoir, a perfect choice for kayaking, jet skiing, water skiing, and paddle boarding. You can even rent your equipment from Jordanelle online before you go.
One of my absolute favorite outdoor activities is white water rafting. For beginners and those less adventurous, the sport is available on the Weber and Provo Rivers, where you'll find the much calmer Class I-II rapids. For those who prefer their rapids a little more wild like me, Class III+,you'll need to venture to other areas of the state.
Shopping and Eating
Deer Valley and Park City are top notch when it comes to shopping and eating. I have always been impressed with the quality and options for dining in Park City. On a recent visit, I discoverd my favorite restaurant had closed, but amazingly, 3 new ones that I loved replaced it.
Main Street is restaurant row in Park City, but you will also find great options at the resorts. You can pretty much find anything to your liking and all cuisines are represented. As you might expect from a ski town, dining is both pretty casual and moderately expensive. But you can find options at all price points. I can confidently recommend Fletcher's, Riverhorse on Main, Firewood, Apex, and Tupelo. All had excellent food and service. Locals also recommended Handle and Wasatch Brewery for a beer, the first brewery in Utah and one of the first craft brewers in the U.S.
In terms of shopping, it's Main Street again. Cute boutiques and thankfully, not many tourist shops make for a pleasant experience. I do love Gallery MAR for it's art work and if you're looking for cowboy boots, hats, and belts, then Burns Cowboy Shop is the place to go. And of course, you can find all the ski clothes and equipment your heart desires. But if you're looking for a men's shave and haircut, my husband says City Barbers was the best experience he's ever had and yes, he calls it an experience and can't wait to get back.
Not to mention…
And just in case you're bored, here are a few more ideas on how to entertain yourself.
Fun festivals, like the Deer Valley Music Festival and Sundance Film Festival
Scenic Lift Rides
Rock Climbing
Park Silly Sunday Market
Zip Lining Tours
Hot Air Ballooning
Horseback Riding