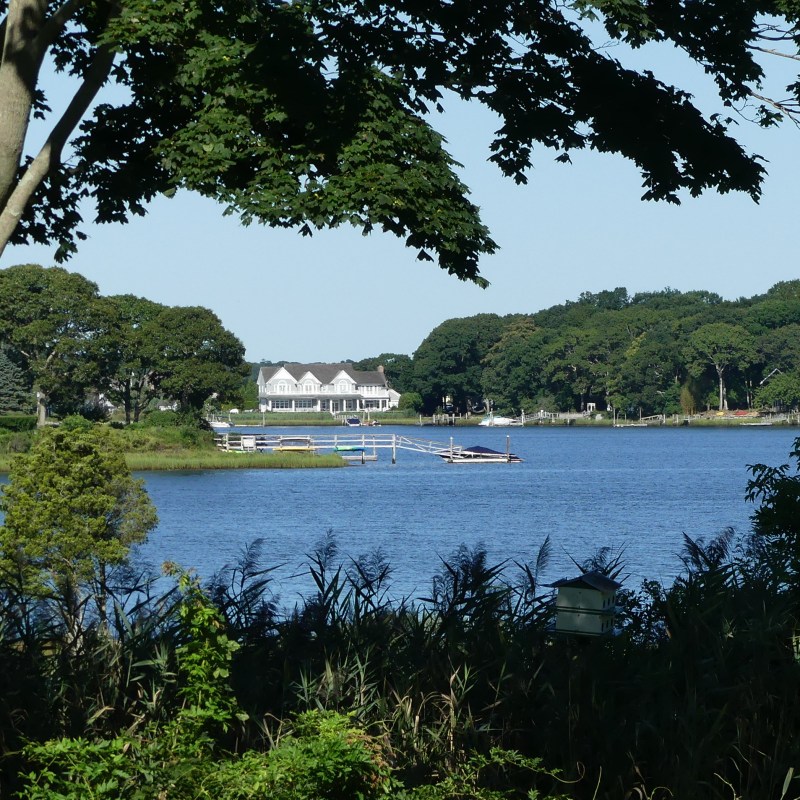 The quaint village of Sag Harbor on eastern Long Island is partly in Southampton and partly in East Hampton, but it has a different vibe than the Hamptons. Just two hours by car from New York City, Sag Harbor has a long recorded history. It was founded by English colonists in the early 1700s, and during the American Revolution, the New York Patriots fled to Sag Harbor to escape on boats going to Connecticut. In the late 1700s, Sag Harbor was a major whaling port, making and exporting valuable whale oil, which was used for lighting lamps.
It became an international port. The whaling industry peaked in the mid-1800s, and it was mentioned in a number of chapters of Moby Dick. Just after July 4th in 1789, Sag Harbor was made the first official port of entry to the United States and had a customs house, the first on Long Island, for incoming ships to pay tariffs to enter the country.
In the 1800s, the ships in the Sag Harbor ports were filled with sailors going to California for the Gold Rush.
Sag Harbor has attracted many artists and writers including John Steinbeck, Spalding Gray, E. L. Doctorow, and poet George Sterling. Here are the best things to do in Sag Harbor — and on Shelter Island — if you make it there yourself.
Sag Harbor proudly maintains its heritage with many of the original buildings from the 1700 and 1800s still standing, including the Old Whalers Church, the John Jermain Library, and a windmill.
Sag Harbor Whaling And Historical Museum
A handsome Greek Revival-style building with Corinthian pillars at the entrance, the Sag Harbor Whaling and Historical Museum was once the palatial home of whaling ship owner Benjamin Huntting II and his family and today is a certified National Treasure that's listed on the National Register of Historic Places. The museum contains artifacts and objects used on whaling ships including harpoons, knives, figureheads, whale ivory, whale vertebrae, and shipbuilding tools, plus paintings of whale hunts. The museum also presents contemporary exhibitions related to the culture of Sag Harbor today and yesterday.
Sag Harbor Historical Society
An 18th-century house is now the home of the Sag Harbor Historical Society, which features historic exhibitions and lectures and is open to the public on weekends. In the back of the museum is a replica of a well-known whale boat shop from the 1800s, which contains a small collection of boat building tools and a video about the whaling industry in the town.
The Society is committed to the preservation of books, photography, and art, including a collection of over 300 books, maps, and bibles, hundreds of documents such as family, house, and church histories, a photo collection of local landmarks, and boxes of period clothing.
Old Whalers Church
The Old Whalers Church also known as the First Presbyterian Church, is the most prestigious landmark in Sag Harbor and one of the finest examples of Egyptian revival style in the U.S. Constructed in 1844 by Minard Lafever, a noted architect of the time, it has classic Greek and Egyptian features. When it was constructed, the 185-foot-tall steeple was visible to ships entering Montauk harbor 21 miles away.
The church still has a First Presbyterian congregation and hosts services every Sunday.
Bay Street Theater
The Bay Street Theater is a non-profit, regional theater with 299 seats. The theater is run by Emma Walton Hamilton, Julie Andrews's daughter. Bay Street stages revivals and original plays and musicals, some of which have moved to Broadway and Off-Broadway. They also have a comedy club. Notable actors Mercedes Ruehl, Dianne Wiest, Sarah Paulson, J. Smith Cameron, Ellen Burstyn, and Hal Linden have starred in plays at Bay Street.
Where To Eat In Sag Harbor
The Dock House
It's no coincidence that Sag Harbor has great seafood, and at The Dock House, it doesn't get any fresher. Located on the fishing wharf in Sag Harbor, The Dock House restaurant has a homey feel, and they also have a market and takeout dishes. There's an across-the-board seafood selection including fresh lobster, crab cakes, steamers, mussels, oysters, clams, swordfish, and grilled tuna. Try their award-winning clam chowder.
Page At 63 Main
Specializing in local, organic cuisine, Page At 63 Main is a local institution. Open for lunch and dinner, dishes include local oysters, crispy fried calamari, vegan grain and vegetable bowls, and Parmesan truffle fries. There's a casual cafe and takeout counter in the rear.
Dopo La Spiaggia
Dopo La Spiaggia is an upscale Italian restaurant serving Tuscan-style cuisine. Menu specialties include ravioli with burrata and black summer truffle; branzino-poached seabass with spinach, tomatoes, and white wine; veal scaloppini with white wine sauce, broccoli rabe, and pine nuts; and, for dessert, ricotta cheesecake and classic tiramisu.
LT Burger
Juicy thick, eight-ounce burgers made of Angus beef are the stars at LT Burger. They also make turkey, chicken, vegan, and vegetarian burgers. Sides and starters include Kosher fried dill pickles, smoked Gouda fries, and a kale and wheat berry salad. Milkshakes, floats, fried Oreos, and s'mores are available for dessert.
Where To Stay In Sag Harbor
The American Hotel is an elegant former home built in 1846, meaning it's a remnant of the whaling era of Sag Harbor. Located on Main Street, The American Hotel has eight guest rooms, all tastefully decorated with American antiques, plus a gourmet restaurant with an award-winning wine list.
Baron's Cove is a full resort hotel facing the harbor. The 67-room hotel has rooms and lofts with calming decor in colors of gray, white, and navy blue. Amenities include a garden, parking, an outdoor pool, an indoor and outdoor restaurant, and a lounge. The hotel also offers complimentary beach service with a shuttle bus, plus chairs, towels, and umbrellas.
Shelter Island
Accessible by ferry from either the North Shore or South Shore of Long Island, Shelter Island is a verdant, small island great for relaxing and nature. About one-third of Shelter Island is a nature preserve, owned and protected by The Nature Conservancy, the largest non-profit nature preservation society in the U.S.
Originally known as Manhansack-aha-quash-awamock ("an island sheltered by islands"), Shelter Island was inhabited by the Manhanset tribe of Native Americans and was purchased in 1641 by Stephen Goodyear. Nathaniel Silver and his three partners bought the island from Goodyear, and Silver settled on the island with his family. In the 1700s, Shelter Island became a small, established community with a church and a school, and in 1846 the first ferry service started running from Greenport.
Shelter Island Historical Society and Havens House Museum is a museum that captures early life on the island, circa 1761. Captain James Havens and his wife, Elizabeth, named the land Heartsease and raised 11 children in the house. The house also served as a store, a tavern, a school, the post office, and the town meeting hall. Today, it houses a museum with temporary art exhibitions as well as the Havens Store, which sells merchandise and artworks from local Long Island artists and artisans.
Birdwatching On Shelter Island
Mashomack Preserve is the best place to bird watch on Shelter Island, and offers a wide variety of bird species, changing with the seasons, including Cedar Waxwing, Blue Jay, Black-capped Chickadee, American Goldfinch, Northern Cardinal, Mourning Dove, American Robin, House Hairy Woodpecker, and Carolina Wren.
Bicycling Shelter Island
Once you arrive on Shelter Island, the best way to enjoy the landscape is to rent a bicycle or bring your own. Piccozzi's Bike Shop rents bicycles for $20 for four hours and $25 for eight hours. They also have child seats and bicycles.
Where To Stay On Shelter Island
Shelter Island House is a compound with a hotel, resort, and restaurant housed in a 19th-century former home. The six large and airy suites are luxuriously outfitted, and complimentary amenities include an outdoor pool with chaises, bicycle rentals, beach umbrellas, chairs, and towels, plus coffee and morning pastries.
Shelter Island House is pet-friendly, and they have two rooms that can accommodate dogs up to 50 pounds.
Where To Eat On Shelter Island
Vine Street Cafée
A charming cottage is now the Vine Street Cafe, which serves the best of American foods. Dishes include clam chowder, country fried chicken, and prime New York strip steak with hand-cut fries. Vine Street also has a food market where you can buy takeout food and bottled sauces.
Maria's Kitchen
Maria's Kitchen offers freshly made Mexican cuisines such as quesadillas, tacos, and nachos and also has a salad menu.
Ferries To Shelter Island
There are two service points for Shelter Island ferries.
The South Ferry in North Haven is the South Shore option and is next to Sag Harbor. This ferry accommodates pedestrians and cars, and the ride takes about 10 to 15 minutes.
The North Ferry in Greenport is the North Shore option. This ferry also accommodates pedestrians and cars. The crossing takes eight minutes.
Pro Tips
The best times to visit Shelter Island are in May, June, September, and October. July and August are the peak months, so if you do decide to go during those months, reserve your hotel and restaurants way in advance, and arrive at the ferry at least 20 minutes before your scheduled departure time because it's first come, first served.
For more vacation inspiration, read up on 10 fabulous and affordable restaurants to try in the Hamptons.