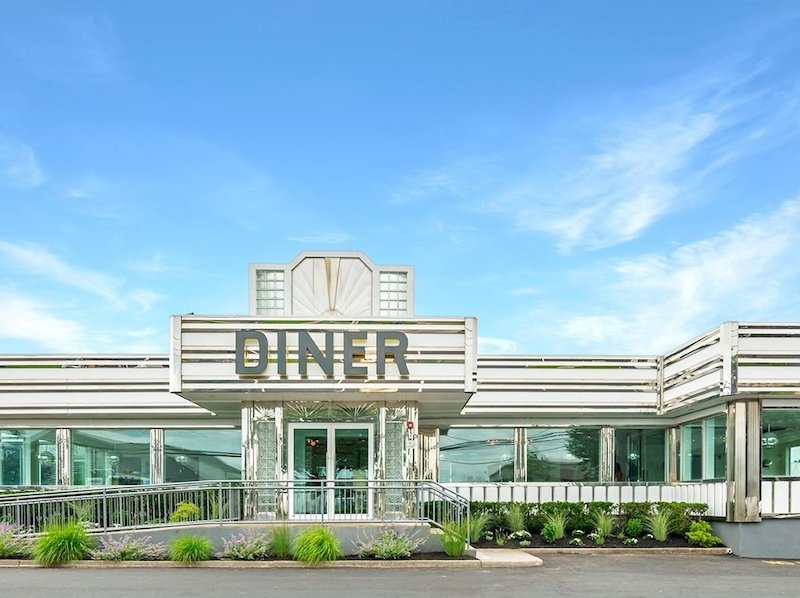 The Hamptons is a glamourous seaside region known for its gorgeous beaches and massive estates. It's made up of two main townships, Southampton and East Hampton, and smaller villages that stretch along the South Fork of Long Island. Located 80 miles east of New York City, Westhampton signals you have arrived, but travel just 50 miles further, and you reach the furthest point on Long Island, Montauk. Some debate if Montauk is the Hamptons, but either way, if you visit, go all the way out to "The End."
Known as a getaway for celebrities and New Yorkers trying to escape the summer heat, there are plenty of expensive restaurants in the Hamptons where you can see and be seen. There are also casual eateries that offer the freshest seafood, local produce, or spectacular water views. A few require a reservation or a wait, so check their websites. Our list includes places where prices are affordable — for the Hamptons — but there are plenty of pricier options if you prefer to dress accordingly.
1. Silver Lining Diner
Southampton
While the name says diner, this is nothing like a diner in the traditional sense. Chefs and partners Marc and Eric Miller, who ran kitchens at two other favorites on the island, took over the Princess Diner and created an upscale eatery: the Silver Lining Diner. Opened in July of 2019, it is known for the fabulous ocean-to-table entrees and clambakes. Chef Miller also smokes his own meats (the brisket is not to be missed) and bakes the pastries in house. The exterior still looks like your classic 1950s diner, but the interior has lots of chrome and sunny yellow banquettes.
The organic rotisserie chicken is heavenly, and the harbor fluke sauteed in a caper, garlic, lemon, and white wine sauce tastes like it was plucked right out of the ocean. Speaking of the ocean, you can select a picnic box or clambake to go and find an idyllic spot to enjoy it.
2. TownLine BBQ
Sagaponack
Since 2007, TownLine BBQ's motto is that "meat reigns supreme," and it's sourced responsibly. This reclaimed barn wood shack seems like it should be in the Carolinas rather than on the main road in the Hamptons. The kitchen dry rubs and smokes the meat on-site and serves it daily until the barbecue runs out. Menu items include racks of St. Louis ribs, beef brisket, pulled pork and chicken by the pound, smoked chickens, and sauces for dipping. Sides like baked beans, cornbread, and collard greens make for some tasty pairings. The full bar serves over 70 types of whiskey and local craft beer on tap.
There is a deck outside with picnic tables or limited indoor seating in the shack. Takeout is available. You order and a buzzer signals when your food is ready. In the meantime, grab a picnic table and a local draught beer while you wait.
3. Bostwick's Chowder House
East Hampton
Bostwick's is a laid-back place where you can enjoy a delicious meal and a tasty cocktail on the patio. For 18 years, co-owners Chris Eggert and Kevin Boles have developed a loyal following because they know what diners want: East End classics. Menu items like steamers, lobsters, and the catch of the day are all fantastic choices, but the raw bar is legendary. If you can't decide, order the Chowder House seafood tower with chilled clams, oysters, shrimp cocktail, a one-pound lobster, seared tuna, and jumbo lump crab. It is a glorious feast to share.
Don't skip the New England clam chowder. The classic version is homemade and so comforting, especially with oyster crackers to absorb that creamy goodness.
4. Hampton Chutney Co.
Amagansett
When Gary and Isabel MacGurn created fresh chutneys and sold them locally to gourmet markets on the island, they knew they wanted to expand. Their idea was to serve their popular condiments alongside dosa, their favorite traditional South Indian dish. Dosas are thin, crisp rice pancakes stuffed with savory ingredients. When folded over, they are as long as a baguette. Since 1997, the Hampton Chutney Co. has made them to order. Offerings including the classic Masala (with spicy Indian potatoes) as well as other non-traditional fillings. For breakfast, try a dosa with eggs, spinach, roasted tomatoes, jack cheese, and avocado. Other options include sandwiches, salads, and specials like curry or coconut chicken over rice served with chutney. The shop also makes lassi, a drink made with non-fat yogurt and fresh fruit.
The tiny storefront located behind the shops at Amagansett Square has picnic tables with umbrellas where you can enjoy your dosa fresh off the griddle. You call and order ahead to dine outdoors or take away. Don't forget to try the lassi, and enjoy the soothing Sanskrit devotional chants that play on the speakers while you wait.
5. Clam Bar
Amagansett
Remember when you were a kid and stopped to eat at roadside stands during summer vacation? That's the Clam Bar. This iconic shack has been operating for over 30 years on Montauk Highway. The lobster, collected hours before you order, makes this a must-stop when you are in Amagansett. Whether you like your clams fried or cold or a lobster roll piled high on a split Portuguese roll, it's fresh. If you don't like fish, order a burger or grilled chicken with a massive pile of french fries.
The three-ingredient lobster roll is the star, but another version, the Lobster BLT is incredible. It's a sandwich stuffed with chunky claw meat, bacon, lettuce, and tomato on white bread slathered with mayo — a lobster lover's dream.
6. Lobster Roll
Amagansett
Since 1965, The Lobster Roll, nicknamed LUNCH, is just as famous as the Clam Bar down the road. It's retro red, white, and blue color scheme, kitschy decor, and legendary lobster rolls draw locals and visitors all season long. Fun fact: The restaurant served as a backdrop for a scene from Showtime's The Affair. All the fish is fresh, but the traditional lobster roll is a huge draw. You can have it cold or, for a unique twist, hot. Chunks of claw and knuckle meat are served in drawn butter with the bun on the side and creamy coleslaw.
There are picnic tables for outdoor seating and gluten-free options on the menu. The full bar offers classic cocktails like frozen daiquiris and coladas and specialty drinks like The Affair Margarita. Order the Puffers appetizer, boneless blowfish fried in tempura batter served with homemade remoulade. It's delicious.
7. Gosman's Dock
Montauk
Drive out to the end of Montauk, and you will hit Gosman's Dock, which offers three different dining options: the restaurant, the clam bar window (order and sit at picnic tables), or Topside, a full-service outdoor crow's nest with the best views of Montauk Harbor. Just up a set of stairs is the perfect perch for cocktails and a casual meal. There are no reservations, and there may be a short wait. The menu offers innovative specials, a raw bar (native oysters and clams), salads, small plates, and large plates like the Atlantic salmon with dill sauce, green beans, and mashed potatoes.
I suggest picking from the small plates menu and ordering a few to make a shared meal. The crispy calamari with spicy cherry peppers and house marinara is hands down the best I have ever had. The generous portions make it easy to split with a friend.
8. Inlet Seafood
Montauk
Inlet Seafood is the furthest restaurant on the island and just across from Gosman's. It is owned by commercial fishermen who established the two-story eatery in 2006. It's genuinely a boat-to-table experience that includes fresh sushi and prepared fish or shellfish dishes. There are no reservations, but there is plenty of seating inside and out, all with gorgeous water views.
The baked oysters with blue cheese and panko are incredible as is the fried flounder sandwich. The crispy fish portion served on a bun with lettuce and tomato is enormous. It's delicious, with or without tartar sauce.
9. Gig Shack
Montauk
The shack is known for its global cuisine and chill, surfer atmosphere. Gig offers indoor and outdoor seating, which is excellent for people watching along busy Main Street. The menu has eclectic international flavors, including empanadas, mussels in white wine, and Hawaiian-style baby back ribs. It's a fun place with live music in the evenings. They don't serve alcohol right now, but there are exotic mocktails on the menu.
The blackened local fish Montacos is the dish to order. The spicy fish, homemade mango salsa, and creamy coleslaw in a hard shell make this a fan favorite.
10. Primavera Pizza
Montauk
This is as casual as it gets. Primavera is a brick oven pizzeria with a few picnic tables on the lawn. Famous for pizza, the restaurant also serves salads, sandwiches, and classic Italian favorites. Step up to the window and order the Grandma Pie, a garlicky, fresh tomato, basil, and mozzarella pie in a square shape. Then, go next door to Montauk Brewery to buy a six-pack of Montauk's beer or spiked seltzer. The pizza takes around 20 minutes, so take a short stroll around the downtown and visit the shops. When you return, you will have the best pizza on the island with a great local beverage to wash it down.
The Hamptons have so much to offer in summer and the fall. It is a perfect choice for a beautiful weekend or a longer vacation. There are a variety of places to stay, the beaches, world-class shopping, and, of course, fantastic food. The best way to plan where to eat is to consult restaurants' individual websites to ensure they are open on the day and time you wish to visit. A later lunch or an earlier dinner makes it easier to enjoy these spots without long waits. Takeout is also a fantastic option to make sure your order is ready when you need it. All the restaurants have risen to the occasion by offering some of the best food in simple, low-key settings.