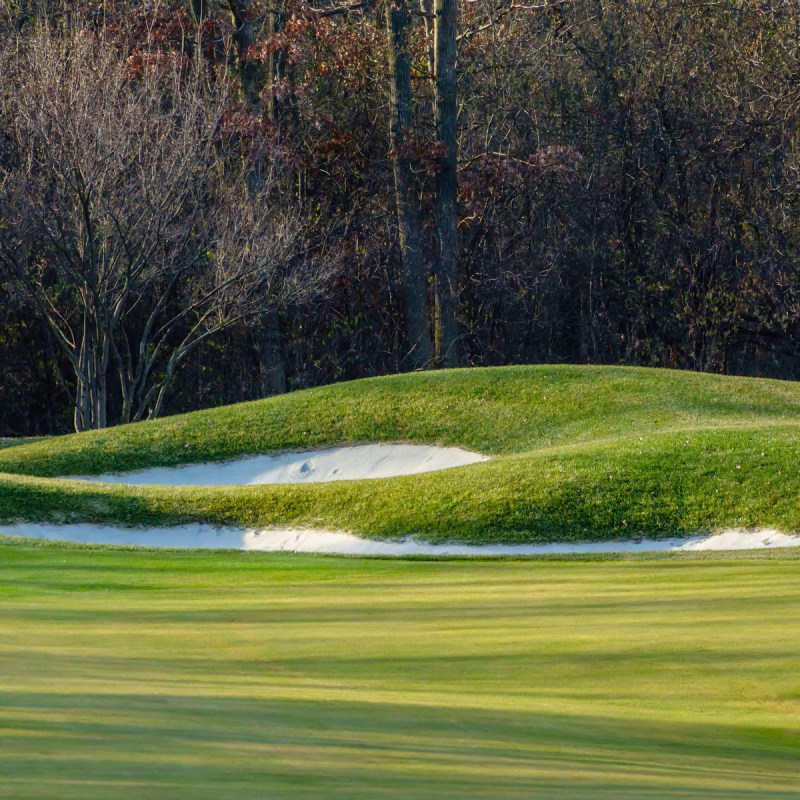 There is such great golf in Chicago — and so much history — that it's difficult to put together a list that encompasses the entire state. I could probably make a Top 9 list of public courses just in Cook County alone.
There are also many world-famous private courses here. Medinah just hosted the Ryder Cup in 2012. Chicago Country Club has over 125 years of history. Olympia Fields hosted the U.S. Open in 2003. Chicago is one of America's best golf locations.
But there are also some great courses in other parts of the state. Yes, the majority of these courses are in the Chicago area, but be sure to check out some of the gems downstate. Here are nine fantastic courses in Illinois.
1. Cog Hill Golf And Country Club #4
Palos Park
There are four courses at Cog Hill Golf And Country Club and the fourth one, named Dubsdread, is the best one. It's also very well known worldwide, having hosted the Western Open and the BMW Championship on the PGA Tour 20 times (Tiger Woods himself has won there five times).
This is a challenging course (that's obvious if a PGA Tour event has been held here), but it's also very playable. Given that they had to keep expanding the course to make it longer for PGA Tour professionals, some holes have up to seven tee boxes. So it's definitely a course where you can choose the length to fit your game. I've played a few courses like this where it feels like the tee box choices are long, longer, and longest, but that's not the case at Cog Hill.
Make no mistake, it won't be easy. The bunkers are deep and the greens are very difficult. But the plan behind the entire Cog Hill property (all four courses) was to build a country club atmosphere for public golf. So it falls in the "tough but fair" category.
And the grounds are amazing. My college roommate was married at the clubhouse, and I can confirm that, yes, it's the full country club experience at a public club.
Cog Hill Weekend Peak Tee Time: $159
2. Cantigny
Wheaton
I've not played Cantigny, but this is the course that my friends in Chicago all swear by. It's a complex with 27 holes and three named nines — Woodside, Lakeside, and Hillside — so you can return to the property and play a different routing the next time if you like.
When it opened in 1989, Cantigny was named the best new public course in America by Golf Digest. The course was built on the estate of Robert McCormick and is owned by his foundation. Because they were able to keep many of the older trees when building the course, according to everyone I talked to who has played it, it doesn't play like a course opened in 1989. It feels like you're playing one of the storied courses in the Chicago area.
Cantigny Weekend Peak Tee Time: $120
3. TPC Deere Run
Silvis
There's one public course in Illinois that hosts a PGA Tour event every year. And, surprisingly, it's not in the Chicago area. TPC Deere Run in the Quad Cities hosts the John Deere Classic every summer and is available for public play the rest of the year.
This is another very challenging course, obviously, so be prepared for some really tricky greens. But from the proper tees, the course doesn't play very long. In fact, many of the well-known holes (like the par-3 16th right next to the Rock River) are shorter holes, even for the pros. Shot-making is the key here, not 230-yard forced carries over water.
They picked a great piece of property for this course, playing right along the Rock River. And it's fun to play where the pros play. If you're in the greenside bunker on 18, see if you can hole out like Jordan Spieth did to win his first-ever PGA Tour event.
TPC Deere Run Weekend Peak Tee Time: $129
4. Stonewall Orchard Golf Club
Grayslake
Stonewall Orchard is in Grayslake, a northern suburb of Chicago. The drive from the south suburbs of Milwaukee is similar to the drive from downtown Chicago, so this is a great option for those in Wisconsin as well.
Designed by Arthur Hills, there's a lot of water here — some shots have to be played over wetlands — but the course makes great use of the land. It's one of those courses where you look at the course map, see a lot of water, and think, "I'd better bring a lot of balls," but then when you play it, the water isn't as much a factor as you thought it would be. Water can be intimidating, but here it's used very well.
Many of the golf courses in the Chicago area can feel a bit cramped — tucked into a subdivision here or contained within this one piece of property there. But this course feels like you're out in the open. That's a good thing.
Stonewall Orchard Weekend Peak Tee Time: $95
5. The Glen Club
Glenview
This is another wide-open course. Designed by Tom Fazio, The Glen Club is the five-star hotel of golf courses in Illinois. The carts all have GPS screens telling you the distance of every shot. The fairways are perfectly manicured. The staff are professional and courteous. Again, it has the feel of a five-star establishment.
Because of the location — there's a high-end mall right next door — you might feel like this is going to be a cramped, suburban golf experience. We've all played those courses that were crammed in between the mall and the subdivision. But this course is open and wide. "Luxurious" is probably the best word.
The Glen Club Weekend Peak Tee Time: $198
6. Ravisloe
Homewood
This one makes the list because of its history. How often do you have the chance to play a Donald Ross course that's public? Ross designed many of the famous private courses in the United States — Seminole Country Club in Florida, East Lake Golf Club in Atlanta, Oakland Hills Country Club in Michigan — but it's fairly rare that one of his private courses eventually converts over to a public course. That's what happened at Ravisloe. After more than a century as a private club, it was converted to a public course in 2009.
And that's what a round there feels like. It feels like you snuck on to someone's private club. The massive clubhouse, the huge trees, the seclusion — it's all there. As well as a classic Donald Ross golf course.
Ravisloe Weekend Peak Tee Time: $89
7. Annbriar
Waterloo
This one isn't in the Chicago area — it's near St. Louis. Annbriar is right around six miles from the Mississippi River, so it's very close to Missouri. It sits on a great piece of property on the bluffs just above the Mississippi River valley.
Having lived in St. Louis for much of my life, I can say that it's my favorite golf course in the St. Louis area, Illinois side or Missouri side. Like any great course, it's about the designer finding a perfect piece of property and then treading very lightly to maintain all of the natural features. That's what was accomplished at Annbriar.
And given that it's in Waterloo, Illinois, it's an incredible value. Weekday afternoon rates are available for as low as $35. If you're in the St. Louis area, you need to check out Annbriar.
Annbriar Weekend Peak Tee Time: $70
8. WeaverRidge
Peoria
This is the gem of the Peoria public golf scene. The best way to describe WeaverRidge is a championship-style course where many of the tee shots are challenged by bunkers. You're probably familiar with that type of course. When you stand on the tee for a par-4, it feels like you're always looking at bunkers either side of the fairway right where your drive would land. It's a great mental challenge to determine when to take them on and when to play it safe.
This course also provides good variety — one nine feels like you're deep in the woods, the other nine plays through a residential development and feels like you're playing a resort course. Their rates are very reasonable (in line with Annbriar above), so it won't cost you a lot to play a great round here.
WeaverRidge Weekend Peak Tee Time: $60
9. Downers Grove Golf Club
Downers Grove
I try to include a nine-hole course on every golfing list I put together, and in Illinois, there's no better choice than Downers Grove Golf Club. I've talked about the history of some of these courses, and they're all impressive, but this one can claim the most history. It's the site of the very first 18-hole golf course in the United States.
Here's a quick trip through the history here: In 1892, C.B. Macdonald established the Chicago Golf Club on this site. It was a success, so the following year, in 1893, he built an additional nine holes, and Chicago Golf Club became the first 18-hole course in the United States. Three years after that, Chicago Golf Club was moved to a bigger piece of property in Wheaton. The course changed its name to Illinois Golf Club, then Belmont Country Club, and then, after the Downers Grove Park District purchased the property, Downers Grove Golf Club. At that time it was reduced back down to a nine-hole course.
Four of the original C.B. Macdonald holes remain: 4, 7, 8, and 9, and they're the highlight of the trip. Golf course architecture junkies will travel to Downers Grove just to play C.B. Macdonald's original course. These were the first holes he ever designed, and they're a treat.
Downers Grove Weekend Peak Tee Time (9 Holes): $26