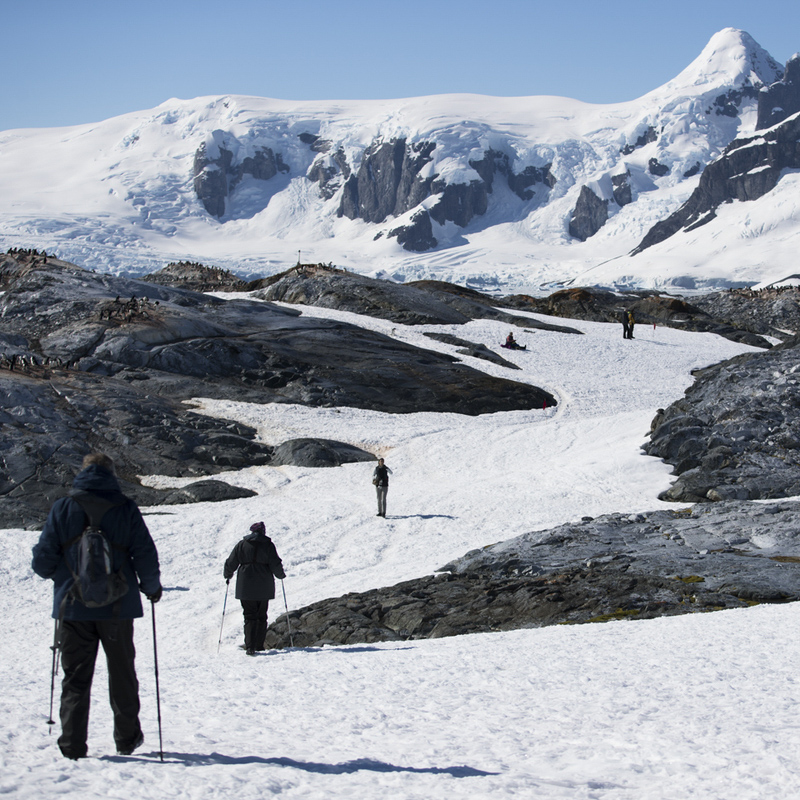 Climb a volcano in Guatemala. Trek through the jungle in Peru. Go glacier caving in Iceland. These aren't your run-of-the-mill bungee jumping or skydiving adventures. These are unique experiences, some — such as deepelling — you might not have even heard of before. Many are just for women — or led by women. All are exhilarating opportunities to see the majesty of the outdoors from a front-row seat.
All seven of these thrilling outdoor adventures are doable for the 50+ traveler, but that doesn't mean they're lacking in thrill factor. Each will have your heart pumping as you navigate some of the most spectacular natural elements in the world.
1. Deepelling In New Brunswick, Canada
You've probably heard of rappelling, the process of descending a steep cliff or slope using ropes. Deepelling, on the other hand, is a face-forward version of rappelling.
Janice Holly Booth, author of Only Pack What You Can Carry, a National Geographic memoir about solo adventure travels taken in her late 40s and beyond, told us that deepelling was one of her most hair-raising, awe-inspiring adventures. "I've done a lot of rappelling, but this was a literal complete 180! You 'rappel' face forward down a ramp until you get to a launching spot. Then you jump! Every time your body returns to the face of the cliff, you push yourself off again, and make your way down to the ground. Totally exhilarating! And initially terrifying!"
There are only a few places in the world you can do this. In New Brunswick, Canada, Open Sky Adventures offers thrill-seekers the opportunity to deepell down a 135-foot rock wall in the Grand Falls Gorge. No climbing skills are required; you'll be trained on-site for deepelling by instructors who have passed the Canadian Association of Deepelling training course.
2. Women's Expedition From Marrakech, Morocco, To Barcelona, Spain
Femscape Sojourns, a mother-daughter owned-and-operated boutique women's travel company, specializes in small group adventures for three age groups. This particular trip is for women over 40.
In addition to taking women on guided adventures, Femscape Soujourns makes every effort to do business with women-owned establishments, hire female guides, locate female artisans, and engage with women who are supporting and encouraging women in their communities.
Latifah Al-Hazza, cofounder of Femscape Soujourns said, "Each trip is unique in that we offer one or more activities with local women in the community. These activities are designed to make us aware of women in other cultures, how they live, and their struggles to be heard and to become successful in their country."
In 2021, they'll trek from Marrakech to Barcelona. The adventure begins with four days and three nights in Marrakech, followed by a night of glamping in the Agafay Desert, then on to Barcelona to complete the 10-day, nine-night adventure.
3. Climb A Guatemalan Volcano At Sunrise
Lucy Ruthnum, author of a solo female adventure travel blog, told us if you want an adventure you won't forget, climb a volcano in Guatemala for sunrise.
Volcano Acatenango towers over the colonial city of Antigua and overlooks nearby active volcano Fuego, which erupts every 10 to 15 minutes. "It's physically demanding and the adventure of a lifetime. After climbing for six to eight hours, you arrive at 'base camp,' where you stay for the night and watch as the sun sets and you stand high above the clouds. As darkness falls, the sky is lit up by thousands of stars twinkling above you — the Milky Way has never looked so clear."
"Throughout the day, Fuego has erupted every 15 minutes with a rumble and a spire of smoke, but after dark is when the volcano really comes to life, spewing smoke, ash, and red-hot lava from the summit and explosions throughout the night. After a few hours of sleep and a 4 a.m. wake-up call, you make your way to the summit for sunrise. From the top, you can see the summits of five other nearby volcanoes from above the clouds," Ruthnum said.
As far as the difficulty of the climb, Ruthnum adds that while it is a physical challenge, it's still accessible for people of all ages, and several 50+ adventurers completed her climb.
Pro Tip: Ruthnum suggests spending some time in the area to acclimatize to the altitude before attempting the climb.
4. Fly Cruise To Antarctica
SouthAmerica.Travel offers 15 guided adventures to South America and Antarctica. For a once-in-a-lifetime experience, their Fly Cruise to Antarctica allows you to skip some of the roughest waters in the world (the Drake Passage) with a two-hour flight from Punta Arenas, Chile, to King George Island, where you'll begin your Antarctica journey.
Choose a seven- or nine-day expedition cruise that can take you as far as the Polar Circle. You'll get off the boat once or twice a day (weather depending) for different levels of activities.
SouthAmerica.Travel's CEO and cofounder Juergen Keller filled us in on what makes the trip special: "Antarctica is really the last of the frontiers to explore. For many travelers, this is knocking the seventh continent off their list. It is truly like traveling to Mars, with almost no vegetation and extreme iceberg shapes."
Pro Tip: The guides give three options for routes — easy, moderate, and difficult — so that every traveler feels comfortable. Note that you'll need to be able to walk on uneven terrain and get in and out of zodiacs.
For more Antarctica inspiration, read up on
5. Glacier Hiking/Caving In Iceland
Many have the misconception about glaciers — according to Oddur Ari with Melrakki Adventures — that they are so dangerous that nobody except "crazy adventurers" go on them. Instead, he told us, glaciers are indeed dangerous, but going on the outlet glaciers can be done in a completely safe way.
Hiking the glaciers is for almost everyone who is able to walk three-plus miles. "I've even seen an 86 year old man complete a glacier hike without any problems," Ari said.
Hiking along hundreds of feet of a few-hundred-year-old ice, through the crevasses, moulins, blue lakes, and other ice formations is something that most people never get to experience.
"The glaciers are a constantly changing wonder, so no tour is ever the same; some interesting formations that are on the glacier today might not be there tomorrow, or something else has appeared — so every adventure is unique."
Glacier hikes are available throughout the year, but during the winter season, when the temperatures get colder, ice caves become accessible. These amazingly blue caves are sometimes formed in the same areas year after year, but in some cases they just last a few weeks, allowing only a few people to see them before they melt away. "Combining a glacier hike with an ice cave tour is an amazing experience," Ari told us.
Want to hike on a glacier without leaving the United States? Consider these five fabulous glaciers to visit in Alaska.
6. The Inca Jungle Trek In Peru
You often hear talks about hiking the Inca Trail to Machu Picchu, but if you're looking for a unique, high-adrenaline way to get to Machu Picchu, then the Extreme Inca Tour could be the outdoor adventure for you.
Kevin Groh, an owner at Cachi Life, a Peru travel company specializing in Machu Picchu tours and trekking tours, said, "If you have an adventurous athletic woman who is 50+, an amazing trip is the Extreme Inca Tour, which is one of the most thrilling ways to trek to Machu Picchu."
The trek starts on the first day with a two-mile descent down a mountain on mountain bikes. That evening, you'll spend a thrilling two hours whitewater rafting on mostly class III and IV rapids.
The second day brings a nine-mile hike that takes you past small Quechua villages and coffee plantations. You'll interact with monkeys and drink Inca tequila, which is liquor infused with a snake.
Then the third day is zip lining on the way to Machu Picchu, followed by a two-hour hike to Aguas Calientes, which is at the base of Machu Picchu.
And the fourth day culminates in a tour of Machu Picchu.
Pro Tip: The only skills you need are to have a good level of fitness and the willingness to withstand some adrenaline!
7. Kayak The Danube From Source To Sea
One extraordinary adventure, according to travel blogger Olivia-Petra Coman, is kayaking the Danube from source to sea.
"Apart from being the longest European river, it is not that challenging — compared to other rivers — not even at its source; moreover, it is stunningly beautiful; it crosses 10 countries and four capital cities, ending with one of the most beautiful deltas on Earth," Coman told us.
To see what it would be like to kayak from source to sea, read about Danube Source2Sea, four friends who made the expedition.
For more adventures, consider these 10 thrilling outdoor adventures in the U.S. for women (and men).