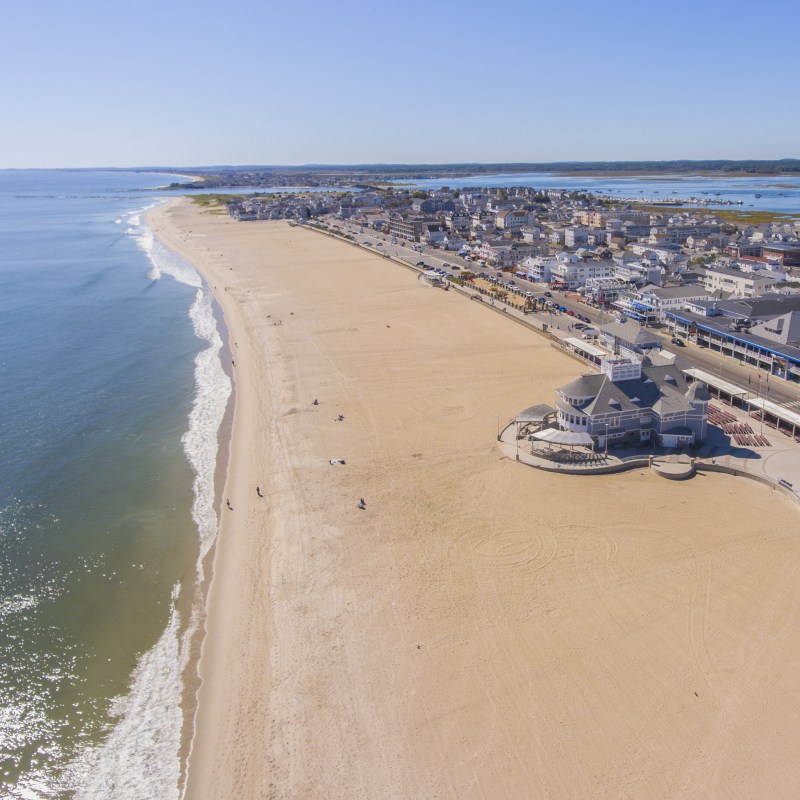 Hampton Beach is squarely situated on a small strip of New Hampshire coastal land. New Hampshire's Atlantic coastline is less than 18 miles long, making it important that the coastal towns pack a big punch. Hampton Beach fits the bill and is known for its family-friendly atmosphere mixed with college revelers. Hampton Beach is an eclectic mix of bikinis and sandcastles.
Things To Do In Hampton Beach
Hampton Beach is more than just a beach; it is a destination. Offering a great mix of family-friendly fun and options for the party crowd, Hampton Beach is the perfect place to plan your next sun-filled getaway.
Get Out On The Beach
It is all about the beach. A long, wide, white sandy beach with a surf that varies from gentle to surfable. Plant your chair in the surf line and let the cool, refreshing water tickle your toes as the surf rolls in and out.
The water can be cold. It rarely breaks 70 degrees even in August. Only the hardiest of swimmers will attempt a long swim. However, the surf by the shore is fun to chase, boogie board, and wade into.
Parking is along the beach, making schlepping all your assorted beach toys not too difficult as you search for your perfect spot in the soft, Hampton sand.
During the summer, to protect the swimmers, surfing is restricted from 9 a.m. to 5 p.m. On a good surf day, you can grab a towel and kick back to enjoy the evening surfing show.
Join in the parade of colorful bathing suits painting a pointillistic picture on a sparkling sandy background.
Walk The Boardwalk
The long stretch of extra-wide sidewalk between the beach and the parking lot acts as the unofficial boardwalk of Hampton Beach. Beachgoers stroll up and down the walkway to see and be seen.
Across the street is a shaded boardwalk with shops, restaurants, bars, arcades, and food vendors with options to please everyone.
Arcades, Mini Golf, And More
The Hampton Beach Casino is chock full of shopping, eateries, and fun. In the center of Ocean Boulevard, the Casino boasts arcade games, the Cascade Water Slide, indoor mini-golf, places to find a quick bite, and beachside souvenir shopping.
If you need some relief from the sun, are looking for entertainment, or want a quick bite, the Casino is happy to accommodate.
A Little Bit Country And A Little Bit Rock And Roll
The Hampton Beach Ballroom offers entertainment from some of the biggest names in the business. With the likes of Styx, Little River Band, Ted Nugent, Billy Currington, Pat Benatar, and Cheap Trick, there are shows to take you down memory lane and keep you up to date with the up-and-coming entertainers.
Shows are designated as seated admission or general admission/standing room only. The designation is based on the entertainer's request. Seated or standing, you are in for a fun night of rock and roll or country twang.
Free Nightly Concerts
Nightly outdoor concerts are held at the Sea Shell Stage. Offering entertainment from local and tribute bands, the concerts are free and appropriate for all ages. It is a nice way to wind down from your day of fun in the sun.
Artisan Sand Sculpting Contest
The Annual Hampton Beach Master Sand Sculpting Classic takes place Labor Day weekend. The invitation-only event begins in late August when 200 tons of imported sand are dropped for the sculptors' creations.
The building process is fascinating. Once completed, you can view the sculptures by day. You can also stop by in the evenings through mid-September while the entries are lit up for unique nighttime viewing. The illumination effect is eerily beautiful.
These are not your typical sand sculptures; they are art installations created by talented sand artisans. You will be blown away by the work of these creatives. The sculptures will leave you wondering, How did they get all that detail into sand?
Explore The Isles Of Shoals
Off the coast of New Hampshire lie nine rocky islands. Dotted with summer homes, White Island Lighthouse, the Oceanic Hotel, and the Shoals Marine Research Lab, most of the islands are uninhabited. The rugged rocky landscape is mesmerizing and worth a tour.
The Isle of Shoals Steamship Company will cruise you around the Shoals and Portsmouth Harbor during a 2.75-hour narrated tour. Learn about the islands, their history, and their pirate-driven past. They also offer a two-hour sunset cruise during which you can view the harbor from a unique perspective: all lit up at night. This is also the perfect opportunity for some spectacular sunset-over-the-water photographs.
Choose Nature At Odiorne Point State Park
If you desire a less-crowded water view, try Odiorne Point State Park. With a rocky beach, shaded picnic areas, gentle walkways, and historic monuments, the park offers a relaxing oasis away from the hustle and bustle of the beach and boardwalk.
The Odiorne Point Loop Trail is an easy, flat, three-mile trail that passes by old military bunkers, offers lovely water views, and has wide pathways. It is really more of a stroll than a hike, perfect for getting in your steps and enjoying the scenery.
Best Restaurants In Hampton Beach
With everything from plated dining to picnic-table takeout, you will find your dining wheelhouse in Hampton Beach.
A Plated Dining Menu
Shrimp and sea scallops with lobster ravioli and a grown-up version of seafood macaroni and cheese are on the menu at Ron's Landing. Ron's offers fine dining with a relaxed beachy vibe just steps from the beach. Stop here if you are interested in dinner for two or a family reunion meal; they offer classic coastal seafood and options for the non-seafood diners as well.
The Best Fish Shack Dining
For the absolute best lobster roll in the area, head out to Bob Lobster. You can enjoy a traditional lobster roll or one of their kicked-up versions. Like all great fish shacks, they fry everything perfectly. Munch on fried oysters, shrimp, clams, haddock, and even smelts.
Bob Lobster is also the best place to order a classic lobster dinner; you can dine al fresco and not worry about making a mess: bib or no bib.
Must-Try Beachy Snacks
Hampton Beach's iconic Blink's FryDoe is the one must-stop on your Hampton Beach getaway. The bright orange fry house offers 20 flavors of fried dough including sweet options like the Peanut Butter and Jelly or the Honey and Walnut. They also offer savory tasties like the Garlic and Butter or the Sauce and Cheese. Sounds like dinner and dessert, win-win.
Best Places To Stay In Hampton Beach
There is no lack of beachfront inns, beach house rentals, and camping options for your weekend or week-long getaway to Hampton Beach.
Ashworth By The Sea
Ashworth By The Sea is a landmark hotel in Hampton Beach. Located directly across the street from the beach, it is an ideal spot to settle in for a weekend of flip-flops-in-the-sand fun. The Sandbar Rooftop Lounge, which offers a bird's-eye view of all the action, is the best spot for a cooling summer cocktail and people watching.
Hampton Beach State Park Campground
If you prefer a more nature-driven stay, the Hampton Beach State Park Campground offers waterfront access for the camping crowd. Campsites along the Hampton River provide a steps-from-your-door beach vacation. Park your RV, lace up your favorite pair of shoes, and leave your troubles behind.
Rent A Beach House
Airbnb and Vrbo offer many different options from beachfront rentals down to remote quiet oases. Choose a property managed by a superhost or a host with recently posted excellent reviews for the most satisfactory stay.
Pro Tips
If you are going to stay for a week, rent a classic beach house on one of the beach streets. You can walk to the beach, barbecue, and just hang out. This rental area is loaded with 20-somethings, so it can be loud late into the night, but it is old-fashioned beachy fun at its best.
There is lots to do and see in the Hampton Beach area. For a more subdued getaway, check out our tips on how to spend a perfect day in quaint Newburyport. Also consider these nine reasons to visit beautiful Plum Island, a quiet island day trip that will bring you to relaxation nirvana.
Ready to enjoy everything Hampton Beach has to offer? Visit their live beach cam to get you in a day-at-the beach frame of mind.