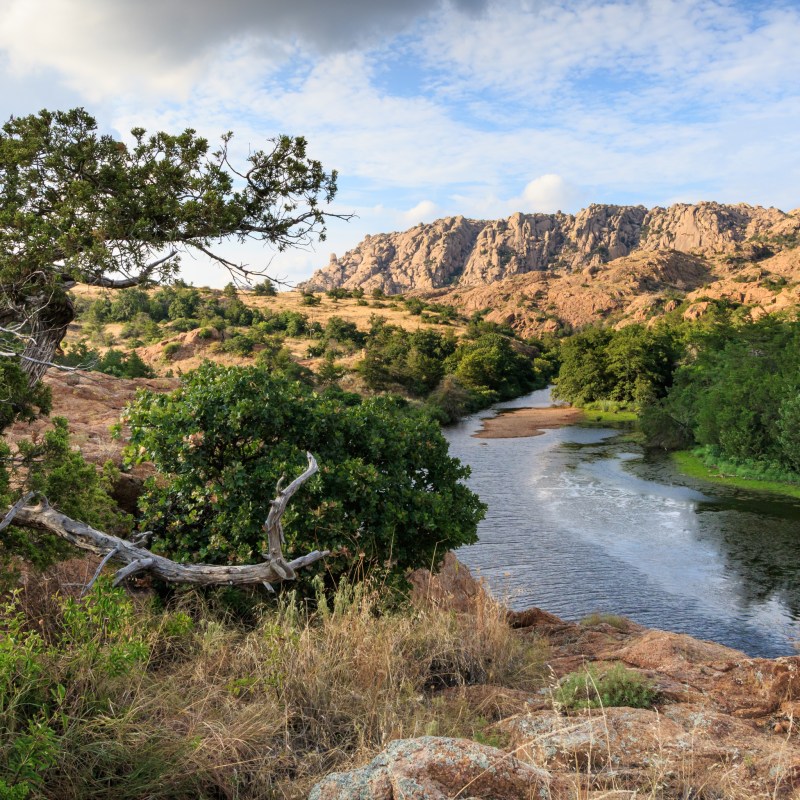 Oklahoma is one of those states that many overlook. It wasn't until recently that I discovered that Oklahoma is home to many beautiful places in the great outdoors, including hiking trails. These Oklahoma hiking trails are some of my favorites. They are located in different areas of the state, which gives you an opportunity to explore the diverse terrain that Oklahoma offers. These trails offer something for everyone, including the novice and skilled hiker. Enjoy the trails, and see Oklahoma for yourself.
1. Lakeview Lodge Trail, Beavers Bend State Park
Broken Bow
The Lakeview Lodge Trail is a four-mile hiking loop that is great for a daytime hiking adventure. This trail is rated moderate, but it is fantastic for the novice hiker as well. For the most part, the trail is flat, and depending on the season, the wildflowers can be mind-blowingly colorful. Toward the end of your hike, you will see the lake. Make this hike in a clockwise direction, as the signage will be visible and more helpful along the trail. The pine trees will keep you shaded most of the way as you meander through the forest. Keep in mind that the sun can be extremely hot in the summer in Oklahoma, so dress accordingly. A lightweight day pack with water, bug spray, and sunscreen will help you enjoy your hike through Beavers Bend State Park.
2. Turner Falls Park Trails
Davis
This is my pick for the best hike in Oklahoma. Check out TravelAwaits' picks for the best hikes in all 50 states here. Turner Falls is not only home to a good old-fashioned swimming hole, but it's also home to some stunning hiking trails. The park's 3.5-mile loop trail features a lake and it is a moderately difficult hike. I would lace up your sturdy hiking boots as this trail is rugged in places. The caves and hills along this trail make for some interesting experiences, as do the views. A fun stop along your hike is the castle-style ruins that sit along the hillside. Each time that I pass through this area of Oklahoma on I-35, I make time to stop here for some exercise. These hiking trails are unique and offer an opportunity to explore Oklahoma. There is a fee to enter the park, and I can honestly say that it's been worth every penny on every visit.
3. Travertine Creek Trail, Chickasaw National Recreation Area
Sulphur
Travertine Creek Trail is a popular 1.5-mile trail near Sulphur. If you need a reason to visit Chickasaw Country in Oklahoma, this may be it. This is a fairly busy out-and-back trail with an elevation gain of 150 feet. The novice hiker as well as the experienced one will enjoy these forests. You will cross a few bridges and navigate some rocks along the trail. Shade is abundant, as are the waters of the numerous creeks along your route. On my first visit to Sulphur, I hopped on this trail and enjoyed the creeks immensely. This short trail is a good way to see what this area of Oklahoma is all about.
4. Buckhorn Hiking Trail, Lake Murray State Park
Ardmore
Buckhorn Hiking Trail is located within Lake Murray State Park. This is a 3.4-mile out-and-back trail for hikers of all skill levels. The trail, which features Lake Murray, is fairly level with an elevation gain of just 216 feet. Nature enthusiasts appreciate this hiking trail, and you will want to pack your binoculars as birding is very popular on this trail. There are benches along the trail that give you a place to put your feet up and reflect on your hike. Start your hike early in the day for a better chance to see the wildlife that lives in the area. Campsites are available at Lake Murray State Park and are on a first-come, first-served basis. Before you head out on the trail, pick up a trail guide at the welcome center.
5. Sutton Wilderness Trail, Sutton Urban Wilderness Park
Norman
The Sutton Wilderness Trail in the Sutton Urban Wilderness Park near Norman is a 1.3-mile hiking trail that is good for hikers of all skill levels. With an elevation gain of only 32 feet, it's fairly flat. For a quiet, easy hike during which you'll be surrounded by nature, this trail is ideal. Lake views and occasional rabbits, squirrels, and even skunks can make your hike more memorable. Hop on this trail in the early morning hours and enjoy the beginning of a new day with the birds chirping.
6. Clear Bay Trail, Lake Thunderbird State Park
Norman
Clear Bay Trail is a 14.8-mile loop trail with an elevation gain of 1,066 feet located in Little River State Park near Norman. The trail is in an urban location but has an out-in-the wilderness setting. The birding is fantastic along this trail, as are the wildflowers in the spring and fall. Ticks and chiggers can be a problem in this area, so make sure you use ample bug spray. Deer frequent the trail, as do rabbits and squirrels. The shaded areas are numerous, which will help keep you cool during the warmer months. February through October are the best months to hike this trail. As with any hike, pack your bug spray, sunscreen, and plenty of water. Depending on how long you meander, this can easily be an all-day hike.
7. Clear Bay Short Loop, Lake Thunderbird State Park
Norman
Clear Bay Short Loop is a 1.2-mile fairly busy loop trail (a spur of the Clear Bay Trail) also located in Lake Thunderbird State Park. It has an elevation gain of 59 feet and is rated easy. During the hotter months, this trail offers shade and an opportunity to explore the great outdoors in a short period of time. Springtime, in particular, is extremely colorful as the wildflowers are in full bloom. April through October are the best months to hike this trail, as the weather is fairly cooperative. The signage is not visible at all times, so you may want to make note of where other hikers are going. Overall, this is an easy, user-friendly hiking trail.
8. Elk Mountain Summit Trail, Wichita Mountains Wildlife Refuge
Indiahoma
Oklahoma's panoramic views of the Wichita Mountains and Charon Garden Wilderness are what you find at the summit of the Elk Mountain Trail. Hop on the trail at the Sunset Picnic Area off Highway 49 and begin your 2.4-mile hike on this favorite out-and-back trail. Your hiking adventure begins by crossing the Sunset Pool and traversing a rock-formed staircase. As you hike along here, the panoramic views will keep your attention all the way to the summit. This trail is not marked clearly along the route, so keep your eye on the summit. Take the trail to the west that includes Class 3 boulder climbing before you reach the granite slab that is referred to as Elk Mountain Trail Summit. With the summit at 2,770 feet and a 590 foot gain, you will be challenged engaging this awesome hike.
9. Black Mesa Summit Trail, Black Mesa Preserve
Kenton
Kenton's Black Mesa Nature Preserve is home to the highest point in Oklahoma at 4,973 feet. The experienced hiker will enjoy a hike to the summit along the Black Mesa Summit Trail. With a round trip total of 8.4 miles, this hike will challenge you as you take note of the wide landscape along your route, including the rolling prairies, canyons, and mesas in this historic no man's region of the Oklahoma Panhandle. This trail has a stretch of extreme rockiness, so be sure you have laced up your supportive hiking boots for this hike.
Dress in layers, as the top of the summit can be windy and much cooler than the lower elevations of your hike. Get up at the crack of dawn and hit the trail to stay ahead of the heat of the day. Keep an eye on the sky, as the weather can become quite wicked rather quickly. Wind and lightning are not the best friends of a hiker. Pack your bug spray, sunscreen, and make sure you have plenty of water for this whole hike. A fun fact about this trail is that the area marks the point where the Rocky Mountains meet the shortgrass prairie.
This article is presented by KEEN Footwear. For my hikes, I wore my KEEN Targhee III Waterproof Mid hiking boots. I do have a right foot drop, and I found that these hiking boots supported both of my feet and ankles well on the rocky trails that are along these Oklahoma hikes. Shop KEEN's Targhee and other hiking shoes here.