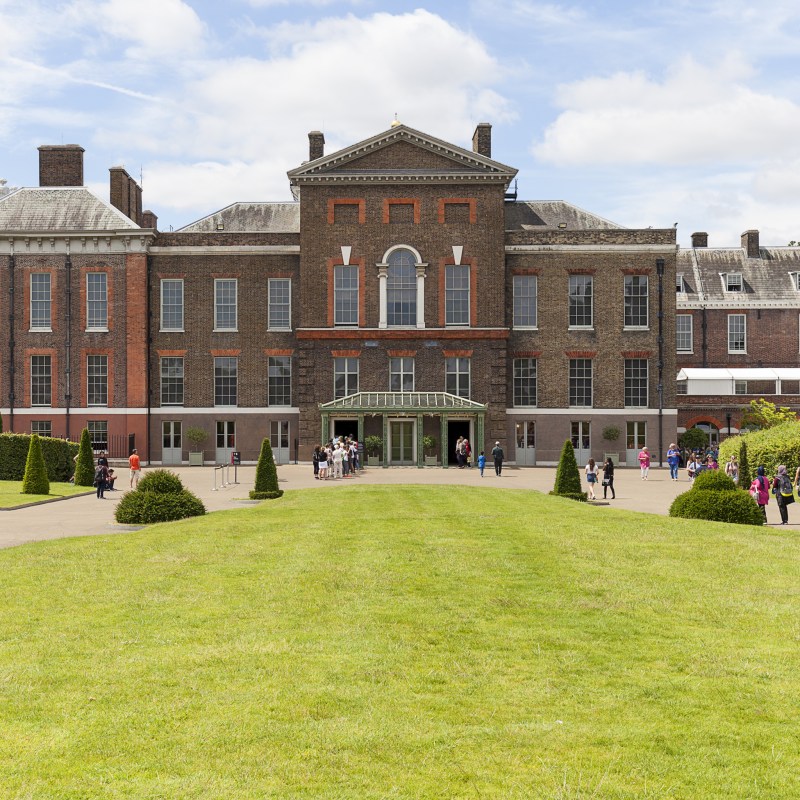 Kensington Palace in London has both a public area and a private area, and never the twain shall meet. William and Kate, Duke and Duchess of Cambridge, live here, as do other members of the royal family. Don't expect to see any of them. They like their privacy.
The public part of the palace is managed by the independent charity Historic Royal Palaces, which receives funding neither from the government nor the royal family.
A visit to Kensington Palace comprises both indoor and outdoor experiences. The palace itself is in Kensington Gardens, a public park with flower gardens, lots of trees, and space to roam. The Serpentine Lake and Peter Pan Statue are in nearby Hyde Park.
Here are a few fascinating facts about this palace.
1. Princess Diana Once Lived There
Diana, Princess of Wales, once lived in the private part of Kensington Palace. Her fashion sense was renowned. On occasion there are temporary exhibitions of her dresses at Kensington — these are rare, popular shows.
There's a permanent exhibit at Kensington Palace featuring one of Diana's dresses and various designers' original sketches for some of her outfits. Some have Diana's handwritten notes.
Diana was said to have been fond of the Sunken Garden, sometimes complimenting the gardeners if she saw them. In 2017, the Sunken Garden was temporarily transformed into the White Garden as a memorial, 20 years after Diana died.
Prince Harry and Meghan Markle announced their engagement in the White Garden.
2. Many Monarchs Contributed To Its Development
More than 300 years ago, this was a country home well outside London. The new king and queen, William III and Mary II, bought it in 1689. With Sir Christopher Wren as their architect, they expanded the house to create what is now known as Kensington Palace.
Mary's sister Anne was the next queen. One of her lasting contributions was the Orangery, a decorative conservatory overlooking the gardens.
After Anne came King George I. For George, the designer William Kent created unique wall and ceiling paintings that are still highlights, especially the Cupola Room and the King's Staircase.
Queen Victoria grew up in Kensington Palace but didn't change it. As queen, she moved to Buckingham Palace. The large white marble statue of the 18-year-old Queen Victoria outside the palace was sculpted by her daughter, Princess Louise.
3. There Are A Number Of Visitor Routes Through The Palace
All visitor routes start in the vestibule. Visits are self-guided.
To learn more about Queen Victoria's story, ascend the beautiful double staircase to the landing. Through the door is the Red Saloon, and beyond that are rooms highlighting Victoria's life story.
To get to the King's State Apartments, use the King's Staircase. For the Queen's State Apartments, head in the opposite direction.
The State Apartments are each a series of rooms that become less public and more private as you proceed. There's not much furniture in the King's State Apartments, because people weren't expected to sit in the king's presence.
Much of the art and objects displayed in these rooms come from the Royal Collection. The Royal Collection Trust has detailed information.
When you're done exploring, don't forget to visit the cafe and shop, also near the vestibule. The Historic Royal Palaces shops typically have a good selection of gifts and books that you won't find elsewhere. Afterward, walk from the palace to the nearby Orangery to admire the gardens en route.
4. The Palace Has An Outlander Connection
The man whose statue stands outside the palace is King William III. Through his Dutch father, William was Prince of Orange. His mother was a daughter of King Charles I. William married his first cousin, Mary.
William lived in a world of political intrigue, alliances, power struggles, and religious conflict.
It was the 1600s. Although the United Kingdom did not exist yet, the King of England was also the King of Ireland and Scotland. There was deep division between Protestants and Catholics. The Protestants in England were determined to keep Catholics away from positions of power.
William and Mary were Protestants. In 1685, Mary's father became King James II of England and Ireland and King James VII of Scotland. Although James was a Catholic, he was tolerated as king. His reign was expected to be fairly short, and his heirs, Mary and Anne, were Protestants.
Then, unexpectedly, James's second wife had a baby boy, a Catholic. He was automatically first in line for the throne. This was unacceptable.
James II was persuaded to step down and was eventually forced into exile. This was the so-called Glorious Revolution, in which Mary and her husband deposed her father.
The exiled Stuarts never gave up their claim to the throne. Their story is the historic backdrop for the book and television series Outlander.
The four-poster Stuart bed in the Queen's Bedroom at Kensington Palace is believed to be the one in which that fateful baby, James Francis Edward Stuart, was born at Saint James's Palace in London in 1688.
5. The Queen's Closet Makes An Appearance In The Favourite
The award-winning 2018 film The Favourite, starring Olivia Colman, dramatizes the later life of Queen Anne. The Favourite isn't 100 percent historically accurate, but it is based on real people and their relationships. Sarah Churchill, the Duchess of Marlborough, was Anne's long-time friend and confidant. She was extremely powerful politically and socially because of this friendship.
However, the friendship ended in a terrible fight in the Queen's Closet. This isn't what we think of as a closet. It's one of the comfortable rooms in the Queen's State Apartments.
6. William Kent's Work Can Be Found Throughout The Palace
When Queen Anne died in 1714, there were more than 50 Catholics in the line of succession, but by this time, they were excluded by law. The prize went to the Protestant House of Hanover, and that's how Britain ended up with a German king, George I.
George hired the painter-designer William Kent to improve Kensington Palace. The first place you'll notice Kent's work is as you walk up the King's Staircase. It's like entering a private world. Kent used trompe l'oeil techniques to bring visitors into the space with a series of arched balconies full of well-dressed people, the sky behind them, all looking alive and fully three-dimensional.
Another of William Kent's masterpieces is the Cupola Room. The domed ceiling is painted in rich colors, and again, there is extensive use of trompe l'oeil to make flat surfaces look three-dimensional.
At the center is a magnificent four-sided clock, added later.
Queen Victoria was baptized in this room in 1819.
7. Queen Victoria Spent Her Childhood At Kensington
The last film I'll mention is The Young Victoria. The girl Victoria lived a lonely, isolated life under the strict Kensington System run by her widowed mother and Sir John Conroy. Things changed when Victoria turned 18 and almost immediately became queen upon the death of her uncle, King William IV.
Historic Royal Palaces has recreated Victoria's playroom, adding some of her actual possessions. You can feel how a little girl would have rattled around in there all by herself. She wasn't allowed to play with many other children.
The chief curator, Lucy Worsley, suggests that the dreaded Kensington System did help prepare Victoria for the onerous job of being the monarch. Maybe — but it could have been kinder.
You may get to see one of the young Victoria's dresses. It's surprising how very tiny she was.
On the first morning of her new life as queen, Victoria had to meet with her Privy Council. This is a memorable scene in the film. Victoria delivers a clear and compelling speech that lets all the powerful men know she has a mind of her own.
That historic event happened in the Red Saloon, the room at the top of the graceful double stairs. It's set up much as it was on that day in 1837.
What To Know Before You Go
The Victoria and Albert Museum and the Natural History Museum are about a 20-minute walk from Kensington Palace. Along the way, check out the gigantic Albert Memorial. Queen Victoria was married to Prince Albert for 21 years and a widow for 39. This was her most extravagant tribute to him.
Please check the website for the most current Kensington Palace information, including ticket and accessibility information. The gardens and temporary exhibits change, and there may be special events.
Kensington Palace is one of five Historic Royal Palaces in London. If you love seeing palaces, a membership may make sense.
For more to see and do in London, see this page.