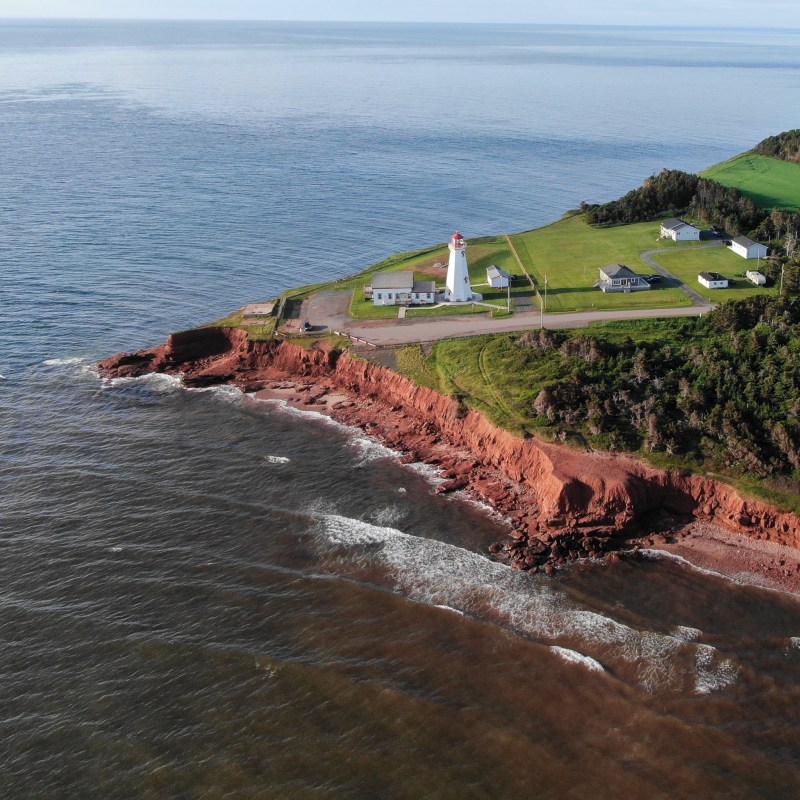 If you're a fan of beaches, seafood, or Anne of Green Gables, chances are you've heard about Prince Edward Island.
One of the three Maritime provinces of Canada, Prince Edward Island is connected to Nova Scotia by ferry and to New Brunswick by the Confederation Bridge. Prince Edward Island has the distinction of being Canada's smallest province in both size and population, but, in a fun twist, it's the country's most densely populated province — its 2,200 square miles are home to about 158,000 people. For visitors, this means Prince Edward Island is easy to explore, with lots of small communities to visit on every driving route.
This popular destination is gorgeous all year round, but especially so between late spring and early autumn, when its coastal drives are particularly beguiling. You could easily spend several days ambling along the rusty-red country roads, but Prince Edward Island's best drive is the Tip-to-Tip Tour, a link between the province's westernmost and easternmost points.
When it comes to scenic drives, Prince Edward Island is divided into three segments: the North Cape Coastal Drive to the west, the Central Coastal Drive in the middle, and the Points East Coastal Drive to the east. You will traverse all three to complete the iconic Tip-to-Tip Tour.
Just about 174 miles lie between Prince Edward Island's easternmost and westernmost ends, a distance easily covered in a day. It doesn't matter which end serves as your starting point, nor what roads you follow. So long as you visit the East Point Lighthouse and the North Cape Lighthouse, you'll earn the official Tip-to-Tip certificate of achievement!
These are some highlights of this iconic Canadian drive.
1. North Cape Lighthouse
The waters of the Gulf of Saint Lawrence and the Northumberland Strait meet at a natural reef rock at Prince Edward Island's westernmost point. You can stroll along the reef at low tide, collecting shells, and with a little luck, you'll catch a glimpse of marine life like seals and seabirds.
For a bit more exercise, head to the Black Marsh Nature Trail, a 3.4-mile loop across forest, bogland, and boardwalk. Kids, in particular, will love this gentle walk. The path is lined with orchids (the Lady Slipper is Prince Edward Island's floral emblem) and carnivorous plants like the Venus flytrap, and it's also a prime spot for seeing dragonflies, butterflies, and birds (including eagles).
Visitors to North Cape will also find the North Cape Wind Energy Interpretive Centre, a gift shop, a marine aquarium, and the Wind And Reef restaurant, which specializes in local seafood. Before you go, be sure to visit the North Cape Lighthouse itself so you can receive proof of your visit in the form of a stamp, the first step in obtaining your Tip-to-Tip Tour completion certificate (in reality, it's just a cute piece of paper that certifies that you've visited both lighthouses, but it makes for a fun travel souvenir).
2. Alberton
Not far from North Cape, the tiny village of Alberton is deserving of a short visit for the Alberton Courthouse, which dates to 1878. Today, it's no longer a judicial center but the Alberton Museum & Genealogy Centre. If you have family roots in Prince Edward Island, this National Historic Site should be at the top of your travel list.
While you're driving through Alberton, keep an eye out for the public murals that showcase the community's businesses, culture, and traditions.
3. Summerside
Just under 15,000 people call Summerside, Prince Edward Island's second-largest city, home. Though Summerside is tiny, visitors will find a warm, bustling, family-friendly destination that's filled with terrific things to do.
Summerside's attractions include the lively waterfront boardwalk, which is perfect for strolling, shopping, and snacking. Prince Edward Island's College of Piping, a tribute to the area's Scottish Celtic heritage, often hosts public bagpipe performances across the city. Active travelers will enjoy Prince Edward Island's former railway route, now the Confederation Trail, which passes through the heart of Summerside. Finally, if you're still in Summerside come nightfall, the Harbourfront Theatre runs a full program of theater and musical performances.
For indoor fun, check out Wyatt Heritage Properties, which manages five historic estates in Summerside: the Lefurgey Cultural Centre, the MacNaught History Centre and Archives, the Wyatt Historic House Museum, the Bishop's Machine Shop Museum & Historic Site, and the International Fox Museum & Hall of Fame (which pays tribute to the area's history of fox farming for fur production).
4. Cavendish
One could happily spend days in Cavendish, but even an hour or two will suffice in order to pay homage to the town's most famous heroine, the fictional Anne of Green Gables. A visit to Green Gables Heritage Place is all but mandatory — even if you've never read the book series, you'll appreciate the meticulously preserved heritage home, the manicured grounds and old-fashioned gardens, and the easygoing woodland walks that recall the book's Haunted Woods and Lover's Lane.
Cavendish is packed with tourist amenities, including gift shops, cafes, campgrounds, and golf courses, most of which are named after Anne of Green Gables. Before leaving town, be sure to stop by the Cavendish Post Office, which has an exhibit on author L. M. Montgomery, who was the postmistress there many years ago.
5. North Rustico
If you're driving along Prince Edward Island's north shore, you're going to notice a lot of places with "Rustico" in the name. There's Rustico, North Rustico, and Anglo Rustico to start. Then there's Rusticoville, North Rustico Harbour, Rustico Bay, and South Rustico! The word "Rustico" comes from the surname Rassicot; the Rassicots were some of the first French settlers in the area. If you're searching for an address in the area, make sure you know which Rustico you're looking for!
The area's best-known attraction is North Rustico's Fisherman's Wharf Lobster Supper. At this popular eatery, guests can enjoy a range of entrees, including freshly boiled lobster, steak, rotisserie chicken, and haddock. The side dishes are unlimited, so bring your appetite to indulge in all-you-can-eat seafood chowder, local mussels, homemade rolls, 30 different salad bar options, and plenty of homemade pie.
If you're still feeling peckish, the nearby Glasgow Glen Farm produces artisanal gouda cheese which you can purchase on-site.
6. Prince Edward Island National Park
While all seaside destinations are keen to claim the crown of having the world's most beautiful beaches, it's hard to imagine shorelines rivaling those of Prince Edward Island. The most striking ones of all are at Prince Edward Island National Park. This pristine piece of protected public land has miles of smooth sand and is perfect for swimming, making sandcastles, camping, kayaking, fishing, bird-watching, and geocaching.
7. East Point Lighthouse
At the other end of the Tip-to-Tip Tour is the East Point Lighthouse. This delightful red-and-white lighthouse is sometimes called Canada's Confederation Lighthouse. It has the distinction of being the only lighthouse in Canada built in 1867 — the year of Canada's confederation — that's still in operation today.
In the lighthouse, you'll find exhibits on past lightkeepers and the importance of lightkeeping in the area. If you gaze off toward the ocean, you'll be able to see the unique waves formed by the two tides that meet at East Point, as well as a diverse array of seabirds. However, the best sight is the wild fox, who has made the East Point Lighthouse grounds his own and is often seen basking in the sun.
Admission to the upper floors of the lighthouse, which you can explore as part of a tour or on your own, costs $6 plus tax. However, popping in to the ground floor to receive your Tip-to-Tip certificate is always free!
There have been many visitor-focused improvements at East Point in recent years, including better parking, signage, and the addition of comfortable chairs. A small on-site cafe serves up simple lunches like seafood chowder with a side of biscuits. If you're a runner, note that East Point Lighthouse is the starting point for the annual Points East Lighthouse Run and Relay, which takes place in June in support of Cystic Fibrosis Canada.
Pro Tip: Lighthouse loops and scenic drives aren't the only reasons for guests to hit the road on Prince Edward Island — Prince Edward Island is now home to a chowder trail. If you like to combine sightseeing with snacking (and who doesn't?), you'll find that investigating the chowder trail offerings is a fun way to discover new cafes while you explore.