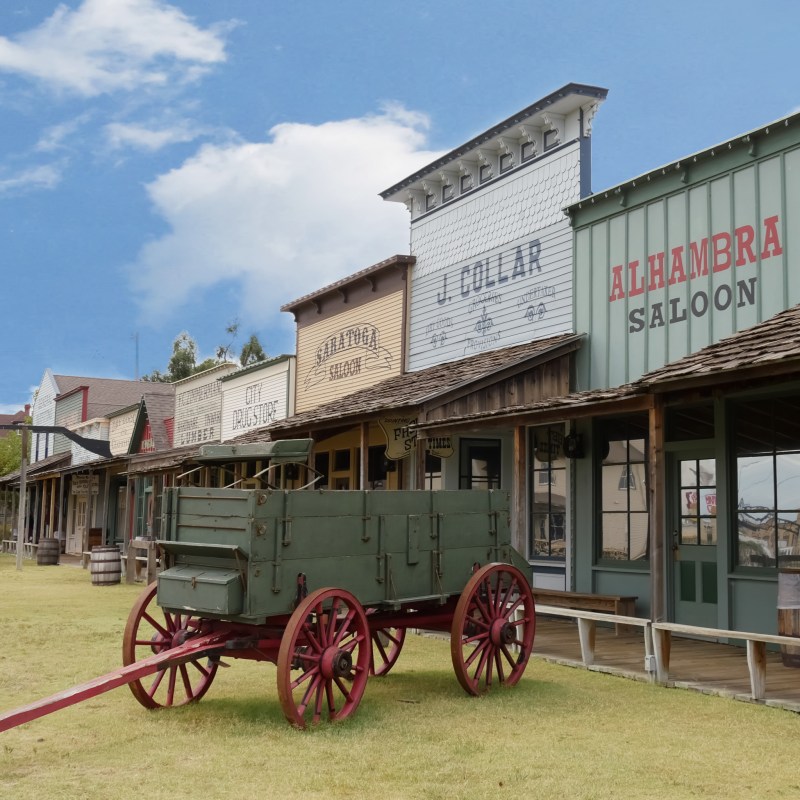 Imagine riding a stagecoach into town. As you exit and brush the dirt off of you from the miles of travel across the plains of Kansas, you look for the nearest saloon at which to quench your thirst.
Fast forward a century or more, and as you exit your car, you look for a place to quench your thirst, maybe a coffee shop or a drinking establishment. In either case, you're in for a treat as you explore the Western flavor of Dodge City.
Fans of Westerns or television series like Gunsmoke will love Dodge City, which proudly celebrates its connection to the Wild West, from its herds of longhorns to its gunfights on the old main street.
Here are seven things to do when you're in town.
1. Explore The Trail Of Fame
A must for any visitor, the Dodge City Trail of Fame is a series of more than 30 medallions and handprints along the sidewalks of downtown. Celebrating actors connected to Gunsmoke and other Westerns, as well as local dignitaries and celebrities, the Trail of Fame honors people such as Gene Barry, who portrayed Bat Masterson on television; Bat Masterson himself; Doc Holliday; and Wyatt Earp (who was a deputy marshal in Dodge City).
The main actors in Gunsmoke — James Arness, Amanda Blake, Milburn Stone (a Kansas native), Ken Curtis, Buck Taylor, and Burt Reynolds — have medallions along Gunsmoke Street (named after the series). Dennis Weaver, who portrayed Chester Goode on the show before departing to star in McCloud, was the first Trail honoree, and his medallion is located on Front Street, which was once Dodge City's main street.
Local celebrities honored include Ramon House, the last marshal to serve Dodge City, and actor Dennis Hopper.
2. Take A Walking Tour
While the Trail of Fame is included in the Historic Dodge City Walking Tour, you'll see much more as you explore the downtown area of Dodge City. Grab a map at the visitor center, near the Boot Hill Museum, to help you find the key points. Look for the series of storyboards, building plaques, sculptures, and banners. You'll walk through the town's history, taking in sights such as the Santa Fe Railroad and various saloons, along with sculptures of El Capitan (a longhorn looking south for the herd to arrive), Wyatt Earp, James Arness as Matt Dillon, and a cowboy on Boot Hill. The self-guided tour passes more than a hundred key spots, all within a 10-to-12-block radius.
3. Walk Through The Wild West At The Boot Hill Museum
Enjoy a walk through Dodge City's Wild West days at the Boot Hill Museum. The museum, which more than tripled its space with a 2020 addition, offers a look at the lives of the Native Americans, pioneers, and marshals who called the town home. Inside, you'll find artifacts and memorabilia such as weapons used by lawmakers and cowboys, as well as an early newspaper, jail, and pharmacy.
The museum's Old Town offers the chance to walk along a boardwalk, viewing Western storefronts. You'll want to stop in for a sarsaparilla at the Long Branch Saloon and maybe catch a show featuring dancers. The boardwalk also includes a general store (a great stop for souvenirs and gifts) and a one-room church.
4. Tour The Home Of Stone
Made from Kansas limestone, the Mueller-Schmidt House, also known as the Home of Stone, was built in the early 1880s on a hill overlooking the city. Only two families lived in the house, which is the lone limestone house in the city. John Mueller was a bootmaker who invested in a saloon and cattle. The Muellers suffered financial difficulties when their cattle died in a blizzard and a fire destroyed the saloon. They sold the house and moved away. Adam Schmidt bought the house in 1890, and his family lived there until 1960, when his children sold it to the county.
It has served as a museum since then, showcasing furnishings related to the families' eras, including a few family heirlooms. The museum has a room dedicated to the stories of area women. The house is rumored to be haunted, and, if you ask, the docents may share their personal tales of ghostly encounters.
5. Visit A Distillery And Brewery
Combine a little history with a taste of New York on a visit to Boot Hill Distillery and Dodge City Brewery.
Boot Hill Distillery sits on a hill overlooking Front Street. Located in a former city hall and school, the distillery is owned by farmers who produce the corn and grain used to make the whiskey, gin, and vodka. You can take a guided tour of the distillery, which includes a shot glass for tastes along the way. Whether you imbibe or not, the distillery tour offers a fun look at the distilling process as well as a primer on the building's history. Boot Hill has a tasting room for people interested in spending additional time there.
Dodge City Brewery, about a block from the distillery, boasts seven or eight flavors of beer on tap. You can watch the brewing process from almost anywhere in the brewery. The establishment is also known for its New York-style pizza. The owners spent time in New York learning to perfect the hand-stretched, wood-fired pizza, which you'll receive within minutes of placing your order.
6. Talk To The Animals At Wright Park Zoo
Home to about 125 animals, Wright Park Zoo offers an opportunity to see animals close up. What started in 1926 with two black bears has grown into an accredited public zoo with animals including a black bear, bison, monkeys, wolves, and a variety of birds. Being small, Wright Park Zoo doesn't charge admission, but it accepts donations.
7. Shop Till You Drop
Be sure to explore the boutiques and shops along Front Street and in downtown Dodge City during your visit.
The fragrance of leather welcomes you at El Jaliciense Western Wear, which sells cowboy boots, belts, hats, Western shirts, and modern Western-inspired attire for women.
With its ever-changing inventory, Boot Hill Antiques offers an opportunity to take a piece of local history home with you — or at least some good deals. You'll find household items, vintage clothing, and more — you might even find Dorothy's ruby slippers!
For souvenirs and gift ideas, stop by the Dodge City CVB.
Where To Eat In Dodge City
Dodge City is ripe with impressive places to dine.
You can enjoy lunch or dinner at Central Station Bar & Grill, which is located in a former train station and offers visitors three venues: a sports bar, a dance club, and a restaurant. The restaurant — located inside a converted train car — features menu items such as steaks, pork sirloins, burgers, and salads.
Casey's Cowtown Club is a throwback to classic steakhouses, with large servings of T-bone steak, chicken-fried steak, and ham steak, along with burgers and sandwiches including a French dip. The decor is vintage Western, with paintings and miniature sculptures of cowboys and Native Americans. There's even a denim-covered bison near the lobby.
Combining faith, community, and coffee is the focus of Red Beard Coffee. Open since 2018, the coffeehouse is located at the end of Gunsmoke Street, with the Trail of Fame medallion for Burt Reynolds near its front door. The shop offers some unique flavors — try the Snickers, Captain Cranberry, or The Beard. Order your drink and stay a while to take in the art and relaxed atmosphere.
Where To Stay In Dodge City
You'll find plenty of hotel chains in Dodge City, so you won't have trouble finding a place to lay your head.
Located on the edge of town is the Boot Hill Casino & Resort, which includes restaurants, a convention center, a casino, and the Hampton Inn & Suites.
If you prefer a more local experience, The Cottage On Boot Hill is a neat vacation rental. Located near Front Street, the two-bedroom bungalow will be entirely yours during your visit; there's no sharing with others. The Cottage On Boot Hill can be rented through Airbnb.
For more to see and do in Kansas, see this page.