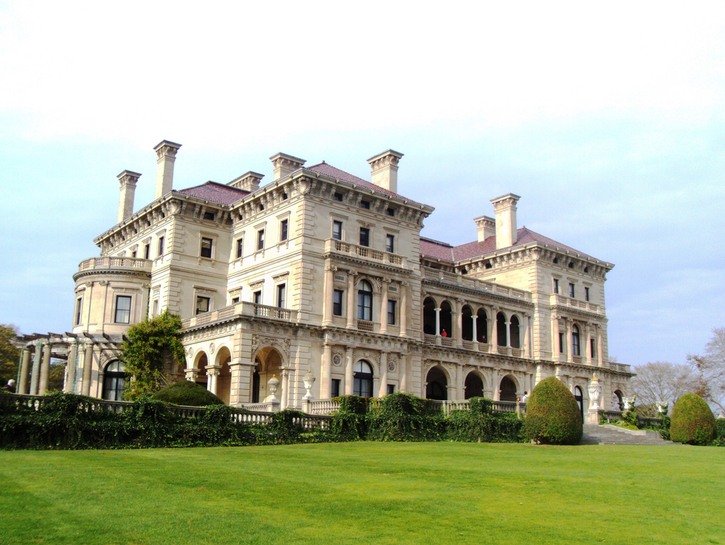 Newport is a beautiful, Rhode Island coastal town where the rich and famous built their "summer cottages" in the gilded age – the mid-to-late 1800s and early 1900s. Once you arrive, you'll see why. Located on the tip of Aquidneck Island, the town is blessed with panoramic views in every direction.
Start any trip to Newport by taking a stroll along the Cliff Walk. The salt of the air and the clatter of waves against the rocks, combined with the reverie of the opulent "summer cottages" almost causes sensory overload. The three-and-a-half-mile trail starts at the western end of First Beach, also known as Easton's Beach, and ends at the east end of Bailey's Beach. Much of the way is paved, but some of it is rocky and can be difficult, so wear appropriate shoes if you plan to complete the entire jaunt.
The wonderful thing about the Cliff Walk is that you can pick it up at different spots along the way. One option is to park on Narragansett Avenue, go south along the trail, and turn around whenever you're ready.
During your walk, you'll notice that the "summer cottages" aren't exactly log cabins. In fact, what some call a "cottage" might well pass for a mansion. The most recognizable is the Breakers. It's the former home of Cornelius Vanderbilt II and his family. Vanderbilt is the great-great-grandfather of fashion designer Gloria Vanderbilt. The home has 70 rooms and 62,482 square feet of living space on five floors!
The Breakers and nine other mansions are open to the public. It's fun to peek inside, see the ornate décor, and how the uber wealthy spent their summers. The homes are especially gorgeous during the holidays. Some of the mansions have seasonal hours and there are savings if you decide to visit more than one of the homes, so be sure to check the details online when buying your tickets.
If you long for more spectacular views, take a spin on Ocean Drive, also known as Ten Mile Drive. You will see more mansions along the way, although none as substantial as the Breakers. Many of the homes are shielded from view by trees and fences.
There are spots to stop and park your car during your drive so you can stroll along the rocky coast. On a windy day, take some time to watch people fly their kites at Brenton Point State Park. It's such a popular venue for the pastime that it hosts the annual Newport Kite Festival, which is held on the second weekend of July.
Along your route, you will pass Hammersmith Farm on Harrison Avenue – the childhood home of Jackie Kennedy. The waterfront property is where she and then-Senator John F. Kennedy held their wedding reception. While the home was once open to the public, it isn't anymore.
If you're done looking at the water and ready to be on it, you have a few options. Sail Newport rents boats to those who know how to sail, but they also offer lessons to those who don't. The lessons last two hours. You can take part as a group or get some one-on-one instruction. Classes are offered from May through September, and rentals are available through the end of October. Reservations are necessary. While this excusrion isn't cheap, it's guaranteed to be memorable!
There are ways to enjoy the water while letting someone else do the work. There are literally dozens of options, including morning, day, or sunset cruises, with or without cocktails, and sails on yachts which took part in the Americas Cup. Check out Classic Cruises of Newport and America's Cup Charters. Both are good choices when you're looking to spend some time on Narragansett Bay.
It may be known for its luxurious homes and nautical flavor, but Newport was founded on the basis of welcoming all faiths, and it shows in the town's historic houses of worship. The Touro Synagogue is the oldest in the country, built in 1763. Tours are available, but they do charge admission.
Trinity Church was built in 1726 by the Church of England, but today the congregation is Episcopalian. The church's center-pulpit is unique. While they were common in colonial times, it's the only freestanding, triple-decked pulpit left in the United States. President George Washington, Queen Elizabeth II, and Archbishop Desmond Tutu have all worshiped at this church. The pews where they sat are designated with silver plaques. There are tours offered of the church with a suggested donation.
The United Congregational Church is a National Historic Landmark because of its interior design. In the 1880s, artist John LaFarge designed the sanctuary wall, ceiling murals, and stained-glass windows. His ornate decor is not only colorful, but inspirational as well .
St. Mary's Catholic Church, built in 1849, is most famous for the wedding of future President John F. Kennedy and Jacqueline Bouvier on September 12, 1953. While in office, the couple would occasionally spend weekends in Newport and attend Sunday Mass at the church, always sitting in pew #10.
Thames Street is one of Newport's oldest downtown boulevards. Although named after the river in London, it's pronounced differently. Locals pronounce it with a hard –th– in a manner which rhymes with 'names.' You'll find shops – some mainstream, some unique – and restaurants flanking the cobblestones. If you want to pick up a souvenir, this is the place to look. Plan to start your walk at Washington and Thames Streets. Parking can be difficult, so if you don't get there early in the day, try the Newport Gateway Transportation and Visitors Center, which is nearby.
All of this adventure is sure to make you thirsty, and it just so happens that Newport is home to the country's oldest tavern! White Horse Tavern has been around since 1673. While the food is good, have a seat at the bar and order a Dark and Stormy. It's the signature drink of Newport and includes rum, ginger beer, and a lime. The bartender will spin tales about the tavern and its three-hundred-plus years of history.
If you're looking for something unpretentious and central, try the Brick Alley Pub on Thames Street. The pub and restaurant have an extensive drink and food menu and they're in the heart of the action.
Anthony's Seafood and Flo's Clam Shack aren't in Newport, but they are Aquidneck Island institutions. If you just want to eat some no-frills, quality seafood, try one of these spots. One more place for seafood requires a beach blanket. Easton's Beach or First Beach has a great snack bar. You can grab some clam strips or twin lobster rolls and just watch the waves roll in.
You may not realize it, but Rhode Island is home to some top-notch vineyards. Newport Vineyards and Greenvale Vineyards are both on Aquidneck Island, and they offer a chance to sample local vintages and a brief escape to the country during your stay in Newport.
For dinner with a fantastic view, make a reservation at Castle Hill Inn. You will have passed it while driving around the island on Ocean Drive. You can enjoy the Chef's Tasting Menu or Prix Fixe style options in the dining room any time of year. Expect a more casual lunch or dinner on the lawn between Memorial Day and Columbus Day. As the name 'Castle Hill Inn' implies, you can do more than eat here. If you want to make your day trip to Newport a sleepover, you may not find a spot with a better view and fantastic sunset.
Gurney's is another scenic overnight possibility. It's literally surrounded by water and located on Goat Island. You can decompress in the cabanas by the pool or enjoy a cocktail at The Regent Lounge during your stay. Both offer commanding views of Narragansett Bay.