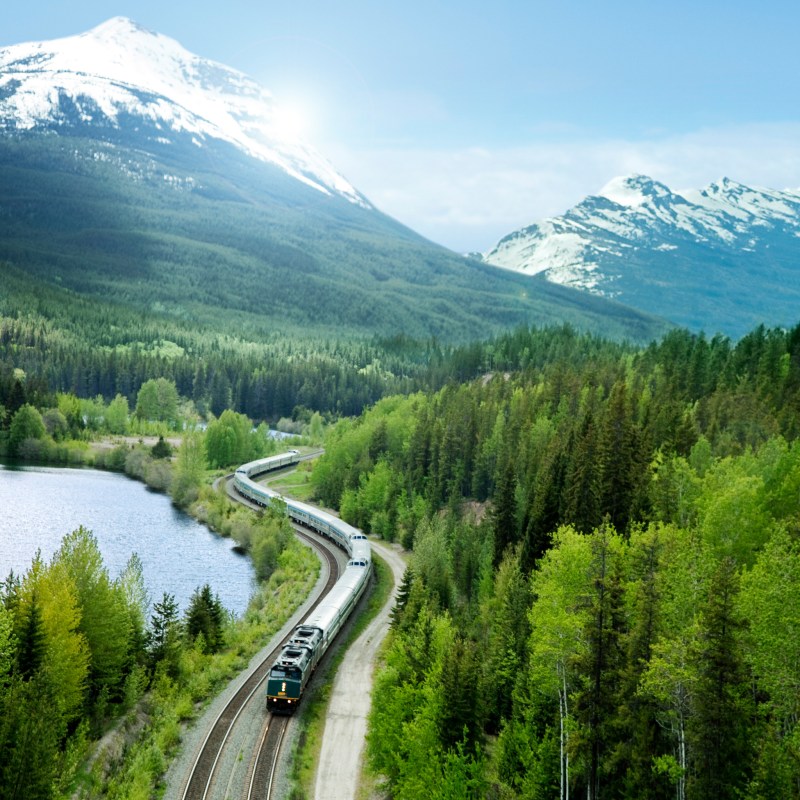 The best-laid plans of travelers often go awry. My romantic notions of train travel came from the movie Murder on the Orient Express — Tiffany lamp interiors, Chanel-clad passengers, luxurious cabins, and an ornate dining car.
Living this dream, I spent lots of money on upscale train journeys in my home country, Australia, including the coast-to-coast Indian Pacific and the legendary Ghan that snakes through the Red Centre. But I'd always yearned for a luxury train trip through the Canadian Rockies.
How much could a trip on the Rocky Mountaineer possibly cost? Thousands, I discovered. And since I'd be traveling for six weeks, I couldn't justify spending so much on one element of my trip.
A Canadian friend passed on a tip. "There's a local train," she said. "Same scenery — much cheaper."
VIA Rail's The Canadian departs from Vancouver's Pacific Central Station and travels to Jasper, Alberta, in the heart of the Rockies before hurtling across Canada to Toronto.
But the largest cabins were for two people, and I'd be traveling solo. There were sleepers — armchairs by day converted into bunks at night with curtains that could be drawn against prying eyes. A less exciting option, certainly, but it still included meals in the dining car.
The cost was around $800 for the one night to Jasper until I stumbled upon VIA's Discount Tuesday, a weekly newsletter offering a 50 percent discount.
The only downside was that the discounted tickets couldn't be booked far in advance. So a month before my trip, I jumped online. Every date was available except the one my itinerary now demanded. Since none of the full-price options were available, either, I had no choice but to sit up all night in economy.
My visions of a grand train journey flew out the window. No fine sit-down meals or drifting to sleep between crisp white sheets to the clickety-clack of wheels on the track. Instead, I'd be awake all night, arriving in Jasper in the morning looking like a train wreck.
But railways have a mesmerizing allure. Canada is the second-largest country in the world, spanning an astounding 3.8 million square miles and six time zones. I couldn't help but be enchanted by the vast bridges spanning rivers and the passing freight trains stretching for miles.
I struck up a conversation with a couple in their 60s, noticing without commenting on it that the husband moved as if he were in pain, and that his pincer fingers were in leather sheaths.
"When Ross had his stroke," his wife told me, "we reevaluated our lives. We resigned our teaching jobs and started giving music lessons from home so that we could spend more time together. We adore travel and wanted to spend the rest of the time we have left traveling together as much as we can. We travel economically to stretch the travel budget further and to travel longer."
They planned to rest when they reached Lake Louise. "We won't be staying at the famous Fairmont Chateau," she said. "But Ross remembers this little cabin from years ago. We won't do much walking, but we can spend time in nature and with each other."
My mind was already at work recalibrating my values. Here I was, downcast because I couldn't have all the bells and whistles — a train journey with a fancy dining car and a private cabin. Yet this man had suffered a stroke and was prepared to sit up all night in order to prolong life's journey with the partner he loved.
Later on, I went off with the woman to get dinner. I would have been miffed by the bizarre food service, but she pointed out the humorous side of it all. It was like "The Soup Nazi" Seinfeld episode:
We had to stand behind a line so as not to block the narrow corridor, and so far away that the cook had to bark out our numbers in ever more demanding tones.
When I finally picked up my food, however, I discovered that she was lovely and simply dealing with crowd control in a limited space. Plus, her meatloaf surrounded by lots of vegetables was first-class fare.
My new acquaintance went back to share her meal with her husband. Clearly they shared everything — even a headset with which they listened to classical music. I climbed the steep stairs to the domed observation lounge car. With its panoramic windows and glass-paneled roof, it was the best vantage point for viewing the outside world as it hurtled past.
There I met a young traveler from Afghanistan and a middle-aged couple from Prince Edward Island who filled me in on the life of Lucy Maud Montgomery and attractions related to Anne of Green Gables.
The long-haired young man in the corner looked worn out and was huddled under the kind of oilskin used outdoors. He told me of cycling from Halifax to Vancouver, a journey of many months and 3,500 miles. Now he had loaded his bike on board the train for the return trip past mountains he must have already conquered.
"Exhausted, I'd just stop and sleep by the side of the road," he said. "I met lots of homeless people. It was a true awakening to the life of the less fortunate."
He reminded me of Che Guevara in The Motorcycle Diaries. The film details the 23-year-old's political awakening when, as a young medical student, he traveled across Latin America and saw the plight of the poor. I wondered what this young Canadian might do with his life, having already come so far so soon.
In front of me, two men were deep in conversation. One was talking about his job as a long-haul truck driver; the other had a bright red cap pulled down to his eyebrows and sounded knowledgeable on every topic.
When the truck driver left, another passenger sat next to Red Cap (my nickname for him), and he too was drawn into an engaging conversation.
Later, I chatted with Red Cap and discovered his allure — a genuine humanity and helpfulness, plus an encyclopedic mind. Noting my interest in train travel, he filled me in on The Canadian.
"This train is so iconic that it's on our $10 bill," he said. "When it was built in 1955, it was state of the art — a stainless-steel fluted masterpiece. It has stood the test of time, still looking modern — even futuristic."
The mention of 1955 hit me full throttle — the year I was born. The Canadian's chassis might be a lot more sleek and streamlined than mine, but we were both silver gray and chugging along nicely.
Red Cap grabbed my serviette and scrawled the name of a woman who worked at the Jasper Railway Station. "A helpful soul," he said. "If you have any difficulties, just ask her for help."
Then, thinking of what else I might need, he jotted down the name of a cafe. "My sons and I always tuck into this noodle dish when we return from snowboarding," he said. He then proceeded to describe the simple takeout dish in such detail that my mouth began to water.
Red Cap disembarked before Jasper. I wondered if he was friends with the driver, because the train seemed to stop for him alone. Outside, he turned to wave goodbye. I swear that every other person on board waved back at him. He'd made friends with absolutely everybody.
Did I get any sleep? Not a lot. I ended up staying in the dome car, since it attracted the kind of people who wanted to get the most out of their lives and travels. Occasionally, I dozed off and awoke to stars shining through the glass ceiling. And in the daylight, I saw the hulking jagged mountains, the ramrod-straight fir trees, and the pounding water of Pyramid Falls up close.
Despite the lack of sleep, I didn't arrive in Jasper exhausted. I felt invigorated. The following day, I sat in the park looking out on the mountain scenery and tucking into Red Cap's favorite noodles. I could see a row of identical buses waiting to whisk passengers from the Rocky Mountaineer to the Fairmont Chateau at Lake Louise.
I thought of the devoted couple who were even now holding hands, looking out at this lake from their rustic cottage. I thought of Che hurtling homeward. And of Red Cap, who was probably riding another train somewhere making friends and doling out advice. And like Rose in Titanic, I realized that great travel experiences are not about fine clothes and fancy dining, but about the joys of meeting special people — and many of those people travel in steerage rather than first class. I had the worst sleep of my life, but no regrets about the journey.