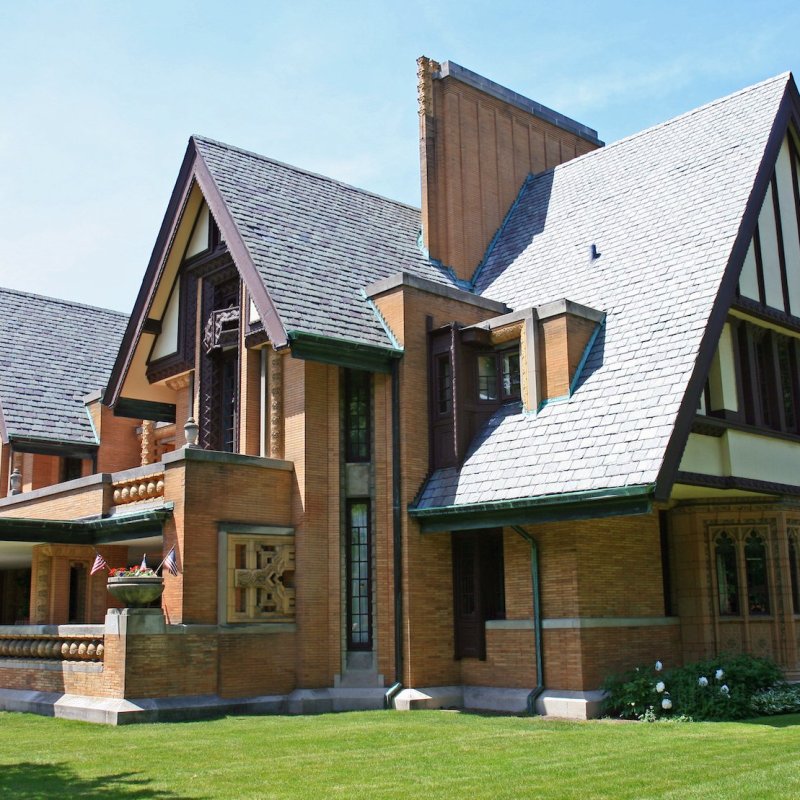 Oak Park, Illinois, is chock-full of art, culture, history, architecture, shopping, food, and fun. This vibrant village just 10 miles west of Chicago's Loop is easy to get to and even easier to enjoy. If you're in Chicago, you can take the Green Line "L" directly to downtown Oak Park. Otherwise, it's an easy drive from anywhere in the Midwest to this perfect weekend getaway.
What To Do In Oak Park
With a population of about 52,000, Oak Park has something for everyone. Historic buildings, cultural attractions, parks, museums, shops, and more will fill your weekend no matter when you decide to go.
Here are some of the best things to do in Oak Park.
Tour The Frank Lloyd Wright Home And Studio
Oak Park is Frank Lloyd Wright central, and there's no better place to start your visit than the Frank Lloyd Wright Home and Studio. This was the architect's private workspace during the first two decades of his career. It was here that he developed the Prairie style and experimented with architectural design concepts.
You can take a guided tour of the complex and a walking tour of the many Wright homes that populate the historic neighborhood. Visit the Frank Lloyd Wright Trust's website for ticket options and more information.
Visit Ernest Hemingway's Birthplace Museum
Ernest Hemingway, one of America's most beloved Pulitzer Prize-winning authors, was born in Oak Park. His birthplace, the first home in the village to have electricity, was built by his grandparents and has been restored to its original 1890s style.
The museum's exhibits, artifacts, and furnishings allow visitors to get a glimpse of Hemingway's early life. You can learn more and purchase tickets at the Ernest Hemingway Foundation's website.
Stop By The Oak Park River Forest Museum
An Oak Park landmark since 1898, the Oak Park River Forest Museum celebrates the village's history and people. A village committed to diversity, Oak Park celebrates its many accomplished residents — from architects and actors to scientists and social activists — in a Hometown Legends collection. Ray Kroc, Richard Sears, Paul Harvey, Lawrence Welk, John Mahoney, Ernest Hemingway, Frank Mars, Edgar Rice Burroughs, and Carl Rogers are just a few highlights.
Ever-changing exhibits cover art, history, social justice, and more with photos, costumes, and artifacts; the museum also serves as a resource for local researchers.
Take The Oak Park & River Forest Gangster Tour
Being so close to Chicago, Oak Park and its next-door neighborhood River Forest have plenty of gangster tales to share. The history of organized crime during the Prohibition era comes alive on the Oak Park & River Forest Gangster Tour, a tour of 13 homes once owned by major Chicago mobsters, including Sam Giancana and Anthony "Tough Tony"' Capezio.
Tour guide John Binder, whose books explore aspects of Chicago's organized crime scene, provides insights and highlights from secret tunnels to tales of hits. The 2.5-hour tour is offered on Sundays.
Stroll Through The Oak Park Conservatory
Dating to 1929, the Oak Park Conservatory was originally built as a place to house exotic plants that residents collected during their travels abroad. Over the years, it grew in popularity, and now it holds more than 3,000 plants from all over the world. The Conservatory was added to the National Register of Historic Places in 2005, and its unique glass structure attracts more than 50,000 visitors a year. Three indoor showrooms house Mediterranean, tropical, and desert plants, while outdoor gardens feature the native plants of Illinois. This urban oasis offers many special markets, tours, plant sales, and events.
Explore The Oak Park Arts District
Art lovers will hit the jackpot with the half-mile stretch of Harrison Street known as the Oak Park Arts District. This hive of creative activity features more than 25 galleries and studios with a kaleidoscope of art in a wide range of styles. Open-door nights to new exhibitions take place on the third Friday of each month. Classes and workshops are also available in the area, along with coffee shops, boutiques, restaurants, and live theater.
Head To Downtown Oak Park
No trip to Oak Park would be complete without a visit to its charming downtown. The main business district is a walkable area full of restaurants, shops, public art, and more.
While you're there, be sure to check out Oak Park's Marvelous Mini Murals. More than 120 of these colorful works are on display.
Downtown Oak Park hosts frequent events such as wine festivals, jazz concerts, cookie walks, Oaktoberfest, and a celebration of all things French called Art Dans la Rue. If your weekend is a long one, Thursday Night Out lets you get a taste of local restaurants and listen to live music while dining outside. Check the events page to see what's happening during your stay.
Where To Eat In Oak Park
Oak Park has a food scene as diverse as its residents. There are so many options that you'll find it hard to fit them all into your weekend. You'll just have to plan to return, which is a fine idea, because each season in Oak Park offers something special.
Here are a few of our favorite bites.
Jerusalem Cafe
This little Middle Eastern spot nestled next to the Classic Cinemas Lake Theatre is a local gem. The food at Jerusalem Cafe is absolutely mouthwatering, and the prices are downright cheap for the quality. You can easily stuff yourself with everything from salads and dips to shawarma and kabobs. The servings are ample, too. We usually split one of the incredible combos. They have combos for carnivores and vegetarians alike, so everyone in your party will leave with a full belly and a big smile, like we always do.
Delia's Kitchen
For breakfast, lunch, and brunch, locals go to Delia's Kitchen — and for good reason. Everything is made from scratch from local sources. They go for organic when they can and accommodate sensitivities and food preferences whenever possible.
If things like brioche French toast, fluffy omelets, chilaquiles, blueberry lemon ricotta pancakes, fresh salads, and sandwiches sound good to you, know that that's just the beginning. Delia's knows how to please your palate, so go early to avoid a wait and give yourself time to look the menu over.
Hemmingway's Bistro
One of our favorite spots for an Oak Park meal is Hemmingway's Bistro. This delightful French-American hideaway feels like a guilty pleasure because it's just that good. We've had breakfast, brunch, lunch, and dinner here, and they were all delicious.
Baked brie, quiche du jour, Lake Superior whitefish, and all of the other dishes are carefully prepared. The extensive wine list includes a great house sparkling, a tasty cremant de Loire. If warm crusty bread with ice cold butter and a glass of good wine put you in a good mood, you'll be ecstatic by the time you leave this enchanting food haven.
Firecakes And Petersen's Old Fashioned Ice Cream
We can't imagine a world without incredible donuts. Fortunately, neither can the residents of Oak Park, who have Firecakes to satisfy their craving. Firecakes are sweet bombs of donut joy based on a grandpa's recipe for hungry workers in the 1930s logging camps of northern Wisconsin. The shop still uses the secret family recipe and locally farmed ingredients. Flavors change regularly but include churro, pistachio, Valrhona chocolate, and wildflower honey. They even have minis, so you can try a few.
If you love ice cream, you'll want to visit Petersen's Old Fashioned Ice Cream, a local favorite for over 100 years.
Where To Shop In Oak Park
Downtown Oak Park is full of cute boutiques and independent shops. Ten Thousand Villages sells fair trade artisan-crafted gifts, accessories, and home decor from around the world. Scratch 'n Sniff is a fabulous store full of pet-related gift items as well as quality treats for your animal friends. And The Book Table has managed to buck the trend by remaining a fiercely independent bookstore that carries books and puzzles and holds events for bibliophiles of all ages.
Where To Stay In Oak Park
There are a few accommodation options in Oak Park.
For something unique, there's Bishops Hall, a Georgian Revival bed and breakfast. There are three rooms to choose from, each with its own bath.
The Carleton of Oak Park offers both boutique hotel accommodations and motor inn-style rooms where the entrance to each room is from the outdoors. It also has one of the best burger spots in town, Barclay's American Grille.
For those who appreciate a literary heritage, The Write Inn Hotel has welcomed many notable guests, including poets, Nobel laureates, and Pulitzer Prize winners. It also happens to be right next to Hemmingway's Bistro, which in our book is a big plus.
Oak Park is a special place with much to see, do, and eat. For a perfect weekend, make time to stroll the parks. Quiet mornings are the best times to amble through Lindberg Park, Field Park, and others. Whether you want a weekend to relax, energize, or a little of both, Oak Park is a great place to go.
For more to see and do in the Chicago area, see this page.