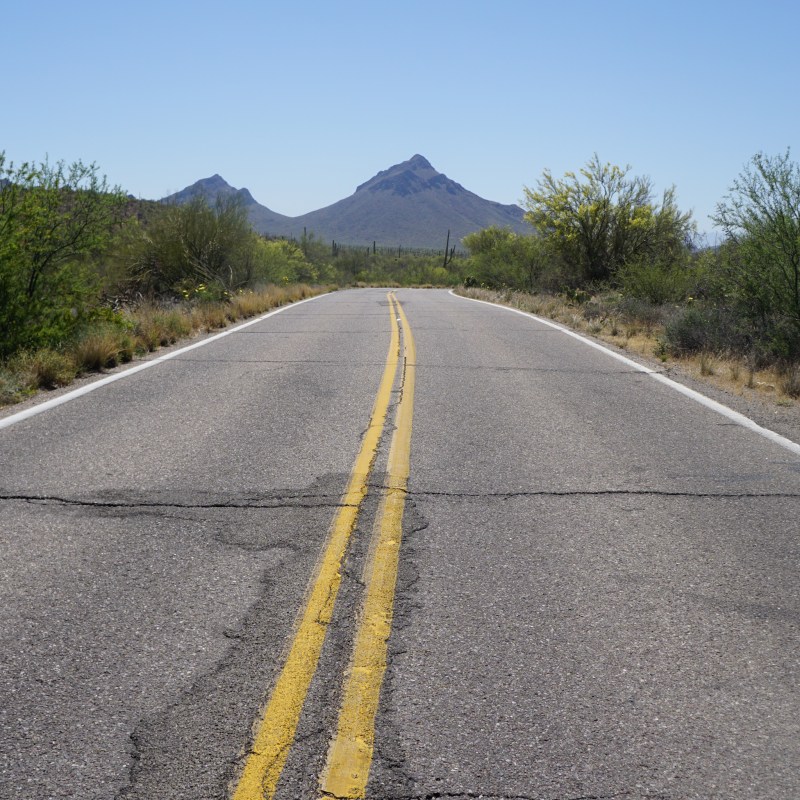 Tucson, Tombstone, Bisbee — the names alone are enough to conjure up Old West images of gunfights, cattle roundups, and hardscrabble miners.
But take a road trip through these southern Arizona communities, and those images will come to life.
Imagine staring down a herd of longhorn cattle grazing alongside the open road, wandering the meandering Bisbee streets that once teemed with miners, or following in the footsteps of the Earp brothers as they took that fateful walk toward the O.K. Corral.
They're all right there on this 100-mile route into Arizona's southern reaches. Along the way, spiny ocotillo cacti crowd the roadside, and ragged mountain ranges loom in the distance. You'll feel like you're on the set of Tombstone starring Kurt Russell and Val Kilmer.
As fascinating as the Wild West atmosphere is, though, it is far from the only thing to captivate travelers on a Tucson-to-Bisbee road trip.
Home to the sprawling University of Arizona campus, modern-day Tucson is a major city that has all of the accompanying amenities. The city was recently named a UNESCO Creative City of Gastronomy, making it a serious foodie destination.
Add virtually endless outdoor-activity opportunities, a thriving wine region, and a stunning national park, and you have the makings of a one-of-a-kind road trip.
As with most Arizona desert destinations, spring is the best time to set out on a Tucson-based road trip. Temperatures tend to be warm and sunny, and cactus blooms are at their peak.
Fall and winter are also great times to visit, with October's high temperatures ranging in the mid-80s and February's highs averaging a comfortable 70 degrees. Summers are piping hot, but if you're not afraid of 100-degree days, you can find great deals on accommodations.
Tucson
For me, Arizona's second-largest city captures the spirit of the desert better than any other community in the state. I love the University of Arizona's boisterous vibe, the cactus-and-tumbleweed landscape, and the stellar Mexican cuisine scene.
While there are countless resorts and hotels to choose from, my favorite is the Arizona Inn, a desert classic with Spanish Colonial Revival architecture, pink stucco walls, and elaborately landscaped grounds. The inn is centrally located near downtown hot spots and Tucson's historic Fourth Avenue. Its on-site dining choices include Southwestern fare such as chickpea cakes and tequila-lime chicken tacos.
For more moderate rates, Tucson also offers countless chain hotel options along busy and centrally located thoroughfares such as Oracle Road and Speedway Boulevard. Or if camping is more your style, check out the lovely Catalina State Park, where a fully equipped campground backs up to the picturesque Santa Catalina Mountains.
While you're in the region, be sure to get to Saguaro National Park, a truly bucket-list destination. On a recent visit in early May, I happened upon the saguaro cactus-flower season and marveled at the thousands of towering cacti topped with beautiful waxy white flowers — Arizona's state flower. Plan to take a leisurely drive through the park's cactus-studded terrain, or head out on one of its stellar hikes.
Other must-visit spots include the Sabino Canyon Recreation Area, a local favorite with its scenic Seven Falls Trail (rated moderate); Tucson Mountain Park, which makes for a stunning desert drive; and Mission San Xavier del Bac, a National Historic Landmark founded in the late 1600s.
For iconic culinary experiences, head to the downtown El Charro Cafe, Tucson's oldest Mexican restaurant, which is said to have created the chimichanga; El Guero Canelo to sample Tucson's signature Sonoran Dog, a hot dog wrapped in bacon, grilled, and topped with Southwestern fixings; and Cup Cafe in the historic Hotel Congress for a unique breakfast of cast-iron-baked eggs.
A two- or three-day stay in Tucson will allow you to take in many of the attractions before heading south.
Sonoita
Although you could take a fairly straight route to Bisbee down Interstate 10 and Highway 80, I suggest first detouring south onto Highway 83 toward Sonoita.
Along the way, you'll arrive at the Las Cienegas National Conservation Area, a perfect place to stretch your legs and explore the rambling old ranch that once occupied the land. When I drove in, I was accompanied only by a few longhorn cows peering at me curiously. The conservation area's 45,000 acres of rolling grassland allow for activities such as wildlife viewing, bird-watching, primitive camping, picnicking, hiking, mountain biking, horseback riding, and scenic drives.
Back on Highway 83 heading south, you will begin to spot the distinctive vineyard rows that are sure signs of approaching wineries. Sonoita is located in the heart of Arizona Wine Country, and it offers a number of vineyards and tasting rooms, including the cool Arizona Hops and Vines. Tourism experts suggest planning your trip to coincide with a local festival and spending the night at a cozy guest ranch, such as The Last Stand Guest Ranch.
Depending on your level of interest in wineries, expect to spend anywhere from a few hours to a day or two in the Sonoita area.
Sierra Vista
From Sonoita, the midsize town of Sierra Vista is about a half-hour drive. Known as the Hummingbird Capital of the United States, it is prime bird-watching territory.
"Sierra Vista's climate and southern location make it a major stop for rare birds," says the state's tourism site. The Ramsey Canyon Preserve is internationally famous for its "rainbow of hummingbirds," and canyons such as Ash Canyon, Miller Canyon, and Carr Canyon are also known for their birding.
Other popular outdoor spots include the lush San Pedro Riparian National Conservation Area, the scenic Brown Canyon Trail, and the history and caves of the Coronado National Memorial.
Among Sierra Vista's unlikeliest distinctions is its abundance of German eateries, such as Bobke's for Lunch and The German Cafe. Plan to spend 2 or 3 hours in Sierra Vista, or longer if you have an interest in birding.
Kartchner Caverns State Park
For a look at one of the world's most wondrous caves, head north on Highway 90 for about 25 miles to Kartchner Caverns State Park. There, you can take in tours of the massive cave's Big Room and Throne Room, which contain one of the world's longest soda-straw stalactites.
The state park also includes a full-service campground, which is perfectly situated for a multi-night stay for RVers or tent campers.
Benson
Just north of the state park near the intersection of Highway 90 and Interstate 10 lies the small town of Benson. The state's tourism website calls the town "the kind of sweet, backroads destination you initially stumble upon — and then angle for ways to return again and again."
Benson's attractions include the Singing Wind Bookshop — a well-known spot for book lovers, located on the town's outskirts — and the nearby Holy Trinity Monastery, which is open to visitors of all faiths and features lovely grounds, an enclosed courtyard, and a towering cross.
Expect to spend 2 to 3 hours in Benson.
Tombstone
The old mining town of Tombstone needs no introduction. Countless movies and television shows have focused on the gunfight that took place at the O.K. Corral in 1881. The infamous shootout between brothers Wyatt, Virgil, and Morgan Earp and the Clanton-McLaury gang is said to have lasted just 30 seconds, but those seconds have lived on in popular movies such as 1993's Tombstone, 1994's Wyatt Earp, and 1946's My Darling Clementine.
Today, you can walk where they walked, view reenactments, have old-time photos taken, and visit Big Nose Kate's Saloon, the bar named after the longtime companion of Earp friend and gunfighter Doc Holliday.
While in Tombstone, be sure to check out the Boothill Graveyard, where the three shootout victims are buried; the Tombstone Courthouse State Historic Park, which now serves as a museum; and, of course, the recreated O.K. Corral. To get the full experience, plan to have lunch at one of the rustic eateries on the main drag, such as the O.K. Cafe.
Expect to spend 4 to 5 hours in Tombstone.
Bisbee
After a half-hour drive south from Tombstone on Highway 80, the multicolored buildings of Bisbee will suddenly appear, standing out beautifully in the rugged terrain. Upon arrival, take some time to wander the winding, narrow streets and alleys — as well as the many historic staircases — to absorb the quirky atmosphere of the old mining town.
For a taste of the lives of those who worked the mines, don't miss the underground Queen Mine Tour, where you'll be fitted with headlamps and yellow slickers and taken 1,500 feet into the mine. There, knowledgeable guides will recount stories of Bisbee's mining heyday.
To tap into the spooky side of Bisbee, check out the Old Bisbee Ghost Tour, a route that takes in notorious sites such as the old courthouse, the OK Street Boarding House, and the Brewery Gulch Brothel.
Known for its lively bar and restaurant scene, Bisbee has many spots for dining and entertainment, including the Bisbee Breakfast Club, the Old Bisbee Brewing Company, and the 1902 St. Elmo Bar.
Hotels and bed and breakfasts are also plentiful in the historic area. The 1902 Copper Queen Hotel offers 48 quaint rooms and seven specialty rooms, while the 1906 Bisbee Grand Hotel offers seven suites and six rooms. A host of others are available as well. I recommend spending two or three days exploring Bisbee and a night or two in one of its historic hotels.
Pro Tip: For those who have difficulty walking long distances or climbing multiple staircases, a golf-cart tour might be the way to go. The Bisbee Tourism Center offers cart tours lasting anywhere from 30 minutes to 3 hours.