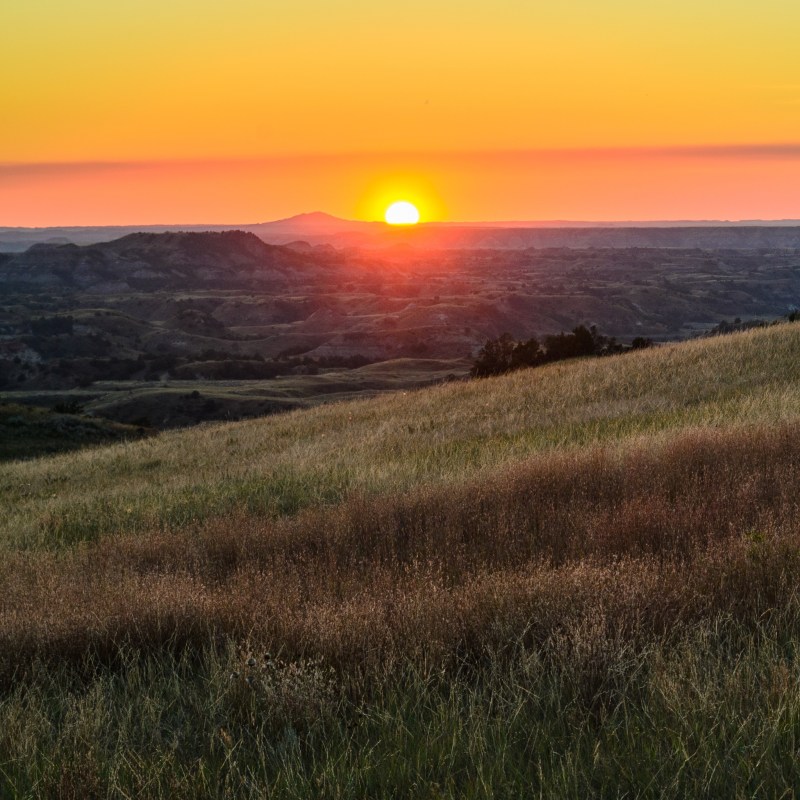 North Dakota is a state that many have on their bucket lists. If there is one thing that I know for sure, it's the fact that it belongs at the top of your list. A fantastic road trip from Fargo to Medora awaits you. The food, experiences, and landscape will stick with you forever. Summer brings fantastic weather and an opportunity to enjoy more attractions. Now is the perfect time to plan your Fargo to Medora road trip. Let's go!
Note: I received complimentary press trip admission to some of the attractions suggested in this article. All opinions remain my own.
Fargo, North Dakota
The Fargo-Moorhead Visitors Center, located at 2001 44th Street S. in Fargo, is where your road trip begins. It is located off of I-94 at Exit 348. You will notice the grain elevator as you enter the parking lot. Here is where you need to take a photo of yourself with the famous woodchipper from the movie Fargo. A fake leg and bomber hats are available to complete this look.
The Fargo Air Museum is home to numerous aircraft and prides itself on being the home to one of the Midwest's largest aviation libraries. The rotating exhibits make this a unique visit any time of the year. Pet travelers will rejoice, as pets are welcome in this museum. A fun thing that the air museum offers is Veterans Coffee Hour.
The one thing that surprises most visitors when they visit Fargo is the variety of food in the restaurants. Brewpubs with flare, Mexican, Italian, sushi, steaks, and Chinese are some of the tastes you will enjoy in Fargo. Spot the painted bison around town for fun photo moments and a glimpse into the art scene. There are numerous hotels in the area that accommodate travelers' different needs. Lodging is available downtown and also near I-94.
Plan to spend a minimum of one day in Fargo. Most likely, you will find yourself planning to spend more time here at a later date.
Valley City, North Dakota
Road trippers will appreciate the Sheyenne River Valley National Scenic Byway. Views of the 3,800-foot long Hi-Line Railroad Bridge from Chautauqua Park are magnificent. Several diners offer home-cooked meals as well as desserts to indulge in before you continue your drive. Valley City is beautiful and offers insight into the bridges of North Dakota. Plan to stop here for four to five hours in between your time spent in Fargo and Jamestown.
Jamestown, North Dakota
Traveling west on I-94 from Fargo will take you to Jamestown. This is where you will find the National Buffalo Museum and Frontier Village. You will want to be sure to see the rare white buffalo that is on display at the museum. Take your photo with the world's largest buffalo monument; it's a photo opportunity that you will not find elsewhere. Frontier Village is also where you can take a step back in time and experience a simpler place in time. Railroad enthusiasts will appreciate the Northern Pacific Railroad Depot, which was the first railroad depot in Jamestown in 1880. Gift shops feature North Dakota products and handmade goods from local artisans.
The walkways in Frontier Village are not level, so it's important to have a steady foot while walking through this area. If you are lucky, you will witness an old-fashioned Wild West shootout. Jamestown makes the perfect stop as you head west across North Dakota. A tasty meal can be found at Sabir's Buffalo Grill. For a taste of the West, indulge in a bison filet or prime rib. Plan to spend a full day in Jamestown, as you're sure to find multiple experiences that will lure you in.
Bismarck, North Dakota
Bismarck is where you can find art in an alley. Alley 5.5 is located on 5th Street halfway between Broadway and Main Avenue. Plan 30 minutes to stroll this alley and take it all in. It's truly a one-of-a-kind experience, and it's not something that you expect to find in North Dakota.
History comes to life in the North Dakota Heritage Center and State Museum. This museum is stunning and will easily fill more than two hours of your time, so plan accordingly. Any visit to Bismarck would not be complete without a ride on the Lewis and Clark riverboat. This is a great way to see the scenery in the area as you float down the Missouri River. The Blarney Stone Irish Pub is where I would recommend rounding out your day in Bismarck with a dish of Jameson Irish bread pudding.
Fort Abraham Lincoln State Park is home to history and can easily fill most of your day. Stop at the visitors center to check on the availability of guided tours in the park for the day. Pack a picnic lunch and enjoy the views of the park. There is a small fee for vehicles entering the park, but it's well worth the money spent. Bismarck has so much to offer that you will most likely want to plan a return visit.
Watford City, North Dakota
Watford City is north and west on your road trip, but well worth the extra miles. Nature is beautiful in this area of North Dakota. If you have invested in an annual or lifetime membership to the national parks, this will cover your admission fees to Theodore Roosevelt National Park. Watford City is near the north unit of Theodore Roosevelt National Park, where you will find many outdoor opportunities. Make sure to pack your binoculars, as the Little Missouri River is surrounded by many miles of prairie that are home to more than 200 different species of birds.
Riverbend Overlook offers a view that you will carry with you for a lifetime. A large portion of this trail is handicap accessible. Wear supportive shoes as the trails that continue through the park are rocky and unlevel. The bison roam freely, so stay alert.
Lodging in Watford City is unique and rooms fill quickly. I would highly suggest booking a room at the Roosevelt Inn and Suites as early as possible. Once you're there, take an outdoor selfie with Theodore Roosevelt for a memory of your road trip across North Dakota. Stonehome Brewing offers pizza and beer, which make for the perfect way to end your day. You can easily fill one full road trip day with Watford City activities.
Dickinson, North Dakota
Dickinson is a regional hub for southwestern North Dakota and is where you're invited to soak in the history lessons that it offers. The Dickinson Museum Center is home to dinosaur exhibits, fossils, heritage exhibits, machinery exhibits, and farming and ranching demonstrations. Plan to spend a minimum of two hours here as there is a lot to see.
Agriculture enthusiasts will appreciate Prairie Outpost Park and Pioneer Machinery Hall. Upon your arrival, inquire about the availability of guided tours at the museums, as they may be available. A fantastic place to have a picnic and do some fishing is Patterson Lake Recreational Area. If you forgot your fishing poles at home, local stores have them for purchase. A fun place to stop while in town is The Wurst Shop. Here you can experience meats of all types that are processed on site.
Medora, North Dakota
Between Dickinson and Medora, you will see signs for the Painted Canyon. Be sure to take the exit and enjoy the views here. Then, continue on to Medora. This is where your beautiful North Dakota road trip wraps up and where the gateway to the south unit of Theodore Roosevelt National Park sits. The Chateau de Mores State Historic Site offers views of the badlands and insight into the history of the town. The North Dakota Cowboy Hall of Fame is where cowboys and the history of Medora are celebrated. Theodore Roosevelt National Park is home to stunning views, bison, and wild horses. Medora is a small town; fewer than 150 people live here, but it plays big. Two of my favorite meals have been at Medora Uncork'd and the Little Missouri Saloon and Dining Room. The blueberry meatball pizza at Medora Uncork'd and the mouthwatering taco salad from the saloon have me wanting to return now.
These seven towns will welcome you as you explore North Dakota. The people, food, and nature encounters offer legendary experiences that you cannot have in any other state. Embrace the wide open skies as you travel North Dakota.