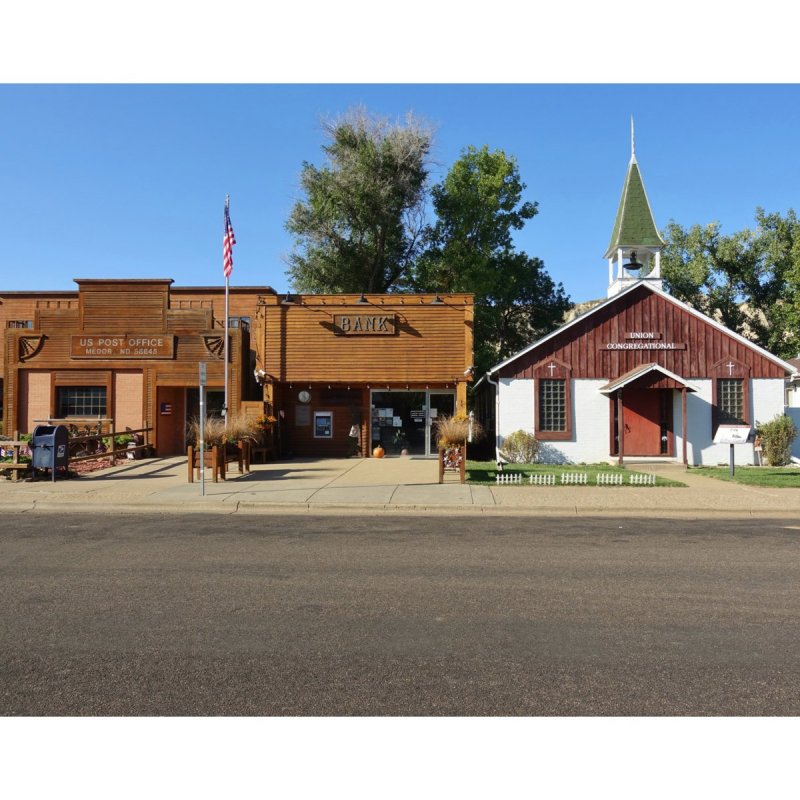 When you hop off of I-94 you will be in for a treat: a perfect day in Medora, North Dakota. Medora is not only home to a close-knit community of 132 people; it is also home to Theodore Roosevelt National Park.
The people in the community will welcome you and the warmth of this cute mountain town will pull you in. A drive through Theodore Roosevelt National Park and a Teddy Roosevelt encounter are sure to make your visit complete. And if North Dakota is your 50th state, Medora offers you the opportunity to visit and check the state off of your bucket list.
Theodore Roosevelt National Park: Medora, North Dakota
Plan a minimum of three hours to explore Theodore Roosevelt National Park. Hop in your car and head for the national park entrance. Once you cross over I-94, your visit will get very exciting. You won't have to travel very far into the park to see the bison. When we went, we were prepared to see wildlife, and we had packed our binoculars.
As it turned out, we never needed them, as the wildlife was always near our car. As you continue on your drive through the park, you may encounter wild horses whose beauty will blow you away. The wild horses in this park are a photographer's dream come true. Sit, watch, and take it all in. The beauty of the horses and the landscape will stay in your mind for quite some time.
If you enjoy hiking, it's important to note that the trails are rugged, so wear appropriate footwear. If you typically walk with assistance, I would suggest staying in your car and taking it all in from the comfort of the driver's or passenger's seat. And, if you will be visiting more than two national parks in a year, you'll want to read up on how to get a national parks senior pass.
The Chateau De Mores State Historic Site
Visit the historic Chateau de Mores and take in all the beauty of Medora that surrounds the property. Marquis de Mores built this historic home in 1883 as a hunting lodge and summer home. Make time to explore the museum and tour this historic home.
The town of Medora was named after the Marquis's wife, Medora. Your tour guide will give you a lot of information about the area and how Medora came to be. Today, Medora's legacy still shines throughout the community, and this museum, which preserves the place where it all began, is truly a one-of-a-kind experience. Visitors can view many displays with a QR code on their smartphones and see the displays on site. Plan to spend a minimum of 60 minutes on this property. There is a paved walk from the parking lot to the house, which makes it easy to access.
Bully Pulpit Golf Course
Bully Pulpit Golf Course is ranked as one of America's top 100 public golf courses. All 18 holes have beauty unlike any other golf course you've set foot on. The up and down in your golf cart with the Badlands of North Dakota in view will be memorable in itself.
If you are not a golfer, I'd highly recommend that you tag along with the golfer in your party. The views alone are worth the experience on this course. If you are a spectator, bring your camera and take photos along the way. This golf course is a photographer's dream come true. Many people think that North Dakota is flat. Bully Pulpit will show you that it is not. This course is beautiful and challenging. Depending on your golfing skills, allow up to six hours to complete all 19 holes.
The Medora Musical
The Medora Musical, America's longest-running outdoor musical, is a must-see while in Medora. The Burning Hills Amphitheater was built in 1958 one mile west of Medora. Today, the Theodore Roosevelt Foundation maintains the amphitheater and the historical properties around the site. This state-of-the-art outdoor theater boasts 2,852 seats, and the Burning Hills Singers, a host, and several variety and comedy acts perform each night.
The show usually runs from around June 1 through the second week of September. The theme changes a little each year, but I can guarantee that you will learn about President Theodore Roosevelt. He loved the West and spent time in the Badlands of North Dakota. If you are lucky, you will see Teddy (or his likeness, at least) before you hop on the escalator to your outdoor seat in the theater.
It's not too soon to reserve your tickets for next season. This is a family friendly show that you will be talking about for years to come. The show kicks off at 7:30 p.m. and is approximately two hours long.
North Dakota Cowboy Hall Of Fame
The North Dakota Cowboy Hall of Fame, located at 250 Main Street in Medora, helps preserve North Dakota's Western heritage. If you do not know much about cowboys and are curious, this is a great place to learn more. While in Medora, you will see reference to the North Dakota Six Pack: those regarded as the elite in North Dakota rodeo in the '50s and '60s. A bronze sculpture in this museum is an homage to these men.
Imagine my surprise when I met the granddaughter of one of these cowboys on a recent press trip in Montana. The legend of the North Dakota cowboy lives on today, and I'd encourage you to spend an hour in this museum. Ask questions and leave with a new appreciation of the North Dakota cowboy and cowboy life in general. The museum is closed on Monday but open Tuesday through Sunday from 9 a.m. to 4 p.m.
Eating In Medora, North Dakota
Medora offers several choices when it comes to food. Burgers, pizza, sandwiches, and ice cream are at the top of the list, but there are no fast-food restaurants in Medora. Little Missouri Dining Room and Saloon offers a variety of options, from pizza to burgers to the best taco salad on the planet. Dine out on the outdoor deck when weather permits and enjoy the views of Medora. Take some time to stroll through the restaurant, as you will see signs of the West and several dollar bills that line the ceiling and walls. This is one of the few restaurants in town that is open all year round.
Medora UnCork'd offers wine and the best barbecue blueberry meatball pizza that I have ever eaten.
Of course, the best way to round out your day is to enjoy the Pitchfork Steak Fondue. Steak is cooked on a pitchfork and served on a plate for you to enjoy while overlooking the beautiful Badlands of North Dakota. Pitchfork Steak Fondue is also offered as a multi-ticket with the Medora Musical. The best part about these dining choices is that they all reflect a passion for quality service and an opportunity for visitors to get to know the people of Medora.
Shopping In Medora
While shopping in Medora, you will most likely meet up with Teddy Roosevelt. Teddy (or his likeness, of course) strolls through the streets of Medora and he will most likely take the time to take a photo with you.
Medora is a walkable town. There are approximately six blocks for you to shop. Behind the Little Missouri Dining Room and Saloon, there is a really cute shop that showcases beautiful yard decor that will catch your eye. My favorite shop in town is the Medora Boot and Western Wear store. Kim and her team offer top-notch customer service and will help you find the cowboy boots of your dreams. I personally love the cowboy boots that she helped me find and receive many compliments on them every time I wear them.
The Medora Convenience Store is also open year-round and offers outdoor supplies, groceries, and gas pumps. Chasing Horses is a shop that pays tribute to the wild horses in Theodore Roosevelt National Park. I'd highly recommend visiting their store at 312 Pacific Avenue, as you will enjoy their on-site art collections.
Medora Offers Something For Everyone
Medora, North Dakota, truly has something for everyone. Your day will seem to fly by in minutes as you explore the western edge of North Dakota. Everything in town is walkable and the furthest away that any one attraction is from another is a little over a mile.
The best travel tip that I can give you is to stop at the Painted Canyon at Exit 32 off of I-94 on the eastern side of Medora. This is a bonus stop, as you will be in the national park at this rest area. Bison do roam through this parking area, so be on the lookout. Sunrise and sunset are fantastic times for a Painted Canyon stop.
History enthusiasts will appreciate all that Medora has to offer and everyone will be allowed to meander back to a simpler time. Medora does not offer the hustle and bustle of a big city. It is quaint and brings folks together through history, food, and beautiful landscapes. Your perfect day in Medora will end with a smile as you reflect upon all that you experienced.
Here are six reasons to spend your next family vacation in North Dakota and eight places to see wild horses around the world (including Theodore Roosevelt National Park, of course).