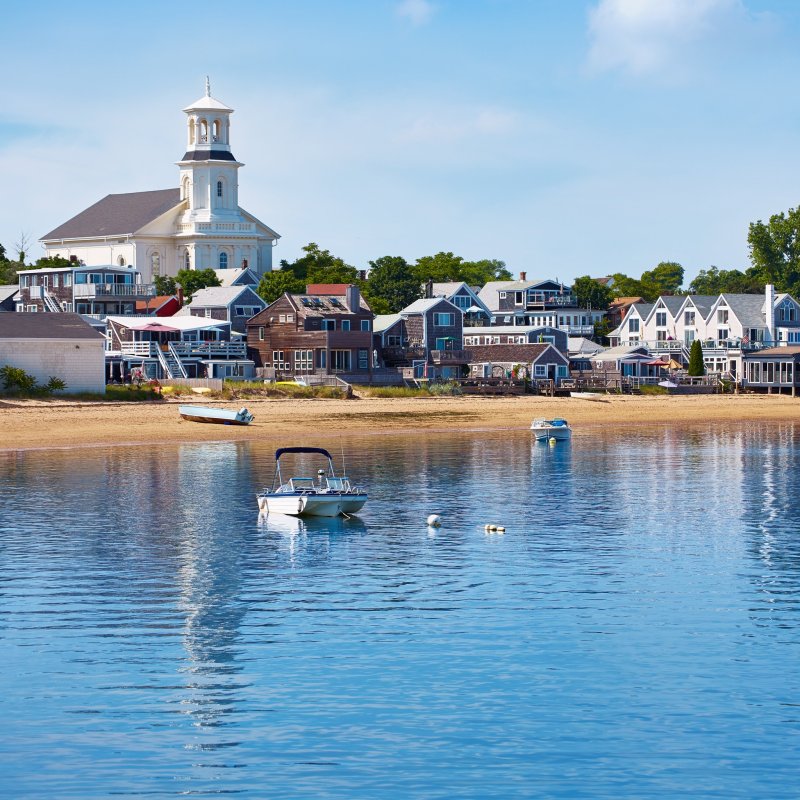 Provincetown always feels like the end of the world by the time you drive to the tip of Cape Cod in Massachusetts — and that impression is multiplied in the winter. The two-lane highway is packed with traffic in the high season but is dramatically empty as you pass the Province Lands beaches at this time of year.
When I first began to visit Provincetown in 1967, lured by stories of the town's charms and celebratory live-and-let-live vibe, the season was basically just July and August. Since then, it has expanded to encompass April through October, with the high season summer months hosting some 50,000 visitors. After autumn, the year-round population (less than 3,000) is joined by die-hard fans who appreciate the many pleasures of the off-season.
A Capsule History Of Provincetown
First explored in 1602, by the mid-1700s, Provincetown was an established fishing village and eventually a busy port. In the following century, the town became a magnet for Portuguese fishermen and their families, and in the 20th century a center for creative people, intellectuals, and self-styled bohemians. Provincetown attracted a population of hippies and other free spirits in the 1960s and 1970s. Always welcoming to gay writers and artists, Provincetown grew to become an LGBTQ mecca, one in which anyone could feel comfortable and accepted, from drag queens to artists and writers, straight and gay families to hikers, bikers, and bird watchers.
4 Reasons To Visit Provincetown In The Winter
1. To Walk Or Bike The Beaches
Race Point and Herring Cove (called the Province Lands beaches), part of the Cape Cod National Seashore, are within a five-minute bike ride from town. You can soak up the winter sun and walk on pristine beaches with glorious views. Winters can (sometimes) be fairly mild — although often windy — with daily temperatures sometimes reaching as high as 50 degrees Fahrenheit.
2. To Soak Up History At Every Corner
Most Provincetonians believe that Provincetown Harbor was where the pilgrims on the Mayflower first landed in 1620, even before they made it to Plymouth Rock. There are many other places to visit that reflect the area's history.
3. To Wander Down Commercial Street
This is the perfect walking street for any season: Completely flat (some parts with sidewalks, some not) and lined with shops, the main drag provides lovely views of the bay between all the buildings.
4. To Avoid The Crowds Of Summer
This is when the hidden beauties of the area are found, with deserted beaches and dramatic dunes and cobalt blue skies. You can park on MacMillan Wharf without a wait. You can walk down the sidewalks without jockeying for position. You can get into restaurants. You can sit on a bench on Commercial Street and chat with townies passing by.
Other Things To Do In Provincetown
1. Walk The Breakwater
While the two beaches near Provincetown are great to wander, you can walk to the east end of Commercial Street to encounter the breakwater, a mile-long stretch of granite blocks. Make sure that you wear good walking shoes — the rocks can get slippery. And make extra sure that you finish your walk before high tide.
2. Enjoy Indoor Activities At The Provincetown Art Association And Museum
This is where rotating exhibits offer works from the center's 3,000-plus item permanent collection. Other places to visit for a taste of the town's long arts history are the Provincetown Theater, the Provincetown Public Library, and a host of galleries (some of which are open in the winter; call to make an appointment). The Fine Arts Work Center is a non-profit program for visual artists and writers.
3. Visit The Pilgrim Monument And Provincetown Museum
If you arrive at dusk or at night during the winter, you can't miss it! The 252-foot monument (completed in 1910) most resembles a gigantic Christmas tree or a spaceship. Every year, during the holidays, the monument is festooned with more than 3,100 "landing lights" that shine nightly through January 6 of the following year. The Provincetown Museum is housed in the base of the monument and maintains exhibits about Provincetown's role in American history. Note that the monument has 116 steps. Those who make it to the top will have a 360-degree panoramic view across the tip of Cape Cod.
Where To Eat In Provincetown
About 20 or so restaurants stay open all year round. Since the number of places is considerably smaller than in other seasons, you may need reservations.
Chach
A bit outside of town (on Shank Painter Road), cozy Chach is a great place for breakfast or brunch, with great Mexican specials.
All the following restaurants are either on or just off Commercial Street:
Canteen
In winter there are several holiday markets at the Canteen (check online for dates). This casual gathering place is also popular for New Year's Eve food and fireworks.
Napi's Restaurant
Napi's is a fairyland during the winter season, with strings of lights, artwork, and a crackling fireplace. Make sure you have reservations for Christmas dinner.
Squealing Pig
Open for New Year's but closed for the rest of January, the Squealing Pig is a cozy bar and restaurant with fried fish, oysters, Guinness, and more.
Wired Puppy
Wired Puppy cafe is open year-round. I love to sit on the bench outside early in the morning, drink restorative coffee, and greet dogs and their owners.
High-End Dining
The following three restaurants are a bit more expensive and great for special occasions in the winter: Ciro and Sal's, Fanizzi's Restaurant by the Sea, and The Mews Restaurant and Cafe.
Where To Shop In Provincetown
Commercial Street is lined with shops, only some of which are open all winter. Others have limited and/or weekend hours, so best to check. Here are my favorites:
Marine Specialties
A Provincetown landmark, Marine Specialties houses an eclectic collection of salvage, surplus, closeouts, overruns, odd lots, and new and nearly-new items that you never knew you needed.
Womencrafts
One of Provincetown's oldest shops, Womencrafts promotes the work of female artisans, authors, and musicians.
Two Jewelry Stores Conveniently Across The Street From Each Other
Visit Exuma, which sells fine jewelry (open mostly on weekends), and Zinnia, for a wide variety of pieces of all prices.
The Provincetown Fudge Factory
Next to Zinnia, the Provincetown Fudge Factory is open for much of the winter for a fast sugar rush.
Puzzle Me This
Open most weekends in the winter, Puzzle Me This is a treasure trove of games and puzzles for adults and children — and good to visit pre-blizzard in order to stock up.
Himalayan Handicrafts
Himalayan Handicrafts features Tibetan and Nepalese clothing, jewelry, and more. Check on winter hours and make sure that you chat with the lovely proprietor, Chhomo.
Paws And Whiskers Dog Bakery
Paws and Whiskers offers pet supplies galore for a completely pet-friendly town.
Where To Stay In Provincetown
It's always a treat to be able to stay in places in the depths of the winter that you might not be able to afford during high season. My daughter stayed at Seaglass Inn and Spa during a cold December; it was comparatively inexpensive and pretty luxe for her.
Crowne Pointe Historic Inn And Spa
Crowne Pointe Historic Inn And Spa is a 35-room, four-star spa hotel located on a bluff overlooking the town.
Provincetown Inn
A large (102-room) hotel on the tip of the West End, the Provincetown Inn is steps from the breakwater.
Anchor Inn Beach House
Anchor Inn Beach House is right on the beach and within walking distance of everything; a full breakfast is included.
Benchmark Inn
Benchmark Inn is a small bed and breakfast with six rooms that offers a full breakfast.
Revere Guesthouse
Revere Guesthouse is a restored 19th-century sea captain's home with private gardens.
Airbnb
A number of comfortable Provincetown places are available throughout the winter.
Tips For Enjoying Winter In Provincetown
Polar Bear Plunge
If you'll be in Provincetown on New Year's Day, don't miss the Polar Bear Plunge, on the beach a few blocks west of MacMillan wharf. This annual tradition is part of Provincetown's First Light celebrations. If you don't want to actually participate in the group freeze, there will also be a DJ, music, and hot drinks.
Birding In Wellfleet and Eastham
Check out the Wellfleet Bay Wildlife Sanctuary (about 20 minutes from Provincetown) and the Salt Pond Visitor Center in Eastham (about 30 minutes away). Snow buntings, horned larks, sea ducks, loons, and snowy owls flock to both of these locations during the winter.
Busy planning your Massachusetts getaway? Read up on the seven best experiences on the Cape Cod National Seashore.