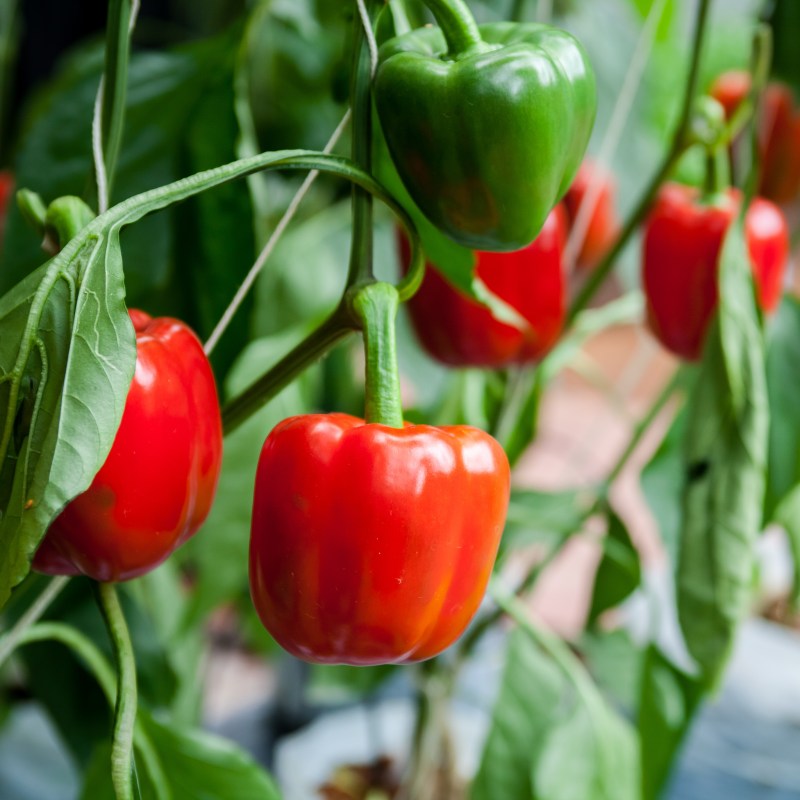 During World War II, victory gardens were all the rage. Personal lawns and public lands were dug up to grow crops for home use and to feed the troops. In fact, some of America's most famous public spaces, like the Boston Common, were used to plant crops.
Today, talk of victory gardens is back! As passionate travelers are putting their plans on hold and looking to be more self-sufficient during the COVID-19 health crisis, personal gardens are gaining popularity. Thankfully, a personal garden doesn't require a massive commitment to be successful and fruitful. And when you're inspired by some of your favorite flavors from around the world, it's even more fun.
Here are some easy plants to inspire your summer garden plans and future menus.
1. Radishes — France
Radishes are simply rad. They're the instant gratification item of the garden world — they can take as little as 25 days to go from seed to salad! Even better, if you're impatient, you'll be pleased to know that there's no advantage to keeping them in the ground longer. Mature radishes tend to be woody and sharp tasting.
I have to admit that I was never a fan of sliced radishes in a salad. But eating radishes in the French style is enormously more appealing. There are two hugely popular variations of the radish-based lunch in France.
One is to simply grate the radishes with a box-style cheese grater and sponge off any excess moisture. Mix the shredded radishes with butter and slather the mixture on a fresh baguette with a pinch of salt and pepper, and add a soup or salad on the side.
An even simpler variation involves using the whole radish itself to spoon up globs of softened butter, sprinkling a bit of salt on top, and eating the radish whole — of course, with some yummy bread on the side.
Radishes are also divine when they're roasted in the oven, much like a small potato, or tucked underneath a roasting chicken so they can sizzle in the drippings. Their flavor mellows considerably. Top the soft, creamy roasted radishes with a dash of aged balsamic vinegar, some fresh Parmesan cheese, or — the most French of all — more butter.
2. Bell Peppers — Australia
While Australia is famous for its grilled meat, bell peppers are also a big part of the country's culinary repertoire.
Bell peppers rubbed with olive oil, salt, and pepper are amazing when barbecued and served alongside roasted lamb or grilled burgers topped with local favorites like pineapple, sliced beetroot, and fried eggs. They're also perfect in a vegan kebab or tossed with grilled zucchini, eggplant, red onion, avocado, a touch of lemon juice, and olive oil as a hearty chunky vegetable salad.
Bell peppers are easy to grow, but they do love sunshine — ideally 6 to 8 hours a day. They don't tolerate frost, and they usually take a minimum of 100 days to develop. No wonder they thrive in Australian gardens! But if you have warm weather, you can grow a wide variety of bells. Chocolate Beauty and Purple Beauty have striking shades that live up to their colorful names.
3. Bean Sprouts — Thailand
Thailand offers so much incredible produce, from tiny, fiery chilis to juicy mangoes. But for the low-key gardener, nothing is so easy and so gratifying as bean sprouts — you can use them to top pad Thai, fill spring rolls and wraps, and heap on fresh salads. You don't even need any outdoor space at all!
Bean sprouts, along with other kinds of sprouts, can be ready to eat in as little as five days — really! You can grow them in a mason jar, and they don't require any special care. You can read up on how to create your own kitchen mason jar garden here.
Ultra-healthy bean sprouts are terrific in Thai dishes like stir-fried bean sprouts with tofu and garlic chives and classic pad Thai.
4. Butternut Squash — Zimbabwe
Hearty, easy-to-grow, and long-lasting squash varieties can be found all over the world, but when I think of the crowd-pleasing butternut squash, I think of Zimbabwe. Roasted butternut soup is a popular first course at a number of restaurants, like the hugely popular Boma dinner show in Victoria Falls. Cubes of butternut are also tucked into stews and curries. You'll find them in platters of roasted vegetables, in baked cups filled with ground meat and topped with melted cheese, and in nhopi, a creamy, sweet, buttery mash made with a hint of peanut butter.
Butternut squash are easy to grow but delicate in their early days — make sure there's no risk of frost after you put them in the ground. They thrive with plenty of fertilizer, and some people even toss their seeds directly into their compost pile for maximum growth. If stored in a cool, dry place, they'll last up to three months.
5. Tomatoes — Italy
If you're new to gardening, tomatoes are extremely user friendly and are the backbone of recipes all around the world, from Mexico to Malawi. But no one does tomatoes quite like Italy.
I always plant two kinds of tomatoes: a large beefsteak-style tomato, perfect for toasted tomato sandwiches and topping burgers, and a small cherry or grape tomato that produces huge bunches of fruit perfect for salads. Both are great in Italian tomato sauce or bruschetta.
During my time in Rome, I learned that the secret to a beautiful bruschetta is giving the flavors time to meld. Mix together a bowl of chopped tomatoes, some shredded basil leaves, a sprinkling of sea salt, and some quality olive oil, and let it sit while you prepare the rest of your dinner. When it's ready to serve, toast some bread and lightly rub each slice with a clove of garlic and give it a brush of olive oil. At the very last minute, top the bread with the tomato mixture.
Another super-simple Italian recipe for the beginner gardener is a batch of old-fashioned tomato Pomodoro sauce. In Italy, tomato sauce is minimalist in nature and is the embodiment of clean, simple cooking. Let finely chopped onions simmer in a sturdy pan that you've coated with a generous layer of quality olive oil. After a few moments, add a bowl of peeled, squashed tomatoes. After 10 to 20 minutes, add some torn basil, a pinch of salt, pepper, dried oregano, and maybe a garlic clove to infuse a little extra flavor as the sauce cools.
Tomatoes will thrive in any sunny spot, from a tiny apartment balcony to a corner of your backyard. They only require a big drink of water a couple of times a week. And if they're particularly large and gangly, they'll need some support for their heavy stems — you can lash them to your porch railing or stick a tall, sturdy stick in their pot and secure them with some yarn.
Be Bold!
In my garden this summer, I'm testing my skills and branching out. I'm planting kohlrabi in honor of my time in Prague, where I discovered the joy of putting thin, crispy slices on buttered rye bread. I'm also planting jalapenos so that I can finally replicate the amazing salsa I tried outside Zion National Park. Finally, I'm creating a bed for parsnips so that I can prepare the perfect pan of roasted vegetables that I had in Scotland.
So be bold! Gardening is part research, part trial and error, and part luck. Anyone can do it.
Where To Buy Your Seeds
Heritage Harvest Seed offers more than 800 varieties of rare heirloom seeds from all over the world.
With a mission to save heirloom seeds from around the world, Seed Savers Exchange sells funky international varieties sure to inspire your next gardening project.
Renee's Garden Seeds, a garden-to-table seed company, serves home gardeners and provides high-performing seeds.