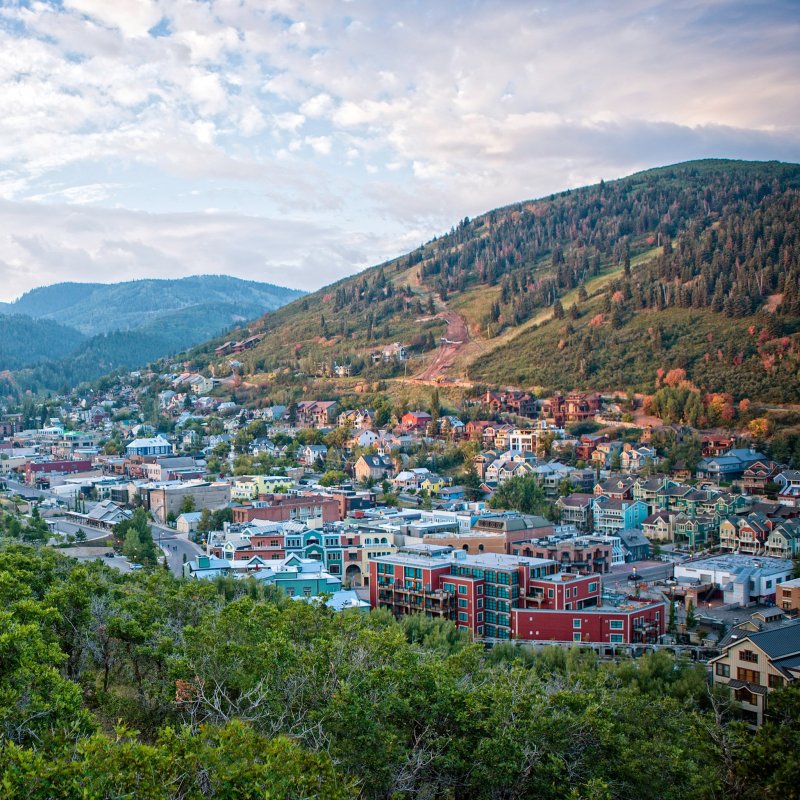 Nestled in the Wasatch Mountain Range just east of Salt Lake City is Park City, Utah. The former mining town built in the 19th century is known for its eclectic style and is a popular tourist destination. Its 7,000-foot elevation makes it the perfect place to enjoy a comfortable summer vacation full of outdoor activities.
Here are seven of the best experiences to have in Park City during the summer.
1. Pick A Trail — Any Trail
With more than 450 miles of public trails, Park City is a mountain-biking mecca. A great place to start is the Mid Mountain Trail, a 28 mile-long single-track trail about 8,000 feet above sea level. Most of it is shaded, but there are places to catch views of Park City. What makes it great is that it offers lots of options. You can ride the entire length of it or connect to it from a number of places in town, allowing endless loop possibilities based on your skill level and time constraints. Popular portions include the Spiro Trail, Sweeney North Trail, Ambush Trail, and Rob's Trail.
A lot of the area's mountain-biking trails are also open for hiking. One of the more popular trails is the Armstrong Trail. Reachable via the Silver Spur Trail from the base of the ski resort, the Armstrong Trail offers a moderate elevation gain through wildflower fields and forests.
The Lofty Lake Loop is an easy 4-mile loop trail that takes you past three alpine lakes. For a more challenging hike, head up to the top of Bald Mountain. This 5-mile round-trip hike will take you most of the day, and it's steep, but the expansive views of the surrounding mountains are well worth it.
There are also summer hiking and biking trails at the top of the chairlift at Park City Mountain Resort. You have to buy a pass to ride the lift, but there are a variety of trails ranging from easy to difficult up top.
There are a number of places in town where you can rent a bike. Your best bet is to inquire at your hotel's front desk — the staff might have coupons for particular shops.
2. Make A Big Catch
Park City averages about 100 inches of snowfall each year. In the summer, all that snow melts and runs into the area's rivers and reservoirs, making them great places for fishing.
The best fly-fishing can be had in the Provo River and Weber River, where you'll find lots of trout. Both are blue-ribbon fisheries — meaning that the state ensures the fish are plentiful.
For calmer waters, head to Strawberry Reservoir, Jordanelle State Park, or Echo Reservoir. They are well stocked and promise a relaxing day on the water.
If you are up for hiking as well, take your gear on the aforementioned Lofty Lake Loop. The Kamas Lake and Scout Lake along that route are great for trout fishing.
There are a number of companies in and around Park City that offer guided fly-fishing adventures. These range from half-day tours and full-day tours to three-night tours. The guides will take you to the best spots and teach you some new techniques along the way.
3. Walk In The Footsteps Of Olympians
You can encounter Olympic history at Utah Olympic Park. Just a short drive from Park City, this free ski museum is filled with memorabilia from the 2002 Olympic Games. Create your own avalanche or try out a virtual ski jump at this interactive museum. Outside, you can ride a real bobsled down the actual Olympic track (with a professional pilot, of course).
If you're there on a weekend, be sure to catch the Flying Ace All-Stars Freestyle Show, a half-hour choreographed show featuring professional skiers and boarders performing all kinds of stunts.
The Olympic Park also offers ropes courses and tubing opportunities.
4. Browse The Offerings At The Park Silly Sunday Market
For a true taste of Park City, check out the Park Silly Sunday Market. This street fair features a variety of local crafts, food, entertainers, and just plain fun. The summertime market kicks off at 10 a.m. most Sundays right on Main Street. As you stroll the open-air market, you'll find live music, one-of-a-kind treasures, antiques, fresh fruit and vegetables, children's activities, and more. And the best part is that the fair is a little different every week.
Pro Tip: Bring cash, because some vendors don't accept credit cards. Plan to stay a while, and dress in layers, because once the sun goes down, it can get pretty chilly in the mountains!
5. Have The Adventure Of A Lifetime
Park City Mountain Resort is the second-largest ski resort in North America, but the summers here don't disappoint. The Adventure Pass will give you access to all the activities at both Park City Mountain Resort and Canyons Village. This includes the alpine slide, climbing wall, miniature golf, and scenic chairlifts. For the more adventurous, there's also the Flying Eagle Zip Line. The Mountain Coaster will take you down a mile-long curving track at 25 miles per hour.
Over at Canyons Village, you can use the Adventure Pass to play a game of disc golf, work on your swing at the 18-hole putting course, or take a scenic gondola ride. Mountain-bike hauling is included with the pass at both areas.
The Adventure Pass will run you $85, but you can get a discount if you buy it in advance online. You can also purchase the activities a la carte if you don't want to buy a day pass.
6. Play Golf In Stunning Natural Surroundings
Many believe that golf balls travel farther in the thinner mountain air. The Park City area boasts 15 golf courses, so it's the perfect place to test that theory yourself.
The Park City Golf Club is a public course owned by the city. It's also the least expensive — $70 per person for 18 holes if you need a cart, and $55 if you want to walk.
Canyons Golf Course in the Canyons Base Area features more than 550 feet in elevation gain with challenging holes surrounded by picturesque views. Playing 18 holes will run you $100, but the course does offer a senior discount. The course also offers deals on play if you're staying at a resort property. You can pass your love of the game down to the next generation with the Kids Swing Free event. On Monday and Wednesday evenings, children can play nine holes for free with an adult.
The private Victory Ranch course was designed by Rees Jones and is rated one of the best courses in the state. Its sweeping views are unbeatable, especially from the 17th tee.
Two other private courses, the Dye Canyon Golf Course and the Jack Nicklaus-designed Painted Valley Golf Course are located right next to each other. They've both won awards and offer resort-like amenities. But, in order to swing on them, you'll need to know a member.
7. Take In A Concert In The Great Outdoors
Park City becomes a music hub during the summer, showcasing every genre from classical to bluegrass to rock. And some of the concerts are even free!
The Deer Valley Concert Series is fairly new but growing in popularity. The weekly music event is held at the Snow Park Outdoor Amphitheater and offers both reserved seating and blanket seating on the lawn. Bring in your own picnic or preorder a gourmet basket to pick up on-site. Then settle in to enjoy some live music in the crisp mountain air. The concert series partners with the Utah Symphony throughout the summer. The symphony performs classical music as well as operas and pop pieces. Past performers have included Marie Osmond and Kristin Chenoweth.
The Newpark Concert Series is held in the Newpark Amphitheater and Plaza every Thursday night in the summer. The best part about this series is that it is free! The outdoor venue is easily accessible without a car — you can take the free town shuttle, or even bike or walk there along the flat McLeod Creek Trail. Unfortunately, the Newpark Concert Series will not be taking place in 2020 due to construction.
Head over to Canyons Village for more free music on Thursday and Saturday nights in July and August. Grab a blanket and some food and enjoy the family-friendly atmosphere. You can park at the Frostwood Gondola or the Cabriolet Ski Lift to ride up to the event.
Pro Tip: Park City is less than an hour's drive from the Salt Lake International Airport. This means that you can fly in in the morning and be having fun by the afternoon. When you check out lodging for your trip, be sure to ask about specials. Some places will offer discounts on activities — or even flights!