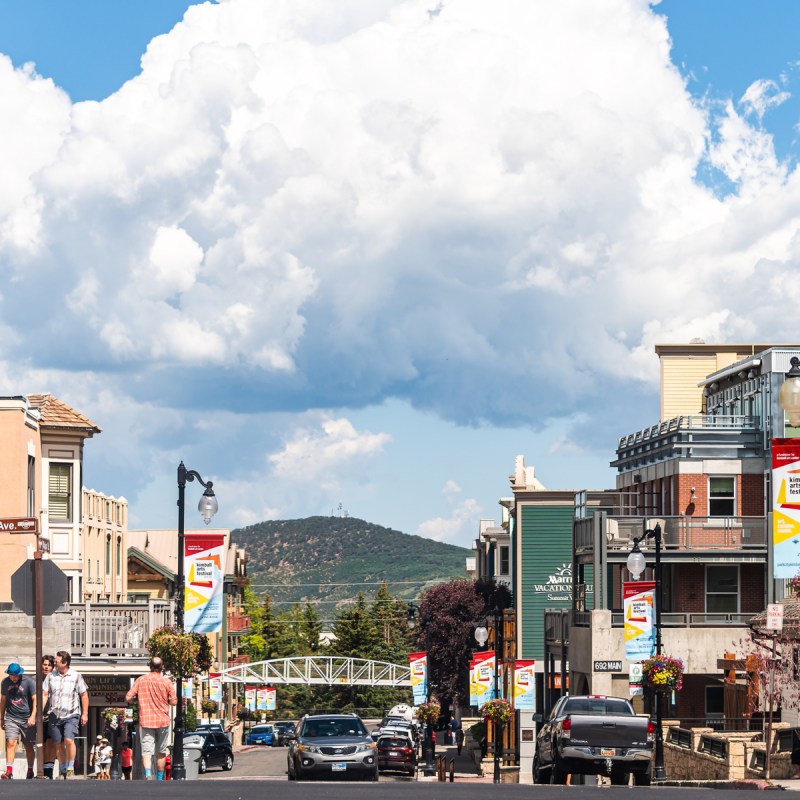 Beautiful Park City, Utah, is a year-round haven for outdoor enthusiasts and vacationers. Surrounded by the beauty of the Utah countryside and the Wasatch Mountains, Park City became a town in the late 1800s when miners discovered silver. Since then, it's attracted a huge following for its beauty and for being a paradise for outdoor activity. Many may have heard of Park City primarily as the home of the Sundance Film Festival, but winter and summer also hold their own when it comes to inspired dining options. Foodies will love Park City for its wide array of options and different types of cuisine. Price points tend to skew on the higher side, but there are still some very good meals to be had that won't break the bank.
After asking locals, checking with experts, and scouring dozens of reviews, I've put together the ultimate list of Park City restaurants that foodies will appreciate.
Blind Dog Restaurant And Raw Bar
This award-winning spot has been a favorite for over 21 years in Park City. Blind Dog offers a nice selection of East Coast-inspired cuisines like steak and seafood. New to this 2020 Tripadvisor Travelers Choice winner is the Raw Bar featuring oyster, shrimp, and crab — oh my! For starters, try the Grilled Pineapple Tomatillo Guacamole. Is it just me or is everyone a sucker for good guacamole? A shellfish pan roast of crab, mussels, shrimp, and clams sounds divine. So does the Dreamloaf with pork and Kobe beef — definitely not what your mom used to make. I like the fact that while Blind Dog is an upscale foodies paradise, they still have specials every day like Taco Tuesday and Half-Price Burger Night on Wednesdays. The daily Beach Party Happy Hour complete with beach-themed cocktails could prove to be the highlight of your week.
Pro Tip: They like to have fun here. No "stuffed shirts" allowed!
El Chubasco Mexican Grill
Who doesn't love Mexican food, my friends?! I've never met a taco I didn't like — and don't even get me started on chips and salsa. El Chubasco is the real deal when it comes to Mexican food. This is the go-to place for locals to get their burritos, enchiladas, and more. Known for flavorful, filling food in a casual setting, El Chubasco offers excellent homemade Mexican cuisine with a twist. Try the California Burrito with green chili sauce, carne asada, or pork tamales.
Pro Tip: Sample a few of the many house-made salsas.
Five5eeds
Australian food in Park City? It's here. At this hip, organic eatery, you'll find healthy food with flair. At Five5eeds, they're all about good food that's good for you. A menu that's focused on nourishment and flavor, Five5eeds hits the mark with their unique, fresh breakfast fare. Try the Smashed Avo and Peas on Toast or the Corn Fritter with bacon, cilantro, and avocado. Either will fill you up but won't make you bloated. For lunch, the Halloumi and Beet Relish Sandwich really speaks to me. Fair warning — this popular spot is always crowded for breakfast and lunch, but it's worth the wait.
Pro Tip: Try the PBD Smoothie — bananas, peanut butter, dates, and almond milk. Bliss.
Freshies Lobster Co.
Freshies has been a Park City staple since 2009 when husband and wife team Lorin and Ben Smaha began selling lunches out of a tent at the local farmers market. Now Freshies is located in a brick and mortar building, and they're still serving up all the best fresh lobster and seafood. Hailing from the New England region, the Smaha's have always had a love of fresh lobster. The menu is pretty much straight-up seafood, and the Smaha's fly in seafood from the East Coast daily. The freshness and love show at Freshies. Order the lobster roll that put this place on the map. Some say it's the best in the world. For the low carb lover, ditch the roll and have your lobster in a lettuce cup. If you're really hungry, I recommend starting things off with a bowl of what they call their New England Clam Chowdah. Talk about a win-win! They also have a food truck out and about in the Salt Lake area serving up the same specialties as the Park City location.
Sammy's Bistro
Scratch-made everything and friendly employees make Sammy's Bistro a favorite for locals as well as Guy Fieri on Diners, Drive-Ins and Dives. Since I'm partial to all things that are or resemble nachos, I'd start with the Nachos Chingones. And I don't think you could go wrong with the Coconut Shrimp. For mains, try the Mahi Mahi Sandwich or one of the steak sandwiches. Both will blow you away. And if you're in the mood for something really different, how about their Grilled Romaine Wedge salad! Who's ever done a grilled salad before? I like the sound of that.
Pro Tip: Vegans will feel right at home here with selections such as vegan coconut red curry with rice or yummy vegan bratwurst with potato chips.
Handle
This dinner-only restaurant is known for serving American cuisine small plate-style. All the food served here at Handle is locally sourced, and the menu has an emphasis on freshness. They also serve up some seriously fun drinks like their legendary Rattlesnake Cocktail. Whether my main dish was Duck Liver Mousse or the General Tso Cauliflower, I know for dessert to indulge in the "Handle" Bar. This rich dessert includes salted maple ice cream, dark chocolate dip, and brown buttermilk crumb. Yum!
Ruth's Chris Steak House
If you're after sophistication and elegance in a warm setting with superb food, Ruth's Chris Steak House may be the perfect spot for you. Complete with the best prime beef, not to mention dazzling views, along with curbside valet parking, Ruth's Chris knows how to pamper. Ruth's Chris Steak House is the place for celebrating that special occasion, or if you just feel like splurging on one of the best dinners of your life. Try the crab-stuffed mushrooms — they're outstanding.
Riverhorse On Main
If we're keeping score, Riverhorse on Main may be the place to beat. Known as one of North America's top culinary institutions, Riverhorse holds its own in the award category. Past wins include the AAA Four Diamond Award as well as a 17-year-streak with Forbes Travel Guide Four Star Award. It's safe to say that Riverhorse on Main is doing something right. I say go big or go home and try the Surf and Turf Tower which features Wagyu beef and smoked salmon alongside cheddar cheese grits and potato pancakes. And, you can't go wrong with tiramisu or the Wild Blueberry Cobbler for dessert. With a spiked apple cider to go alongside, your night will be complete.
Silver Star Cafe
Featured three times on Diners, Drive-Ins and Dives, and most recently on Triple D Nation, Silver Star Cafe is as popular as ever. The restaurant, which bills itself as a place for roots cuisine and music, is a small, intimate space with an artful yet uncomplicated menu. As Triple D highlighted earlier this year, the Silver Star has a wide selection of vegan and vegetarian dishes such as jackfruit tacos and fried Brussel sprouts. They also offer wild-caught seafood from sustainable sources like the mahi-mahi they use for their Spice-Crusted Mahi-Mahi dish. Interestingly, the cafe owners actually harvest their own elderberries that grow wild next to the restaurant and make a gastrique (a sauce) used in their cocktails and sauces. Now that's fresh!
Twisted Fern
Come to Twisted Fern for real food in a modern setting. Chef-owner Adam Ross believes in preparing and serving food that's naturally fresh, wholesome, and minimally processed. Starters include inventive dishes like Fried Brussels with an orange balsamic reduction and Charred Asparagus and Beets. Main dishes consist of pork chops with mac and cheese, or try the Shorty Melt that combines braised short ribs with gruyere cheese and other toppings will make your mouth water. Twisted Fern is a don't miss for a new, creative menu and delectable food.
Yuki Yama Sushi
One of my favorite things about sushi is the shareability of it. Everyone orders something different and voila, you've suddenly got a table full of wondrous rolls and dips for everyone to sample. Yuki Yama believes in sharing! They offer a mix of Japanese sushi and noodle dishes as well as hot dishes. Consider starting with the Crispy Tuna Tartare and following up with something from the hot menu like the Wagyu Beef Tataki. I'd be remiss if I didn't mention that they also serve multiple kinds of ramen as well. From the sushi menu, I'd have to go with the Sho 'Nuff, if for no other reason than the killer name! And let's not forget the wide selection of Japanese sake and whiskey available for your imbibing pleasure.
Pro Tip: Check out the traditional Japanese-style tatami room that's available for you and your guests if you really want to immerse yourself in the whole Japanese culinary experience.
Don't forget to plan for the rest of your trip to Park City too! Here are our favorite summer experiences in Park City and eight great winter activities nearby that don't involve skiing.