If a trip to Park City, Utah, is on your to-do list, you're probably set for a fantastic ski vacation. And it will come as no surprise that we had no trouble whatsoever putting together 10 of the best rentals for you to pick from. Some of them are ideal for couples or small families while others can sleep up to 16 people if you've got an entire crew set to hit the slopes.
Be sure, though, that while there are a lot more than the 10 options we've selected here — we picked these out largely based on ratings and reviews — you'll want to make your reservations sooner than later. This is a popular place! Don't miss out.
Heading that way but not a huge fan of the slopes? Fear not; Park City offers lots of other things to do in the winter or the summer. There's plenty to pick from, including museums, spas, shopping, and Sundance venues! If you do happen to be headed that way during the summer, you can still find plenty to do around town. Whether you want to take a hike, go fishing, or check out an old Olympic Village, you will find enough things to do and see around town to have a wonderful time.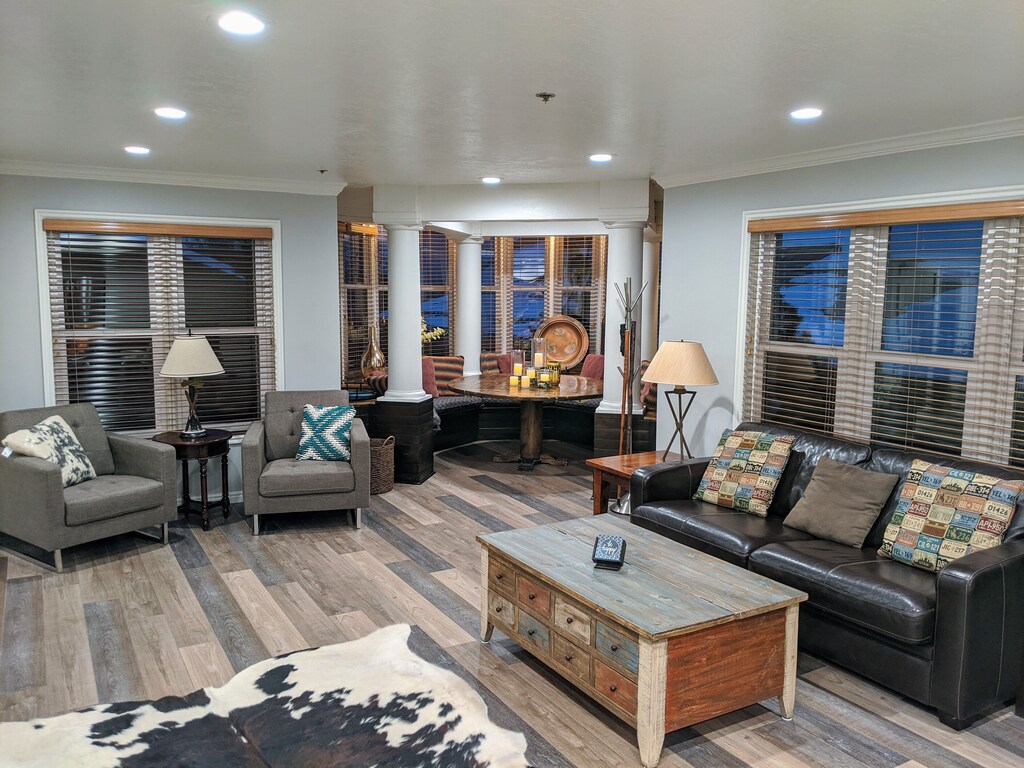 Located a mere 100 yards from Park City Mountain Resort, Rene's Empire House Condo is decorated in contemporary mountain design with a fully equipped kitchen, gas fireplace, private balcony off of the master bedroom, and much, much more! Ideal for a small family, Rene's Condo sleeps four with a king-sized bed in the master bedroom and queen-sized sleeper sofa in the living room. Enjoy the free underground parking.
Note: The condo is up two small flights of stairs, so be aware of that if you have any mobility concerns. 
Dreaming of Park City – your dream vacation awaits you
Top guest reviews
This was a wonderful stay. Rene is very attentive and has thought of everything! It really made for a relaxing stay. We enjoyed easy walks to Main Street. We highly recommend this property.
We think this might be the BEST property we've ever stay! The condo is beautifully appointed, fresh, and very cozy. Rene was GREAT and had provided so many little extras to make our stay wonderful. We were able to walk everywhere we wanted to go and were even able to squeeze our oversized pickup into the underground garage. I can't say enough about how wonderful this property is and when we come back to PC this will be the first place we check for availability!
This was an amazing property in a great area and charming building. All amenities we needed were provided and it was a short walking distance to Main Street.
Rene's condo was perfect! Starting with her very detailed checkin instructions and communication to all of the amenities and extra goodies, this was hands down the best VRBO property I have stayed in. Can't wait to return and will recommend to any of our friends wanting to come up to Park City. Thanks Rene!
This property was terrific! The location close to the Park City ski slopes was ideal and made even better by the underground and secure parking! The steam shower after a day of skiing was perfect and finding things in the kitchen was a breeze. It felt like home and was beautifully decorated.
Read Less ∧
Read More ∨
If your interest is piqued by a two-floor unit that offers nearly 2,200 square feet of living space that is considered among the most luxurious in the area, you are definitely going to want to check out The Caledonian. Just imagine relaxing in the private eight-person hot tub on one of your two private balconies, enjoying a pool table and gas fireplace in the living room, free underground parking, and a gourmet kitchen, all just 50 feet to the lift. This one you have to see to believe — absolutely gorgeous!
Dreaming of Park City – your dream vacation awaits you
Top guest reviews
Excellent!! This is the perfect place to stay if you're looking for comfort, convenience, and attention to detail. The unit is awesome, very clean, plenty of room, well stocked from throw blankets to kitchen supplies and lots of extra creature comforts. Honestly, the location is so good the host would have to do very little to rent it, but the unit is so nice you can tell the host clearly wants people to feel at home and pampered here. The beds were so comfy I asked where all of bedding came from so I could order! This place is located literally right next to the Town lift, has garage parking and a fantastic steak house downstairs. I can't imagine finding a better spot in PC.
Such a fabulous time exploring Park City from this VRBO. Perfect location on Main Street. Walked to awesome restaurants every night. VRBO was appointed with all of the amenities. Thank you for a wonderful stay!
We had a mini-family reunion with 5 adults in this beautiful condo in August. Everything in the condo is high-end and incredibly comfortable. However, our favorite part was the location. Just walk out the building and you are on Main St. Park City. We enjoyed the restaurants and Park Silly Sunday (the street is closed to traffic). We had an easy drive to the Sundance area for a good 7 mile hike. It was the perfect weekend. Thank you for the hospitality!
Well stocked condo and great lay out. We will be back.
Great experience, from start to finish. The owner of this property has thought of everything from the welcome guide to how well the house is put together. You won't be disappointed with this place. It's in the most prime location too.
Read Less ∧
Read More ∨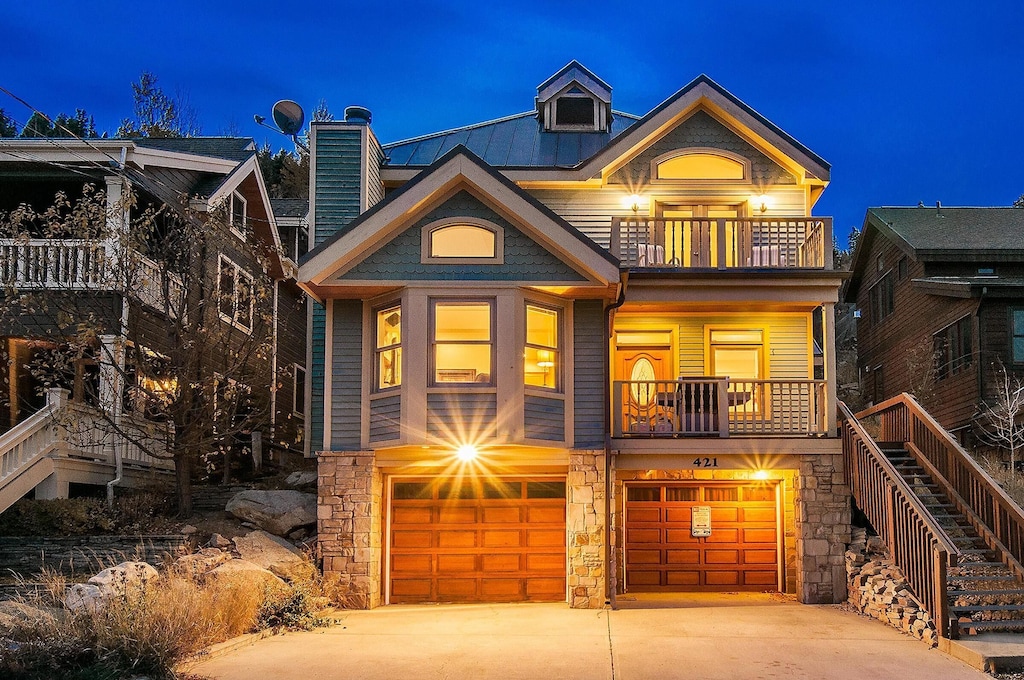 For those interested in vacationing in a private home, you're definitely going to want to take a look at this four-bedroom house that's located right in the middle of everything. With Park City Mountain Resort in the backyard and Main Street two staircases away, you won't need to drive anywhere once you arrive.
You're going to love the six-person jacuzzi, game room, 20-foot vaulted ceilings in the master bedroom (which has a 270-degree view of Park City), fully furnished kitchen, and so much more!
Dreaming of Park City – your dream vacation awaits you
Top guest reviews
Our group had an amazing time in Park city. The Accommodation was in a prime location just steps from the hustle and bustle of Main Street. The beds were comfortable and the hot tub was a perfect way to cap off a busy day. I would definitely stay here again the next time I visit Park City.
The house was very comfortable and the close location to Main Street great.
Erik is a terrific and responsive host. Everything about the property was accurate and it serves our group of 10 perfectly. Can't wait to come back!
We had a great visit. Enjoyed the proximity to town and hiking . The house held us all very comfortably and the hot tub was a plus . Park City is a beautiful place .
Location was great. Short walk down to Main Street. Kitchen table was extra large, which was awesome. Everyone could sit and eat together and play games (we were 9 all together) The deck off the master bedroom was perfect for having a cup of coffee and relaxing in the morning. The kitchen was fully stocked with everything you would need to cook – we only made breakfast but if we were there for a full week would have appreciated the kitchen amenities.
Read Less ∧
Read More ∨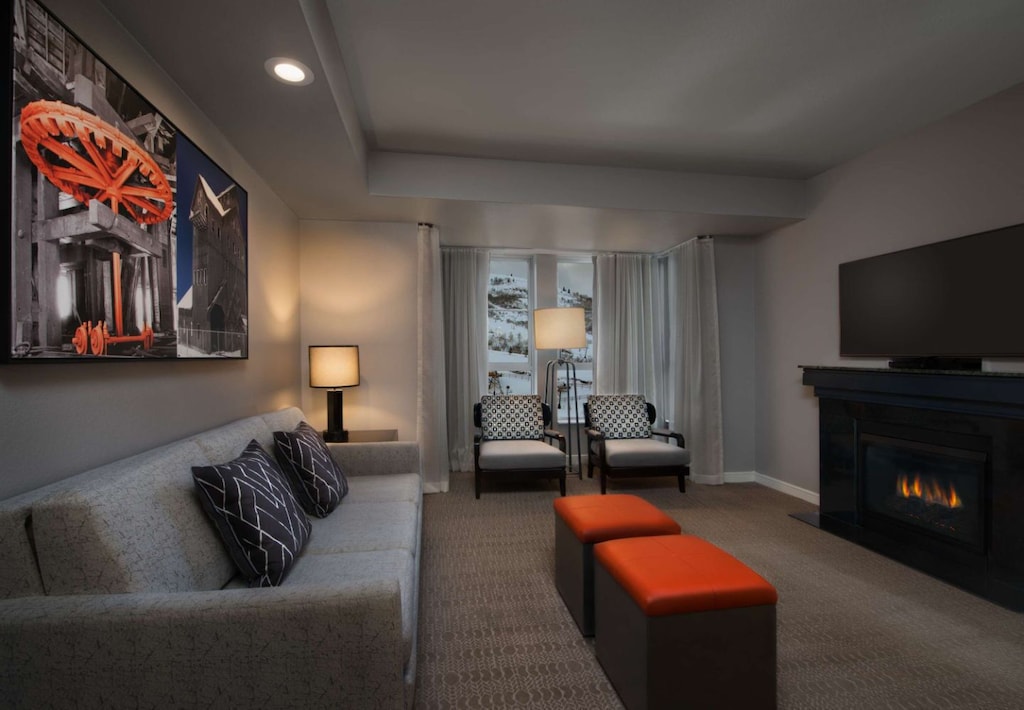 If you're looking for a luxurious option that won't break the bank, you'll want to take a few moments to check out this gem at Marriott's MountainSide. With multiple hot tubs, a sauna, pool, fitness center, convenience store, kids room, multiple dining options nearby, and lots of family activities, you'll have full resort access at this conveniently located beauty. Plus, it's in a great location, just steps away from the slopes!
Dreaming of – your dream vacation awaits you
Oops, this listing is currently inactive. Check out these alternative properties in the same location!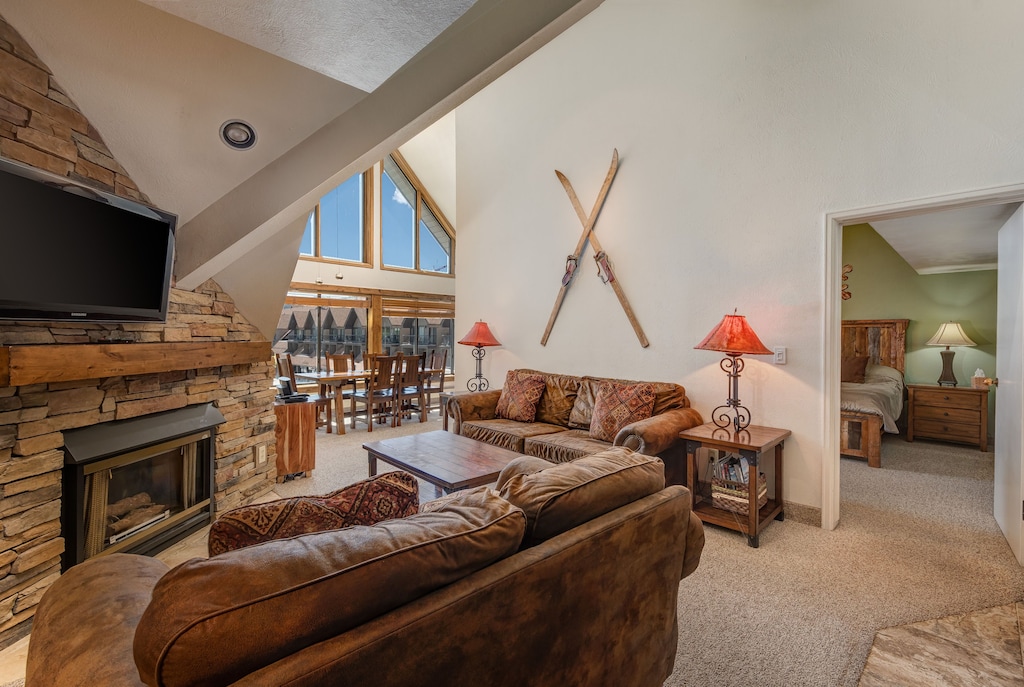 If you're a serious skier who's seeking a mountain retreat in a great location, The Lodge at Mountain Village is a spot you've got to check out. Situated perfectly for your group if an all-day ski with just a few breaks back at the room is what you're after, The Lodge is conveniently located to restaurants, ski rental, shopping, ice skating, all areas of Park City, Deer Valley, and the Canyon Restaurants. And it offers free underground parking.
This top-floor (low-noise) condo provides lots of natural light, offers a boot drying system to get your boots, gloves, and helmets dry for the next day of skiing, and has private laundry in the unit. With space to sleep 10, the Lodge at Mountain Village might be the perfect spot for your vacation.
Dreaming of Park City – your dream vacation awaits you
Top guest reviews
Location, location, location! We loved our stay. Condo is clean and updated. Very comfortable.
Listing was accurate, VRBO booking process was seamless, host went above and beyond, condo had all the essentials plus some. The location worked great for us to mountain bike and trail run right out the front door plus our 2 kids loved all of the activities at the base (alpine slide, mountain coaster, etc.)We absolutely plan to stay here again and would highly recommend this property!
This unit is conveniently located at the lifts, but it's still an excellent location for summer trips. It has two levels — ideal for our new grandchild and his parents for early bedtimes and naps while the grandparents stayed up and sipped the wine. All the essentials are there for easy living — dishwasher, laundry, 2 full baths, assigned covered parking, easy access to the grocery/coffee locations, and a lot of sunlight to enjoy the scenery. The building is older and we had to pick our way around hallway and outside construction that wasn't in the description. The unit has a cathedral ceiling and in the summer it's hard to keep the second floor cool without frostbite for the first floor occupants. The owners were very accessible and helpful. Overall a good experience at a reasonable price.
Loved the location, view and high ceilings.
Condo had everything we needed. Great stay!
Read Less ∧
Read More ∨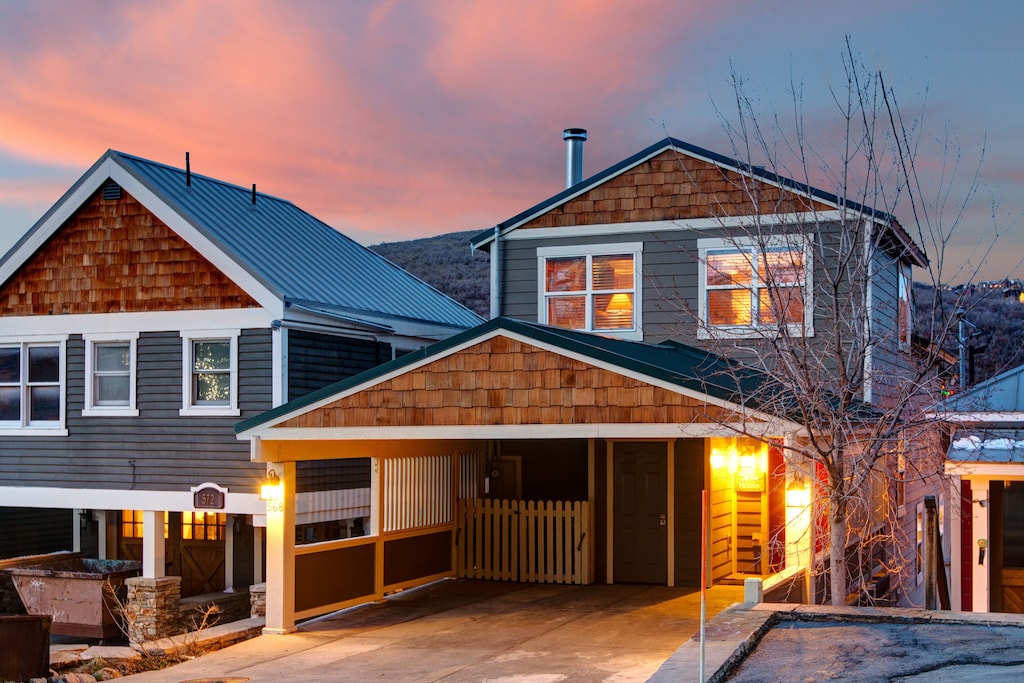 When searching for a private home in Park City that can sleep up to 12 people, stumbling upon an option that offers the theme "Mountain Comfort" is reason enough to dig a little deeper. Featuring five bedrooms — each with a full bath — Olcha House includes an open kitchen and dining area that has access to the living room and private deck. On that private deck, you're going to love the six-person hot tub that overlooks Main Street Park City.
This beautiful destination also includes covered parking, an outdoor ski locker, an indoor boot dryer, a gas fireplace, and plenty more. The pictures exude comfort — take a look!
Dreaming of Park City – your dream vacation awaits you
Top guest reviews
Loved the place and location. Went in late September to have a leadership retreat for my company. Having the bedrooms each with its own bath was great. The living area was perfect for meeting to plan the year as well as relax. The location to the Main Street on Park City was great and allowed us to walk to great restaurants for meals and fun nightlife. Would be a great resource pace to stay for a ski vacation as well. I highly recommend this place and location!
We had a group of 5 men who have been friends since they were teenagers. We get away once a year and decided on Park City this year. The house accommodated everyone with their own bedroom, was clean and super convenient to main street. We rode ATV's, fly fished, played golf (all just a short drive away) and spent the last day at the house watching college football. Each night we took a 2 minute walk to eat at a variety of restaurants and bars on Main Street. Probably the best trip we have done. Would highly recommend the Olcha House to anyone visiting Park City.
Everything went very smooth. Nice location. Plenty of room for our family of 7 ranging in age from 1-66.
House was perfect location. Quick walk to Main Street and all dining. House was cozy and plenty of space.
We were here for our daughter's wedding in Park City. We were here for a week and able to accommodate our family. Great space for having family get togethers and dinners!
Read Less ∧
Read More ∨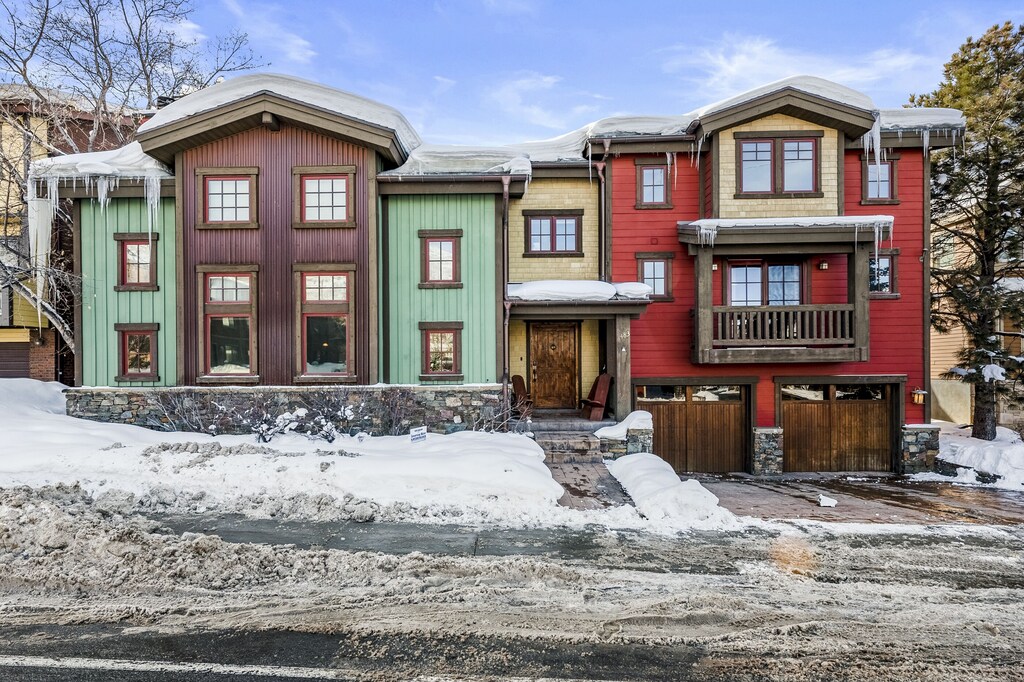 Sometimes, the name says it all. This Luxurious and Large Park Avenue Home has six bedrooms — four of which are king masters — a stocked game room, massive ceilings, stone fireplaces, large screen televisions, a gourmet kitchen, and over 4,700 square feet of living space.
With the capacity to sleep up to 16 people, this new-construction home is located on Park City's Park Avenue — right as you enter town. A true rare find, you'll love the driveway and garage for overnight parking and easy street parking for additional guests day or night. There is space for your large group here — you must see the pictures!
Dreaming of Park City – your dream vacation awaits you
Top guest reviews
We had a bit of a unique purpose for the Vrbo in that we were using it for a women's fitness retreat. The owner could not have been more accommodating and quickly answered all our questions. The place was clean and well organized and suited our group well. The only down side was the bunk room was really for small children (4 max) and not for adults. The beds are smaller than twin size.
Great stay in Park City. Convenient to downtown, walking distance. House was as described in listing, clean and spacious.
Great house. Super clean. Thank you we had an amazing experience. Great Host.
Well maintained, clean, and spacious comfortable home with great kitchen. Walkable to downtown. Bus stop outside so very convenient.
The great room is perfect for a large group. The owner's team is very accommodating and responsive.
Read Less ∧
Read More ∨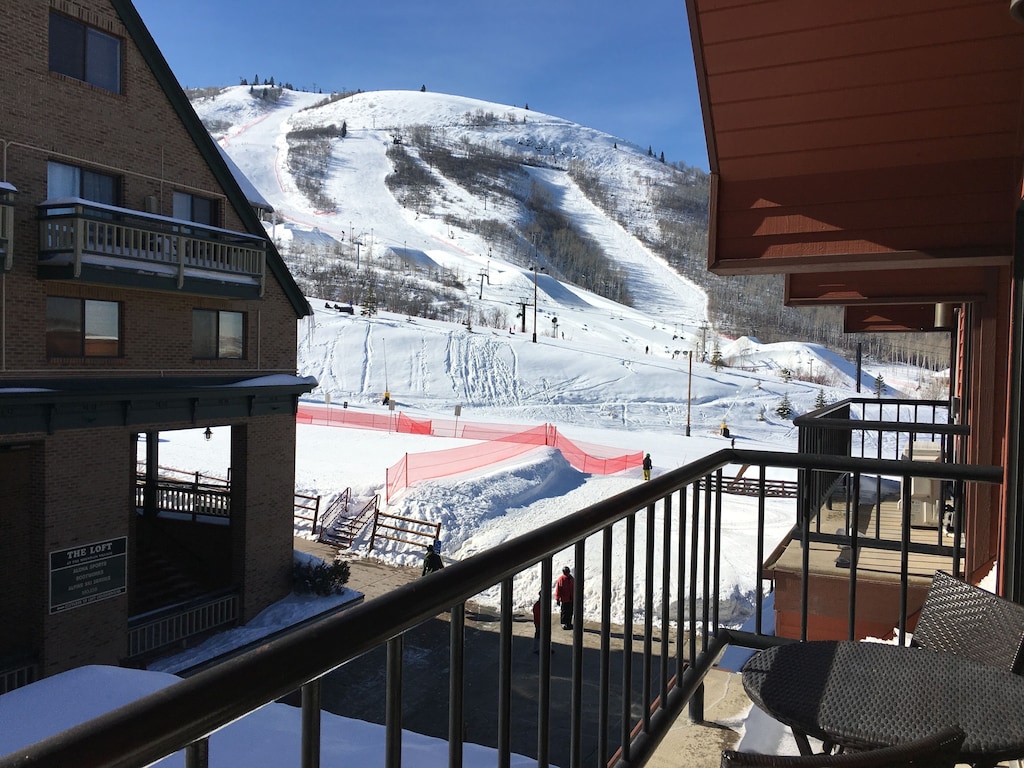 This two-bedroom vacation condo is just steps from the lifts, rentals, ski schools, ticket office, restaurants, shops, an ice rink, and more! Inside, you're going to love the granite, slate, travertine, leather, vaulted ceilings, and amazing mountain view.
The kitchen offers brand-new stainless steel appliances, a fireplace, and a balcony. There is even a bus stop right in front of the building for your convenience, laundry just down the hall, free underground parking, and a hot tub two doors down. This one has so much to offer — it's a must-see!
Dreaming of Park City – your dream vacation awaits you
Top guest reviews
If you are going to ski or bike Park City Mountain this is perfect!
We loved our stay. The living room made it easy to enjoy friends and relax between activities. The kitchen was great for making breakfast and enjoying leftovers! The beds were comfortable and the location couldn't be beat! Thanks!
This property was fun, accessible, and a pleasure to stay in. We were surprised at how many area attractions were within walking distance. Some of the utilities outside the apartment were difficult to access, but this had nothing to do with the apartment owner. This property was a beautiful location for our Park City stay.
This property worked great for our family and it is located right in the mountain village. The owners were great to work with.
The location is great! There is a bus stop right in front of the resort. The buses will pretty much take you anywhere in Park City or at least walking distance to the attractions! The rooms were comfortable for tired feet! The fireplace was a welcome warmth to a cool evening! It is a great location to the ski slopes. It was a wonderful stay!
Read Less ∧
Read More ∨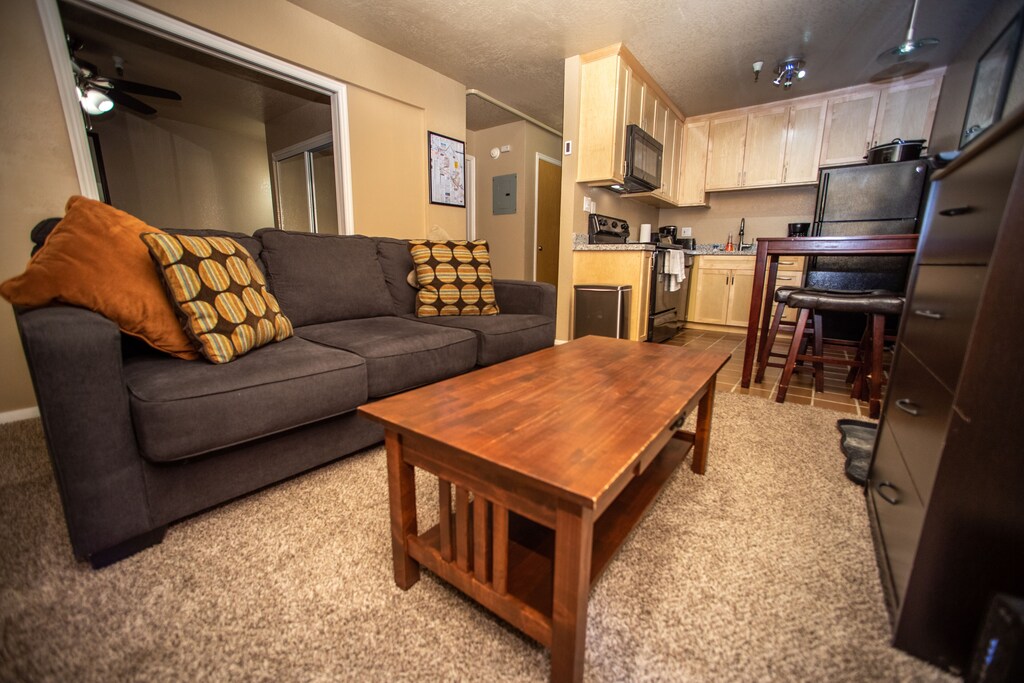 Heading to Park City looking for something cozy and affordable? Look no further! The Nauti Lodge offers one bedroom and one bathroom and a comfortable living room that you're going to love — all at a very affordable price. Your kitchen comes with a stove/oven, microwave, conventional-sized refrigerator/freezer, convection oven, dishwasher, coffee maker, and more. All of this, it's worth noting, is just 20 feet from the indoor Jacuzzi. Relaxation awaits!
Dreaming of Park City – your dream vacation awaits you
Top guest reviews
My husband and I wanted to stay at the carriage house (we have history there) and Chris's apartment was absolutely wonderful. He was extremely informative before and during the stay. He has instructions within the apartment that tells a little bit about his story, which I loved because it adds his touch and shows that he cares. His communication was excellent! If I had a question. He responded within minutes, I couldn't believe it. I have never had communication that quick. The apartment was wonderful. It was very clean and had everything we needed. His instructions were very clear and precise. Don't let the deposit scare you. If you follow his instructions, you are quick to receive back the full amount. The apartment is great and the owner is the best part to it!Chris, thank you so much! I hope to stay again sometime!
The Carriage House is quaint & secure, and access was easy. Don't forget to print the parking pass before you go if you can help it! The Nauti Lodge itself was surprisingly much more updated than the pictures and beautiful relaxing and clean! I love how thorough and accurate Chris's descriptions and instructions were. There are plenty of suggestions & resources available for just about anything you can think of. The location is perfect for walking to the store, to eat, go to the movies, & across the road from a pretty walking trail that runs along a small creek as well. You can hear people walking through the hallway easily, but it's an older building so that can't really be helped. We loved being literally around the corner from the hot tub and swimming pool. It wasn't ever crowded, and was very relaxing. We spent most of our days in the High Uintahs hiking around and came back to cook gourmet dinners for ourselves in the fully stocked kitchen (minus the fridge/freezer food we had to buy for ourselves, of course), then relax in the pool and spa, and go to the movies or whatever else we decided to do. Chris was great at replying too! Definitely will be back again!
I can't think of a single bad thing to say about this property. It was clean and cozy and perfect for my holiday weekend in Park City.
Condo has already. Such a great stay we will be making this a yearly vacation.We are reserving for next year alteady.
Read Less ∧
Read More ∨
Touted as the most user-friendly townhome in Park City, Boulder Creek at Lower Deer Valley is a convenient, cozy, comfortable, clean, and complete townhome that boasts a fully equipped kitchen and space for six to sleep — and a private hot tub!
There is a free bus that stops directly in front of Boulder Creek, or if you prefer, you're just a 14-minute walk to Main Street. You're going to feel right at home at Boulder Creek — a perfect setting for an intimate getaway or romantic weekend. 
Dreaming of – your dream vacation awaits you
Oops, this listing is currently inactive. Check out these alternative properties in the same location!
To discover the best ways to enjoy Park City, Utah: