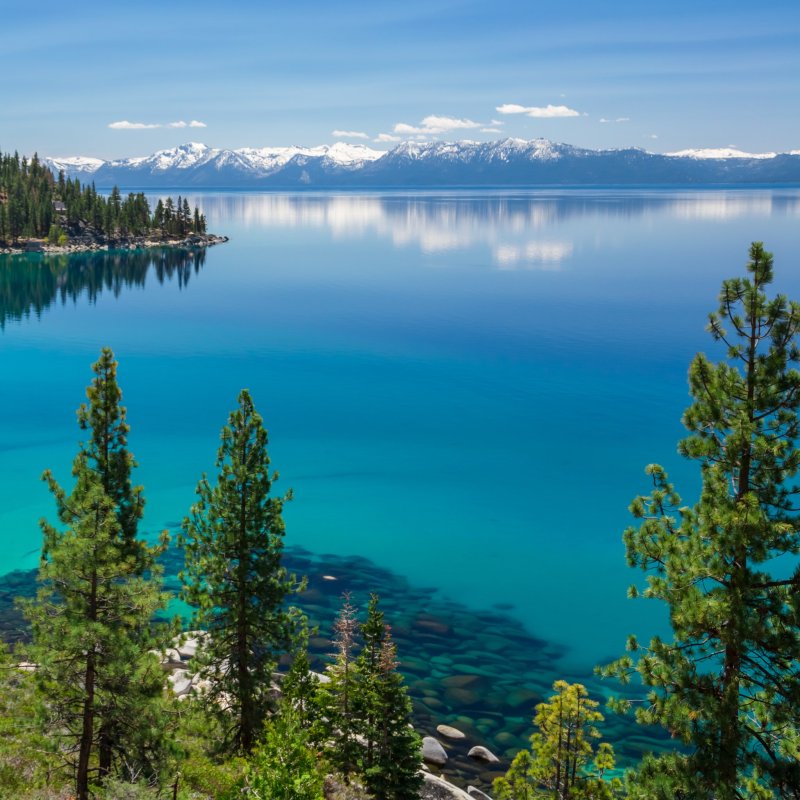 Lake Tahoe is the largest alpine lake in North America and the second deepest. It straddles two states, and its stunning blue waters and mountainous backdrop attract tourists all year long.
Here are some of my favorite things to do around Lake Tahoe in the summer.
Go Boating
Cruising around Lake Tahoe is simply the best way to experience its magnificence.
The largest boat — the M.S. Dixie II — is a paddlewheel boat that sails from the Zephyr Cove Marina. It accommodates more than 500 people and offers day and dinner cruises along the south shore and Emerald Bay.
Also launching from south shore is the Safari Rose, an 80-foot yacht with a dining room, sun deck, and full bar.
On the north shore, there's the Tahoe Gal, which offers brunch cruises, happy-hour cruises, and sunset cruises.
Tahoe Tastings operates a relatively new cruise that departs from the Tahoe Keys Marina. Onboard, you'll taste eight wines from Northern California while cruising around the picturesque Emerald Bay.
Lake Tahoe is home to a hot air balloon ride that you won't find anywhere else: Lake Tahoe Balloons is the only company in the world to launch and land a hot air balloon from the deck of a boat. You'll head out early in the morning from the Tahoe Keys Marina to the Tahoe Flyer, where you'll eat breakfast as you cruise and watch the staff prepare the hot air balloon. Then you'll climb into the basket and experience unparalleled Lake Tahoe views from high above the water. At the end, you'll toast with Champagne while you ride back to the marina. A ride will cost you $299, but it's worth the splurge for an adventure you truly can't get anywhere else in the world!
If you'd rather go out on your own, there are a number of places where you can rent a pontoon boat, kayak, speedboat, jet ski, or power boat, including Tahoe Keys Marina, Zephyr Cove Marina, Tahoe City Marina, and Ski Run Marina.
Drive Around The Lake
A drive around Lake Tahoe is both relaxing and beautiful, featuring numerous lookout points, restaurants, shops, and spectacular views. You could easily spend an entire day driving around.
One of the best places to start is Inspiration Point, an overlook 600 feet above Emerald Bay on the west shore. It's home to the lake's only island, Fannette Island, and historic Vikingsholm, a Scandanvian-style castle built in the late 1920s. You can see the castle's elaborate paintings and carvings on a tour.
A fairly new way to experience Emerald Bay is underwater along the Emerald Bay Maritime Heritage Trail. Scuba divers and snorkelers can follow the "trail" to abandoned barges and sunken recreational boats including fishing boats, kayaks, and rowboats. There are shops in Emerald Bay that rent scuba and snorkel gear.
Head north on California State Route 89 to Tahoe City, California, on the lake's northwest side. This quintessential mountain town has it all — cozy coffee shops, locally owned galleries, and fantastic restaurants — all with the lake as its backdrop. Cabin Fever is your stop for rustic mountain furnishings including large pieces, home decor, rugs, and lighting.
Keep driving, and you'll reach Incline Village, Nevada, on the lake's north shore. There are outdoor activities here ranging from golf courses to tennis courts to a skateboard park. If you're into shopping, be sure to stop by The Potlatch for home decor, jewelry, and art. The store has been in the same family for three generations and supports local artists, including crafters of authentic Native American jewelry.
Eat Outdoors
Dining al fresco is a big part of the Lake Tahoe experience.
Seafood is the highlight of the menu at Riva Grill at the Ski Run Marina in South Lake Tahoe, California. The outdoor patio is a great spot to catch a sunset and enjoy your meal overlooking the water. The crab cakes do not disappoint, and neither do the specialty cocktails. The weekday happy hour and weekend live music are the cherry on top.
There are a number of outdoor patios with spectacular lake views in Tahoe City. At West Shore Cafe, you can sit on a pier extending into the lake. California meets Hawaii at Jake's on the Lake, a family-owned local favorite since the 1970s. You'll dine on fish tacos, wagyu burgers, and crab cakes while watching the boats cruising on Lake Tahoe.
Go On A Hike Or Bike Ride
Hiking and biking trails are plentiful around Lake Tahoe.
The Rim Trail is one of the most popular, since it goes around the entire lake. It's 165 miles long, and its highest point sits at more than 10,000 feet. Some 50 miles of the trail on the lake's west shore are part of the larger and more famous Pacific Crest Trail. The entire trail is open to hikers, and most of it is open to mountain bikers. The Tahoe Rim Trail Association is dedicated to sustaining the trail, and on its website you can find current trail conditions as well as itineraries for hikes along different portions of the trail. These itineraries are tailored to a number of interests, including wildflowers, lakes, waterfalls, and mountain views.
The Flume Trail is a popular mountain biking trail on the lake's south shore. The 22-mile trail has been named one of Western America's top 10 routes, likely because its location 2,000 feet above Lake Tahoe lends itself to breathtaking views. The ride can be difficult in places, but there is an option to take a shuttle one way.
An easier hike near South Lake Tahoe is the Angora Lakes Trail, a .5-mile hike from the trailhead to the lakes about 200 feet above it. The lakes are a popular place for swimming, kayaking, fishing, or just relaxing. Be sure to grab some of the freshly-squeezed lemonade from the nearby stand.
Visit The Beaches
Since Lake Tahoe is an alpine lake, most of its shoreline is rugged and rocky, but there are some parts that feature sandy beaches perfect for picnics or lounging.
Sand Harbor Beach on the north shore has a picnic area, visitor center, and swimming area. It also has a dedicated area for scuba divers. Get there early — this beach is a popular one, and the parking lot fills up quickly. Also on the north shore is Kings Beach, a great spot for water activities like parasailing, jet skiing, and kayaking.
On the south shore, Pope Beach is a fun hangout with plenty of shade. There's a boat launch and room for paddleboarding and kayaking. The Beacon Bar & Grill is right on the beach and is a great spot for happy hour. There's also live music right on the beach, making this a great place to hang out all day and into the night.
If you're on the west shore, hit up Lester Beach in D.L. Bliss State Park. This beach is great because it has bathrooms with running water! Plus, its swimming area is calm, which makes it a great spot for kayaking and paddleboating.
Most of the beaches at Lake Tahoe do not allow dogs. If you want to bring your furry friend along, head to Kiva Beach in South Lake Tahoe. Dogs have to be leashed on the beach, but they can swim in the water off leash.
Head To The Ski Resorts
The Lake Tahoe area's ski resorts are just as fun in the summer.
At Heavenly Resort, Epic Discovery awaits you at the top of the Heavenly Gondola. The area features a ropes course, tubing, zip-lining, a mountain coaster, and climbing walls. You can buy an all-day pass for unlimited fun, or choose your activities a la carte. Otherwise, you could just buy a pass for the gondola to enjoy the views up top or grab a bite to eat at Tamarack Lodge. Free summer activities include guided hikes and yoga (only available on certain days, so be sure to check the calendar in advance).
Northstar Resort offers summer activities both on the mountain and at the base. On the mountain, you'll find mountain biking and hiking trails. At the base, you'll find a children's zone, a golf course, and live music.
The aerial tram at Squaw Valley will take you 8,200 feet above sea level to its High Camp, where you can dine at the Granite Bistro while soaking in the views or grab a quick snack at the High Camp Marketplace. You can take the tram back down or hike down the Thunder Mountain Trail. In fact, Squaw has a number of hiking trails, ranging from beginner to expert. This website is a good guide to all the trails. Free daily guided tours meet at High Camp in the morning and afternoon.
Go Fishing
Lake Tahoe is one large fishing hole, home to lake trout, brown trout, and rainbow trout. Fishing companies all around the lake will take you out to the best spots to make a big catch. If you want to go out on your own, try your rod at Fallen Leaf Lake in South Lake Tahoe. In addition to the fish found in the lake, you'll find cutthroat trout here. It's also a great place to raft or hike if the fish aren't biting.
Heading to Lake Tahoe in the winter instead? Here are the area's best winter activities and ski resorts.