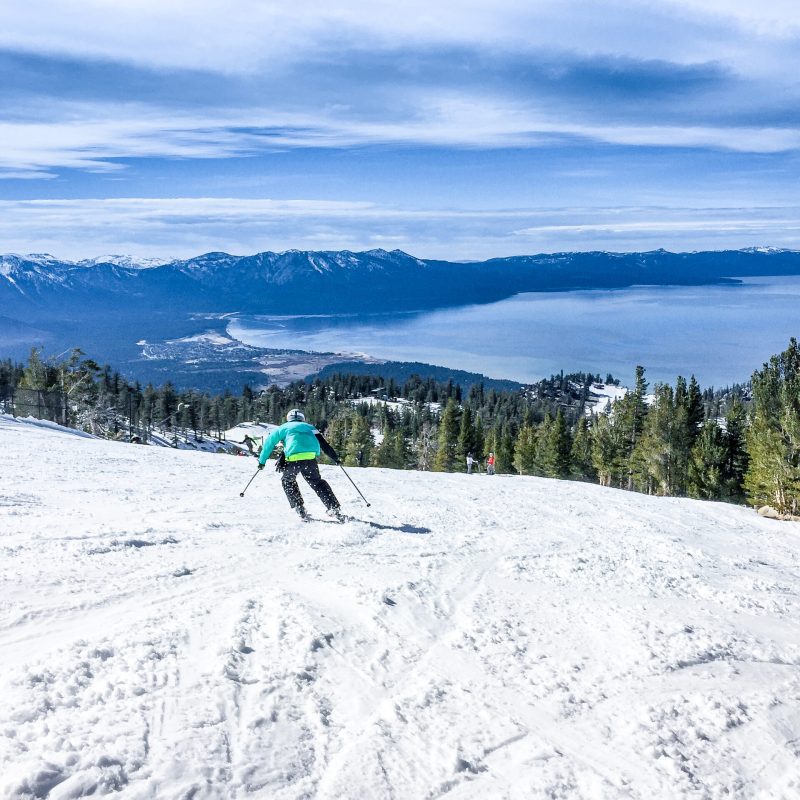 There are several types of skiers and boarders out there, and regardless of whether you're an advanced rider looking for some seriously sick slopes, or a family looking for kid-friendly runs, Lake Tahoe has a little something for everyone.
As one of the top skiing destinations in the world, it's no wonder Tahoe is accommodating to every type of skier and boarder. The following 8 best ski resorts in Lake Tahoe offer endless options for the bargain shoppers, the luxury lovers, the adrenaline junkies, and the first-timers.
Best Luxury Ski Resort in Lake Tahoe
1. Squaw Valley Ski Resort
Difficulty level: Advanced
For three consecutive years, USA Today named Squaw Valley Ski Resort the "Best Ski Resort" in North America, and we'll tell you why. Squaw Valley Ski Resort in the Lake Tahoe region sees over 300 days of sunny blue California skies each year, topped off with abundant snow and epic scenery.
One lift ticket for Squaw Valley will grant you access to 42 lifts, 16 bowls, and 270 trails spread throughout more than 6,000 acres. With an annual average snowfall of 450 inches, you'll have plenty of powder to carve up!
Offering lodging for up to eight guests, The Village at Squaw Valley has endless luxury suites, including the 1,350-square-foot three bedrooms and three bath suite, fully equipped with a master bedroom featuring a king size bed, a full kitchen, fully furnished living spaces, a gas fireplace, and a private balcony.
Best Budget Ski Resorts in Lake Tahoe
2. Homewood Mountain Resort
Difficulty level: Intermediate
Homewood Mountain Resort is where the mountain meets the water, with just 280 steps between the ski lift and the edge of Lake Tahoe. At an elevation of 1,650 feet, the resort's skiing mountain grants unforgettable and extraordinary lake views.
Named the "gem of Lake Tahoe's West Shore" by SKI Magazine, Homewood Mountain Resort's 1,260-acre mountain has eight lifts and 67 runs that are open from 9:00 a.m. to 4:00 p.m. daily.
Homewood Mountain Resort is home to West Shore Cafe & Inn, an affordable four-star accommodation overlooking the lake on one side, and the mountains on the other. The comfortable rooms include wood furnishings and historical art with early images of Lake Tahoe.
3. Mt. Rose Ski Tahoe
Difficulty level: Beginner/Intermediate
With season passes on sale now, Mt. Rose Ski Tahoe is a blossoming icon of the Reno/Tahoe region, offering the highest base skiing and snowboarding at 8,260 feet, with its parking lots reaching higher elevations than some other resort's tallest peaks!
Mt. Rose Ski Tahoe also prides itself on providing convenient slope-side parking lots that are incredibly close to lifts, so visitors can avoid the hassle of exhaustive hikes through villages or mandatory shuttle rides.
Wallet-friendly lodging options at Mt. Rose Ski Tahoe include Ferrari's Crown Resort, a lakeside hotel with a fun family atmosphere.
Cedar Glen Lodge offers an array of renovated accommodations to suit a variety of tastes and budgets, with options ranging from quaint studio cabins to one or two bedroom cabin suites.
Best Resorts for the Serious Skier in Lake Tahoe
4. Kirkwood Mountain Resort
Difficulty level: Advanced
Forbes ever so eloquently described Kirkwood Mountain Resort as being "like that older brother who won't talk to you until you're able to speak intelligently about The Ramones or the 1996 Chicago Bulls." In other words, "the Wood," as locals call it, is a big-boy mountain suitable only for the most advanced skiers and boarders.
Kirkwood Mountain Resort has 2,000 feet of vertical drop and over 2,300 acres of terrain with hair-raising cornices and cliffs. With 38% of the mountain's terrain being advanced and 20% expert, the Wood is a resort aimed at thrill-seekers and those who are willing to push the limit with their extreme sports skills.
5. Alpine Meadows Ski Resort
Difficulty level: Advanced
A lift ticket for the previously mentioned Squaw Valley Ski Resort will also get you access to Alpine Meadows Ski Resort, Squaw's older and more rebellious cousin.
Tucked between Truckee and Tahoe City, Alpine Meadows Resort has slopes for those off-the-radar adrenaline junkies, with their 100+ trails being 40% intermediate and 35% advanced.
Alpine Meadows Resort offers 2,400 skiable acres with seven bowls, 13 lifts, and two terrain parks. Lodging at the resort comprises chalet-style lodges with approachable hospitality.
Best Resort for Beginners in Lake Tahoe
6. Diamond Peak Ski Resort
Difficulty level: Beginner
If you're a first-time skier or boarder and are worried about the difficulty of Lake Tahoe's slopes, fear not! Tahoe offers an abundance of beginner-friendly ski resorts, the most accommodating being Diamond Peak Ski Resort.
Diamond Peak's terrain consists of 18% beginner trails and 46% intermediate trails, a much higher percentage of beginner trails than most other resorts on Lake Tahoe.
Located above Incline Village, Diamond Peak is a hidden gem in Lake Tahoe, a community-owned resort with miles of welcoming and uncrowded runs, a great option for beginners.
If you're traveling to Tahoe with inexperienced youngsters, Diamond Peak Ski Resort has a Child Ski Center for the littlest of learners, and a great Ski & Snowboard School for older riders who require a little bit of training before hitting the slopes.
Best Family-Friendly Ski Resorts in Lake Tahoe
7. Heavenly Ski Resort
Difficulty level: Intermediate
While Lake Tahoe welcomes families with open arms, Heavenly Ski Resort goes above and beyond and is one of the region's best family-friendly resorts.
Heavenly offers a Children's Ski & Snowboard School, with top-notch instructors who have expertise in skiing, snowboarding, and patience. Parents will feel confident leaving their children for a few hours with Heavenly's professionally-trained teachers, allowing grown-ups to enjoy some much-needed downtime.
This family-friendly Lake Tahoe resort even has childcare and nursery services, featuring a licensed child care center with professionally trained staff who provide quality care for your children.
During winter months, Heavenly also has an abundance of family-friendly activities to partake in, including the Ridge Rider Mountain Coaster, scenic gondola ride, and various tubing experiences.
8. Sierra at Tahoe
Difficulty level: Beginner/Intermediate
Another family-friendly Lake Tahoe resort, Sierra at Tahoe is dedicated to providing fun and safety for youngsters, and the resort's "Snowmmeliers" ensure that all beginner terrain is covered with ultra soft, full-cushioning organic snow, guaranteed specifically for families.
Sierra also features several "Slow Zones" that designate specific runs or areas as "Go Slow Areas," marked with yellow fencing and patrolled by Ski Patrol and Mountain Safety to ensure a maximum 15 mph speed limit.
For families, Sierra recommends staying at Aston Lakeland Village, a resort offering a free daily shuttle to the slopes and a full kitchen in each unit, a great option for larger families looking to save a few extra bucks on dining.