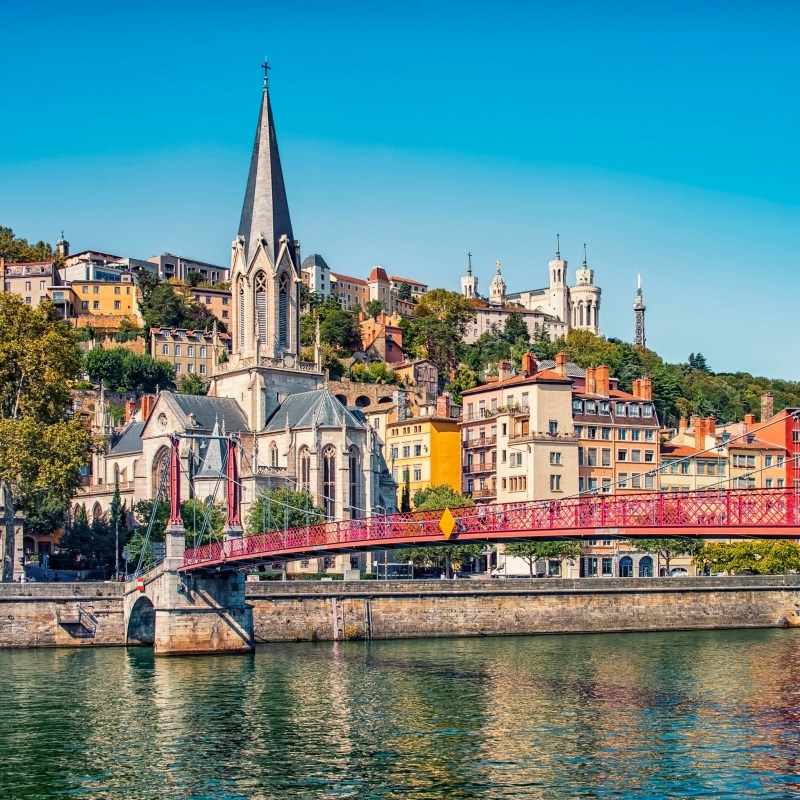 France's second-largest urban area can certainly hold a candle to Paris. It has the same elegant surroundings, offers romance and great food, and is full of history and art. Many say that it is better than Paris, and at times it is difficult to dispute that.
Lyon is very walkable, offers visitors a full program at a less frantic pace, and benefits from a near-perfect location. Two rivers, the Rhone and Saone, converge in the city at the end of the peninsula called Presqu'ile. Lyon also boasts two steep hills, the Fourviere and Croix-Rousse, which are studded with historic buildings and Roman amphitheaters, and from the tops of those hills you can see the snow-covered Alps on a clear day. While the hills are steep, there is a funicular railway up Fourviere, so you can easily get up and down. Croix-Rousse has a metro as well as steadily inclining slopes with cafes along the way.
While Lyon is home to some excellent museums, it's also a great place to simply explore and get lost in. Consider putting on your walking shoes, getting a day pass for the metro, walking up the hills, and taking your time walking down, stopping when and where you wish. In my experience, that's the best way to enjoy Lyon.
Here's how to spend a great day in the city.
Explore The Traboules
Lyon's traboules are historic, intriguing, and fun to explore. The word comes from the Latin trans ambulare, or "to walk across." They are connections between buildings on both the Fourviere and Croix-Rousse hills, taking the shape of spiral staircases, winding paths, or concrete stairwells. Some are painted in romantic pastel shades, and some are covered in street art; others have vaulted ceilings several stories high and take quite a bit of effort to scale. Reportedly, there are some 400 passages like this across Lyon, with a mere 10 percent of them open to the public.
Originally built in the fourth century to allow residents to get down to the rivers without having to follow the roads down the hills, they later doubled as walkways to carry down the wares of the canuts, the Lyonnaise silk workers, and as hiding places during periods of unrest.
There are plenty of guided walking tours, maps, and apps that will tell you where the entrances to the traboules are. Each officially open traboule has a plaque beside the door that leads farther in, but I found that heading through the open doors, gently nudging seemingly closed doors, or inconspicuously following a resident led to some true marvels. The Lyonnaise are fairly relaxed about people gaping at their backyards and staircases, as long as you don't push your luck.
Here, taking your time is key. You could simply look into some traboules, or you could just as easily spend all day exploring them. If you are staying at the Cour des Loges, there are some entrances very close by.
Travel Back To Roman Times
Lyon, or Lugdunum as it was then called, was founded as a refugee camp for Romans expelled from Vienna. Before long, impressive amphitheaters and baths were built for the residents' entertainment and comfort.
The Roman baths and two amphitheaters are still around today. The larger amphitheater, the Gallo-Roman Theatre, plays a huge part each year in the Festival of Lights; it's located on the Fourviere and is today part of the Gallo-Roman Museum, along with the baths nearby. The other amphitheater is on the Croix-Rousse.
Give yourself at least an hour to explore these Roman structures.
Head For The Hills
Once you've taken the traboules or the funicular up the Fourviere, you'll find not only spectacular views but also the very pretty Basilica of Notre Dame de Fourviere. The nearby Tour Metallique de Fourviere is Lyon's version of Paris's Eiffel Tower. On the side of the hill nestles Vieux Lyon, full of traboules, winding cobbled streets, and historic buildings.
On the other side of the river Saone, the best way to explore is to take the metro up to Croix-Rousse and then to meander down Rue des Pierres Plantees. Some excellent shopping can be found along and around Montee de la Grande Cote, a wide pedestrianized street with gentle steps. The entire area is full of cafes and little galleries and boutiques.
Taking the funicular or metro up the hill will save you time and energy, better spent on exploring the city on the way down. Spend a couple of leisurely hours on either hill.
Get Artsy
If you need an art fix, Lyon's Musee des Beaux-Arts is a first-class museum filled with treasures, and it is conveniently located at the bottom of Croix-Rousse. While you are there, look out for Lyon's famous murals, especially the Fresque des Lyonnais at 2 Rue de la Martiniere and the Fresque des Canuts at the corner of Boulevard des Canuts and Rue Denfert-Rochereau.
Eating In Lyon
Lyon is widely acknowledged to be the belly of France, with Paris being the heart. Home of chef extraordinaire Paul Bocuse, the city is famed for its bouchons, or tiny family-run restaurants — originally associated with butcher shops — that serve all things animal. Traditional Lyonnaise cuisine is rustic and incorporates meat and innards of all kinds. Nowadays, menus have been expanded, and more refined meats are also on offer, but the rustic, traditional approach is still king.
For a traditional bouchon, try the Michelin-recommended Le Musee with its French-countryside decor complete with red checkered tablecloths. The menu is old fashioned, and the ambience is convivial.
A more modern approach to the bouchon concept can be found at the tiny and always busy Cafe Terroir. The mix of traditional and fusion cuisine plus the fabulous assortment of wines make this a personal favorite of mine.
Where To Stay In Lyon
Lyon regularly hosts travelers on vacation as well as on business trips, resulting in a wide variety of hotels. If you are in town for just a day, stay either on the peninsula or in the old part of town. That way, you'll be close to all the sights and will be able to walk everywhere.
On Presqu'ile, steps away from the shops, a theater, and the large Place Bellecour and a mere bridge away from Vieux Lyon, is the colorful and affordable Hotel des Artistes.
In Vieux Lyon, at the bottom of the hill and on a cobblestone street, is Cour des Loges, a more luxurious hotel. Not only is the location superb, but with its ancient stone arches, amazing stairwells, wooden beams, and rich furnishings, this hotel will make you feel like you're staying in a castle.
How To Get To Lyon
Lyon is a 2-hour train trip from Paris's Gare de Lyon, a 4-hour train trip from London, and less than two hours from Marseille and Provence.
Lyon is most easily and comfortably reached by train, but it's also home to a small and easy-to-navigate international airport, Lyon Saint Exupery, with connections across Europe and direct flights from Montreal. So, if you are touring Europe and are short on time, you could easily fly into Lyon.
Want to enjoy Paris off the beaten path? Check out these hidden gems, delightful shops, surprising things to do, and lesser-known churches in the city.