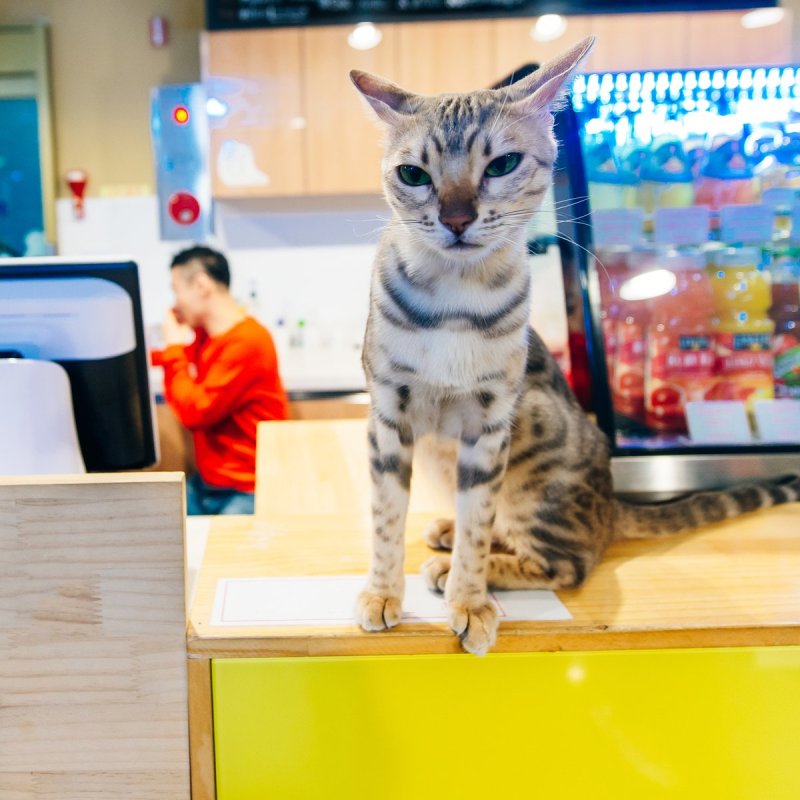 Animal cafes — where it's possible to pet raccoons, sheep, meerkats, reptiles, cats, or dogs while enjoying a coffee drink or smoothie — have become so popular in Seoul that their number has nearly doubled in the past two years.
Like many visitors, I was intrigued by the prospect of meeting a meerkat over my macchiato. In fact, I was so intrigued that I decided to visit as many animal cafes in Seoul as possible while I was housesitting for a month in Incheon.
But it's not just tourists who visit the cafes: Koreans do, too. With Seoul's population density double that of New York City, most city dwellers live in high-rise apartments, many of which don't allow animals. And Korean culture's emphasis on hard work means long hours; Koreans have the third-longest average work week in the world, leaving little time to care for pets. After dealing with the stresses of city life and a 60-hour work week, sometimes all Koreans want is to sip a cappuccino and cuddle a kitty. In fact, every cafe I visited had more locals than tourists.
I visited seven animal cafes during my trip. A couple of the cafes impressed me, but the others had me concerned about the animals' welfare and about the cleanliness and sanitation of the food and drinks served. Here are the cafes I visited, in order, followed by a description of the controversy these cafes have raised in Seoul.
2 Cats Cafe — Cats
My first visit was to 2 Cats Cafe in Insa-dong. For 12,000 won ($10), which included a coffee drink, I could cuddle with any of 20 cats. Several of the cats were munchkins, short-legged cats that are specially bred and suffer from painful spinal problems. This initially raised my skepticism about these kinds of cafes. The cats roamed freely about the cafe, including onto the counter and into the kitchen area where the drinks were made and served.
Thanks Nature Cafe — Sheep
Next up was Thanks Nature Cafe, one of Seoul's oldest animal cafes, that features sheep. Old photos on the web show the sheep roaming among the cafe's tables, but in the cafe's new location in the hip Hongdae District, the sheep are in a separate pen outside the cramped cafe. Patrons of the cafe can enter the pen and pet the sheep, who seemed to relish the attention.
The day I visited, I dodged the sheep poo to greet Tom and Jerry. This was more like a one-species petting zoo than a coffee cafe with animals roaming freely. For the privilege of entering the pen, I ordered a fantastic berry waffle for 12,500 won ($10). Since I could've stood outside the cafe and seen the sheep, the whole setup felt quite gimmicky. The dessert was worth the visit, though!
Meerkat Friends Cafe — Meerkats And More
By far, the most disappointing of the animal cafes I visited was the Meerkat Friends Cafe, located near the Hongdae District. As I was entering, I ran into a group of American and European tourists on their way out and asked their impressions. They complained about the pungent smell and expressed concerns about the animals' welfare.
When I entered and removed my shoes (a requirement at most animal cafes), I was so overwhelmed by the smell and by how overfed and overhandled the meerkats were that I refused to pay the fee of 13,000 won ($11). Handlers enticed the meerkats onto the shoulders and heads of visitors who paid extra for treats. The animals had no places to hide or retreat to in the bare room. Small glass enclosures held a raccoon and a capybara — both looked listless.
I left wondering what type of oversight regulated these cafes. It was definitely not a place to lounge with a cappuccino. This was, by far, the bleakest cafe I visited.
Clouds In The Sky — Dogs
The Clouds in the Sky dog cafe was a welcome contrast. Although on the second floor, the canine exuberance could be heard on the street below this Hongdae District cafe. Sixteen mostly big-breed dogs roamed freely in a big room and responded enthusiastically (and noisily) to proffered treats. The unadorned room smelled and looked clean. The dogs could wander through a swinging gate into a back room that was off-limits to visitors, but the dogs I saw all seemed to want to interact with the several Korean visitors who sat on the floor while workers scurried around them with mops to clean up. There was a grooming/examining room off to one side.
However, I wondered how it was possible to properly exercise this many large-breed dogs. The cafe cost 9,500 won ($8), which included a latte. The scene was calm, especially in a closed room for non-dog-lovers to watch the action.
Table A — Meerkats, Raccoons, Turtles, Chameleons, And More
My favorite animal cafe was an actual cafe with individual tables to sit at and sip a coffee or surf the internet. Also located in the Hongdae District, Table A had three floors, each with different animals. I entered from the street through the kitchen, which was closed off from the where the animals roamed, making me feel like my latte would be fur-free. The entrance fee was 10,000 won ($8), and only drinks were served (extra cost).
The ground floor was decorated with comfy tables and greenery, giving the cafe a jungle feeling. By the time I arrived, several cats had already staked out their favorite spots. The downstairs featured roaming meerkats, while raccoons scampered along overhead ladders and vines. A small atrium on the third floor had several aquariums with hedgehogs, snakes, and parakeets.
The cafe was clean and had several workers interacting with the animals and overseeing visitors' interactions. The animals had places to hide and seemed active and engaged.
Koopet Cafe And Pet Store — Tortoises
Another of my favorites was Koopet Cafe and Pet Store, which featured a central landscaped aquarium for several tortoises. Visitors could reach over the edge and feed the reptiles lettuce suspended from tongs. The pleasant cafe had no cover charge and featured comfortable tables to relax at and enjoy a cup of coffee. In the back of the cafe was a pet store where you could buy snakes, chameleons, geckos, or tarantulas.
This was a proper coffeehouse with light sandwiches, snacks, and desserts prepared in a kitchen separate from where the reptiles were housed. It was charming and the least gimmicky of the animal cafes I visited.
Blind Alley Cafe — Raccoons
Finally, I visited Blind Alley Cafe, one of the first animal cafes to feature exotics. For 8,000 won ($6) and the cost of one drink, you could visit the private back room where three raccoons roamed freely. They had private cubbies to escape interaction and a series of ropes and ladders to climb around on. There were no tables to relax at with your latte, however. Those unwilling to pay the raccoon cover charge could hang out in the main cafe with a skittish dog and two huge pigs.
The cafe was clean and roomy and conducive to lingering over coffee, sandwiches, or snacks.
Controversies Surrounding Animal Cafes
These cafes are not well regulated, either for the sanitation of the food and drinks served or for the animals' welfare. Since the Act on Management of Zoos and Aquariums applies only to establishments with 50 or more animals of 10 different species, these cafes operate in a legal loophole. There are no protections to prevent animal attacks on other animals in the multispecies cafes; to set standards for animals' exercise or mental stimulation; to prevent specialty breeding (as in the case of the munchkin cats); to standardize space, light, and cleanliness; or to prevent overfeeding.
And there are no protections for visitors to the cafes. Stories abound in internet reviews of the cafes by patrons who have been bitten or scratched by raccoons or meerkats.
Furthermore, there are no laws providing for the animals of cafes that have closed. Galapagos Cafe's publicized iguanas, the rabbits at Bunny Cafe, and Wanggwan House's parrots have all disappeared, and their welfare is in question.
In fact, animal welfare groups have begun protesting the animal cafes and demanding more oversight. One lawmaker has proposed legislation to ban wild animals, such as raccoons, in cafes and restaurants.
I'll admit, although it may be politically incorrect, that I was charmed by some of these cafes (such as Table A and Koopet), where I felt the animals were cared for, the place was clean, and I could relax with a latte. These are, after all, coffee cafes!
Cafe Off-Grid, An Alternative To Gimmicky Animal Cafes
The coffeehouse where I felt most at home, however, was Cafe Off-Grid. For a truly soul-enriching caffeine pick-me-up, recharge at Seoul's only inner-city cafe that's completely unplugged. Coffee beans are hand-ground on the spot, and a gas-powered central stove heats the water and milk. The cafe is run by a cooperative of 35 students experimenting with small-scale self-sufficient enterprises.
For a truly sensual experience, try the Aztec cacao hot chocolate for 7,000 won ($6). But don't make the same mistake I did and show up expecting to work with a dead laptop battery. There's no place to plug in!
Planning a visit to Seoul? Here are nine great ways to experience Korean culture in the city, plus 13 things you should know before visiting.