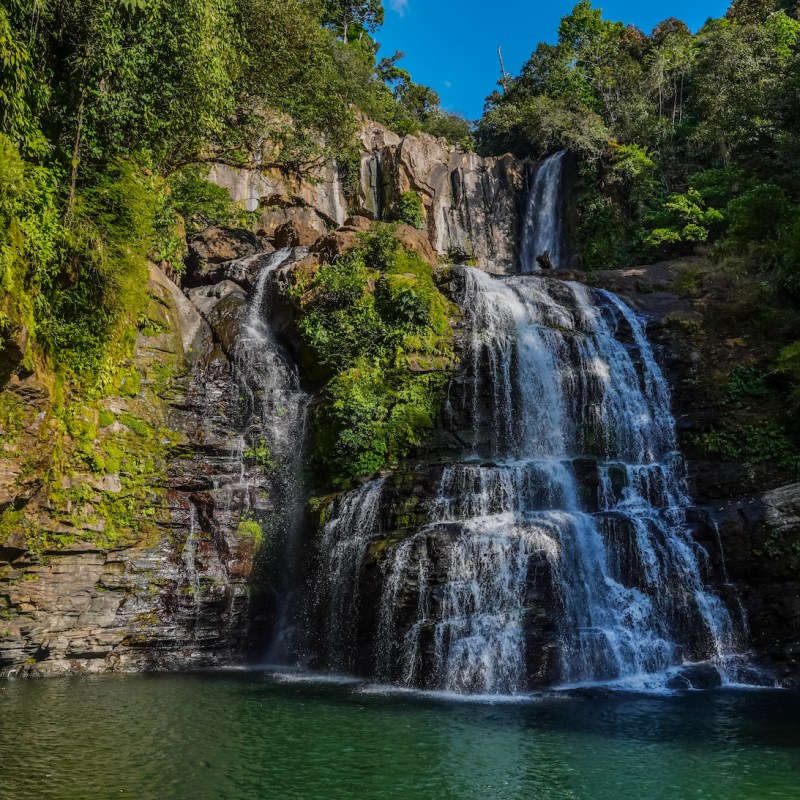 Stumbling upon the sleepy but vibrant beach town of Dominical was the happiest accident of my trip to Costa Rica. Dominical is pure paradise, striking the perfect balance between wild nature and modern comfort — but it's an off-the-beaten-path gem that most tourists miss. I only planned on staying one night, but I wound up spending two blissful weeks in Dominical.
This up-and-coming beach town belongs on any Costa Rica bucket list for dozens of reasons, but these are the seven that made me drop my bags and stay a while in beautiful Dominical.
1. Sleepy Beach-Town Vibe
Situated on the lush Costa Ballena, Dominical is where the rainforest meets the sea: a one-road funky and fabulous town that's walkable, safe, and stunning. Dominical is decidedly relaxed, a refreshing change from many other Pacific Coast party beaches. You won't find massive clubs or all-night parties in this town, although there are plenty of smaller bars and restaurants where you can get a cocktail and watch the waves. It's rare to find a place with such immense natural beauty that's been largely untouched by development or raucous beach parties.
2. Beautiful Dominical Beaches
Playa Dominical is a vast stretch of untouched powdery beach where I was able to watch both the sunset and sunrise. The beach is flat, safe, and ideal for strolling. It's also a great place to surf. Dominical's waves are robust and consistent, making this town a haven for surfers.
If you're a surfing novice, you might find the waves to be too challenging, so try your hand at Playa Dominicalito, where the swells are smaller. There are plenty of reputable surfing schools in Dominical, and with balmy temperatures year-round, surfing is a great way to cool off and see the beach from a whole different perspective.
Pro Tip: Those who are into scuba diving and snorkeling should go on an excursion to nearby Caño Island Biological Reserve. Located in South Puntarenas, it is touted as one of the best underwater adventure diving spots in the world.
3. Danyasa Yoga Retreat
Yoga is a popular activity all over Costa Rica. Still, Dominical takes it to the next level with Danyasa Yoga Retreat, a gorgeous studio that offers a number of different types of classes for people of all fitness levels. You can sign up for individual classes or book a retreat. I didn't personally stay at Danyasa, but they do have accommodations onsite. I'd highly recommend the evening yin yoga classes as a beautiful way to wind down.
4. Fuego Craft Beer
Dominical's craft brewery, Fuego, is a local hot spot for fabulous food and plenty of cold, delicious craft beer. Costa Rica has embraced the craft beer movement, putting its unique stamp on traditional ales, IPAs, stouts, and lagers. Fuego hits the sweet spot in Dominical, serving up creative beers in a gorgeous, modern brewery. My favorite was the Winabana Hefeweizen, a light and lovely beer with just a touch of guanabana.
Fuego is slightly set back from the main road, but the short walk is absolutely worth it, and there's plenty of signage to guide you. Soak in the sunset with one of Fuego's signature suds for a taste of heaven.
5. Amazing Dining Options
For a small beach town, Dominical has some of the best food in Costa Rica.
Fresh Produce
When I visited, there was a weekly farmers market on the main road as well as smaller fruit and vegetable stands open all week. Costa Rican fruit is glorious, and you'll have your pick of giant papayas, sweet mangoes, and tasty granadillas for a reasonable price.
Mama Toucan's
Dominical has fully embraced the health food scene with its beloved organic food store, Mama Toucan's. Mama Toucan's sells prepared salads, fruit, and some of the best ice cream I've ever eaten in my life.
Cafe Mono Congo
Cafe Mono Congo is right next door, and it's a popular destination for travelers and locals. It serves terrific breakfasts and great coffee that you can have on-site or take to go. It also has some of the strongest Wi-Fi in Dominical.
Pro Tip: I found it tricky to get consistent Wi-Fi in Dominical, and I'd often wind up at Cafe Mono Congo to jump online. People use the cafe as a makeshift coworking space; know that you might be asked to share a table with others if you visit during a busy time.
6. Incredible Wildlife
Costa Rica's Manuel Antonio National Park is popular with tourists who want to catch a glimpse of monkeys or sloths in the wild, but Dominical's sparsely populated rainforest is teeming with these creatures.
Since there are fewer tourists in Dominical, you're more likely to see an elusive sloth peeking down from one of the trees. Iguanas are everywhere. I stayed in a modest, open-air hostel right on the beach, and there were several friendly resident iguanas wandering around the common areas.
Capuchin monkeys are quite common. They might look cute, but they have very little fear of people and are known for stealing. Resist the urge to snap a selfie if you don't want your phone snatched by one of these adorable bandits. None of the animals I encountered in Dominical were aggressive, but they are still wild and unpredictable.
You can visit the Alturas Wildlife Sanctuary to learn more about the creatures of Costa Rica and conservation efforts. The sanctuary is closed on certain days, so be sure to check the website before making the trip.
Pro Tip: Go whale watching in nearby Uvita!
7. Nearby Nauyaca Waterfalls
Dominical's Nauyaca Waterfalls are some of the area's biggest draws, and as is true of Dominical in general, you can expect far fewer tourists there than at other places in Costa Rica. Bring your swimsuit and take a refreshing dip in the deep pools at the base of the falls.
Hiking to the falls is moderately challenging and takes roughly an hour, although you can also take a horseback-riding tour to the top. Bear in mind that the tours book up quickly and might not be available year-round. However you get there, plan to spend at least half of the day at the Nauyaca Waterfalls, and bring plenty of water and snacks with you.
How To Get To Dominical
I discovered Dominical for one simple reason: Even though it's a hidden gem, it's surprisingly easy to get to! This idyllic town is about an hour and a half from Quepos, Costa Rica, the gateway to Manuel Antonio National Park. If you're staying in Manuel Antonio itself, you just need to hop on a transfer to Quepos and make the short trip to Dominical. I don't recall the exact cost, but it certainly wasn't more than a few dollars. You can also rent a car and make the drive yourself.
Pro Tips
Dominical is a blissful beach town, but you might encounter a few challenges. The Wi-Fi is inconsistent and goes down often, so if you need to jump online, you'll want to buy a local SIM card. Cafe Mono Congo has the best Wi-Fi in town, but even they went down for an entire day when I was in Dominical.
There's also only one ATM on the main road between Cafe Mono Congo and Mama Toucan's. This ATM runs out of money and breaks down often, so make sure that you have adequate cash before your visit. There is another ATM up the hill away from town. It will take you roughly 20 minutes to get to it, and it runs out often, too. Plan accordingly.
If your idea of utopia involves untouched beaches, balmy weather, and bright azure seas, you need to put Dominical on your bucket list.
Related Reading: