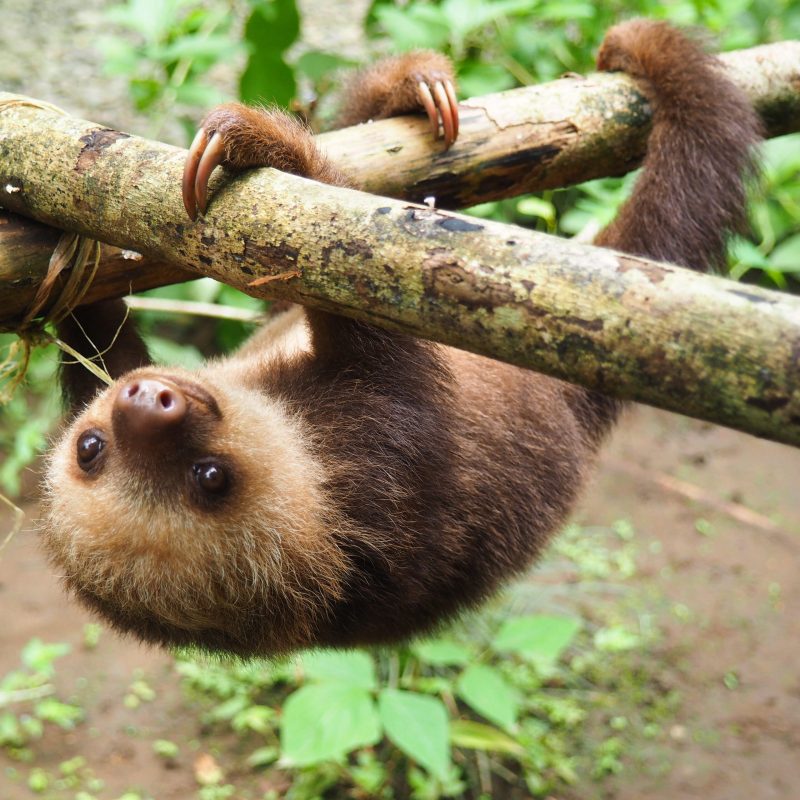 Few experiences can compare to seeing wild animals in their natural habitats. That's especially true when we're talking about sloths. Yes, they're adorable, but when you've seen them hanging from trees and swimming across lakes, you'll gain a new appreciation for these arboreal mammals.
While sloths live throughout Central and South America, they're easiest to find in Peru and Costa Rica. Here's a look at a few unique destinations where you can see sloths in the wild.
1. Rincon De La Vieja, Costa Rica
Rincon de la Vieja literally translates to "the old woman's corner." That's a reference to a legend about a woman whose lover was thrown into Rincon de la Vieja — an active volcano — by her father.
Legends aside, Rincon de la Vieja is a dry tropical forest, so if you don't do well with humidity, this is one of your better sloth-spotting options. And Rincon de la Vieja National Park features miniature geysers, sulfurous hot springs, and volcanic mud pits, which aren't exactly the sights you'd expect to see in Costa Rica.
Because the climate is dry, the area isn't quite as biodiverse as a rainforest, but you'll still see an astounding variety of animals including two-toed sloths living in the park. Spring for a guided tour, as sloths can be difficult to see with untrained eyes.
2. Bijagua Ranas, Costa Rica
If you're hoping to see sloths and you're not especially concerned about seeing other wildlife, you can't do much better than Bijagua Ranas. This privately owned property is located between the provinces of Alajuela and Guanacaste, near Tenorio National Park; it's bordered on both sides by a river, so it's sometimes mistakenly referred to as an island.
This little area has an enormous population of three-toed sloths in its treetops. The animals are completely wild, but Bijagua Ranas is protected from human development, and, for some reason, sloths have flourished here. You might also see red-eyed tree frogs, bats, and other wildlife, but the sloths are the real draw for tourists.
3. La Fortuna, Costa Rica
If you're not willing to go deep into the rainforest, La Fortuna is one of the most accommodating places to see wild sloths (and if you are willing to don some serious hiking gear, don't worry, we'll get to a few options in a moment). Located northwest of San Jose, La Fortuna is a small town with gorgeous views of two volcanoes: Arenal, which is active, and Chato, which is dormant.
It's also home to Bogarin Trail, a private urban park with 1.24 miles of walking trails. Take a guided tour, and you'll stand a decent chance of seeing both two- and three-fingered sloths along with basilisks, snakes, toucans, and various other wild animals. This is one of the least "remote" options on this list, as you'll still be able to hear the sounds from the city while taking your tour, but it's a convenient way to see sloths without sacrificing many creature comforts (no pun intended).
4. Monteverde Cloud Forest Reserve, Costa Rica
Monteverde is a small town about three hours from San Jose, and it offers some of the world's most breathtaking views of cloud forests, a type of high-altitude rainforest with a thin layer of clouds just below the canopy line. These humid areas offer unbelievable photo opportunities, particularly if you're able to experience them from the canopy — and that's certainly an option at Monteverde Cloud Forest Reserve.
To see wild sloths, you'll probably want to book a guided night tour. If you're especially lucky, you might also catch a glimpse of the resplendent quetzal, a gorgeous migratory bird with elegant tail feathers.
5. Tambopata National Reserve, Peru
Located in the Peruvian Amazon between Cuzco and the Bolivian border, Tambopata National Reserve has numerous jungle lodges offering overnight accommodations for tourists. Some of the reserves offers treetop walks, so if you've ever wanted to traverse canopy walkways high above the rainforest floor, you're in luck. If you're set on seeing an elusive two-toed sloth, consider booking a jungle nightwalk with an experienced guide.
While Tambopata is open year round, your best bet is to visit during the dry season from May to October, as rain could thwart or damper your sloth-spotting efforts.
6. Pacaya-Samiria National Reserve, Peru
Pacaya-Samiria is near Iquitos, the hub of the Peruvian rainforest and one of the most biodiverse areas on the planet. It also has a wet season (December through March), but this can work to your advantage, as rising waters often mean more animal diversity on dry land. Regardless of when you visit, you'll have a decent chance of catching a few brown-throated sloths, along with pink river dolphins, squirrel monkeys, river turtles, and jaguars.
A quick note: When traveling to any part of the rainforest, make sure you're adequately prepared. Bring raincoats, loose clothes, sunscreen, binoculars, mosquito repellent, and plenty of water. Talk to your doctor when preparing for your trip; many travelers choose to get yellow fever vaccinations, for instance, and antimalarial medication may be appropriate for some travelers.
With that said, a properly planned trip to a tropical destination can be a life-changing experience, and there's simply no other way to see wild sloths in their natural habitat. If you're willing to put in some legwork, this is a totally achievable bucket-list item — provided that you don't have a sloth-like work ethic!
Going to see sloths? Here's how to plan the perfect Costa Rica vacation, plus the best eco-lodges in Costa Rica.