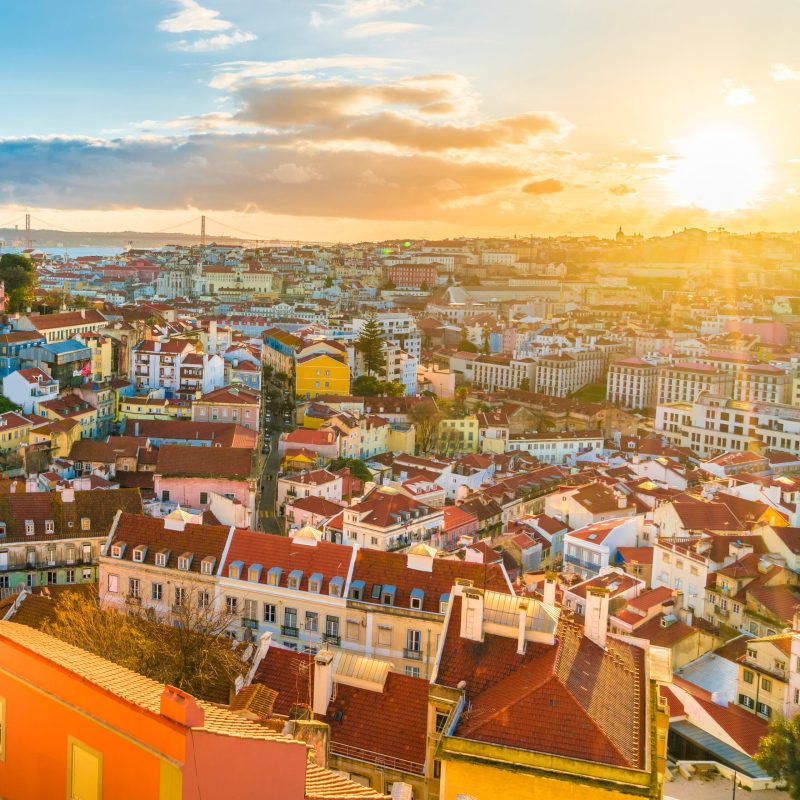 There is a reason why Portugal is so popular with older travelers, not only to visit but also as a choice for a second home or even a place to retire. In fact, there are several reasons for which I made it my business to discover Portugal during many trips from neighboring Spain, where I currently live. I won't deny that I had my eye on moving, so I looked with particular care and attention to detail. I still haven't decided, yet but it's a distinct possibility as each visit brought a new delight.
First impressions are important, and the Portuguese people are extremely friendly and welcoming to strangers. Many have at least a smattering of English and are happy to try it out on you. Thanks to them, I found destinations I otherwise wouldn't have known of, like the fabulous Isla Culatra in the Algarve.
Next, you can't beat the climate. Lisbon, for example, gets more than 3,000 hours of sunshine per year, and even when it rains in March and April, it isn't cold.
As far as landscapes are concerned, there is something for every taste. Beaches and resorts on the Algarve, mountains in the interior, nature parks, pine and cork forests, streams, lakes, and lagoons. Portugal is one of the oldest countries in Europe, with a long and colorful history, which makes for plenty of monuments to visit to delight any history lover. Lisbon, in particular, is famous for her art and music scenes with festivals throughout the year.
Last but not least, there's the delicious food and wine — all of it at some of the lowest prices in Europe. In short, all the good things in life we so enjoy once we have passed the big 50 are to be found in this small, welcoming country in the south of Europe. Here are some of the best things to see and do in Portugal, especially after 50.
1. Lisbon: Your Starting Place
Whether you travel to Portugal by air, sea, train, or road, you are likely to arrive at Lisbon first, and it's a great starting point to explore other parts of the country. Given the many attractions Lisbon has to offer, a money-saving tip first: Get a Lisbon card.
It gives you access to over 30 sites and reduction in numerous fares. Armed with my card, my first adventure is always a ride in the historical No. 28 tram. Rattling along the impossibly steep and narrow streets past all the major sites gives you a great overview and a feel for what further exploring on foot is like. Lisbon is built on seven hills, so a lot of climbing and balancing on cobbled streets is called for, but there are also public elevators and the flat area of Rossi, a great square with historic buildings, shops, and cafes.
The oldest and most colorful part of Lisbon is Alfama, which wasn't damaged in the earthquake of 1755. The secret tip is to go there at night (best by taxi) and listen to the traditional ballads called fado while rubbing shoulders and sharing drinks with the locals.
Another must-see is the 16th-century fort and rampart of Torre de Belem on the shore of the river Tagus. Close to it, take a break and eat a delicious custard tart in one of Lisbon's oldest bakeries, Pasteis de Belem.
Lisbon has plenty of green zones and parks, and you can enjoy free open-air concerts year-round. The best times to visit are spring and fall; summers can get very hot and crowded. In any case, you are well-advised to arrive at the No. 28 tram stop and other attractions early to avoid long lines.
2. Monchique, With Its Hot Springs And Cork Forests
Everybody interested in Portugal has heard of the Algarve, but not many know of this little jewel, called Monchique, up in the mountains from Faro. Monchique is famous for its hot springs, which have been used at least since Roman times, and you can have a dip and even spa treatment for a few hours here.
Exploring the area's colorful houses with their distinctive skirt chimneys and get tipsy on the local liqueur, Medronho. Or visit some of the ateliers and craft shops that produce the finest ceramics and products made from cork. The scent of the surrounding pine woods and relaxing in the spa will make you feel as if you've shed years, no matter your age.
3. A Boat Trip To Ria Formosa
At the extreme end of the Algarve, close to the border with Spain, you find a natural paradise of rare beauty and calm: the lagoon and sandbank of Ria Formosa. Boat trips start either from Faro or from the picturesque town of Olhao to Isla Culatra. From the boat, you can watch oyster farmers and fishermen plus a plethora of birds. Once on the island, which has neither cars nor holiday homes, idle along sandy paths to empty white beaches for a swim or to admire the old fishing cottages. Time stands still on Isla Culatra before you return to Olhao to be greeted by a distinctive red building which is the fish, fruit, and vegetable market.
4. Faro's Chapel Of The Bones
Getting older, one inevitably reflects on one's mortality and a gripping place to do so, even if only for a few minutes, is the Chapel of the Bones in Faro. It's not the only one in Portugal, but it is the best known. It's not easy to find, though.
Head for the Church Nossa Senhora do Carmo. Ask the way or follow the signs. It's a regular Catholic church and you don't see any skulls or bones until you turn left close to the altar, see a small sign and arrow saying Bone Chapel (yes, in English), enter through a small doorway, and find yourself in a chapel covered from top to bottom with the skulls and bones of 1,245 monks. It's certainly a unique experience, but any feelings of morbidity are quickly dispelled by the brilliant sunshine and lively atmosphere of the port of Faro once you have left.
5. Estoril, The Refuge Of Deposed Royalty
Go to the Portuguese Riviera, just an hour's train ride from Lisbon, and visit the elegant beach town of Estoril. Plenty of deposed royalty, including Umberto II of Italy, the father of King Carlos I of Spain, the regent of Hungary, and King Carol of Romania did so before you, leaving Estoril with a flair of calm and luxury that appeals to older travelers. But it's not short of activities and entertainment. Take a brisk walk along the promenade to Cascais or play a round of golf on Portugal's finest golf course, Oitavos Dunes.
Want to try your luck? Then the Iberian penisula's biggest and most elegant casino awaits.
The beaches here are great, too, and you'll find some of the best restaurants, where you can sample Portuguese specialties. Polvo a la lagareiro and cataplana de marisco, all fish or seafood based, are to be found here.
6. Porto For Wine And Books
Porto, on the shore of the river Duoro, is Lisbon's great rival in terms of popularity, and older travelers will enjoy the laid-back atmosphere between coast and river, the color contrast between red roofs and blue tiles, and a leisurely cruise along the river, taking in the world-famous vineyards where delicious port wine comes from. Like Lisbon, steep cobbled streets crisscross the city center with its plethora of baroque and medieval architecture. A highlight is a visit to the Livraria Lello Bookshop — where Harry Potter was conceived, so to speak — a building that will amaze you.
And then you must try two Porto specialties, apart from the wine. Tripe, believe it or not, is not revolting, or, if you prefer, a sandwich like none you have ever tasted before. It's called franceshina and consists of two thick slices of bread filled with layers of ham or cold cuts topped with melted cheese and a fried egg. But the secret lies in a special beer sauce that is poured over the concoction. You won't need to eat much more all day.
7. The Marvels Of Sintra
Think hills covered with pine and eucalyptus trees and, hidden among them, architectural marvels — some of the best palaces in all of Europe, plus elegant mansions and a delightful city center! Most people visit Sintra on a day trip from Lisbon, which is a comfortable train or coach journey for us over 50s who want to get there hassle-free, then enjoy the palaces of Pena and Sintra, among others.
The best advice is to talk to the locals, as I do all the time. They are happy to share secret places and tell you how to get there, and may even invite you to their homes. You'll be so charmed, you will be back.