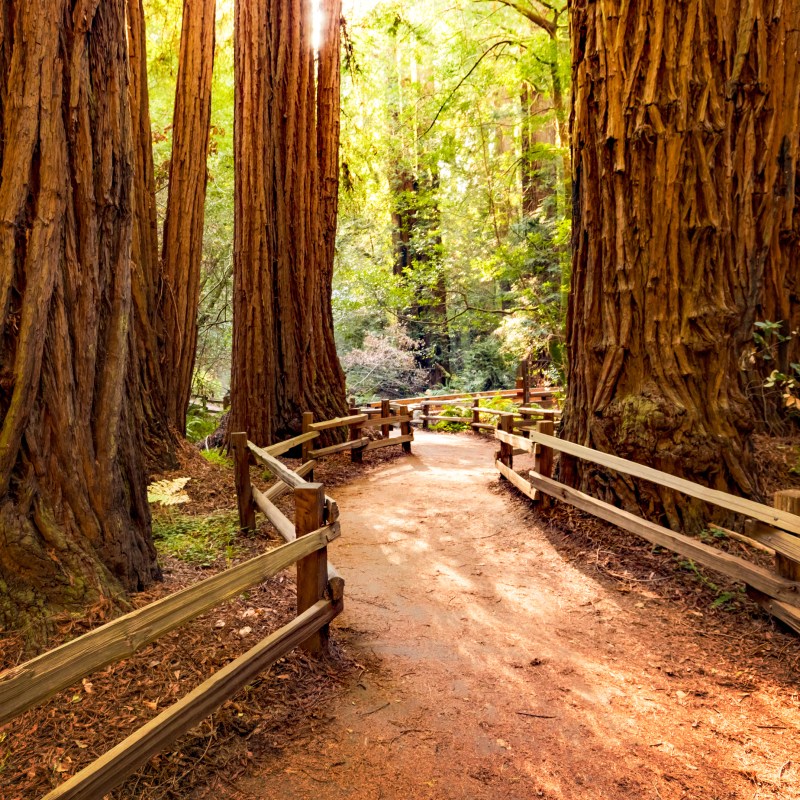 Muir Woods National Monument is the perfect day trip from San Francisco and a great place to reconnect with nature after you've spent some time in the bustling city or in Silicon Valley.
There are a few places in the world that have made us feel tiny — and Muir Woods, with its massive and ancient redwood residents, is definitely one of them. Between the trees, the fog, and the lush green underbrush, this spot stays with you long after your visit. It reminded us a lot of a Star Wars movie set, but it's a real place, and one we're still thinking about!
Here are a few things you'll need to keep in mind to ensure a perfect day at this magical park.
Think About Transportation In Advance
First and foremost, you'll need to decide in advance how you're going to get to Muir Woods. This is easier said than done, and we learned this the hard way! We had no idea that parking spots at the monument are available by reservation only, and we were turned away the first time we tried to enter on the fly.
Be sure to go online and book your spot — the earlier the better for best availability. Parking costs $15 per car, and you can purchase your entrance tickets at the same time you purchase your parking space. Admission costs $15 for adults, and children enter for free.
Keep in mind that the trip up to the park is somewhat challenging and rugged, with winding, narrow roads and a few hairpin turns. If you want to leave that sort of driving to someone else, you can take the Muir Woods Shuttle. Again, you'll need to make reservations online, but the shuttle will only set you back $3.25 for a round-trip ticket. The shuttles depart daily from both Sausalito, California, and Marin City, California; the trip to the park takes about 45 minutes. If the park is busy, make sure you queue up for your desired shuttle back to town early.
A word to the wise: There is no Wi-Fi whatsoever at the monument. Download your parking or shuttle ticket on your phone before you head up; you might be turned away if you can't access proof of your reservation.
Dress For The Weather
Muir Woods is located right off the coast, and the ocean fog provides much-needed moisture to the massive redwoods. You'll encounter that mysterious mist most mornings, along with cool breezes. Temperatures rarely exceed 70 degrees, and as you can imagine, there is a lot of shade.
You'll want to dress in warm layers, with a waterproof outer layer in case of rain — which is quite likely from November through April. If you're traveling to the park at that time, you'll also want to make sure that you pack an umbrella if the forecast indicates showers. You don't want to spend your precious time at the park soaked and uncomfortable.
Wear Sturdy Shoes
This simple tip can make or break your visit to the magical Muir Woods. While the main, lower trails are gentle, paved, and will lead you through the better part of the forest with barely an incline, it's important to wear comfortable, supportive shoes — preferably those with good traction and grip in the soles — in case of rain.
Don't skimp on this part of the prep! Your feet will thank you, and you'll be able to enjoy the one-of-a-kind stroll much more without slips or skids.
Pack Snacks
If you plan to stay for the day, you'll want to bring along nutrient-dense snacks to eat along the trail. This will help keep your energy level up. While there is a fine concession stand at the park's entrance, we always prefer to bring our own food — along with a refillable water bottle — when hiking and trekking.
Just make sure you save a pocket or backpack space to tuck away any garbage you might have, and carry it out of the park with you. There are no garbage cans along the trails, and that's by design to ensure this place stays as pristine and as close to its original state as possible. Littering is never okay, but in a place as grand and eco-sensitive as this, it's a travesty. Bottom line: If you eat in the park (and you'll likely work up an appetite, so plan to do so), take your trash with you.
Attend The Park Ranger Presentation
We know — sometimes tours can feel forced, obligatory and… well, not that great. That is not the case here! Unless you are a botanist, a biologist, an or eco-expert, chances are you don't know that much about this amazing spot, all of the factors that make it so special, and just how incredible the biodiversity here actually is.
That's why, if possible, you should pop in to the park ranger's daily presentations — or tree talks — at Muir Woods. Whether you spend 15 minutes getting the history and science in a quick TED Talk-like session or take the hour-long guided hike, this is time well spent.
Check in at the front entrance for the day's schedule.
Look, But Don't Touch
Muir Woods has adopted a "Leave No Trace" stance, and for good reason. The policy is in place to protect the plant and animal life in the park. While it might be tempting to do so, do not venture off the trails or paved paths. Many of the species here are extremely fragile, and even a single step off the trail could trample and destroy some of them.
Gaze in awe, take photos, perhaps even sketch what you see, but do not touch anything or take anything from the area. Remember that everything you see at Muir Woods is protected under federal law, so leave it in its rightful place for others to enjoy.
Go With A Purpose
This tip might be the strangest of the bunch. But if you're familiar with the Japanese custom of forest bathing, you might better understand what we mean here. For many people, visiting Muir Woods is a hallowed experience, one that allows them to slow down and commune with nature at its most magnificent. The opportunity to completely disconnect (again, there's no Wi-Fi!) and soak up such an incredible atmosphere is rare.
For that reason, we recommend visiting the park with a purpose. Perhaps it's to contemplate life, to focus on gratitude, or to find peace as you take in nature's grandeur on its terms. No matter your purpose, this is the perfect place to pursue it. Muir Woods is a place to open your mind and heart and enjoy the wonder of the natural world around you. Its gorgeous redwood giants are hundreds of years old and will live on for hundreds more with careful conservation.
One of our favorite spots inside the monument is Cathedral Grove. You'll find signs urging silence, and you'll enjoy a quiet stroll through the ancient, enormous trees, listening to the pure sounds of nature just 20 miles from one of our country's largest urban sprawls. Setting an intention for the time you spend in a place so awe-inspiring will enrich your experience and make it even more unforgettable!
More on the City by the Bay:
12 Amazing Hidden Gems In San Francisco
9 Interesting Things To Know About San Francisco's Columbus Tower
8 Totally Free Things To Do In San Francisco