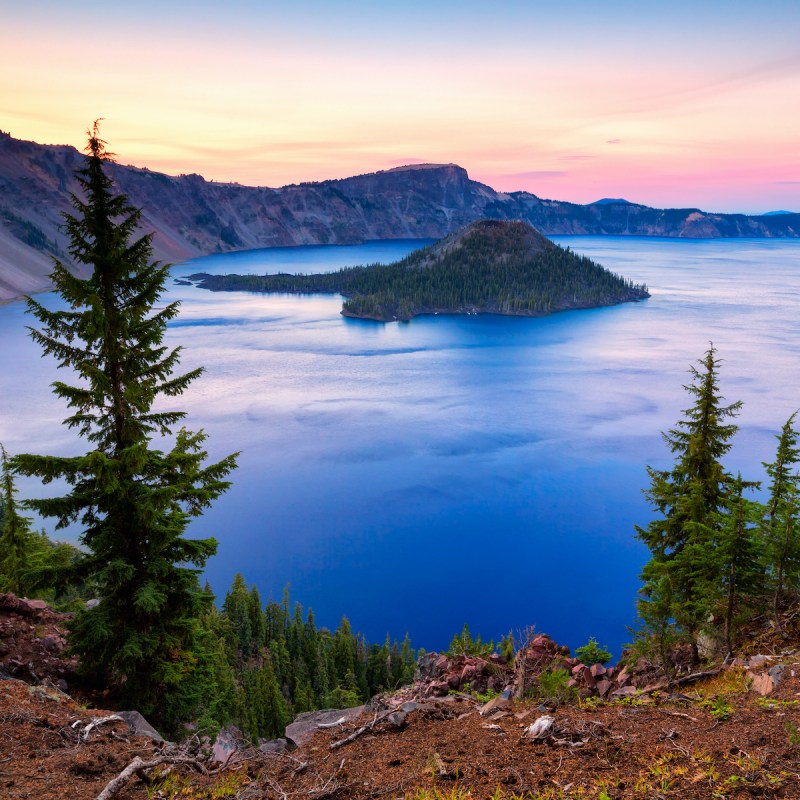 Crater Lake — located in Crater Lake National Park — was formed 7,700 years ago when a volcano named Mount Mazama erupted, collapsed, and left behind a giant caldera. Over time, this crater filled with pure rain and melted snow. The resulting lake, which is 1,943-feet deep and is the deepest in the U.S., is known for its purity and beautiful deep blue color.
Located in southern Oregon in the Cascade Mountain Range, Crater Lake National Park is about a 4-hour drive from Portland. Due to the distance and its remote location, a trip to visit the park requires thorough planning so your visit is memorable for all the right reasons.
To help make planning a trip to the park this summer easier, the National Park Service has released its "Top Ten Tips For Visiting In Summer." The best part is it's written by the rangers who work at Crater Lake National Park, so they know the park best.
So let's get right to it. Here are the rangers' top tips for planning a summer trip to Crater Lake National Park.
1. Avoid The Crowd
Approximately 700,000 people visit the park each year — primarily from mid-June to mid-September. Rangers suggest arriving at the park before 9 a.m. or after 4 p.m. so you can avoid long lines at the entrance stations and crowded parking areas.
To save even more time, the rangers suggest buying a park pass online in advance. You can learn more about that process here.
2. Get Your Sleep
The only ways to sleep in the park are at the park's lodges, campgrounds, or in the backcountry with a permit. Camping in the park's pullouts, picnic areas, and parking lots is prohibited.
"Campgrounds and lodging in the park fill quickly," the rangers explain. "Finding a place to sleep at the last minute is unlikely. Be sure to make reservations to spend the night in the park or consider options for lodging and camping outside the park."
You can learn more about lodging and camping options inside the park as well as other options near the park here.
3. Get Off The Beaten Path
"Increase your chances of seeing wildlife, birds, and wildflowers by hiking trails that are away from the lake," suggest the rangers. "These trails have great vistas — and no crowds."
Here are rangers' top picks for those trails: Annie Creek Canyon Trail, Crater Peak Trail, Lightning Spring Trail, and Union Peak Trail.
You can find trail maps and trail descriptions in the park newspaper.
4. Pets Are Allowed — Sort Of
Pets are welcome at Crater Lake, but only in certain areas.
"When pets, especially dogs, and their people want to be together on a trail, the best place to go is outside the park to the extensive system of trails and roads on U.S. Forest Service land," rangers explain. "That's because there are only a few trails and lots of paved areas where you can be together inside the park. These trails are pleasant walks, but they don't offer any views of the lake."
You can learn more about where pets are — and are not — allowed in the park here.
5. Be Aware Of Changes For This Year
Due to the ongoing COVID-19 pandemic, boat and trolley tours of Crater Lake are not being conducted this year. However, you can still drive around the lake on your own this year, the rangers note.
"Bring plenty of water and patience for your two-hour, 33-mile drive around the rim. Along the way, you'll see lake views, panoramic vistas, forests, and meadows," rangers explain. "Keep in mind that services beyond Rim Village are limited to a few vault toilets, five picnic areas, hikes of various difficulty, and 30 captivating viewpoints."
You can learn more about Rim Drive here.
Pro Tip: Rim Drive is a narrow, winding road with tight curves and no shoulders. Rangers note that drivers of large RVs and vehicles with trailers may have trouble on Rim Drive — especially when the park has large crowds.
6. Entering The Caldera Is Illegal — And Dangerous
"One foot over a stone wall to take a photo or hiking down the steep caldera walls could lead to death or injury, and a fine," rangers note. "Always remember to stay safe."
7. Don't Be Fooled By The Trail
Most people will appreciate the lake's beauty from viewpoints around Rim Drive, but others will want to get a closer look — and maybe even get in Crater Lake's cold water. The only legal access to Crater Lake's shore is by descending Cleetwood Cove Trail, rangers explain.
However, it must be pointed out that while Cleetwood Cove Trail is only 1.1-miles long, it drops 700 feet in elevation through a series of "strenuous switchbacks with limited shade and a crushed pumice surface that is slick and dusty," rangers caution. What's more, pets are not allowed on Cleetwood Cove Trail.
Pro Tip: "Overall good cardiovascular, heart, and physical fitness are recommended to hike the 2.2-mile round-trip Cleetwood Cove Trail," rangers explain. They go on to caution: "The majority of search and rescue operations in Crater Lake National Park each year stem from visitors being unable to ascend this trail once they have hiked down to the lakeshore."
You can learn more about Cleetwood Cove Trail here.
8. Crater Lake's Blue Is Real
"Sunlight reaches through the lake's clarity and scatters in its depth, which creates the lake's rich, blue color," rangers explain. "Visitors help too, by not introducing harmful invasive species that are hidden on fins, goggles, scuba gear, paddle boards, and all other water devices. Keeping these items out of the water keeps Crater Lake blue."
You can learn more about which items are not allowed in the lake here.
9. Plan Ahead For A Vehicle's Gas Or Charge
Gas pumps are open in Mazama Village in the park during summer. A charging station for electric vehicles is located in front of the Annie Creek Gift Shop, also at Mazama Village. It has one standard connector and one Tesla connector.
Rangers remind visitors to check the hours of operation before arriving at the park. You can find those hours on the park's Current Conditions webpage here or in the park newspaper here.
Gas stations outside the park are open year-round. Those stations are about 20 miles away.
10. The Best Places For Wildflowers
"After the snow melts along the western boundary, wildflowers bloom in the meadows and wetlands. Use U.S. Forest Service roads to access the area," rangers explain. "Blooms at higher elevations appear later – and have shorter seasons and smaller flowers that are often overlooked."
If you plan to wildflowers, the rangers point out that "Thoughtfulness preserves future meadows; avoid stomping on and picking the flowers."
You can find maps of the park and its roads here.
While you're planning your visit, be sure to read all the rest of our Crater Lake National Park coverage. Since you'll be in the area, be sure to also see our Oregon and Portland coverage as well.