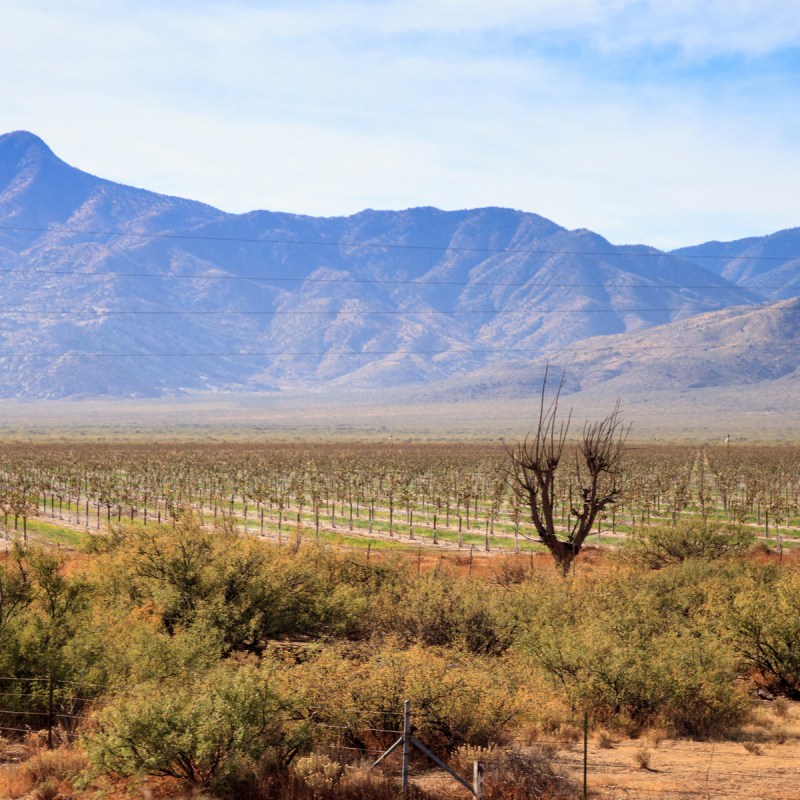 The Grand Canyon state is home to world famous natural attractions, luxury resorts, renowned golf courses, and a burgeoning wine scene. Oenophiles should be aware of the exciting happenings in Arizona wine country and consider a trip to the area. As Arizona wine continues to make a name for itself and the area continues to grow in popularity as a tourist destination, keep in mind these insider tips for the best wine-tasting experience in the desert and beyond.
Please note that I experienced some of these Arizona wine country offerings during a sponsored press trip, but all recommendations are my own.
Yes, Arizona Wine Country Is A Thing
It's normal to be incredulous that grapes could thrive in such a hot climate as the Arizona desert. But according to Kris Pothier with the Arizona Wine Growers Association, Arizona wine country taprooms and vineyards receive over 600,000 visitors annually. And while the southern desert is home to some great producers, the northern, mountainous parts of the state boast noteworthy vineyards as well. Overall, there are 108 farm winery licenses in Arizona, of which the majority are small business-owner operations in rural Arizona.
It's Laid Back
Arizona's wine regions aren't as widely known, which makes them feel a bit like hidden gems. After all, this area is not one of the big three American winemaking spots, namely Napa, Sonoma, or Willamette Valley, Oregon. That means that it feels more approachable and less snobby, which is great for both amateur wine enthusiasts and seasoned veterans. I loved my experience there; every vintner I spoke to was very friendly, knowledgeable, and so excited to share about their region, which was refreshing and has me looking forward to a return trip already.
Visit During Value Season
As previously mentioned, Arizona is a popular tourist destination known for its gorgeous natural attractions, incredible golf courses, resorts, and much more. If you want to make your Arizona wine country experience the most cost-conscious, it makes sense to visit during the so-called "value season" or off-season time frame. Generally, the state is broken into two areas: the desert part, which constitutes the southern half of the state, and the mountainous region up north. In the south, value season is June through August while the north calls January through March its value season. Plan accordingly, since Arizona wineries can be found in both the northern and southern reaches of the state.
Arizona Wine Has A Long History
Southwestern wine historian Erik Berg explored the road to viniculture in Arizona in his essay "Equal Age for Age: The Growth, Death, and Rebirth of an Arizona Wine Industry, 1700 – 2000" in the Autumn 2018 issue of The Journal of Arizona History. According to Berg, "Spanish settlers and missionaries first introduced viticulture to the lower Rio Grande of New Mexico in the 1600s". Then, the wine industry grew for centuries until it was stymied by Prohibition. The modern Arizona wine industry was re-invigorated in the early 1980s. Since then, it has expanded to multiple regions and its vitality is represented by the 100+ vineyards in the state.
It All Started In Sonoita
Sonoita was home to the first modern commercial winery in Arizona after Prohibition, as well as the state's first designated American Viticulture Area (AVA). The AVA designation was in effect by 1984 and was actually the first in the American southwest region. Wine aficionados interested in visiting these early southern vineyards should check out Sonoita Vineyards, the oldest commercial winery in the state. The property started to be cultivated in 1974, opened to the public in 1983, and now boasts over 30 acres of vines. Be sure to try their famous cabernet sauvignon. This area rests at between 4,500 and 5,200 feet elevation.
There Are Three Distinct Wine Regions
For those planning a trip, it's helpful to know that three regions encompass the majority of Arizona's wine country. The first is Sonoita/Elgin in southern Arizona. This region includes the towns of Patagonia, Elgin, and Sonoita and can be found about an hour south of Tucson. The Arizona Wine Growers Association has this to say about the area: "Sonoita's native grasslands blanket the rolling hills which are dotted with Arizona Oak, Arizona Ash, and Mesquite. The valley is surrounded by the Santa Rita Mountains, Mustang Mountains, Whetstone Mountains and Huachuca Mountains making the mineral deposits in the Valley's soil a unique mixture of reddish-brownish gravelly loam." Be aware that the high temperatures in the summer are in the 80s and 90s and monsoon season is usually in late summer.
Next up is the Willcox region, another designated AVA located in Arizona, where 75 percent of the state's grapes are grown. This part of southeastern Arizona includes Turkey Creek, Pearce, Willcox, and Kansas Settlement. The major producers in terms of counties are Cochise and Graham. Visitors should know that monsoon season here is in July and August.
The Arizona Wine Growers Association also shares that the vineyards are focused in the Sulphur Springs Valley and along the mountain bases. To the east are the Chiricahua Mountains and Dos Cabeza Mountains, and to the west the Dragoon Mountains and Cochise Stronghold. The Willcox Playa is home to a large dry lake that is part of the Sonoran Desert ecoregion; additionally, travelers might find it interesting that thousands of sandhill cranes roost in the area during the winter.
Finally, the northern Verde Valley constitutes the third wine-growing area in the state. This area is on the list for its AVA label, and growers are hopeful it will be officially designated soon. Some spots considered part of the Verde Valley are Sedona, Cottonwood, Clarkdale, Cornville, Rimrock, Page Springs, and Camp Verde. The AWGA says, "Northern Arizona encompasses the Verde Valley, an area of the state rich in geological history. Located north of Phoenix about [two] hours by car, and at roughly 3,000 to 5,500 feet in elevation." In this area, the wine growing operations are sprinkled around communities, both large and small, in the mountains as well as near Oak Creek and the Verde River. July and August are considered monsoon season, when visitors can expect many afternoon rain storms.
Plan Ahead For The South
Even though the southern part of Arizona is home to the oldest vineyards, this area is much less developed than up north. The north, where the Verde Valley wine region lies, is on the route to the Grand Canyon as well as nearby tourist haven Sedona. So it makes sense that there is a lot more infrastructure in the area to support visits to that spot. These include more resorts, hotels, restaurants, and so on.
For a visit to the southern growing areas, like Willcox and Sonoita, it's best to plan ahead, booking your accommodations well in advance. Kris from AWGA said, "The resources down south are less than the northern growing area. It is important to plan ahead with a good place to stay when visiting the south. When one takes the time to plan, the beauty of Willcox is otherworldly".
Visit Expert Favorites
It can be hard to decide which vineyards to visit on a trip to Arizona wine country. Luckily, Kris from the Arizona Wine Growers Association was kind enough to share some of her favorite spots from the over 100 Arizona wineries to choose from.
For the south, she said, "I personally love Sand Reckoner, Rune, Pillsbury, Carlson Creek, and Bodega Pierce in Willcox. My favorites in Sonoita-Elgin are Dos Cabezas, Callaghan, and Lightning Ridge. Drinking wine in such stark and lovely landscapes, right next to the vines, is a deep experience and one of the many ways people fall for the Arizona juice."
As for those planning to focus on the north, Kris said, "My favorites in the Verde Valley are Page Springs Cellars, Arizona Stronghold, The Southwest Winecenter, and my winery, Chateau Tumbleweed.
You Can "Wine Down" In Arizona's Big City
For visitors in the area who are not on a wine-focused trip, I have great news: Many of the vineyards have easily accessible tasting rooms in the Phoenix area. Carlson, a previously mentioned expert favorite, has a Scottsdale tasting room where guests can enjoy five wine samples for a reasonable rate of about $12. Another great option sits on Mesa's Fresh Foodie Trail; Garage East is part of the Agritopia urban village development in Gilbert. This backyard-style farm winery has a selection of tasty local snacks, live music on weekends, and daily wine tastings. Don't miss their ever-changing breakfast wine, which varies based on what fruits neighbors drop off to be used. It's a super charming spot, and just 30 minutes from Phoenix. Kris from the AWGA said, "It is wonderful that tourism is built into Arizona," and noted that this helps growers reach wine lovers much more easily.
Another easy-to-access-spot for tourists headed to Phoenix is The Windmill Winery in Florence, Arizona. This is located about an hour-long drive outside the city, which is much more doable than the nearly three-hour trek to Willcox, two-and-a-half-hour drive to Sonoita, or nearly two-hour drive to the Verde Valley area. The Windmill Winery is another stop on Mesa's Fresh Foodie Trail that highlights the agricultural gems of the area.
It's easy to see that Arizona wine country should be on any wine lover's radar. It can be the focus of an entire trip to the area, or just a small part of a greater Arizona experience. Either way, this up-and-coming region deserves some attention.