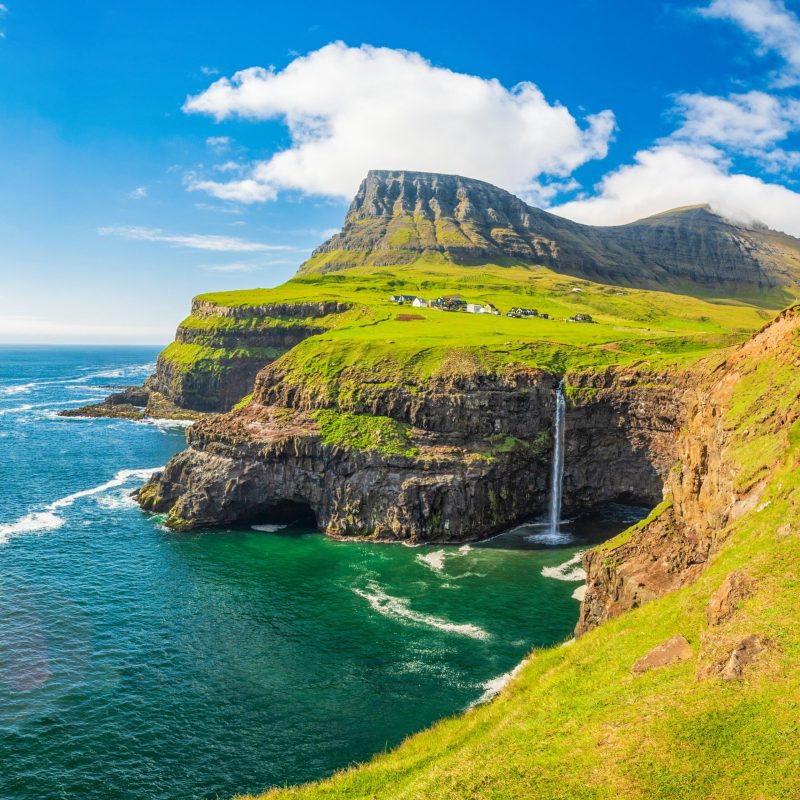 Located 407 miles off the coast of mainland Europe, the Faroe Islands are a remote archipelago with some of the most beautiful landscapes imaginable. They aren't a conventional tourist destination — and that's what makes them so appealing to adventurous travelers.
Of course, when you're traveling somewhere unconventional, you should understand exactly what you're getting into. Here are a few essential reasons to travel to the gorgeous Faroe Islands (and what to know when you're there).
1. A Trip To The Faroe Islands Isn't Just "Visiting Denmark"
Don't get us wrong, Denmark is a wonderful destination, but the Faroe Islands aren't Denmark, per se. Faroese people have their own language, customs, and way of life, and the Faroe Islands are a self-governing country within the Kingdom of Denmark — not just an extension of the mainland. While many travelers start their trips to the archipelago with a stop in Denmark, don't think that you'll get the same experience from both countries.
The islands are sparsely populated, and 21,000 of the 50,000 inhabitants live in the capital, Torshavn, on Streymoy Island. Outside of the city, people live quiet, rural lives, many with a focus on tradition. The country's official language is Faroese, a Nordic language spoken by fewer than 80,000 people worldwide, though Danish is taught in Faroese schools. Many Faroese people are also proficient in English, but consider learning a few Faroese phrases to make your travels slightly easier.
2. You Can See The Midnight Sun
When you're traveling near the Arctic Circle, time works differently. In the middle of the winter, the Faroe Islands only get about four hours of daylight. Of course, there's an upside to all that darkness: In the summer, the days seem to stretch on forever.
From early June to mid-July, the Faroe Islands experience the "midnight sun" phenomenon, and the sky doesn't get darker than dusk. Take a hike late at night to experience this strange natural phenomenon at its best; the landscapes of the Faroe Islands are remarkable at any time of day, but when the perpetually setting sun casts its strange light on the islands' pastures, you'll feel like you're wandering across otherworldly terrain.
3.The Faroe Islands Offer Great Views Of The Northern Lights
Speaking of breathtaking natural phenomena, the Faroe Islands are also a great place to see the aurora borealis (also known as the northern lights). However, if you're hoping to see the northern lights and the midnight sun on the same trip, we've got bad news for you: Auroras only occur during the winter months.
And while they're only visible when the sky is clear, because the Faroe Islands are sparsely populated, light pollution isn't a major aurora-viewing concern. While they're sometimes fully visible, the northern lights might also manifest as a subtle green hue. Check local forecasts to determine whether or not they'll be viewable during your trip. Even if you miss the auroras, the islands provide a remarkable view of the Milky Way, so travelers will want to budget some time for stargazing.
4. You Might See Wild Puffins
The key word here is might, as your travel schedule will certainly influence your chances of encountering the seabirds. Tourists can see puffins on Mykines, the westernmost of the islands, during the summer months.
To get there, you'll need to take a helicopter or a boat. Prices for each option are about the same, as Faroese taxpayers subsidize the helicopter rides. That's right: Helicopters serve as public transport for locals. However, you can't book a roundtrip same-day ticket via air, and the helicopters only travel on Mondays, Wednesdays, Fridays, and Sundays. That means if you want to take a helicopter, you'll need to spend at least one night on Mykines.
If you travel via boat, you'll want to book your ride as early as possible, as tickets sell out quickly during peak tourist season (and that's really the only time you'll stand a chance of seeing puffins).
5. Getting To The Faroe Islands Is Surprisingly Easy
While making your way to Mykines can be something of an ordeal, getting to the Faroe Islands isn't too difficult. The 18 islands are located in the Atlantic, practically equidistant from Scotland, Iceland, and Norway.
If you're leaving from Denmark, you can book a ferry, which provides inspiring views of the Faroese coast on your approach. Today, only one ferry travels to the Faroe Islands regularly, so you'll need to book early to ensure your spot.
If you prefer to travel via plane, you'll have a few more options. The Faroe Islands operate their own airline, which runs flights from Vagar (one of the larger islands and the site of the only airport) to Copenhagen, Reykjavik, Paris, and a handful of other major European cities. Flights from Copenhagen are available most days; the average flight time is around 2 hours and 15 minutes.
6. You'll See Plenty Of Sheep
Faroe Islands literally translates to Sheep Islands in old Norse, and sheep are still an important part of the country's economy. When we say important, we're not kidding — the Faroe Islands' coat of arms has a sheep on it, and the country's first government documents were mostly regulations on sheep husbandry. As a Faroese proverb states, "wool is Faroese gold."
Faroese Sheep are a distinct breed, characterized by their small size and hardy wool. They were probably brought to the islands by Norse settlers, and archaeological evidence suggests that the animals were well-established on the islands as far back as 825 A.D. As you make your way across the islands, you'll see flocks of them roaming the land.
Granted, few people travel hundreds of miles just to see sheep, but the animals are certainly a pleasant addition to the idyllic Faroese landscape.
7. Traditional Faroese Foods Are Unlike Anything Else
Sheep are also a staple food of the Faroe Islands, so if you head out to a Faroese restaurant, don't be surprised to see lamb and mutton on the menu. Local eateries also serve a variety of seafood, including many traditional fermented dishes. If the word fermented doesn't scare you off, consider checking out Raest, a traditional restaurant in Torshavn. Here, you can sample dried fish, fermented lamb, whale, and other genuinely unique delicacies.
If you're not accustomed to fermented seafood, places like Raest can be somewhat intimidating. The good news is that the capital city has plenty of delightful options for travelers. If you're not ready for fermented foods, consider booking a table at Aarstova, where you can choose from several multi-course meals with dishes like racks of lamb, salmon, and cod.
To avoid fermented foods, look for the word "raestur" or "raest" (and avoid those dishes), or simply ask your server for recommendations. With that said, if you travel to experience new foods, Faroese fermented delicacies are certainly worth a try.
8. You'll See An Incredible Optical Illusion At Lake Sorvagsvatn
Lake Sorvagsvatn is undoubtedly one of the coolest places to snap a photo, and in recent years, it has become one of the Faroe Islands' most popular tourist destinations. The largest lake in the islands, it's separated from the ocean by a 90-foot cliff. At a certain angle, the lake appears to be floating hundreds of feet over the sea.
To experience the effect for yourself, you'll need to hike from the town of Midvagur to Traelanipan, or "Slave Rock," which offers an overview of the lake. Unfortunately, this hike is not free; you'll pay a fee of DKK 450 (roughly $70 USD) to take the trip. The fee was established in early 2019 as some tourists were disrupting the local wildlife. Stay respectful, read the posted information signs, and you won't be part of the problem!
While you're in the area, consider stopping by KOKS, the Faroe Islands' only Michelin-awarded restaurant. Located near the abandoned village of Frammi vid Gjonna, KOKs has two Michelin stars and offers an outstanding dining experience overlooking the water and mountains.
9. You Can Get Around The Faroe Islands Easily
The Faroe Islands have an excellent transportation infrastructure. Whether you rent a car or take the bus, you can easily move between the islands' population centers. Tourists can travel from island to island via moderately priced ferries or through undersea tunnels, and a recently announced expansion project will eventually shorten travel times between the two largest islands, Streymoy and Eysturoy.
The islands have two taxi services, both of which have long histories of exemplary service, and numerous car rental agencies are available. All of the islands are connected via tunnel, bridge, or ferry, and while there's no rail system — the rough Faroese terrain isn't great for trains — there's a fantastic bus system. In other words, while the Faroe Islands are remote relative to other countries, you won't have to worry about making your way around.
You also won't have to worry much about the crowds. Summer is the most popular season for tourism, but because the islands are fairly isolated, tourist traffic is limited even in peak periods. That's one more reason to go — if you're looking for a unique travel experience, you can't do much better than the Faroe Islands.
Traveling through Copenhagen? Here's what you need to know before you go.