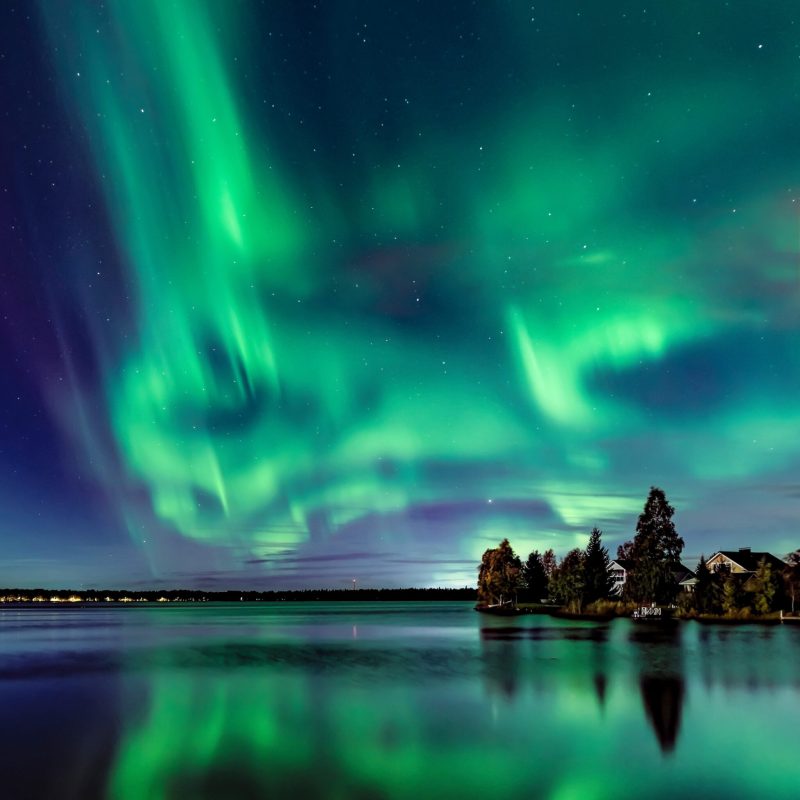 One of the seven natural wonders of the world, the Northern Lights, also referred to as the Aurora Borealis, have been fascinating mystics and travelers alike for centuries.
This spectacular and natural light show can be seen throughout the globe's northern regions during the winter and spring months. It's truly one of nature's most awesome displays, portraying an otherworldly beauty that is truly hard to describe.
If your to-do list for next year includes booking a trip to see the Northern Lights but you aren't sure the best place to catch them, check out the following 8 options. Each offers a unique vantage point to observe the Northern Lights in 2019.
NOTE: There's never a guarantee you're going to see the Lights on any given night, even if you go to the 'right place' at the 'right time' and do everything 'right'. All you can do is maximize your chances.
1. Iceland
If round-trip or one-way flights from North America starting from the low hundreds isn't reason enough to choose Iceland for your Northern Lights excursion, the fact that you don't have to travel over the hills and through the woods to spot them here might just convince you.
It is commonly known that getting to the Northern Lights sometimes involves a trek, but Reykjavík, Iceland's capital, offers stunning views right in the city center from late September to late March.
Another ideal location to see the Northern Lights in Iceland is the Golden Circle, a popular tourist route in southern Iceland. This region is home to some of Iceland's most impressive geological wonders, such as Thingvellir National Park.
At Thingvellir, be sure to check out Geysir, the park's famous hot spring, or the Gullfoss waterfall. Nighttime will bring unparalleled views of the Northern Lights.
2. Sweden
If gazing upon the Northern Lights in a capital city like Reykjavík doesn't appeal to you, you may want to consider Sweden.
Though it may be a pricier option than some others on this list, Sweden forces travelers off the beaten path into some of its least populated areas for the most authentic experience.
The Kiruna Lapland sees clear, starry skies, few tourists, and offers a variety of guided Northern Lights tours to choose from.
Travelers can join professional photographers and learn how to capture the beauty of the Lights on a photo tour, such as the Nightly Aurora Photo Tour in Abisko National Park. The park is considered one of the best places in the world to catch the Aurora Borealis.
3. Canada
Canada's northernmost regions such as Yukon and the Northwest Territories provide exceptional views of the Northern Lights almost year round, due to their longer, darker winters and high latitudes.
In Yellowknife, the capital of the Northwest Territories, the auroras are visible 240 days out of the year, hence why it's been dubbed the "Aurora Capital of North America." For the best viewings of the Aurora Borealis, head to Yellowknife from mid-November to the beginning of April.
Yukon's remote location and vast wilderness are great for outdoorsy types and history lovers. For the best views of the Northern Lights, channel your inner Jack London and venture out along the trail of the Klondike Gold Rush of 1898.
The province of Manitoba on Hudson Bay features planetarium sessions with aurora photography tips, along with tundra buggies that will take you out into the wild to get a closer look at the Aurora Borealis.
4. Finland
After the summer solstice, a majority of Finland sees days with nearly 18 to 19 hours of sunlight. Finnish Lapland even sees up to 24 hours of sunlight for nearly three months. After this period, though, Finnish Lapland abruptly switches gears and prepares for a long, dark, and cold winter.
Although endless sunlight may sound more appealing to some, Finland's long and freezing winters make for ideal viewing of the Aurora Borealis.
Situated north of the Arctic Circle, Rovaniemi offers idyllic views of the Northern Lights practically every other day, with ample opportunity for outdoor adventures such as dog sledding, ice fishing, and snowmobile safaris. Rovaniemi is even home to Santa Claus, making it an ideal destination for the whole family.
5. Norway
Tromso, Norway appears on every single list of the best places to spot the Aurora Borealis, and we'll tell you why.
Situated just a three-hour flight from London, Tromso is easy to get to, and, being situated in the heart of the auroral zone in the Norwegian Arctic, it's widely regarded as one of the world's best places to see the Northern Lights.
With more pubs and bars per capita than anywhere else in Norway, Tromso remains a popular destination not only for skywatching but for late night bar-hopping and beer-sipping as well. This lively town is a great option if you want to catch a glimpse of the Aurora Borealis.
Some other popular areas to see the Northern Lights in Norway include Svalbard, Lofoten Islands, Harstad, Bodo, Alta, Andoya, and Lakselv.
6. Greenland
Ilulissat is Greenland's third largest city — and it's home to only 5,000 permanent residents. This fact is indicative of how Greenland is yet another destination that will offer a more remote, authentic, and less touristy Aurora Borealis experience.
Although Greenland remains part of Denmark, the (few) inhabitants of this enormous arctic island enjoy relative autonomy.
Situated on Greenland's western coast, Ilulissat offers accessible views of the Northern Lights, thanks to a lack of rain and low levels of wind that bring stable and enjoyable viewing conditions.
Nuuk is Greenland's capital, largest city, and yet another ideal destination to catch a glimpse of the Northern Lights. In Nuuk, travelers have a good chance of seeing those fingers of light in the sky on any dark day in December or January.
While visiting Greenland, be sure to indulge in some of its unique outdoor experiences, including dog sledding, Arctic caving, and glacier gazing.
7. Alaska, USA
Alaska's cold temperatures, clear skies, and dark nights create perfect conditions for viewing the Northern Lights, with the best spots located in Fairbanks, Denali National Park, Anchorage, and Juneau.
Just 150 miles south of the Arctic Circle lies Fairbanks, an ideal viewing location due to its latitude, below the so-called 'oval of the lights'. Fairbanks' Northern Lights tours will take you to various viewing areas such as Murphy Dome and Chena Lake. If you want to check out the Northern Lights independently, consider renting a four-wheeler to chase them on your own.
Denali National Park is home to North America's highest mountain peak and is subsequently a perfect place to spot the Northern Lights — where solitude, tranquility, and wilderness await.
8. Russia
Although it's a lesser-known area to spot the Aurora Borealis, a large part of Russia lies within the Arctic Circle, making huge swaths of the country a candidate for a trip to see the Northern Lights.
The Kola Peninsula, in particular, sees over 40 days of uninterrupted night, making it a premier destination to scope out the Lights. With approximately 300,000 inhabitants, Murmansk, situated in the Kola Peninsula, is a great way in for those looking to venture into the wilderness; it also offers the cosmopolitan comforts of a larger city.
It is a rule of thumb that, in Russia's Arkhangelsk region, the further you venture from civilization, the brighter the Northern Lights will be. With that being said, Severodvinsk is arguably the best spot in this region to catch the Aurora Borealis from September to April.
If you're not afraid of the cold, we hope you decide to make the trek north to see the Northern Lights. It truly is a sight to behold. Happy trails!