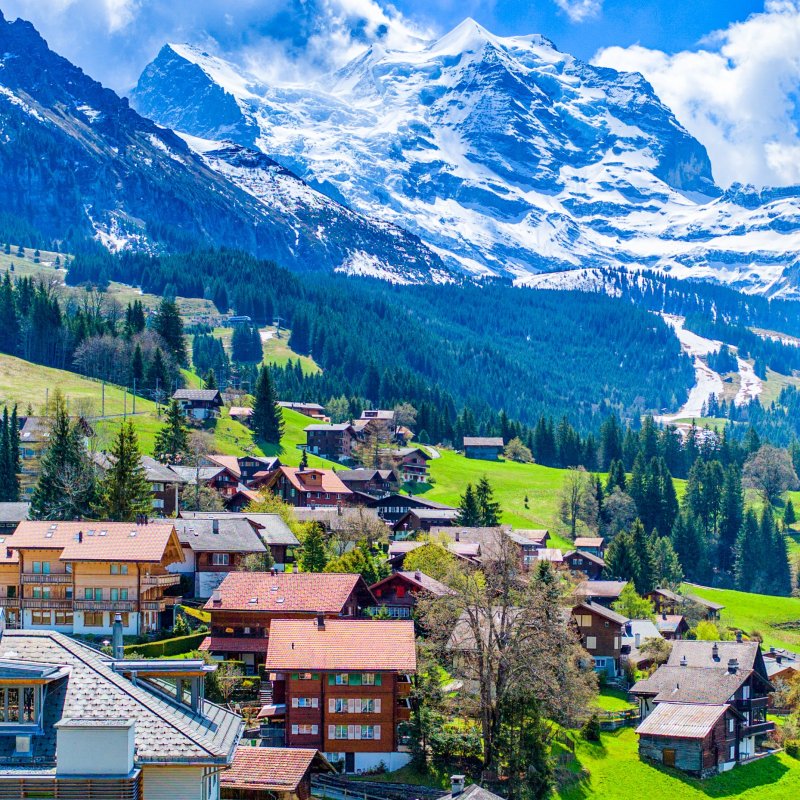 If you're looking for a pastoral paradise in the heart of Europe, head up to the mountains. The Alps encompass a massive swath of the continent and are dotted with quaint towns and cities that radiate charm and hospitality.
We've put together a list of the seven most gorgeous towns and cities in the Alps, spread across five countries. Check them out on your next Alpine adventure!
1. Schwangau, Germany
Schwangau is the epitome of the Bavarian fairy-tale village and home to Neuschwanstein Castle, a breathtaking work of art dreamt up by King Ludwig II. Its splendor captured the attention of Walt Disney, who allegedly used it as a model for Cinderella's and Sleeping Beauty's castles. Nearby is King Ludwig's childhood home, Hohenschwangau, an ornate and sprawling property that doesn't share Neuschwanstein's fame, but is still very much worth seeing.
As for King Ludwig himself, he met a sad fate near the end of his reign. He was pronounced unfit to serve, given the moniker "Mad King Ludwig," and dethroned. There's still plenty of controversy as to whether or not King Ludwig was really insane. Whether he was mad or simply misunderstood, it's undeniable that the Alpine architectural masterpieces he left behind are superb.
2. Glorenza, Italy
Glorenza is a miniature Italian Alpine town known for its medieval architecture and fusion of Italian and Austrian culture. It's the smallest town in South Tyrol and is remarkably well preserved — a must-see for any history buff.
Once you've worked up an appetite traversing the pretty streets of tiny Glorenza, try canederli with speck, a hearty regional favorite consisting of Austrian comfort food with an Italian twist. You can wash down your delicious meal with some handcrafted spirits at the local distillery.
It should be noted that Glorenza is sometimes referred to as Glurns or Glorenza/Glurns.
3. Spiez, Switzerland
For astounding views of the Swiss Alps and magnificent architecture, head to the lovely town of Spiez.
Situated on the shore of azure Lake Thun, Spiez is the textbook example of Swiss Alpine charm, with its flower park, stunning views of the Alps, and famous castle. Spiez is also a great base from which to explore the remainder of the Bernese Alps.
4. Chamonix, France
Chamonix is home to Mont Blanc, one of the most famous peaks in the world, and the town has long been popular with skiing aficionados and winter-sports enthusiasts. Even those who don't want to strap on a pair of skis will love Chamonix's unique cable car. The Alpine gondola gives visitors a bird's-eye view of Mont Blanc and is a bucket-list trip for sure!
Travel to Chamonix during the spring, summer, or fall to experience some fantastic hiking or golfing in the shadow of majestic Mont Blanc.
5. Salzburg, Austria
When most people think of Austria, they picture the bustling streets of Vienna, but they shouldn't overlook musical and magical Salzburg. Salzburg was the birthplace of Mozart and the idyllic setting of The Sound of Music. Fans of the musical can revisit many of its iconic scenes on a Sound of Music tour.
Alternatively, you could simply pass a beautiful afternoon strolling through the Old Town, a designated UNESCO World Heritage site. Salzburg is surrounded by the Alps, so you'll see incredible natural beauty no matter where you look. Put this Austrian pearl on your bucket list if you're looking for beautiful architecture, culture, history, and nature.
6. Gimmelwald, Switzerland
The tiniest town on our list is pastoral Gimmelwald, a car-free slice of Heaven in the Swiss Alps. This village is accessible by cable car and occasionally by train or hiking, but Gimmelwald's off-the-beaten-path location makes it even more alluring. It hasn't hit the tourist map yet, so if you're looking for an authentic taste of the Swiss Alps, Gimmelwald is it. The houses are built in the chalet style, and there are a limited number of places to eat and stay.
Still, it is worth spending the night in Gimmelwald to enjoy rustic Swiss hospitality and to see the night sky in its full glory, free of light pollution. Although you won't find too many modern amenities in Gimmelwald, you'll find a ton of character and a side of the Swiss Alps that most people don't get to see.
7. Thonon-Les-Bains, France
Thonon-les-Bains is not as sky-high as some of the other towns on this list, but it is a luxurious retreat in the Alpine foothills on the shore of gorgeous Lake Geneva, making it an attractive destination for summer swimming and boating and winter sports.
Year-round, tourists flock to Thonon-les-Bains to pamper and restore themselves with thermal baths and spa treatments.
The Alps are mesmerizing and magical mountains full of towns that you simply must see. Don't miss out on these jewels the next time you're traveling through Europe.