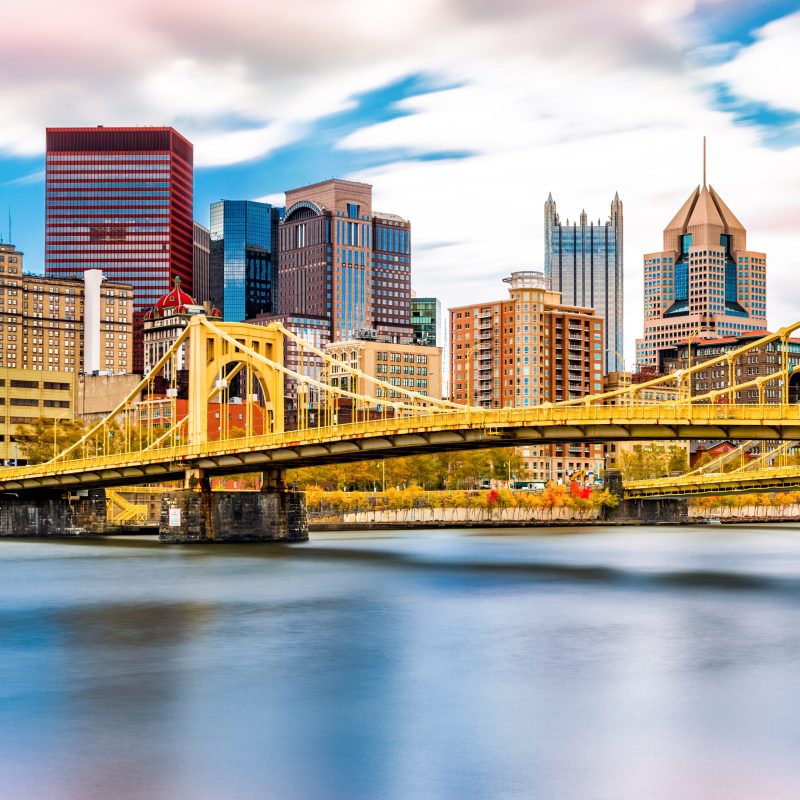 Pittsburgh is the best of the Rust Belt: a city whose successful reinvention has made it a world-class destination full of sports, art, great food, and some of the most beautiful nature in Pennsylvania.
What's more, Pittsburgh is affordable, has temperate summers, and is known for its friendly and sincere residents. It's truly the best of both worlds: a humble metropolis with big-city convenience and small-town charm.
There are hundreds of reasons to put Pittsburgh on your Pennsylvania bucket list, but here are the top eight.
You Can Experience The City From The Water
Pittsburgh sits at the juncture of three bodies of water: the Ohio, Allegheny, and Monongahela Rivers. It's even nicknamed the City of Bridges.
One of the most popular and unique ways to see Pittsburgh is from the water. You can hop aboard a classic cruise and learn how the Iron City came to be, have dinner on the waves, or even catch a glimpse of Pittsburgh's gritty past and the spirits that still stick around on a Haunted Pittsburgh Cruise (only available during the month of October). Thanksgiving cruises, Christmas cruises, New Year's Eve cruises, and Valentine's Day cruises are also available.
Tours are subject to weather conditions, and you should dress accordingly for the unpredictable and frigid Pittsburgh winters. A warm jacket, gloves, and a hat are a must. It's also not a bad idea to carry an umbrella with you.
There are snacks and a bar onboard, and parking is located nearby.
You Can Enjoy Some Incredible Street Art
Pittsburgh is known for its wacky and incredible street art, from massive, colorful murals to sculptures lovingly crafted out of salvaged materials. You can see the character and soul of the city in its wealth of creative expression. Take an art tour or visit a public art place to really soak in the whimsy that the art scene in Pittsburgh has to offer.
Of course, no trip to Pittsburgh would be complete without a trip to Randyland. Randyland is a loud and proud celebration of eccentricity and community. Created by local artist Randy Gilson, Randyland was once a desolate neighborhood, but it now has a new life as a tourist attraction. It's also a great place to snap some pictures and appreciate how art can totally revitalize a neighborhood.
The Food Is Fantastic
Pittsburgh's cuisine is stick-to-your-ribs comfort food with an Old-World twist, thanks to the city's large Polish immigrant population. There are plenty of great eats in the Iron City, but there are three dishes worth making the journey for.
Pierogi and kielbasa are a nod to Pittsburgh's Polish heritage, and you'd be hard-pressed to find finer dumplings and sausage outside of Krakow! Pittsburgh knows how to do pierogi right, and you can find these tasty treats stuffed with everything from farmer's cheese to sauerkraut and mushrooms. Eat them with plenty of butter, fried onions, and sour cream for an authentic treat. Kielbasa is another Pittsburgh favorite. This tasty sausage is either served on a bun or sliced into rounds and presented with a side of mustard or horseradish.
As you might expect, Pittsburgh scoffs at traditional salads, instead preferring to crown its salads with a generous helping of French fries. The Pittsburgh salad combines standard salad fare like lettuce, tomatoes, cucumbers, and onions — and takes it to the next level with cheese, fries, and meat. The result is a mouthwatering hybrid. Whoever said that eating healthy had to be boring?
Pittsburgh has your sweet tooth covered, too. Its famous burnt almond torte is a local legend that has been a staple in the region for almost 50 years. You simply can't visit Pittsburgh without trying a slice of the iconic cake and bringing some back home.
It's Home To A Unique Andy Warhol Museum
Although he was most famous for his escapades in the Big Apple, Andy Warhol is one of Pittsburgh's most famous native sons. The eccentric artist is honored at the Andy Warhol Museum, where art devotees are treated to a comprehensive overview of his work as well as rare offerings that you won't find anywhere else.
As one of the city's famous Carnegie Museums, the Andy Warhol Museum is a window into the artist's world and an interactive way to explore the techniques that made Warhol the icon he is today. It's open on most weekends from 10 a.m. to 5 p.m. and is well worth the trip and the price.
You'll Love Its Old-World Christmas Market
The Peoples Gas Holiday Market is an annual event that echoes the feel of Old-World German Christkindlmarkts and provides plenty of family-friendly holiday fun. It's a great way to make your holiday shopping memorable and to pick up unique souvenirs for loved ones back home. There's also the opportunity to grab a photo with Santa, and there's an ongoing nightly light show set to all of your holiday favorites.
The People's Gas Holiday Market is open most weekends until 9:30 p.m. and runs from November 22 to December 23. The event's Facebook page features updated information about opening times and special events.
You Can Catch A Pirates Game
Pittsburgh is a city that loves all things sports, and the Pittsburgh Pirates, or Bucs, are a massive source of hometown pride. There's nothing that spells summer quite like a day at the ballpark, and with its comfortable summer weather, Pittsburgh is the perfect place to catch an MLB game. PNC Park, home of the Pittsburgh Pirates, is accessible to everyone and strategically located downtown, so you can combine your day at the park with other sightseeing activities.
If you want to do more than check out the game, why not book a tour of the park for a behind-the-scenes glimpse at how the Pirates' stadium works? You can also tap into your inner child and snack on an ice-cream sundae served in a miniature Pirates helmet, or enjoy other goodies at the concession stands.
Its Beer Is A Thing Of Beauty
Like many Rust Belt cities, Pittsburgh has elevated its blue-collar roots and transformed the simple pint of beer into a thing of beauty. Pittsburgh's craft beer scene pays homage to the city's roots with new twists on European-style suds.
Pittsburgh is a city that's devoted to its beer, and you can have a cold one (or several) by joining a beer tour. Not only will you learn about Pittsburgh's distinctive boozy past and the brewing process, but you'll also get to taste some of the Iron City's favorite bar snacks along the way. The best part about taking a beer tour is that you don't have to worry about driving, so you can sample your way through stouts, ales, and IPAs without a care in the world.
Anyone who has an appreciation for beer needs to visit Pittsburgh. This city is home to dozens of breweries, and each one has its own distinctive style.
It Offers Plenty Of Outdoor Adventure
Pittsburgh is a spectacular place to take in the great outdoors and get a fantastic workout. Within the core of the city itself, there are plenty of steps to navigate and explore, as well as a trail that winds around the city's three rivers.
There's plenty of biking in and around Pittsburgh, too. The sheer number of trails, paths, and difficulty levels means that there's something for just about everyone.
It's important to note that Pittsburgh is a city that sometimes experiences extreme winter weather. For that reason, not all trails or activities will be open year-round. Steps can also be icy if the snow is flying.
During the summer months, kayaking is a popular and relaxing way to spend an afternoon. Since Pittsburgh is surrounded by so much water, you can explore to your heart's content. One of the best aspects of Pittsburgh is the seamless way natural elements and urban convenience come together, and the city is one of the best examples of a metropolis that takes full advantage of the natural splendor it has to offer.
Pittsburgh is a gem of a city where hospitality meets sophistication, traditional classic comfort food is elevated into cuisine, and eclectic art meets elite sports. This Pennsylvania city is not only bucket-list-worthy, but it's also incredibly accessible, and you can easily get there on the weekend from just about anywhere in the country.
So go ahead and appreciate Pittsburgh's charms for yourself. It's full of surprises and unique things to do all year long!
Headed to Pittsburgh? Here are five cool things to do in the city.