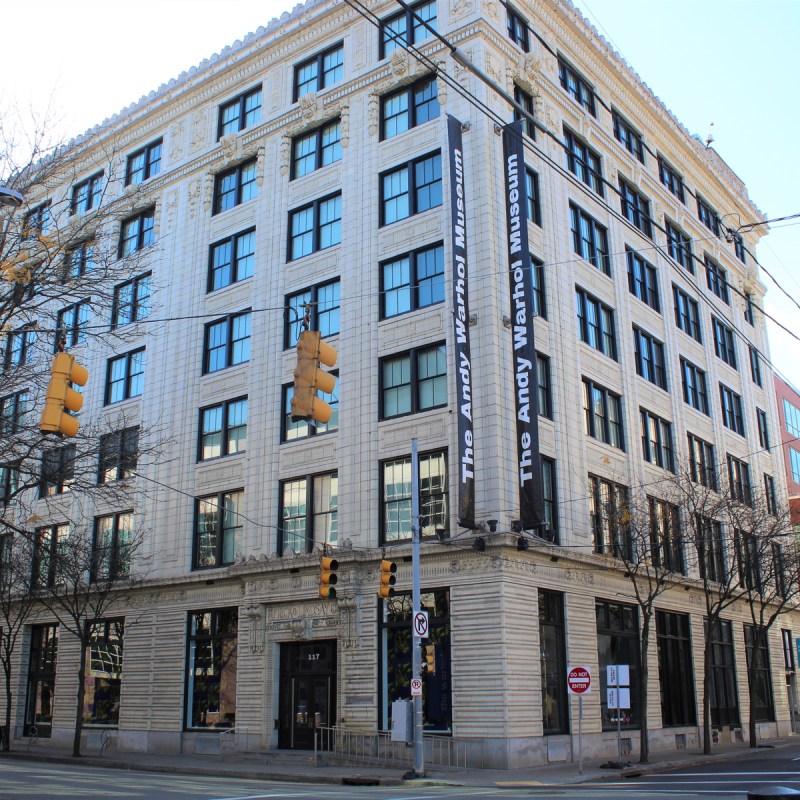 Andy Warhol was the undisputed king of pop art from the time he burst onto the New York art scene in the '60s until his untimely death in 1987. His work — including his signature loud, splashy lithographs, experimental films, and sculptures — poked fun at and pushed the boundaries of mainstream society. Warhol's life was as turbulent as his masterpieces, and he remains one of America's most recognized artists.
Set in a former industrial building in the artist's boyhood home of Pittsburgh, Pennsylvania, the Andy Warhol Museum is a marvel to behold. Bright and brilliant, outrageous and thought-provoking, this place does an impeccable job of capturing the spirit of the artist, and it's a terrific place to explore.
Here are seven incredible things you'll have the chance to experience when you visit.
1. Get To Know Warhol — And His Pittsburgh Roots
Andy Warhol was the son of eastern European immigrants who settled in Pittsburgh, and the museum does a terrific job explaining and exploring his relationship with the city vis-a-vis the artist's early works. When a childhood illness periodically kept him from attending school, the young Warhol gravitated toward comic books and Hollywood magazines, setting the stage for his later focus and works. As a young boy, he took art classes in Pittsburgh, and later attended the Carnegie Institute of Technology — now Carnegie Mellon University — focusing on art before setting off for New York City.
The museum does an excellent job of starting from the beginning, explaining the city's influence on the young artist, and what the city was like at the time Warhol was growing up there. You'll see his art school sketches and the progression of his art unfold throughout the museum.
2. Admire The Beautifully Curated Exhibits
The museum holds the largest collection of Warhol's artworks and archives, anywhere. This includes paintings, drawings, films, prints, photographs, and many more works and personal effects that span the entire range of his career. While this sounds like a lot to take in — and it is — the museum makes it easy to understand, digest, and appreciate. Guests start on the top floor, which presents Warhol's early days and art. From there, you descend six additional floors that represent the subsequent decades of his creations and collaborations, and also incorporate rotating exhibits.
It's an intuitive, insightful way to take in the depth and breadth of the collection, one that tells a full, rich story. You truly feel the scope of Warhol's life and work, and it's an experience not every museum can offer.
3. Go Beyond The Canvas
One of the things so distinctive about the Warhol is the focus on experiential touches you'll encounter throughout the museum. On several floors, you'll find separate exhibits meant to be touched. These tactile art reproductions give visitors a wider understanding of how some of Warhol's most recognized works come together. The diagrams, created with imaging software and 3D machine technology, were crafted from plastic and allow everyone — sighted and visually impaired — to get a real feel for the composition, brush strokes, and texture of Warhol's works. These allow you to truly go beyond the canvas, and appreciate the art in a whole new way. It's an extra step that really makes a big difference in how you'll look at Warhol's body of work.
4. Hear From The Folks Who Know It Best
The Warhol currently offers two gallery talks that are included in the price of your admission, which give an excellent intro to the museum, as well as additional insights about Warhol's life, art, and legacy. Artist educators, museum staff, and other experts lead the twice-daily discussions, which are scheduled to take place at 11:15 a.m. and 3:15 p.m. Attending a talk is a great way to gain a deeper understanding and knowledge about Warhol, and the experiences that shaped his artistry, technique, and sense of style. Tour schedules are always subject to change, so call ahead if you'd like to incorporate one into your visit, or ask about them at the admission desk on the first floor.
If you're part of a group attending the museum, note that private tours are also available, but must be booked in advance.
5. Bounce Through The Silver Clouds
One of the coolest and most unique experiences at the Warhol is located on the 5th floor. Silver Clouds is an immersive exhibit unlike any we've ever seen, anywhere. It consists of two dozen pillow-shaped floating metallic balloons suspended in a large, dark room. Filled with a mix of air and helium, and gently propelled by fans in the corners of the room, visitors are encouraged to mix, mingle, and wander through the clouds, which gently lift from floor to ceiling and back again. The balloons bounce into one another, off patrons' hands, and are a delight to behold. Given that Warhol used aluminum foil to decorate his famed studio, the Factory, Silver Clouds fit right in. They sparkle, shine, float, and flutter, and are a marvel for visitors of all ages.
Pro tips: Be sure to sanitize your hands before and after visiting the Clouds; there's a dispenser just outside the gallery to make the process quick and easy! Also, make sure folks in your party — especially the younger ones — go gentle on the clouds to ensure they stay intact for other visitors.
6. Create Your Own Masterpiece
On the bottom floor of the museum, you'll find The Factory, an immersive studio space named after Warhol's beloved New York City home base. This hands-on spot features workshops, classes, and other activities designed to get your own creative juices flowing after touring the museum. While The Factory is currently closed due to COVID-19, the museum does hope to reopen it as soon as possible. In the meantime, the admission desk can fill you in on other family-friendly activities and art-making opportunities offered at the Warhol. Don't pass up your chance to create something in this special place!
7. Mug It Up For The Camera
Warhol was a prolific photographer, and a large portion of his art consists of snaps, either printed and used as-is, or converted into lithographs or paintings. He also loved getting early versions of selfies in photo booths, and also utilized these images in his work. While visitors may take their own non-flash photos inside for their personal use, the museum also pays homage to Warhol's passion for photography with an old-fashioned photo booth. Located near The Factory in the basement, bring your spare change or singles, and make sure you sit for the ultimate selfie session; you'll get a fun souvenir to take home! Check to ensure the booth is open and operable during your visit; the admissions desk can advise you.
Save Time — And Money — For The Gift Shop
We're big fans of art museum gift shops. They are usually stocked with fun, funky splurge-worthy items tough to find anywhere else. The shop at the Warhol is no exception, in fact, it's one of the better ones we've visited. Finds range from stationery and home goods to jewelry and handbags, each imbued with that unmistakable, irreverent pop-art Warhol twist. Just like the museum, this spot is well-curated, and you'll want to tack on plenty of time for retail therapy. Scarves emblazoned with colorful skulls — a signature Warhol motif — are among our favorites to pick up here, and the postcard game is also strong at the gift shop, in case you're writing home.
Pro Tips
Pittsburgh is a wonderful city for walking, and the Warhol is a few blocks from downtown and the city's two ballparks. Plan to work the Warhol into a foot tour of the city; a bridge crossing over the Allegheny River is named for him, and the museum is just a few steps away from the water on Sandusky Street.
While the typical visitor experience at the Warhol includes descending seven flights of stairs, there's also a full-service elevator that will get you from floor to floor.
Friday evenings from 5:00 p.m.–10:00 p.m. admission is half-price, and Monday's entry from 10:00 a.m.–12:00 p.m. is reserved for seniors, visitors with disabilities, or those with compromised immune systems. The museum is closed Tuesdays.
One last thing: you'll want to make sure you plan ahead, and purchase your tickets in advance, as entrance is currently timed for guests. There's no guarantee of accommodations for walk-up visits.
For more art-related reading, check out these links: