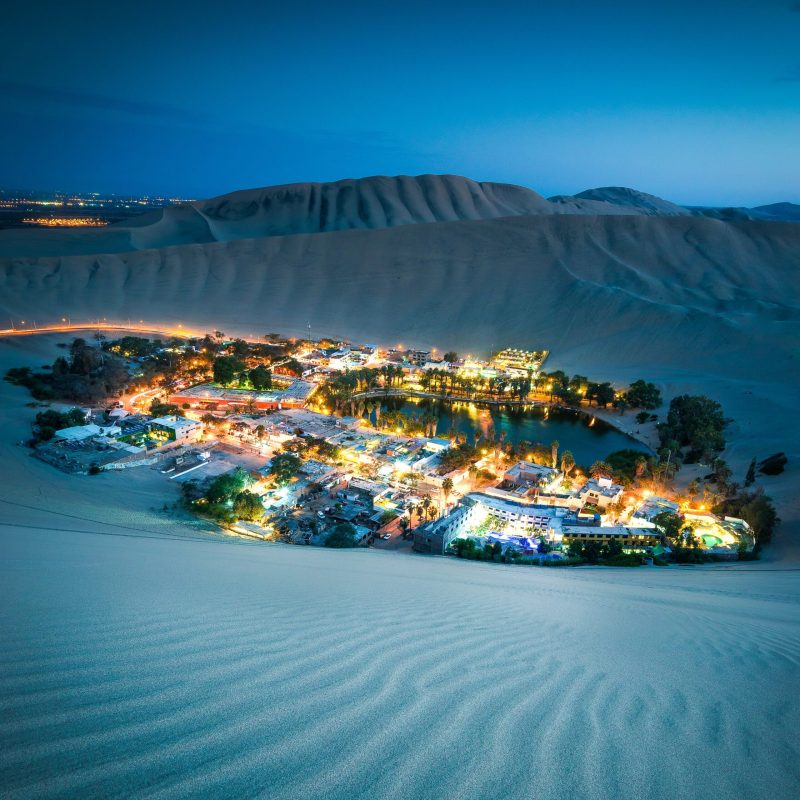 When most people think of Peru, their minds immediately jump to the mist-wreathed heights of Machu Picchu. While you shouldn't miss that UNESCO landmark, there are plenty of other must-see attractions in Peru. These places are guaranteed to inspire wonder, as well as give you a deep appreciation for the culture and history of Peru.
Here are six hidden gems in Peru that should be on every traveler's bucket list.
1. Ollantaytambo
Ollantaytambo was once a seat of Incan power and a strategic military site in the Sacred Valley. Today, it's a perfectly preserved village that is home to some of Peru's most astounding ruins. The Sun Temple, the Princess Bath, and the Pinkuylluna Granaries are just a few of the massive structures left over from Incan times. What's more, Ollantaytambo doesn't attract the crowds that Machu Picchu does, so there's an excellent chance that you'll be able to explore the ruins on your own. Some say that the aerial view of Ollantaytambo looks like a corn cob. This notion isn't too far-fetched, considering that the Inca often designed their most important cities to resemble sacred animals or elements.
Visiting Ollantaytambo is a fantastic way to get a feel for the Inca Empire on an individual and personal level. The village is easily accessible from Cuzco by minibus, train, and shuttle. At 2,792 meters above sea level, Ollantaytambo is quite a bit lower than Cuzco, but you could still encounter problems with altitude. Bring plenty of water, sip on coca tea, and stock up on soles before heading to the markets of Ollantaytambo. Many vendors don't take credit or debit cards. The ruins are relatively steep, so be sure to wear thick-soled sneakers or hiking boots.
2. Huacachina Oasis
An incredible desert oasis with an enchanting origin story, Huacachina is easily one of the most fascinating places in Peru. According to legend, Huacachina was created when a spiteful god turned a beautiful maiden into a mermaid, and her looking glass into the shimmering lake that sits at the center of this tiny desert town.
Restaurants, hotels, and bars are clustered around the lagoon, and you could easily spend the afternoon sipping a cold mango smoothie and exploring the quaint village. Still, you'd be missing out if you didn't head into the desert for some great adventures.
The dunes that surround Huacachina are home to some of the best dune-buggy racing and sandboarding that Peru has to offer. Take a full- or half-day trip out into the vast desert and have some fun! The desert is sweltering during the day and cold at night, so wear plenty of sunblock and bring a light jacket for when the sun dips beneath the dunes.
Huacachina is a 4-hour bus ride from Lima. You'll have to get off in Ica and take a 10-minute taxi ride to Huacachina, which should not cost any more than 10 soles. Alternatively, you can go with a service like Peru Hop, which provides direct buses to Huacachina and day trips from Lima.
3. Santa Catalina Monastery
A city within a city, the Santa Catalina Monastery of Arequipa is a captivating architectural wonder and a fully functioning sanctuary for the holy nuns of Peru. Officially called the Monastery of Private Nuns of the Order of Saint Catherine of Siena, this sprawling complex contains several courtyards, chapels, a kitchen, a cemetery, orchards, a laundry room, and multiple private dwellings for the nuns.
For 40 soles, you can wander the monastery on your own to your heart's content, or you can take a tour for an additional tip. Multilingual tour guides are available right at the entrance. The monastery is open daily from 9 a.m. to 5 p.m., except on Tuesdays and Thursdays, when it is open from 8 a.m. to 8 p.m. Seeing the monastery at night is truly a unique experience. The vast courtyards and winding streets are only lit by candlelight, lending an otherworldly feel to the premises. If possible, arrive for your tour at 5 p.m. so that you can see the spectacular sunset at 5:45 p.m. and experience the Santa Catalina Monastery cloaked in dusk.
Santa Catalina Monastery is located just a few blocks from Arequipa's Plaza de Armas. It's reasonably flat, but there are a few places where you'll need to walk at an incline, and the cobblestones could pose a problem for those with bad knees. There is a café on-site near the laundry room, so make sure to stop and enjoy some freshly baked bread and coffee.
4. Colca Canyon
At 11,000 feet deep, Colca Canyon is the second-deepest canyon in the world, and one of the main reasons why trekking enthusiasts put Arequipa on their bucket lists. A mere 4 hours from the city, Colca Canyon is a nature lover's paradise, a high-altitude home for Andean condors, and a great place to gaze out over the volcanoes that dot southern Peru.
The Colca River Basin is 20,669 feet at its highest point, and most of the hiking areas are well above 11,000 feet, so altitude can be an issue. Remember not to push your body too hard in these extreme heights, and drink plenty of water and coca tea to stay hydrated. Chocolate is also an amazing way to stay energized.
You can take single- or multiple-day tours of the canyon, depending on your time constraints and fitness level. Multiple-day tours generally involve hiking down to the bottom of the canyon, which can be extremely physically taxing. Single-day tours allow you to catch the highlights, see some condors in their natural habitats, and visit some genuinely astounding lookout points.
You can get to Colca Canyon by taking the bus from Arequipa to Cabanaconde and then taking a taxi from Cabanaconde to the canyon, but that will take well over 16 hours. It's far better to book a tour in Arequipa.
5. Uros Islands
Lake Titicaca is known for straddling the border between Peru and Bolivia, as well as for being the highest navigable lake in the world. This massive body of water is also home to the Uros Islands, fascinating totora-reed-fashioned floating islands that have been occupied by the Uros people for centuries.
The Uros people are a distinct group that traces their lineage back to ancient Andean civilizations. There are plenty of stories about how and why the Uros originally built the islands, but many think that the group was fleeing Incan persecution.
Today, you can visit these islands from neighboring Puno. Tours depart from the area daily, and visitors can walk on the impressive floating islands, learn about how they are maintained, buy some local crafts, and even take a tour on one of the totora boats.
If you have the time and want to explore more of the Lake Titicaca area, you can stay overnight on Amantaní. Amantaní is not made out of reeds, but it still looks like something from another world, since it's a high-altitude, sparsely populated island in the center of the lake. Visitors stay with a local family and get an authentic glimpse of life out on the lake.
6. Kennedy Park
Cat lovers visiting Lima will not want to miss Kennedy Park.
Located in the heart of Miraflores, Kennedy Park is home to several dozen of Peru's most famous felines. They're so popular that they even have their own Facebook page. Nobody knows for sure how the cats came to populate the park. Some speculate that the original Kennedy Park cats were mousers who escaped and set up shop in the park.
Humane societies have intervened to spay and neuter the animals, and most of the cats are friendly to humans and will happily submit to belly rubs and treats. They are adoptable, too, but if you want to bring a furry friend home from Kennedy Park, make sure you know the CDC guidelines for your state.
To get to Kennedy Park from the Lima airport, take a bus or taxi to Miraflores. Buses take an hour, and taxis take 23 minutes. Miraflores is a popular Lima neighborhood for tourists, so there's a good chance that your hotel will be close by.
If you're contemplating visiting Peru, think outside of the box. This fascinating country has incredible things to offer that haven't hit the tourist radar just yet.