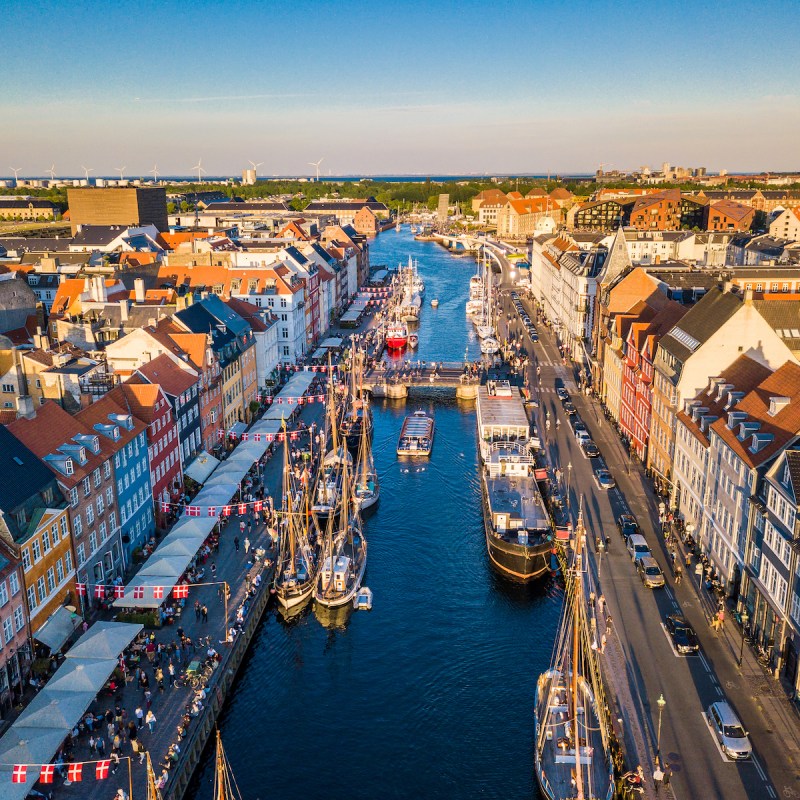 Denmark's capital city is steeped in culture and history. Copenhagen boasts lovely architecture including several royal castles, cobblestone streets, an extensive canal system, and fairy tale traditions sprinkled in for good measure. But look a bit beyond the surface and you'll uncover a few fascinating quirks you won't find anywhere else in the world.
During a recent visit to Copenhagen — my first! — there were certain things I expected to see: the famed Tivoli Gardens, Christiansborg Palace, and of course, those gorgeous canals. But I was also surprised to discover a few surprises along the way, which made my time spent there all the more memorable!
Here are nine lesser-known spots and facts about Copenhagen that astonished and charmed me.
1. A Gone-Off-Grid Community
Back in the early 1970s, a motley crew of Copenhagen's hippies, anarchists, and outcasts decided to set up shop — permanently — in an abandoned military barracks. The squatters called their new community Christiania, which still exists today and includes nearly 1,000 people. Self-reliant residents built their own homes, made their own laws, and still refuse to pay taxes. While street art and funky cafés abound, what you won't see (anymore) is much cannabis. Pot and hash were once openly sold on the town's Pusher Street, but after several violent raids, drug stalls are now shut down. The vibe here offers a curious, colorful counterbalance to the rest of the buttoned-up capital.
Pro Tip: Christiania does have several community rules visitors are expected to follow, including no running. Residents believe it promotes fear, so get your jog in somewhere else.
2. Dragon Tails For Protection
One of the oldest buildings in Copenhagen also has one of the strangest backstories. The Old Stock Exchange dates to 1625. The massive building was at that time surrounded on three sides by water, so ships could unload right out front of the wharf. The building's most eye-catching feature is its towering dragon spire: four intertwined dragon tails topped by three crowns representing Denmark, Norway, and Sweden. Legend holds that the spire guards against enemy attacks and fires, and there might be a tad bit of truth there. For generations, the Old Stock Exchange has been unscathed when devastating fires have broken out nearby, including several at Christiansborg Palace. While closed to the public, it's still worth a stop to see those mysterious dragon tails.
3. Getting Their Gospel On
While Copenhagen is well-known for its bustling jazz scene, the city also loves a different kind of music: American gospel. For more than a decade, the city's famed Tivoli Gardens has hosted a weekend-long gospel festival featuring dozens of local choirs performing classic songs like "Stand By Me" and "I Saw the Light" on its three stages. There's even an annual international school of gospel music located in Slagelse, a town an hour west of the capital city. It hosts hundreds of singers a year for intensive master classes and training. Copenhagen's curious love of the genre might just stem from morgensang, the beloved Danish tradition of a morning communal sing-along between friends, neighbors, and colleagues.
4. Old Phone Booth = Coolest Coffee Shop Ever
Danes love their coffee almost as much as they love sustainable design, and the two meet in the most charming way near Nørreport, Denmark's busiest train station. That's where the shop Coffee Collective re-purposed a gorgeous 19th-century, hexagon-shaped phone booth, transforming it into a compact coffee haven. The same place operators once helped people make phone calls now houses baristas operating modern espresso machines. The building retains its fin-du-siècle charm with its original copper roof, ornate wood carvings, and granite base. It's one of the coolest places to grab a cup of coffee in Copenhagen.
5. Snail-Shaped View From The Top
Copenhagen's Round Tower, built in the 17th century, is Europe's oldest functioning observatory and still used by amateur astronomers. It also offers visitors one of the best views of the city. Once you wind your way all the way to the top (about 115 feet) via the snail-shaped spiral ramp, you'll be rewarded with an incredible, sweeping look at Copenhagen.
Once upon a time, horses dragged carts loaded with books up to the university library housed at the top, which is why builders constructed a spiral ramp instead of stairs. Legend holds that the Russian Tsar, Peter the Great, rode his rose up the snail-shell while his wife, Catharine the First, followed in a horse-drawn carriage during a summit with Peter's Danish counterpart, King Frederik IV, in 1716. A car once made the trip up, there have been numerous bicycle races, too. And there's even an annual unicycle race up to the Round Tower's top and back down — quite the sight!
6. So Many Michelins…
There are more than a dozen Michelin-starred restaurants in Copenhagen — 14 to be exact — boasting a total of 23 stars between them. That includes the world-renowned Noma, widely considered to be one of the best (and most expensive!) restaurants on Earth. But it's not just haute cuisine that's terrific. Even street food — including the much-loved red pølser or Danish hotdog — feels elevated here. And in a special bit of culinary alchemy, the Danes have figured out a way to make even one of the most polarizing tastes palatable. Lakrids By Bülow, a Copenhagen confectioner, crafts delicious chocolate-covered black licorice that will convert even the strongest haters into licorice lovers — myself included!
7. The Little Mermaid… Is Just That
One can't go to Copenhagen without making a stop to see one its most celebrated residents. The Little Mermaid, based on the fairy tale penned by Danish author Hans Christian Andersen, has been one of the city's must-sees since a public unveiling in 1913. The bronze statue depicting the tale's forlorn heroine sits on a rock along the busy Langelinie promenade, but you might miss her if not for the ever-present selfie-seeking crowds. That's because she is little indeed — just 4 feet tall! Despite her diminutiveness, she's been a beloved part of Copenhagen since her debut 110 years ago. I'll admit, I was a bit bummed out that she was so tiny, but I wouldn't have missed seeing her for the world.
8. What's In A Name?
Royal roots run deep in Copenhagen. Walk around long enough and you'll keep seeing the same two names on statues, plaques, and buildings all over town: Christian and Frederick. Since 1513, those have been the only two name options for Danish kings. The two alternate, with a father named Christian naming his oldest son Frederik and vice versa. A constitutional change allowed King Frederick IX's oldest daughter to become the heir apparent; she assumed the throne in Copenhagen in 1972. Her name: Queen Margrethe II. Her namesake: the first Queen Margrethe, who ruled Denmark, Norway, and Sweden back in the late 1300s.
While ever-popular with their subjects, the Danish Royal Family isn't exactly creative when it comes to naming their kings and queens.
9. You Can Ski Down A Dump
Copenhagen is one of the greenest, most sustainably minded cities in the world. It's mainly wind and solar powered and is on track to go completely carbon-neutral by 2025. A big part of this commitment can be found just east of the city center at a place nicknamed CopenHill. This waste management facility burns trash that can't be recycled, generating enough power and heat for more than 170,000 nearby homes. CopenHill scores major style points with a sleek, elegant design. Best of all, a 1,500-foot ski slope at the top features no snow but slippery green turf skiers can glide down all year round.
Pro Tip: Climbers take note: CopenHill also boasts the world's tallest rock-climbing wall (278 feet!) soaring up one of its sides.