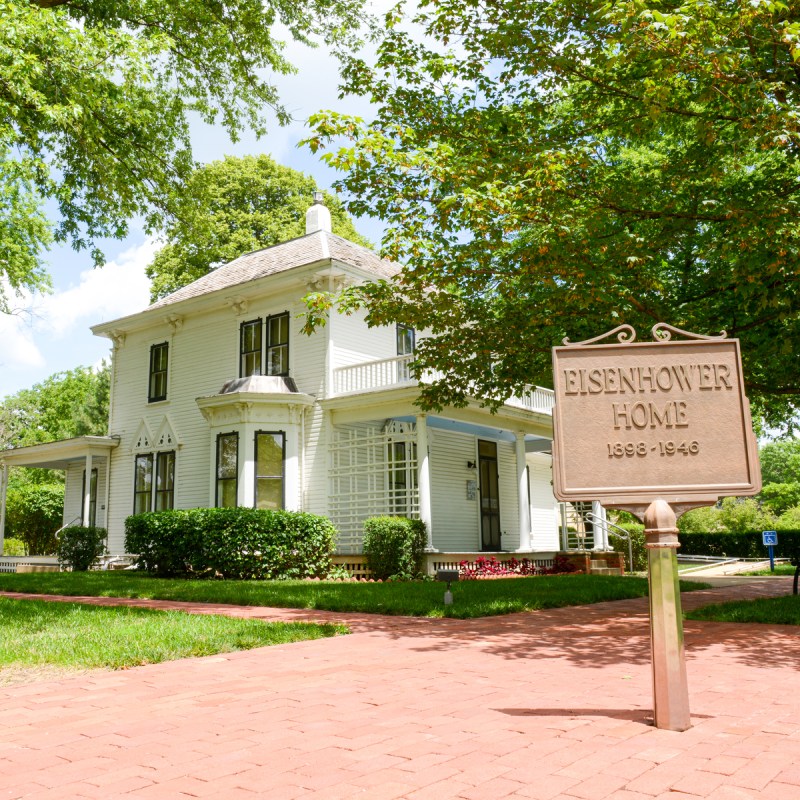 When most people hear Abilene, Kansas, they think of America's 34th President, Dwight D. Eisenhower. It is a known fact that the Dwight D. Eisenhower Presidential Library and Museum are what many travel to Abilene for.
What most people don't know is that Abilene is also home to several attractions that are not to be missed. Upon arriving in town, most guests quickly realize that they did not schedule enough time here. To avoid disappointment, plan to stay a minimum of one night in Abilene — and put these six attractions on your list of things to do.
1. Tour The Seelye Mansion And Gardens
When most visitors arrive in Abilene, they hop off of Kansas I-70 and travel south on Buckeye Street. Located a few blocks in at 1105 North Buckeye Avenue, the beautiful Seelye Mansion comes in to view. The 25-room Seelye Mansion was built in 1905 for Dr. A. B. Seelye, who made his fortune in patenting medicine with the A. B. Seelye Medical Company.
The most unique thing about touring this beautiful mansion is the fact that Terry, the current owner, is often your tour guide. In fact, he actually shared the home with Dr. Seelye's daughters, Helen and Marion, for several years until they passed. This is the only historical home that I have toured where it has been okay to touch the furnishings. A highlight of the tour is taking a swing at the bowling pins in the in-home bowling alley.
Tours are offered Monday to Saturday from 10 a.m. to 4 p.m. and on Sunday from 1 p.m. to 4 p.m. Adult tickets are $10 and tickets for children 6 to 16 are $5. Pencil in a minimum of two and a half hours to complete the tour of the mansion and its grounds.
If you are visiting at Christmas time, you can look forward to the magic of Christmas coming to life as several hundred nutcrackers are on display to celebrate the season.
2. Visit The Greyhound Hall Of Fame
The Greyhound Capital of the World, the Greyhound Hall of Fame, is located in Abilene. A highlight of visiting is meeting Ginger, a lovely retired greyhound. I fell completely in love with Ginger a few years ago. Now, each time I am traveling Kansas I-70, I make an attempt to see her.
All visitors are greeted by a live greyhound, which makes the visit unique. The history of greyhounds, racing, and the people who love the sport are all highlighted in this hall of fame. If you are skeptical about greyhounds and racing, plan a visit. You will more than likely leave with a new perspective of the breed and the sport that many love.
The Greyhound Hall of Fame in Abilene is open daily from 9 a.m. to 4:45 p.m. Admission is free, and there is a place for free-will donations. Most importantly, sign the guestbook, as funding is often determined by the number of visitors accommodated within a set period of time. This attraction is located on Buckeye Street, right across from the Presidential Library and Museum.
3. Attend A Professional Production At Great Plains Theatre
The professional productions put on at the Great Plains Theatre are top-notch. The theater came to fruition in 1995, and Abilene is proud that it is a non-profit year-round actors' equity professional theater. In fact, professionals from all across the country audition to perform in Abilene. If you are lucky, you will be in town when there's an opening night performance and will get to partake in an afterglow party.
There's nothing like meeting the professional actors and actresses up close and personal. Community members are also heavily involved, which brings local folks in for other events that are held in the theater.
4. Ride The Carousel At The Dickinson County Historical Society And Museum
The Dickinson County Museum is home to one of the 8 Wonders of Kansas Customs. This hand-carved working carousel was manufactured in 1901 by the C. W. Parker Amusement Company. With 24 completely restored horses and four chariots, visitors can choose how they want to experience this famous carousel for a mere $2. Visitors of all ages are welcome to ride.
The Museum entry fee for all visitors is under $10 per person. The thing that surprised and delighted me the most during my visit was the number of telephones on display. It may well be the largest telephone display in the country. Everything from turn-of-the century telephones to today's modern cell phones can be seen in one place. Plan a minimum of on hour to visit — and don't forget to go out the back door to ride the carousel! This attraction is conveniently located near the Eisenhower Museum and Library grounds.
5. Experience Old Abilene Town
Old Abilene Town is where visitors can experience the Wild West. Explore the Alamo Saloon, Merchants Hotel, W. R. Wilson General Store, Viola Clock Shop, and more. On the weekends from May to Labor Day, guests can experience a gunfight followed by a can-can dance. The West comes to life in Abilene.
During Labor Day weekend, Abilene celebrates the Chisholm Trail, a cattle trail that routed livestock from Texas to Abilene in 1867. Because of it, Abilene flourished and became known as the "wildest and wooliest" town in the West.
6. Shopping In Abilene, Kansas
Antique enthusiasts will love the shopping scene in Abilene. With half a dozen antique shops to choose from, you can easily spend the better part of a day searching for the perfect memento or unexpected find.
My favorite place to shop in Abilene is in the historic downtown area. Cedar Street Market, located at 109 NW 3rd Street, is the perfect place to find art, gifts, and all types of antiques. What makes this shop unique is that an interior designer is on staff to help bring your shopping experience to life with expert insight. Customer service is top of the line, and you will leave knowing that you have found the best of the best in keepsakes or furnishings for your home or business.
While Ike may lure you in to Abilene, the other attractions will give you a reason to play for hours — or even days. Your time in Abilene may even warrant a return visit. From my personal experience, it will be sooner than later.
Headed through Kansas City on your way into or out of Abilene? Check out these 15 things to do on the Kansas side of Kansas City, eat at one of these seven popular Kansas City barbecue restaurants, and read up on finding the best tacos in KCK.
Best Restaurants In Abilene, Kansas
The food experience in Abilene, Kansas, is unique in that several eating establishments revolve around Ike. It's hard to not see something referring to America's 34th President while dining in Abilene. From broasted chicken and burgers to freshly baked cinnamon rolls and fresh deli sandwiches, Abilene has it all. Here are the best places to fill up.
Brookville Hotel
The Brookville Hotel is located right off of Kansas I-70 at Exit 275. The hotel (actually a restaurant) serves a family-style fried chicken dinner with all the fixings families love. Prepare to indulge in good comfort food. A platter of fried chicken paired with mashed potatoes, creamed corn, biscuits, and coleslaw makes this an award-winning meal.
Whether you're traveling as a small family or a large group, the Brookville Hotel can accommodate you. It is closed on Monday and Tuesday and open in the evenings Wednesday through Friday. Lunch and dinner are served on the weekends.
Mr. K's Farmhouse Restaurant
Mr. K's Farmhouse restaurant offers breakfast, lunch, and dinner options. Chicken breasts, roast turkey and pork, pork chops, chicken strips, and chicken fried steaks are popular menu items. I personally love the setting of the restaurant. It has a historical, country feel. The best tip I can give you: Order pie.
Mr. K's Farmhouse Restaurant is located at 407 South Van Buren Street in Abilene. They are closed on Monday and open for lunch and dinner Tuesday through Saturday. They serve up lunch on Sunday as well.
Amanda's Bakery And Bistro
Amanda's is located at 302 North Broadway Street in the heart of Abilene. This restaurant does not have the largest selection, but what they do serve is extremely tasty. Coffee enthusiasts will love the coffee and the setting. The freshly baked goods, including cinnamon rolls, are sure to win everyone over. The sandwiches and soups, both perfect for lunch, are tasty and fresh.
If you are looking for a quick, fresh, and tasty meal in Abilene, Amanda's Bakery and Bistro is your go-to place.